Copyright
©The Author(s) 2023.
Published by Baishideng Publishing Group Inc. All rights reserved.
Advancements in adipose-derived stem cell therapy for skin fibrosis
Yu-Xin Liu, Jia-Ming Sun, Chia-Kang Ho, Ya Gao, Dong-Sheng Wen, Yang-Dan Liu, Lu Huang, Yi-Fan Zhang, Department of Plastic and Reconstructive Surgery, Shanghai Ninth People's Hospital, Shanghai Jiao Tong University, Shanghai 200011, China
Author contributions: Liu YX and Sun JM wrote the manuscript; Liu YX, Sun JM, Liu YD, Wen DS and Huang L contributed significantly to manuscript preparation; Liu YX and Sun JM wrote the manuscript; Sun JM contributed to data presentation; Ho CK, Gao Y and Zhang YF revised the manuscript; All authors have read and approved the final manuscript.
Supported by National Natural Science Foundation of China, No. 81772103 and No. 82172234; and Shanghai Clinical Research Center of Plastic and Reconstructive Surgery supported by Science and Technology Commission of Shanghai Municipality, China, No. 22MC1940300.
Conflict-of-interest statement: All the authors report no relevant conflicts of interest for this article.
Open-Access
: This article is an open-access article that was selected by an in-house editor and fully peer-reviewed by external reviewers. It is distributed in accordance with the Creative Commons Attribution NonCommercial (CC BY-NC 4.0) license, which permits others to distribute, remix, adapt, build upon this work non-commercially, and license their derivative works on different terms, provided the original work is properly cited and the use is non-commercial. See:
https://creativecommons.org/Licenses/by-nc/4.0/
Corresponding author: Yi-Fan Zhang, MD, PhD, Associate Professor, Department of Plastic and Reconstructive Surgery, Shanghai Ninth People's Hospital, Shanghai Jiao Tong University, No. 639 Zhizaoju Road, Shanghai 200011, China. zhangyifan82@126.com
Received: December 28, 2022
Peer-review started: December 28, 2022
First decision: March 10, 2023
Revised: March 30, 2023
Accepted: April 13, 2023
Article in press: April 13, 2023
Published online: May 26, 2023

Pathological scarring and scleroderma, which are the most common conditions of skin fibrosis, pathologically manifest as fibroblast proliferation and extracellular matrix (ECM) hyperplasia. Fibroblast proliferation and ECM hyperplasia lead to fibrotic tissue remodeling, causing an exaggerated and prolonged wound-healing response. The pathogenesis of these diseases has not been fully clarified and is unfortunately accompanied by exceptionally high medical needs and poor treatment effects. Currently, a promising and relatively low-cost treatment has emerged-adipose-derived stem cell (ASC) therapy as a branch of stem cell therapy, including ASCs and their derivatives-purified ASC, stromal vascular fraction, ASC-conditioned medium, ASC exosomes, etc., which are rich in sources and easy to obtain. ASCs have been widely used in therapeutic settings for patients, primarily for the defection of soft tissues, such as breast enhancement and facial contouring. In the field of skin regeneration, ASC therapy has become a hot research topic because it is beneficial for reversing skin fibrosis. The ability of ASCs to control profibrotic factors as well as anti-inflammatory and immunomodulatory actions will be discussed in this review, as well as their new applications in the treatment of skin fibrosis. Although the long-term effect of ASC therapy is still unclear, ASCs have emerged as one of the most promising systemic antifibrotic therapies under development.
Core Tip: Pathological scarring and scleroderma are the most common conditions of skin fibrosis with high medical needs and poor therapeutic effects. Adipose-derived stem cell (ASC) therapy has emerged as a promising treatment for skin fibrosis. Here, we discuss the possible mechanism of skin fibrosis as well as the latest research about the mechanism of ASC therapy and its application in treating these conditions. ASC therapy provides a brand-new insight into the treatment of skin fibrosis.
---
Citation: Liu YX, Sun JM, Ho CK, Gao Y, Wen DS, Liu YD, Huang L, Zhang YF. Advancements in adipose-derived stem cell therapy for skin fibrosis. World J Stem Cells 2023; 15(5): 342-353
---
INTRODUCTION
Skin fibrosis is characterized by fibroblast proliferation and extracellular matrix (ECM) deposition. In severe cases, it can lead to pathological changes in the skin, such as keloid and hypertrophic scars (HS), systemic sclerosis (SSc), and scleroderma[1,2]. The fact that there are no practical disease-modifying therapies for those diseases and current treatment is mainly toward managing symptoms and relieving complications calls for a new therapy[3,4].
Since 2001, when adipose-derived stem cells (ASCs) were first characterized, ASCs have been broadly studied and applied as the most promising sources of cells with regenerative and multilineage characteristics[5]. In recent years, various ASC derivatives, which are rich in not only ASCs but also other cellular and tissue components, have been seen as possible alternatives to ASCs and have received increasing attention for exploring their potential applications. Due to their immunomodulatory properties and abundance of growth factors[6,7], ASCs and their derivatives have become new remedies in the treatment of skin fibrosis[8-10].
In this review, we discuss the mechanism of skin fibrosis and the mechanism of ASC therapy. We then summarize the application of ASCs and their derivatives in skin fibrosis. Finally, we retrospectively describe the safety of ASC therapy and predict the future of skin fibrosis treatments.
MECHANISM OF SKIN FIBROSIS
Many fundamental studies exploring the molecular mechanisms underlying fibrosis have revealed a large number of genes, molecules, and cell types that may contribute to this problem[11,12].
Keloid and HS
The pathogenesis of keloids and HS is not fully understood due to the complex dynamic process of wound healing. However, among all the factors that stimulate fibroblasts to differentiate into myofibroblasts and produce excessive amounts of collagen and ECM, the role of the inflammatory response is increasingly considered important[1,11,13]. Downregulation of proinflammatory cytokines such as interleukin 6 (IL-6) and IL-8[14] and upregulation of anti-inflammatory cytokines such as IL-10 may reduce scar tissue formation[15]. Additionally, inflammatory cells such as macrophages, T cells, and mast cells, all increase and take part in a variety of biological activities in keloids and HS[1,16]. Although multiple intracellular signaling pathways such as Smad, signal transducer and activator of transcription 3, and extracellular signal-regulated kinase 3, are involved in hypertrophic scar formation, transforming growth factor-β (TGF-β)/Smad is thought to be a driving force[17,18]. Thus, the basic purpose of current prevention and therapy methods is still to reduce inflammatory processes[19].
SSc and scleroderma
SSc is an immune-mediated rheumatic disease that is characterized by excessive collagen from myofibroblasts in the skin and some internal organs, microangiopathy, and impairment of the humoral and cellular immunity system[20,21]. Scleroderma features, without the involvement of internal organs, are similar to SSc[4]. SSc pathogenesis involves early vasculopathy and innate and adaptive immune system dysfunction[12]. Initial vasculopathy and immune system dysfunction are both involved in SSc pathogenesis and cause SSc inflammation and tissue fibrosis[22]. Immune cells, endothelial cells, and fibroblasts interact with each other and release cytokines and growth factors[21]. Workers are convinced that type-1-interferon and interferon-inducible genes play a role in SSc pathogenesis[23]. Additional important factors include platelet-derived growth factor, endothelin 1, insulin-like growth factor 1, and TGF, which is thought to be a major regulator of fibrosis pathways[24]. Combined treatment that targets epigenetic/genetic, vascular, and immunologic defects and progressive fibrosis is urgently needed[12,21,25].
MECHANISM OF ASC THERAPY
ASCs have long been thought to have immune privileges as mesenchymal stromal cells, which do not induce a severe allogeneic response when injected into another organism[26,27]. However, they have been demonstrated to evoke cellular and humoral responses in vivo, which may lead to the rapid elimination of transplanted cells[27]. However, ASCs function primarily through a "hit-and-run mechanism" with consequently a small effect on therapeutic efficacy, at least in the short or middle term[28,29]. Indeed, most ASCs do not require cell-to-cell contact to function but rather function through paracrine mechanisms that release cytokines, growth factors, and extracellular microvesicles in the surrounding environment[30]. As reported, the therapeutic effect of ASCs and their derivatives depends on paracrine secretion[31-34]. ASC-secreted active substances such as cytokines[35], growth factors[36], chemokines[37], and extracellular vesicles[38], regulate the microenvironment around fibroblasts and themselves[39,40] (Figure 1).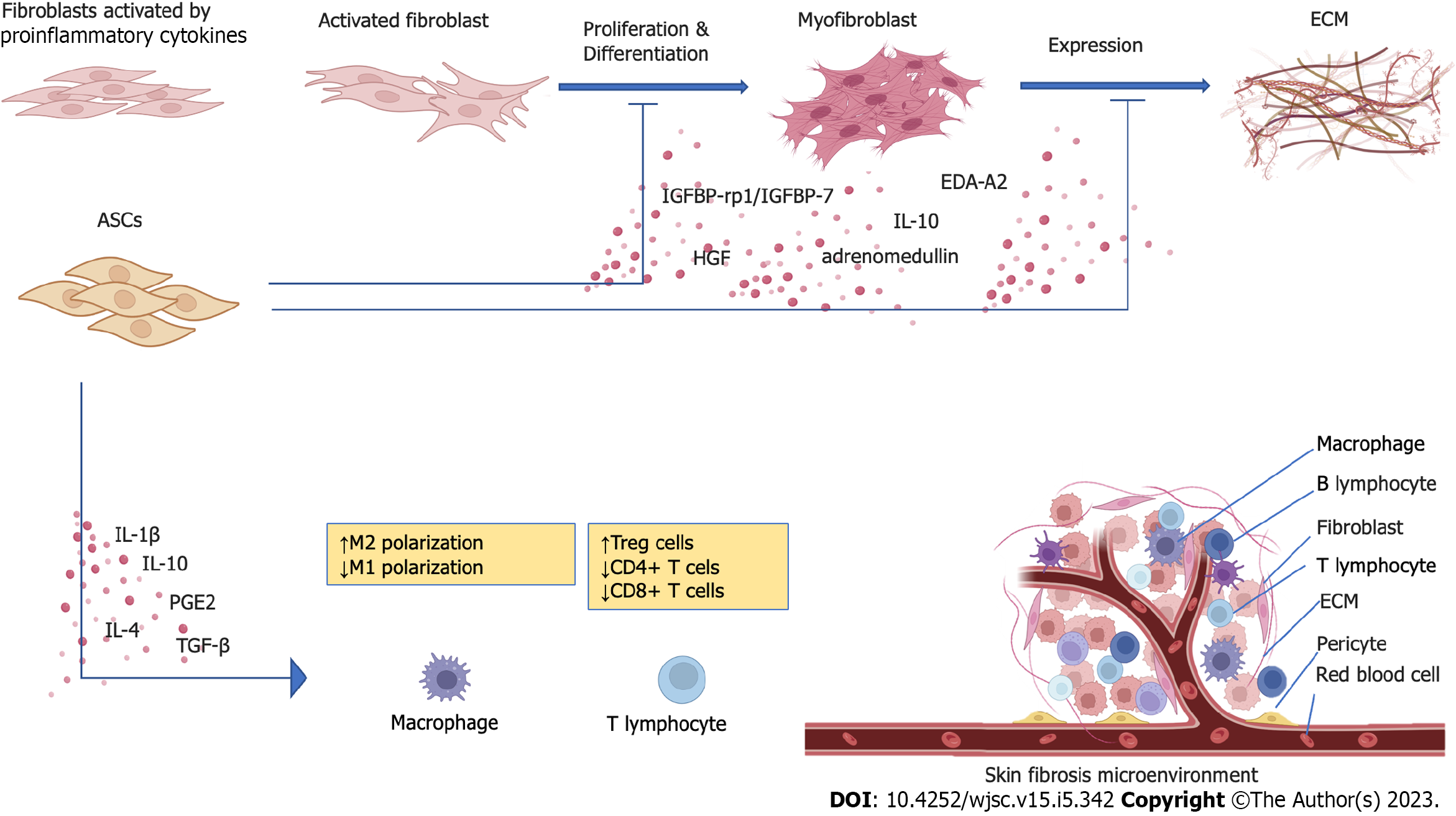 Figure 1 The brief mechanism of adipose-derived stem cell therapy in skin fibrosis.
ECM: Extracellular matrix; ASC: Adipose-derived stem cell; HGF: Hepatocyte growth factor; IGFBP-rp1/IGFBP-7: Insulin-like growth factor binding protein-related protein-1/Insulin-like growth factor-binding protein-7; EDA-A2: Ectodysplasin-A2; IL-10: Interleukin 10; IL-4: Interleukin 4; IL-1β: Interleukin 1β; TGF-β: Transforming growth factor beta; PGE2: Prostaglandin E2. Figure 1 is created with BioRender.com.
Regulation of the microenvironment
Immunomodulation and anti-inflammatory: After injection, ASCs activate adaptive cellular responses, secreting IL-1, prostaglandin E2 (PGE2), IL-4 and IL-10, and TGF-β, which modulate and stimulate innate immune cells[41]. It was reported that ASCs suppress CD4+ and CD8+ T-cell expansion and differentiation while promoting regulatory T-cell proliferation and enhancing their immunosuppressive activity[42]. Additionally, ASCs secrete immunosuppressive substances such as nitric oxide, PGE2, hepatocyte growth factor (HGF), and indoleamine 2,3-dioxygenase, which downregulate TGF-β in skin fibrosis and attract bone marrow (BM) cells involved in tissue repair[43,44].
Despite their immunomodulatory ability, the anti-inflammatory effects of ASCs have been gaining increasing attention. ASCs can drive anti-inflammatory M2 macrophage polarization and ameliorate macrophage infiltration[34,45]. Additionally, in a rabbit model of HS, ASCs mediated the inhibition of M1-polarized macrophages and defection of inflammation. Moreover, the expression of inflammatory cytokines and proteins such as IL-6 and monocyte chemotactic protein-1, which affect inducible nitric oxide synthase and cyclooxygenase-2, was notably decreased in the treated groups[46-48].
Angiogenic effects: The angiogenic effects of ASCs have been broadly discussed with regard to myocardial infarction, nerve injury, and tissue transplantation[49-52]. The secretion of vascular endothelial growth factor (VEGF) as well as the transcription of angiogenic genes are improved by ASCs[52,53]. ASC transplantation greatly improves revascularization and tissue perfusion in ischemic scars by stimulating endotheliocyte proliferation in blood vessels, hastening the resumption of blood circulation, providing oxygen and nutrition, and improving scar texture[54]. There is also an interplay between ASCs and endothelial precursor cells (EPCs). Growth factors produced by ASCs, such as VEGF, increase the migration and survival of EPCs, while EPC-produced platelet-derived growth factor BB stimulates ASC proliferation and migration[36].
Regulation of fibroblasts
Proliferation and differentiation: Activated dermal fibroblasts change their phenotype into myofibroblasts in response to injury or stress, which increases their expression of α-smooth muscle actin (α-SMA) and contractile ability[55,56]. Previous studies have demonstrated that ASC conditioned medium (ASC-CM) contains abundant growth factors and cytokines, such as IL-10, adrenomedullin, and HGF[7,57]. HGF, proven to inhibit fibroblast differentiation into myofibroblasts, contributes to limiting the profibrotic functions of myofibroblasts[58,59]. It has also been reported that ectodysplasin-A2, insulin-like growth factor binding protein-related protein-1/insulin-like growth factor-binding protein-7 (IGFBP-rp1/IGFBP-7), and thrombospondin-1 are increased in concentration in serum-starved ASC-CM, which could play a role in the inhibition of fibrosis[60]. These ASC-secreted immunosuppressive substances suppress fibrosis by various mechanisms, including reducing the expression of TGF-β1 and collagen and promoting the expression of matrix metalloproteinases (MMP), thus significantly repressing the activity of fibroblasts in vitro and in vivo[34,61].
Expression of ECM: The synthesis of collagen, hyaluronic acid, and fibronectin by myofibroblasts, in particular, is essential for the prolonged and excessive formation of ECM constituents[56,62]. Inhibition of HS-derived fibroblast (HSF) proliferation and reduction in α-SMA, type I collagen, and type III collagen expression can partly explain the molecular mechanism of the effects of ASCs on HSs[46,63,64]. In another study, ASC-CM reduced the synthesis of collagen and the expression of connective tissue growth factor, fibronectin, and α-SMA[65]. However, in a coculture model of ASCs and normal human dermal fibroblasts, ASCs increased the formation of collagen types I, III, and VI in the ECM[66]. It appears that ASCs could target abnormal fibroblasts and reduce pathological deposition of ECM.
ASC THERAPY APPLICATION
ASC therapy, including the application of ASCs and their derivatives, can be roughly divided into ASC-based therapy and stem cell-free therapy. ASC-based therapy is mainly composed of various ASCs and stromal vascular fractions (SVFs), which have been broadly studied and applied in the clinic (Figure 2). Stem cell-free therapy, such as exosomes and ASC-CM, is increasingly popular, with fewer moral and safety concerns.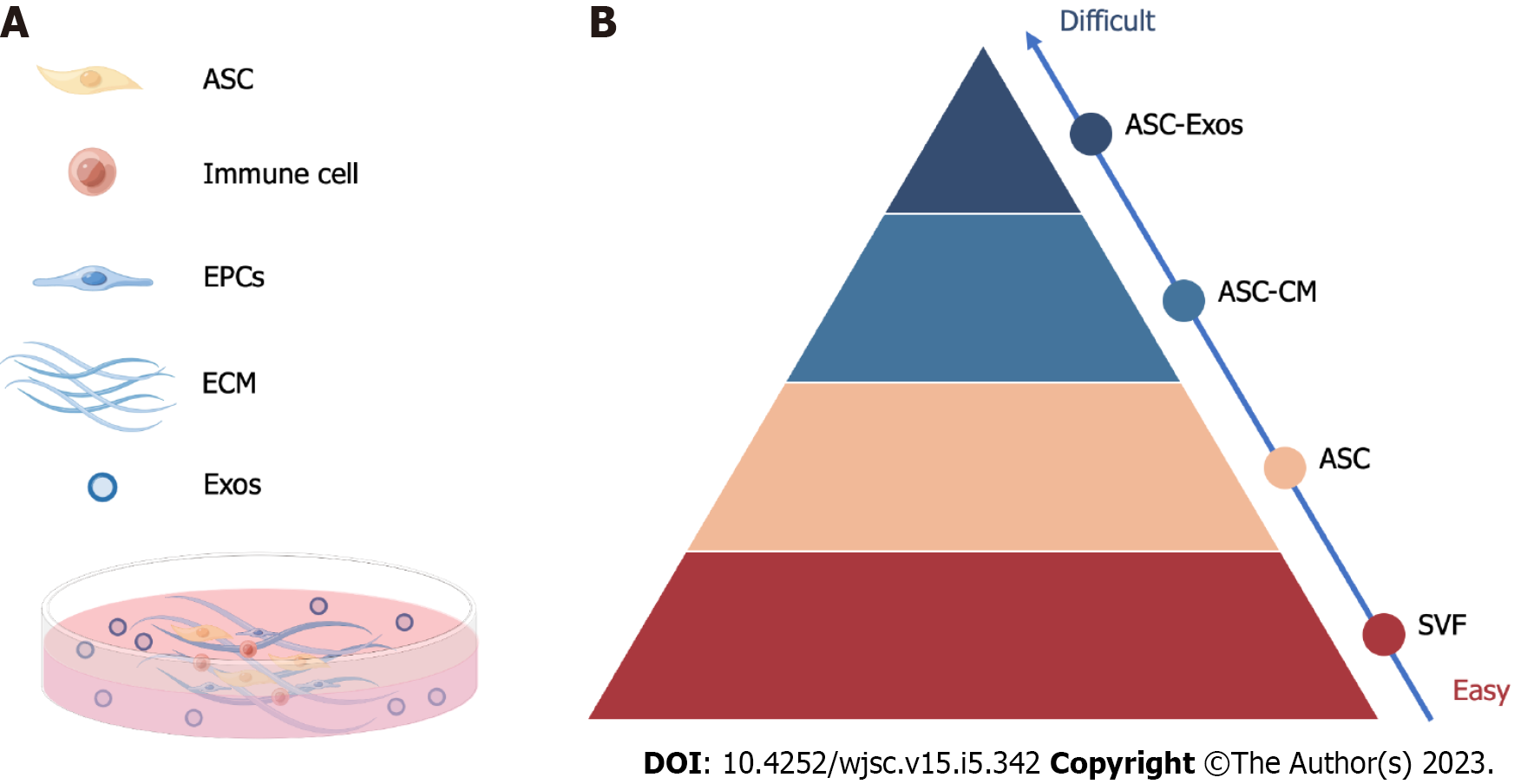 Figure 2 The culture and classification of adipose-derived stem cells and their derivatives.
A: Culture of adipose-derived stem cells (ASC) and their derivatives; B: Classification of ASC and their derivatives. EPCs: Endothelial precursor cells; ECM: extracellular matrix; Exo: Exosomes; ASC: Adipose-derived stem cell; ASC-CM: ASC-conditioned medium; ASC-Exo: ASC exosomes; SVF: Stromal vascular fraction. Figure 2 is created by Figdraw.
ASCs
One of the most promising stem cell groups, ASCs, are abundant in adipose tissue, easy to extract, and have few adverse effects. Compared to BM-mesenchymal stem cells, ASCs exert potent anti-inflammatory and remodeling properties with similar therapeutic effects[30].
Intralesional injection of ASCs reduces the formation of scars while improving color quality and scar pliability, potentially leading to an effective and novel anti-scarring therapy[59,67,68]. These studies revealed that ASCs not only inhibited fibroblast proliferation and migration but also reduced the expression of molecules such as TGF-β1 and Notch-1. The antifibrotic effect on fibroblasts was most likely mediated by the inhibition of multiple intracellular signaling pathways[18,65].
As they are inherently heterogeneous, different ASC subgroups have been studied in the hope of finding suitable subgroups for specific diseases.
A subpopulation of ASCs that are positive for CD74+ possesses enhanced antifibrotic abilities both in vitro and in vivo. Additionally, CD74+ ASC-assisted fat grafts reduce dermal thickness and fibrosis in radiation-induced fibrosis mouse models[69]. Another CD73+ ASC subpopulation has expressed significantly lower levels of procollagen lysyl hydroxylase 1, a potent stimulator of fibrosis, showing better therapeutic effects on wound healing[70].
To modify or enhance some properties of ASCs and overcome the limitations of curative effects of ASCs only, ASCs are coated or activated with small molecule drugs or genetically overexpressing molecules that are involved in fibrosis formation.
After overexpressing MMP-3, ASCs-MMP-3 possess not only the ability of ASCs to accelerate wound healing but also the capability of MMP-3 to reduce scarring[71]. Compared with mASCs alone, migration ability and HGF production are significantly higher in mASCs activated with LMWH, showing higher anti-inflammatory and anti-fibrotic capability, and might be a promising candidate for SSc treatment[72]. IL-10-ASCs have been proven to have the capacity to suppress the development of HS by reducing inflammation during wound healing as well as the proliferation and migration of HSFs that produce ECM[73]. Poly(3-hydroxybutyrate-cohydroxy valerate) loaded with ASCs contains the bioactive cues required to improve wound healing and scarring[74].
SVF
SVF is an aqueous fraction that contains ASCs, EPCs, endothelial cells, macrophages, smooth muscle cells, lymphocytes, pericytes, and preadipocytes, among other components. The advantages of SVF over ASCs are thought to be in two areas. First, the heterogeneous cellular composition of SVF may be responsible for the superior therapeutic results seen in comparative animal studies. Second, in contrast to ASCs, SVF can be obtained significantly more quickly without the need for cell separation or special cultivation conditions. As a result, the therapeutic cellular product is relatively safe and is only required to meet minimal regulatory requirements[75]. However, it should be emphasized that whereas ASCs are useful for both allogeneic and autologous treatments, SVF is only appropriate for autologous treatments because it contains a variety of cell types that are known to trigger immunological rejection. hASCs have seemed to be more effective than SVF in HS, related to their higher levels of MMP-2 and MMP-2/tissue inhibitors of metalloproteinase-2 ratio, as well as higher expression of TGF-3 and HGF[76]. Whether SVF is indeed superior to ASCs in skin fibrosis treatment needs further research[6,77].
In addition to HS and keloids, SVF is also broadly applied clinically to scleroderma and SSc. SVF gel has superior anti-inflammatory and antifibrotic effects on scleroderma[78]. Moreover, SSc does not impair SVF's ability to heal vascular damage, hence justifying the use of this novel autologous biotherapy[79]. SVF injection is a potentially effective treatment that seems to last for at least one year. Quality of life, Raynaud's phenomenon, finger edema, and hand impairment and discomfort were significantly improved[80-83].
Stem cell-free therapy
The secretome of ASCs, with a focus on exosomes, appears to be a suitable and safe alternative with more effectiveness and fewer adverse effects due to restrictions on the use of stem cells in cell-based treatment. Moreover, the ability to biobank the ASC secretome is a significant benefit of cell-free therapy. In this review, we concentrate on the current understanding of the secretome of ASCs, such as ASC exosomes (ASC-Exos) and ASC-CM, used in skin fibrosis stem cell-free therapy (Figure 3).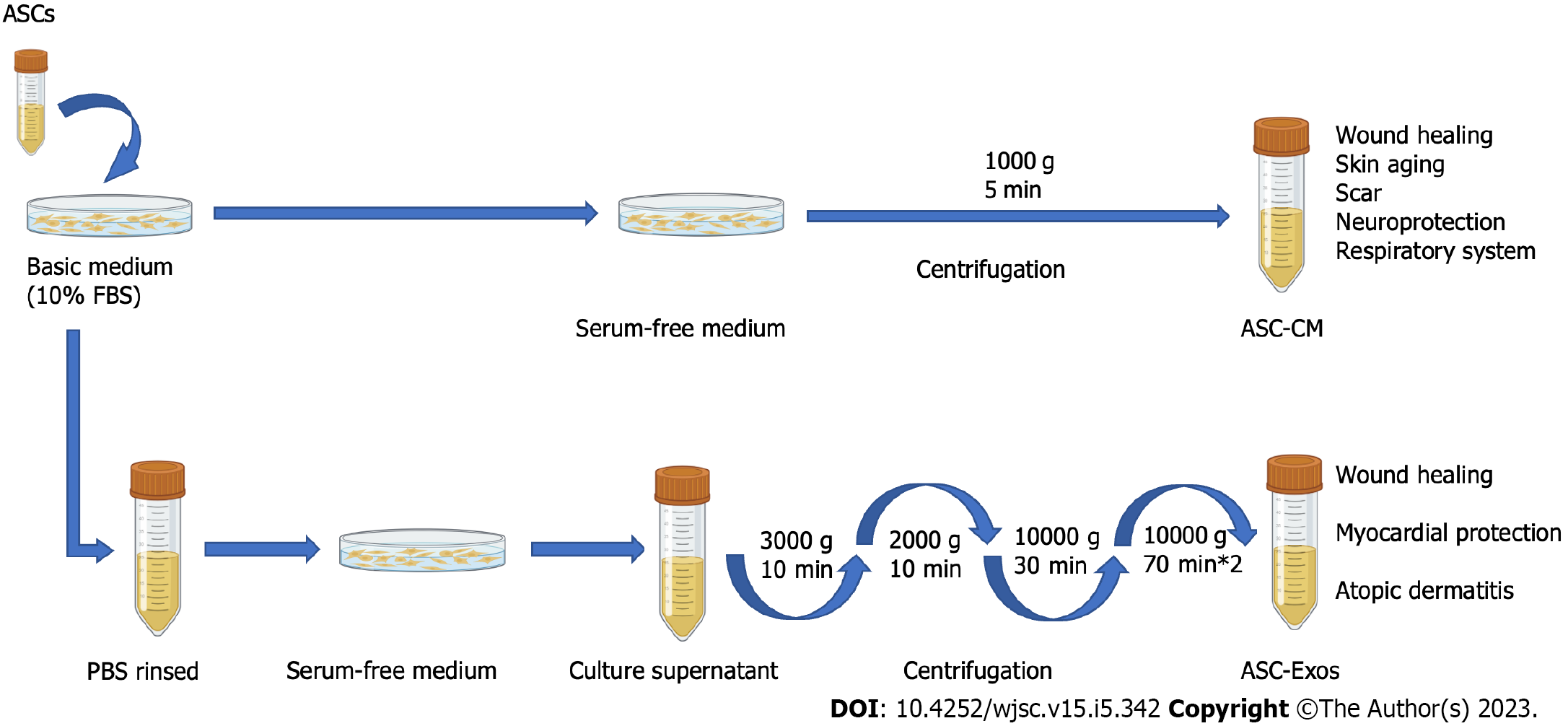 Figure 3 Adipose-derived stem cell conditioned media, exosomes, and adipose tissue extracts synthesis and therapeutic application.
ASC: Adipose-derived stem cell; ASC-CM: ASC-conditioned medium; ASC-Exo: ASC exosomes; FBS: fetal bovine serum; PBS: Phosphate-buffered saline. Figure 3 is created with BioRender.com.
ASC-Exo: As one of the components of paracrine signaling, ASC-Exos are small, single membranous secretory organelles rich in proteins, lipids, nucleic acids, and carbohydrate conjugates[26,84,85]. Among other research discoveries, they are thought to have a variety of activities, such as reshaping the ECM and transmitting signals and molecules to other cells. In addition, they are not rejected by the immune system, have homing effects, and the dose is easily controlled[86,87]. Compared to ASCs, ASC-Exos offer a great opportunity to create new cell-free therapeutic techniques that could circumvent the challenges and dangers related to using natural or synthetic stem cells[86,88].
ASC-Exos release miR-29a-3p, which can suppress the expression of several profibrotic, antiapoptotic, remodeling, and methylase genes[89]. ASC-Exos are now a viable new option for the systemic treatment of keloids. They significantly suppress the development of ECM in keloids by decreasing collagen synthesis and impairing the microvessel structure, enhancing the expression of TGF-3 while inhibiting the protein expression of Smad3 and Notch-1[84]. By suppressing the expression of the TGF-1/Smad pathway, ASC-EXOs may prevent keloid fibroblasts from proliferating and migrating and consequently promoting death[90].
In hypertrophic scar fibrosis, ASC-exosomal miR-192-5p targeted IL-17RA to control the Smad pathway, and miR-29a inhibited the TGF-2/Smad3 signaling pathway, which could be responsible for the antifibrotic effects[91,92]. Another postoperative study showed that hASC-Exo therapy inhibited collagen deposition and myofibroblast aggregation in vivo and reduced the development of HS[93].
ASC-CM: Active chemicals released by ASCs, such as cytokines, exovesicles, exosomes, DNA, and RNA, are found in ASC-CM and can facilitate tissue healing and control immunity. ASC-CM can lower treatment costs and avoid the safety issues associated with stem cell therapy[94]. One disadvantage of CM over stem cells is the short life of active components. Stem cells can anchor inside a tissue or organ after local administration and function there for a long time, but CM-containing substances such as growth or enzyme factors are rapidly diluted and eliminated by diffusion[95,52].
ASC-CM may reduce collagen deposition and scar formation, inhibiting the p38/mitogen-activated protein kinase signaling pathway can have an anti-scarring effect, and the use of ASC-CM may offer a unique therapeutic approach for the treatment of HS[96]. According to in vitro and ex vivo experiments, chyle fat-derived stem cell-CM reduced the expression of type I collagen (Col1), type III collagen (Col3), and SMA, which prevents fibrosis in HSFs[63]. ASCs-CM dramatically elevated MMP-1 expression and dose-dependently decreased cell survival, expression of fibrosis markers, tissue inhibitor of metalloproteinases-1, the amount of collagen produced, and the ratio of Col1/Col3. These findings show that ASC-CM efficiently blocks fibrosis-related factors and controls ECM remodeling in HSF[64]. Combining ASC-CM with therapeutic therapies is another development. A histologic study revealed that ASC-CM increased the density of cutaneous collagen and elastin and arranged them in a certain order. A good combination therapy for treating atrophic acne scars and skin rejuvenation is ASC-CM with FxCR[97]. Stronger antifibrotic effects of CD74+ ASC-conditioned media may have resulted from increased production of HGF, FGF2, and TGF-3 and lower levels of TGF-β1[69]. ASC-CM and polysaccharide hydrogels might cross-bind in situ, which could significantly improve the therapeutic results by reducing scar proliferation, offering a promising alternative for the prevention of HS[98].
UPDATES ON THE CLINICAL APPLICATIONS OF ASC THERAPY
To evaluate the effectiveness of ASCs, numerous clinical trials have been carried out; however, they have largely focused on SSCs. More research is required to determine the long-term safety of ASCs, detailed mechanisms of effect, and the capacity to translate experimental results into clinical practice.
ASCs are used to treat secondary-progressive multiple sclerosis in 30 individuals. However, assessments of treatment efficacy revealed a mild tendency toward effectiveness. Establishing the possible therapeutic benefit of this technique would require larger studies and presumably treatment at earlier stages[99].
To compare the effectiveness of an injection of ASC-SVF derived from adipose tissue with placebo in decreasing hand disability in 40 SSc patients. This research demonstrated a gradual improvement with no evidence that the AD-SVF was superior. Given the limitations of this trial, a study with a larger group of patients is urgently needed to accurately determine the value of ASC-SVF therapy[100]. It was revealed through a randomized controlled trial that regional adipose tissue grafting is beneficial in repairing ischemia digital ulcers in SSc[101].
This study investigates the safety and efficacy of administering autologous SVF cells to SSc patients. Early evaluations at six months suggest a possible efficacy that has to be confirmed in a larger population randomized placebo-controlled trial. Quality of life, Raynaud's phenomenon, finger edema, and hand impairment and discomfort are significantly improved[83]. A sequential 12-mo follow-up showed significant improvement in the vascular suppression score, skin sclerosis, motion and strength of the hands, and finger edema. The decrease in hand discomfort was statistically significant. A benefit was found in daily tasks, housework, and social activities, according to the questionnaire[82].
An open cohort study found that ASCs dramatically reduced the consequences of orofacial fibrosis in SSc. With the inhibition of fibroblast proliferation and important fibrogenesis regulators, including TG-1 and CTGF, ASCs may alleviate skin fibrosis[95].
SAFETY ASSESSMENT
ASCs overcome the ethical issues associated with embryonic stem cells and are therefore considered safe. However, as a stem cell therapy, ASCs still have problems with storage and transport, as well as the risk of inducing tumors and malformations[102]. Further studies on their efficiency are yet needed, taking into account the host environment and patient-related factors. Importantly, a long-term follow-up is needed to supervise cancer recurrence rates in the context of previous malignancy[103].
CONCLUSION
While the underlying mechanism of skin fibrosis is still unclear, ASC therapy plays multiple roles in the treatment of skin fibrosis, with a combination of aesthetic and therapeutic outcomes. Different ASC derivatives show various properties, which might be further explored in clinical trials. In the future, ASC therapy is likely to become an indispensable part of combined treatment in skin fibrosis.
Provenance and peer review: Unsolicited article; Externally peer reviewed.
Peer-review model: Single blind
Specialty type: Cell and tissue engineering
Country/Territory of origin: China
Peer-review report's scientific quality classification
Grade A (Excellent): 0
Grade B (Very good): 0
Grade C (Good): C, C
Grade D (Fair): 0
Grade E (Poor): 0
P-Reviewer: Kamarudin TA, Malaysia; Maslennikov R, Russia S-Editor: Fan JR L-Editor: A P-Editor: Zhang XD