Copyright
©The Author(s) 2022.
Published by Baishideng Publishing Group Inc. All rights reserved.
Renal pseudoaneurysm after rigid ureteroscopic lithotripsy: A case report
Yi Hong Li, Yi Sheng Lin, Chao Yu Hsu, Yen Chuan Ou, Min Che Tung, Division of Urology, Department of Surgery, Tungs' Taichung MetroHarbor Hospital, Taichung 43503, Taiwan
Author contributions: Li YH was responsible for the conception and design of the work as well as data analysis and interpretation; Lin YS was a supervisor and participated in the care of the patient; Li YH drafted the article; Hsu CY, Ou YC and Tung MC reviewed the article; all authors have read and approved the final manuscript.
Informed consent statement: Informed written consent was obtained from the patient for publication of this report and any accompanying images.
Conflict-of-interest statement: The authors declare that they have no conflict of interest to disclose.
CARE Checklist (2016) statement: The authors have read the CARE Checklist (2016), and the manuscript was prepared and revised according to the CARE Checklist (2016).
Open-Access
: This article is an open-access article that was selected by an in-house editor and fully peer-reviewed by external reviewers. It is distributed in accordance with the Creative Commons Attribution NonCommercial (CC BY-NC 4.0) license, which permits others to distribute, remix, adapt, build upon this work non-commercially, and license their derivative works on different terms, provided the original work is properly cited and the use is non-commercial. See:
https://creativecommons.org/Licenses/by-nc/4.0/
Corresponding author: Yi Sheng Lin, MD, Chief Physician, Division of Urology, Department of Surgery, Tungs' Taichung MetroHarbor Hospital, No. 699 Section 8, Taiwan Boulevard, Wuqi District, Taichung 43503, Taiwan. tung12197@gmail.com
Received: May 25, 2022
Peer-review started: May 25, 2022
First decision: June 16, 2022
Revised: June 28, 2022
Accepted: August 16, 2022
Article in press: August 16, 2022
Published online: September 26, 2022

BACKGROUND
Ureteroscopic lithotripsy (URSL) is a common surgical treatment for ureteral stones. Although flexible ureteroscopy can be used to treat ureteral and renal stones in a single procedure, rigid ureteroscopy can only be used to treat ureteral stones; nonetheless, rigid ureteroscopy remains mainstream in Taiwan owing to its late introduction and flexible ureteroscopy is not covered by national health insurance. Hematuria is a common complication that occurs when the scope passes through stricture sites or when mucosal damage occurs during lithotripsy, but this is usually self-limited. Prolonged hematuria requiring intervention is termed persistent hematuria. Persistent hematuria is less common and few studies have reported the development and etiology of renal pseudoaneurysm after flexible ureteroscopy for renal stones. Herein, we present the first reported case of renal pseudoaneurysm after rigid URSL for ureteral stone.
CASE SUMMARY
The patient was a 57-year-old man who developed renal pseudoaneurysm with active bleeding after rigid ureteroscopy. He presented with gross hematuria and intolerable left flank pain after left URSL. Severe anemia was noted (hemoglobin level, 6.8 g/dL). Contrast enhanced computed tomography revealed one pseudoaneurysm each in the upper and lower renal cortex. He was managed via transcatheter arterial embolization with microcoils, which relieved the symptoms.
CONCLUSION
To the best of our knowledge, ours is the first case report on renal pseudoaneurysm after rigid URSL. Because renal pseudoaneurysms are difficult to access, underlying hypertension, clinical signs such as refractory flank pain, and gross hematuria should be carefully monitored following similar endourological procedures.
Core Tip: To the best of our knowledge, no studies have reported renal pseudoaneurysm as a complication of rigid ureteroscopy for ureteral stones, although renal pseudoaneurysm following flexible ureteroscopic lithotripsy has been reported. Here, renal pseudoaneurysm may have existed but was exacerbated by surgery or indirectly formed due to increased renal pelvis pressure. The etiology was not clarified because computed tomography was not routinely performed preoperatively. Perioperative cough may play a role owing to a sudden increase in abdominal pressure. Based on our literature review, this is the first case report of renal pseudoaneurysm without direct intervention in the renal pelvis.
---
Citation: Li YH, Lin YS, Hsu CY, Ou YC, Tung MC. Renal pseudoaneurysm after rigid ureteroscopic lithotripsy: A case report. World J Clin Cases 2022; 10(27): 9954-9960
---
INTRODUCTION
Ureteroscopic lithotripsy (URSL) is a widely used surgical approach for the management of ureteral stones because of its safety and better stone-free rates compared with extracorporeal shock wave lithotripsy (ESWL). Intraoperative complications with bleeding can be major complications, which are usually caused by endoureterotomy or endopyelotomy, or minor complications, which result from iatrogenic ureteral wall trauma[1]. Moreover, treatment with antiplatelet or anticoagulant agents for underlying diseases may be a leading cause as ureteroscopy can be performed in patients undergoing oral antiplatelet/anticoagulant therapy[2]. In those undergoing URSL, the incidence of transient hematuria, defined as hematuria resolving spontaneously within 48 h, is 0.2%-19.9% and the incidence of persistent hematuria, defined as hematuria lasting for > 48 h requiring medical or surgical intervention, is 0.1%-5.7%[1]. Renal pseudoaneurysms are rare and usually induced by trauma or surgical intervention[3,4]. Several studies have reported iatrogenic renal pseudoaneurysms after flexible ureteroscopic surgery with intervention in the renal pelvis. Although these studies discussed the potential risk factors and underlying diseases, to date, no study has reported renal pseudoaneurysm in the absence of intervention in the renal pelvis.
Herein, we present the case of a patient who developed renal pseudoaneurysm after rigid URSL without intrarenal pelvic intervention. Hemostasis was achieved using transcatheter arterial embolization.
CASE PRESENTATION
Chief complaints
A 57-year-old Chinese man was admitted to the emergency department for refractory left flank pain and gross hematuria.
History of present illness
Because of intermittent left flank pain, he underwent rigid URSL and J-J ureteral stent placement for symptomatic left ureteral stone at another medical institution. The following procedure was performed under spinal anesthesia: Cystolithotripsy for one vesical stone (size, 11 mm × 7 mm), dilatation of the left ureteral orifice with a metal cone-tip dilator, and an 8 French ureteroscope with lithoclast for the left middle-third of the ureteral stone (size, 10 mm × 7 mm). However, massive bleeding after severe cough was noted during the procedure, and a J-J ureteral stent was inserted for ureteral protection. The patient was transferred to our emergency department for refractory left flank pain, gross hematuria, and severe anemia.
History of past illness
The patient had received ESWL for a stone in the left kidney six months before the current episode. The patient was still experiencing intermittent left flank pain due to residual renal and ureter stones. He denied antiplatelet/anticoagulant therapy and recent traumatic injury.
Personal and family history
The patient had a history of hypertension, chronic kidney disease, and gout. He did not have a history of congenital coagulation disorder or any known malignancy. His family history was not contributory. The patient denied tobacco smoking and alcohol consumption habits.
Physical examination
Left flank ecchymosis and knocking tenderness (Figure 1).
Laboratory examinations
Before admission, the patient had undergone component therapy with packed red blood cells for severe anemia wherein his hemoglobin level decreased to 6.8 g/dL (baseline hemoglobin level, 14-15 g/dL). Blood test results on admission to our emergency department are presented in Table 1. Relative anemia was noted, with a hemoglobin level of 12.7 g/dL; however, the platelet count was within the normal range. The activated partial thromboplastin time (aPTT) was 36.4 s, which was slightly above the normal values (24.0-34.9 s), whereas prothrombin time was 11.4 s, which was within the normal range (8-12 s). His renal function showed mild recovery after treatment.
Time

---

On admission (November 26, 2021)

---

Day 3 after TAE (November 29, 2021)

---

Discharge (December 2, 2021)

---

Reference range

---

White blood cell (× 103/µL)
7.4
10.8 ↑
6.6
4-10
Red blood cell (× 106/µL)
4.04 ↓
3.42 ↓
3.69 ↓
4.5-5.5
Hemoglobin (g/dL)
12.7 ↓
10.8 ↓
11.5 ↓
13-17
Platelet (× 103/µL)
270
295
330
140-520
Prothrombin time (s)
11.4
8-12
Activated partial thromboplastin time (s)
36.4 ↑
23.9-34.9
BUN (mg/dL)
16
20
7-22
Creatinine (mg/dL)
1.15
1.07
0.5-1.3
eGFR (mL/min/1.73m2)
69.7 ↓
75.7 ↓
100-140
Urine WBC (HPF)
5-10 ↑
0-5
Urine RBC (HPF)
Numerous ↑
0-5
Imaging examinations
Computed tomography (CT) revealed a contrast extravasation of approximately 1.8 cm and 0.8 cm over the upper and lower renal cortex, respectively, in the arterial phase (Figure 2A and C; the renal stone circled had a higher Hounsfield unit); however, both did not increase in size or attenuation in the delayed phase (Figure 2B and D, arrow). A > 10-cm-thick subcapsular hematoma accumulation was noted along with an intravesical hematoma. Symptomatic pseudoaneurysm with active bleeding was suspected.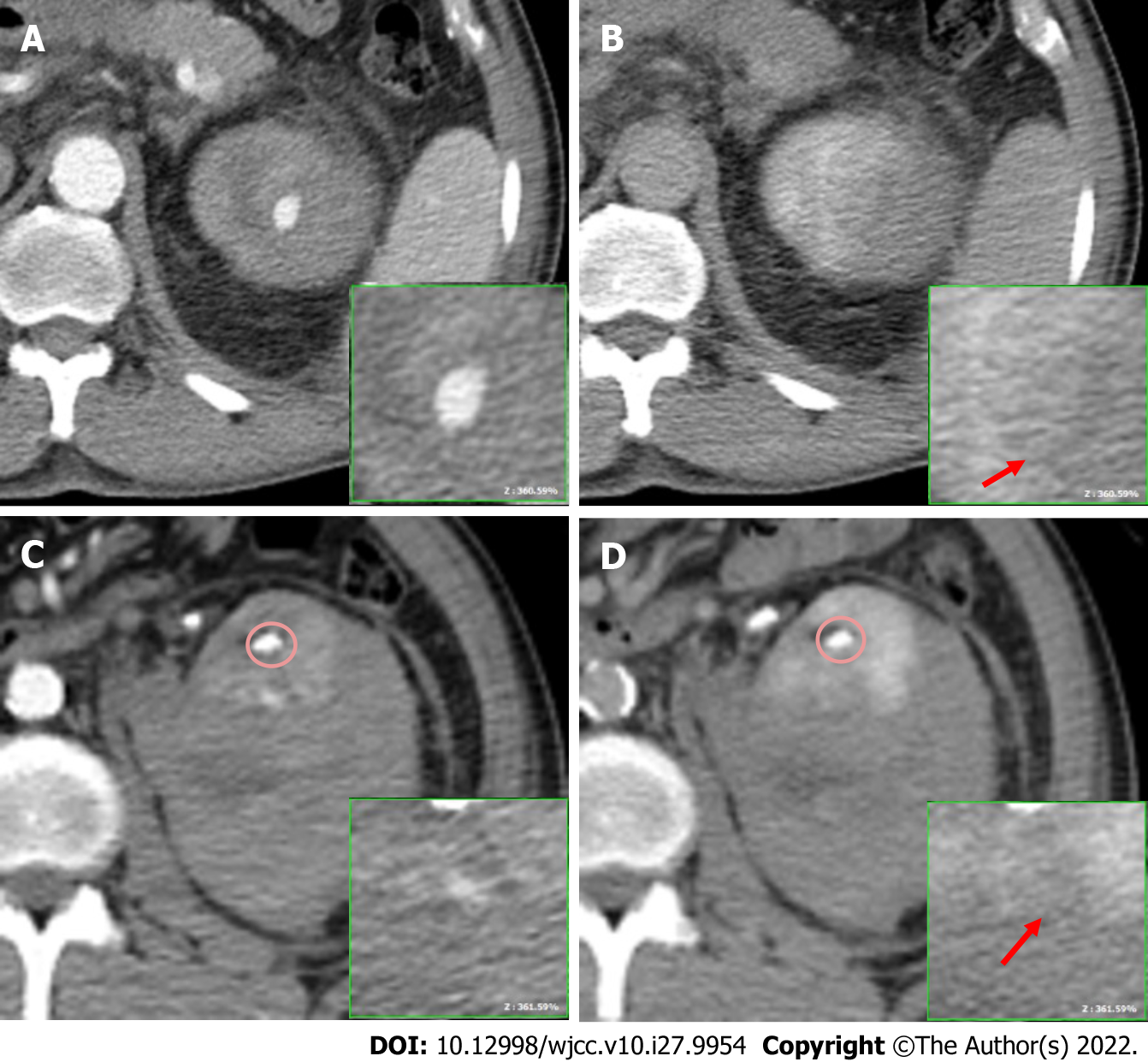 Figure 2 Contrast computed tomography with arterial and delayed phase.
A: Contrast extravasation during the arterial phase at the upper renal cortex, 1.8 cm. Perirenal hematoma was confined within the gerota fascia; B and D: Diffused leakage with no defined margin of extravasation; the red arrow indicates the extravasation site no longer existing in delayed phase; C: Another extravasation at the lower renal cortex, 0.8 cm. The renal stone (circled) showing significant higher HU.
FINAL DIAGNOSIS
The final diagnosis was two renal pseudoaneurysms with active bleeding after rigid URSL.
TREATMENT
Transcatheter arterial embolization was immediately performed under contrast extravasation. A 1.5-cm pseudoaneurysm was found at the terminal branch of the left upper renal artery and another was found within 0.4 cm of the terminal branch of the left lower renal artery (Figure 3A and C). The upper pseudoaneurysm was embolized using two 0.3 cm × 2 cm and two 0.4 cm × 2 cm microcoils (Figure 3B), whereas the lower pseudoaneurysm was embolized using two 0.3 cm × 2 cm microcoils. No additional contrast extravasation was observed after the procedure (Figure 3D, arrowhead).
Figure 3 Comparing the image after TAE with residual J-J stent.
A: A 1.5-cm pseudoaneurysm at the upper renal artery branch; B: Embolized using two 0.3 cm × 2 cm and two 0.4 × 2 cm microcoils; C: A 0.4-cm pseudoaneurysm at the lower renal artery terminal branch; D: Embolized using two 0.3 cm × 2 cm microcoils with no contrast extravasation in both lesions (point with white arrowheads).
Blood clots and the left ureteral stent were removed using cystoscopy considering the patient's hemostasis status. Intraoperative blood loss was approximately 100 mL.
OUTCOME AND FOLLOW-UP
After the operation, a 3-way Foley catheter was inserted, and he subsequently underwent continuous bladder irrigation for 5 d. He demonstrated good tolerance after removal of the Foley catheter and did not experience recurrent hematuria or acute urinary retention. Empirical antibiotic therapy with cefazolin was prescribed, but no fever was detected even during the hematoma absorption phase. His hemoglobin level increased to 10.8 g/dL and recovered to 14.3 g/dL after achieving hemostasis following component therapy. The patient was discharged on postoperative day 8 with mild flank pain.
DISCUSSION
Renal pseudoaneurysm can be asymptomatic and incidentally discovered during unrelated imaging examinations, most commonly by CT. The prevalence of renal artery aneurysm/pseudoaneurysm in the general population is undetermined but is believed to be approximately 0.1%[5]. However, the prevalence of renal artery aneurysm/pseudoaneurysm as detected by multidetector CT is 0.07%[6]. In cases without trauma, the risk factors for spontaneous rupture are an aneurysm size of > 3 cm, hypertension[7], and pregnancy. In a single center experience study, Henke et al[8] reviewed 168 patients with renal pseudoaneurysms and found that solitary renal pseudoaneurysm is more common than bilateral pseudoaneurysm, followed by multiple lesions in one kidney. Iatrogenic procedures, such as percutaneous procedures, renal biopsy, partial nephrectomy, renal transplantation, ESWL, and intrarenal pelvis surgery, are reported as complications. Among the studies on ESWL, one study reported the case of a patient with Behçet's disease and arterial pseudoaneurysm in the external iliac artery[9]. Lang et al[10] reported the case of a patient who developed renal pseudoaneurysm directly after ESWL based on pre- and postprocedural CT scans.
Published studies on endourology-related complications, such as renal pseudoaneurysm, were reviewed. Rudnick et al[11] and Aston et al[12] each reported one patient who developed renal pseudoaneurysms after flexible ureterorenoscopy and electrohydraulic lithotripsy. Delayed bleeding was noted on postoperative days 19[11] and 21[12]. Urothelial mucosal damage or cavitation bubbles were suspected. Recently, Durner et al[13] reported the case of a patient who underwent bridge therapy for underlying disease status after mitral valve replacement. No notable complications were observed during the procedure, but the patient developed macrohematuria after resuming anticoagulant therapy with low-molecular-weight heparin.
Mucosal or potential vascular damage because of the close distance of laser lithotripsy is well known. Among all patients with renal stones who underwent treatment via laser lithotripsy reported by Jubber et al[14], one presented with urinary tract infection with perirenal fluid collection at 3 weeks after the procedure. The patient was finally diagnosed with renal pseudoaneurysm after poor response to antibiotic treatment. Watanabe et al[15] described the case of a postrenal transplantation patient who developed gross hematuria 2 days after laser lithotripsy for stones in an allograft renal pelvis and lower calyx.
In the five patients described above[11-15], no intraoperative complications were recorded; however, three patients presented with delayed bleeding after postoperative day 19. The vessel of the grafted kidney was considered to be weaker than that of the native kidney and was sensitive to intrarenal pressure changes.
To the best of our knowledge, this is the first case report on renal pseudoaneurysm after rigid URSL. Similar to the above reports, all procedures involved the insertion of a guidewire in the renal pelvis. However, additional damage, such as increased intrarenal pressure, may have occurred as a result of the intrarenal pelvis procedure, regardless of whether electrohydraulic or laser lithotripsy was performed. The patient in our report did not undergo these treatments, but all procedures were performed within the ureter; thus, increasing intrarenal pressure for better surgical vision was not required. Although mucosal damage may develop during lithotripsy after severe cough, the etiology of active bleeding of multiple renal pseudoaneurysms has not been clarified. Because of the lack of such reports in the literature, we hypothesize that the concurrent increased intraabdominal pressure during cough, retrograde pressure from ureteroscopy, and water used for irrigation are the precipitating factors. As per our literature review, multiple aneurysms within one kidney are rare compared with solitary renal lesions. Asymptomatic renal pseudoaneurysm after ESWL might explain the occurrence of multiple lesions in our patient; however, preprocedural images were not available for our patient. Nevertheless, both ESWL and rigid URSL are commonly considered as treatment for renal and ureteral stones. Bleeding from renal pseudoaneurysm remains a rare complication. Whether the lesions are primary or secondary to previous ESWL or to hypertension or whether they are related to our hypothesis is also unknown. We believe this outcome was influenced by multiple factors.
The slightly prolonged aPTT in the current case may be related to hypofibrinogenemia after active bleeding and massive transfusion[16,17]. However, we did not perform additional laboratory investigations as the patient did not exhibit signs or symptoms of disseminated intravascular coagulation. Moreover, the relationship between aPTT prolongation and pseudoaneurysm formation has been rarely reported in previous studies.
In our hospital's practice, URSL is routinely performed under intravenous general anesthesia but not spinal anesthesia. An episode where a patient had severe cough during URSL, which possibly increased the risk of mucosal/cavitation bubble-induced damage, has not yet been reported.
CONCLUSION
Although renal pseudoaneurysm after URSL is a rare complication, clinicians should consider the indicating signs of persistent hematuria and flank pain. As preoperative arterial-phase contrast CT is not recommended in routine practice, patients with risk factors, such as previous ESWL, poorly controlled hypertension, pregnancy, and history of renal pseudoaneurysm, should be carefully monitored.
Provenance and peer review: Unsolicited article; Externally peer reviewed.
Peer-review model: Single blind
Specialty type: Urology and nephrology
Country/Territory of origin: Taiwan
Peer-review report's scientific quality classification
Grade A (Excellent): 0
Grade B (Very good): B
Grade C (Good): C
Grade D (Fair): D
Grade E (Poor): 0
P-Reviewer: Faraji N, Iran; Li Y, China S-Editor: Yan JP L-Editor: A P-Editor: Yan JP