World J Gastrointest Oncol.
Aug 15, 2010;
2(8): 332-334
Published online Aug 15, 2010. doi: 10.4251/wjgo.v2.i8.332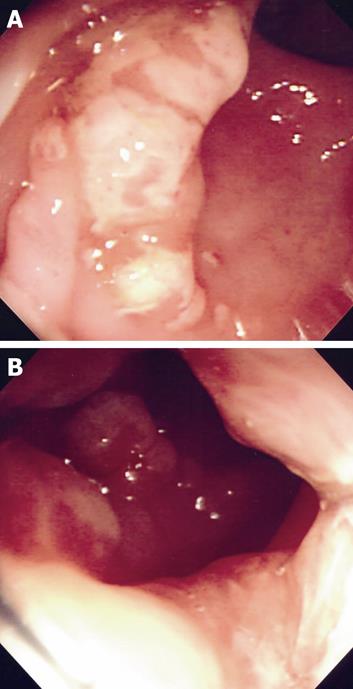 Figure 1 Colonoscopic examination.
A: Polypoid mass with surface ulceration and surrounding mucosal erythema; B: Multiple polypoid mass lesions at the rectum.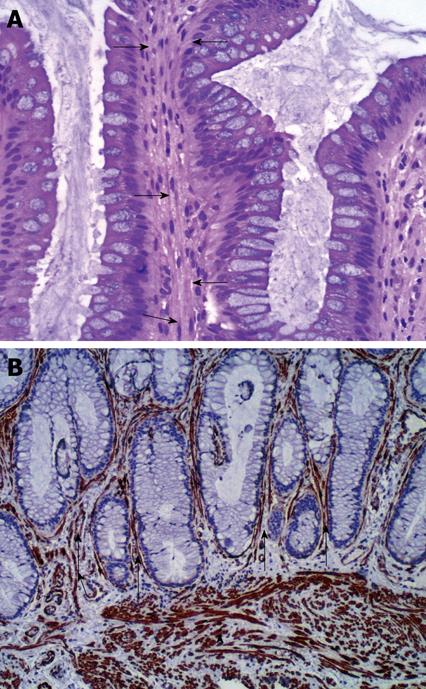 Figure 2 Histopathological examination.
A: The rectal mucosa showing smooth muscle fibers proliferation perpendicular to the muscularis mucosa and extending between the glands (arrows) (HE stain × 40); B: Smooth muscle proliferation in the muscularis mucosa (arrow head as internal control)) and extending in between the mucosal glands (arrows) (Immunohistochemistry, smooth muscle actin, × 100).
---
Citation: Saadah OI, Al-Hubayshi MS, Ghanem AT. Solitary rectal ulcer syndrome presenting as polypoid mass lesions in a young girl. World J Gastrointest Oncol 2010; 2(8): 332-334
---