Copyright
©The Author(s) 2015.
Published by Baishideng Publishing Group Inc. All rights reserved.
Epidermal stem cells and skin tissue engineering in hair follicle regeneration
María Eugenia Balañá, Gustavo José Leirós, Fundación Pablo Cassará -Instituto de Ciencia y Tecnología Dr. César Milstein, Consejo Nacional de Investigaciones Científicas y Técnicas (CONICET), Saladillo 2468 C1440FFX, Ciudad de Buenos Aires, Argentina
Hernán Eduardo Charreau, Technology Intelligence Unit, Clarke, Modet & C°, Lavalle 190, 3° Piso, C1047AAD Buenos Aires, Argentina
Author contributions: Balañá ME, Charreau HE and Leirós GJ substantially contributed to conception and design, acquisition of data, analysis and interpretation of data.
Supported by the Agencia Nacional de Producción Científica y Tecnológica (ANPCyT), No. ANR BIO 0032/10.
Conflict-of-interest: The authors state no conflict of interest.
Open-Access: This article is an open-access article which was selected by an in-house editor and fully peer-reviewed by external reviewers. It is distributed in accordance with the Creative Commons Attribution Non Commercial (CC BY-NC 4.0) license, which permits others to distribute, remix, adapt, build upon this work non-commercially, and license their derivative works on different terms, provided the original work is properly cited and the use is non-commercial. See: http://creativecommons.org/licenses/by-nc/4.0/
Correspondence to: Dr. María Eugenia Balañá, Fundación Pablo Cassará, Instituto de Ciencia y Tecnología Dr. Cesar Milstein, Consejo Nacional de Investigaciones Científicas y Técnicas (CONICET), Saladillo 2468 C1440FFX, Ciudad de Buenos Aires, Argentina. mbalana@fundacioncassara.org.ar
Telephone: +54-11-41054127 Fax: +54-11-46874065
Received: August 27, 2014
Peer-review started: August 28, 2014
First decision: September 4, 2014
Revised: October 2, 2014
Accepted: February 4, 2015
Article in press: February 9, 2015
Published online: May 26, 2015

The reconstitution of a fully organized and functional hair follicle from dissociated cells propagated under defined tissue culture conditions is a challenge still pending in tissue engineering. The loss of hair follicles caused by injuries or pathologies such as alopecia not only affects the patients' psychological well-being, but also endangers certain inherent functions of the skin. It is then of great interest to find different strategies aiming to regenerate or neogenerate the hair follicle under conditions proper of an adult individual. Based upon current knowledge on the epithelial and dermal cells and their interactions during the embryonic hair generation and adult hair cycling, many researchers have tried to obtain mature hair follicles using different strategies and approaches depending on the causes of hair loss. This review summarizes current advances in the different experimental strategies to regenerate or neogenerate hair follicles, with emphasis on those involving neogenesis of hair follicles in adult individuals using isolated cells and tissue engineering. Most of these experiments were performed using rodent cells, particularly from embryonic or newborn origin. However, no successful strategy to generate human hair follicles from adult cells has yet been reported. This review identifies several issues that should be considered to achieve this objective. Perhaps the most important challenge is to provide three-dimensional culture conditions mimicking the structure of living tissue. Improving culture conditions that allow the expansion of specific cells while protecting their inductive properties, as well as methods for selecting populations of epithelial stem cells, should give us the necessary tools to overcome the difficulties that constrain human hair follicle neogenesis. An analysis of patent trends shows that the number of patent applications aimed at hair follicle regeneration and neogenesis has been increasing during the last decade. This field is attractive not only to academic researchers but also to the companies that own almost half of the patents in this field.
Core tip: Loss of hair follicles caused by injuries or pathologies affects the patients' psychological well-being and endangers inherent functions of the skin. Different experimental strategies and approaches to obtain mature hair follicles have been designed based upon current knowledge of the epithelial and dermal cells involved in embryonic hair generation and adult hair cycling, and in the epithelial-mesenchymal interactions among them. This review summarizes the current advances in hair follicle neogenesis and regeneration, with emphasis on those involving neogenesis of hair follicles in adults from isolated cells and tissue engineering as well as an analysis on patent trends in this field.
---
Citation: Balañá ME, Charreau HE, Leirós GJ. Epidermal stem cells and skin tissue engineering in hair follicle regeneration. World J Stem Cells 2015; 7(4): 711-727
---
INTRODUCTION
Regenerative medicine aims to create living, functional tissues that repair or replace lost or damaged organ function resulting from disease, injury, congenital defects or aging.
The main challenge of tissue engineering is the reconstitution of fully organized and functional organ systems from dissociated cells that have been propagated under defined tissue culture conditions.
Skin is the largest organ in the human body, acting as a barrier with protective, immunologic and sensorial functions. Deep skin injuries produce a complete destruction of skin regenerative elements. These wounds heal by contraction, with epithelization from the edges only and extensive scarring, resulting in reduced joint movements and cosmetic defects[1]. Moreover, if these lesions are too extensive, the healing process is unsuccessful and they become life-threatening for the patient. Tissue engineering has emerged as a new interdisciplinary field combining scaffolds, cells and biomolecular signals towards the treatment of skin lesions. This useful strategy may contribute not only to the treatment of deep skin injuries but also to the understanding of skin regeneration.
The main goal of tissue-engineered skin grafts is to restore lost barrier function. Many dermal-epidermal composites or skin equivalents have been described for use in the clinic[2] but the inability of these skin constructs to regenerate skin appendages as hair follicles has limited their use. Although the ability to reconstitute adult skin with functional skin appendages has long been a major clinical objective, the regeneration of epidermal appendages, such as hair follicles, and sebaceous and sweat glands, is a challenge that is still pending.
Recent studies clearly demonstrate that there are multipotent stem cells with the capability to regenerate hair follicles and sebaceous glands in adult mammalian skin and this multipotency can be maintained in cell culture[3,4]. The hair-differentiation potentiality of epidermal stem cells can be activated by inductive dermal cells. As will be extensively reviewed in this article, co-grafting of those cellular components from mice allows complete hair reconstitution[5]. The successful regeneration of hair follicles in immunodeficient mice suggests that creating human hair follicles in tissue-engineered skin grafts is feasible. However, regeneration of human hair in a similar manner has not been reported.
Skin appendages cannot be restored in healed wounds by current tissue-engineered skin grafts[6] mainly because of their limited self-regeneration capability in adults[7], the lack of appendage structures in the human skin grafts and probably an improper molecular microenvironment. Many strategies still need to be explored, particularly enriching isolated cells with trichogenic capability, maintaining this capability during processing, and providing the cells with proper environmental signals.
The lack of skin appendages by skin wounds and by pathologies such as different kinds of alopecia not only affects the patients' psychological well-being[8], but also endangers the inherent functions of the skin.
Skin appendages cannot regenerate on their own after damage[7]. For the fully functional regeneration of ectodermal organs, it has been proposed that a bioengineered organ could be developed by reproducing the embryonic processes of organogenesis.
This review summarizes current advances in the different experimental strategies to regenerate or neogenerate hair follicles, in vitro and in vivo, with emphasis on approaches that include the neogenesis of hair follicles in adults from isolated cells and by tissue engineering as well as an analysis on patent trends in this field.
ANATOMY AND BIOLOGY OF HAIR FOLLICLES
The skin consists of three layers: epidermis, dermis, and hypodermis. The epidermis is in fact a multi-layered epithelium extending from the basement membrane that separates it from the dermis to the air. The dermis is located below the epidermis and is a connective tissue comprised of extracellular matrix, fibroblasts, vascular endothelial cells, and skin appendages.
Skin appendages, including hair follicles, sebaceous glands and sweat glands, are linked to the epidermis but project deep into the dermal layer. A human has around five million hair follicles with two types of hair, terminal hair (long, thick pigmented) and vellus hair (thin, unpigmented)[9].
Hair follicles are composed of an outer root sheath (ORS) that is contiguous with the epidermis, an inner root sheath (IRS) and the hair shaft (HS). The matrix surrounding the dermal papilla (DP), in the hair root, contains actively dividing and relatively undifferentiated cells that are essential for follicle formation.
In embryogenesis, the skin begins as a single layer of epidermal stem cells. Then, mesenchymal cells populate the skin to form the underlying collagenous dermis[10]. Human hair follicles start to develop through complex morphogenetic processes resulting from highly coordinated series of bidirectional epithelial-mesenchymal interactions[11]. Hair follicle development is initiated by the appearance of a thickening in the embryonic ectoderm called placode resulting from the condensation of the underlying mesoderm that will form the DP[12]. The DP becomes a permanent part of the follicle base[13] enveloped by the hair bulb. It is considered the commander of the hair follicle determining the hair thickness, length, and life cycle[8]. Signals from the condensed mesoderm induce the proliferation of the placode which forms mature hair follicles by a systematic series of differentiation and proliferation processes of epithelial cells. The hair follicle becomes fully mature when its bulb nears the bottom of the dermis. At this point, the proliferative cells (matrix) at the follicle base continue to divide, producing progeny cells that terminally differentiate to form the growing hair that emerges from the skin surface. The inner layers begin to differentiate into concentric cylinders to form the central HS and the surrounding channel, the IRS.
These tissues undergo continual rejuvenation and, in response to injury, they must be prepared for wound repair. The capability of the skin for maintaining tissue homeostasis, regenerating hair, and repairing the epidermis after injury resides in its stem cells.
HAIR FOLLICLE STEM CELLS AND THE HAIR CYCLE
Stem cells are undifferentiated cells that are ultimately responsible for the constant renewal of the skin due to their distinguishing properties of self-renewal for the entire life span of an organism and their ability to differentiate into a variety of specialized cells.
A pool of progenitor cells is located on the basement membrane of the skin. These cells contribute to epidermal homeostasis undergoing continuous self-renewal and differentiation to keratinocytes that migrate towards the surface of the skin where they undergo terminal differentiation and maturation providing the skin's barrier properties.
Another reservoir of slow-cycling multipotent stem cells that gives rise to a range of differentiated cell types in skin is located in a specialized region of the ORS in the hair follicle, known as the bulge[3,4,14-16]. Early work showed that these slow cycling multipotent stem cells not only contribute to the growth of hair follicles themselves and of the sebaceous glands[3] but also can be activated and migrate out of hair follicles in order to repair the damaged epithelium[17]; however, they contribute little to the turnover of the intact epidermis. In the absence of these hair follicle stem cells (HFSC), hair follicle and sebaceous gland morphogenesis is blocked, and epidermal wound repair is compromised[18]. The epithelial-mesenchymal interactions with the underlying DP play a pivotal role in embryonic hair genesis[12], in the regulation of post-natal hair follicle cyclical activity, and in the repair of wounded skin[19-22].
Unlike most organs, hair follicles do not reach homeostasis once they mature. Each mature hair follicle is a regenerating system, which physiologically undergoes cycles of growth (anagen), regression (catagen), and rest (telogen) numerous times in adult life[23]. In catagen, hair follicle stem cells are maintained in the bulge. Then, the resting follicle re-enters anagen (regeneration) when proper molecular signals are provided. During late telogen to early anagen transition, signals from the DP stimulate the hair germ and quiescent bulge stem cells to become activated[24]. Many paracrine factors are involved in this crosstalk at different hair cycle stages and some signaling pathways have been implicated[3,19,25]. In anagen, stem cells in the bulge give rise to hair germs, then the transient amplifying cells in the matrix of the new follicle proliferate rapidly to form a new hair filament[26].
Even if it is generally believed that hair follicles do not form after birth in humans[27], the formation of vellus hair follicles from the reconstituted epidermis of an abraded area of facial skin was described in 1956[28]. However, the great challenge of skin tissue engineering and skin wound regeneration remains to be its inability to reliably reconstitute skin appendages, most notably hair follicles and sweat glands. The information about the mechanisms that generate and maintain skin appendages provided by recent studies with skin-derived progenitor cells, may be the basis of new therapies that could help to overcome these limitations.
CAUSES OF HAIR LOSS AND REGENERATION OF THE HAIR FOLLICLE
Hair loss responds to different causes ranging from mild traumas, such as hair fiber plucking, to severe traumas such as partial- or full-thickness skin lesions. Pathological processes, such as cicatricial or non cicatricial alopecia, can also be responsible for hair loss. After plucking, if HFSC and DP remain, a new hair filament would be spontaneously regenerated. Some label retaining studies have shown that hair follicle stem cells in the bulge remain intact after hair plucking[29,30] whereas others reported bulge stem cells suffering apoptosis after plucking which are replaced by label retaining cells coming from hair germ[31]. It was also observed that the slow-cycling bulge cells (CD34 positive cells in mouse) are involved in normal hair homeostasis and wound healing, whereas regeneration after hair plucking involved actively cycling cells from the lower ORS[26]. However, the cell dynamics in this process is less clear than in the physiological renewal and further studies are required to understand this process.
However, when the cellular niches are completely lost, it is necessary to generate a completely new hair follicle in a process called hair follicle neogenesis.
Based on the knowledge on the epithelial and dermal cells, and their interactions, during the embryonic hair generation and adult hair cycling, different experimental approaches have been designed to regenerate hair follicles or generate new ones by the neogenesis process.
These hair regeneration and neogenesis attempts are recapitulated in this article, and can be classified into 4 categories: (1) reversion of pathological intra- and/or extra-follicular environment, for instance androgenetic alopecia (AGA); (2) regeneration of complete hair follicles from the recombination of hair follicle parts; (3) neogenesis of hair follicles from isolated cells; and (4) neogenesis of hair follicles by tissue engineering.
ANALYSIS OF PATENTS TRENDS IN HAIR FOLLICLE REGENERATION AND NEOGENESIS
So far, we have made a concise review of the scientific literature describing the attempts to regenerate the hair follicle. We have also mentioned a number of reviews on academic articles dealing with hair regeneration or wound induced follicle neogenesis that have been published in recent years[85]. However, reviews on tissue engineering and hair regeneration patents are less common. Many of these strategies have been combined in different methods intended for use in active applications. In this section, we review and analyze published patents on hair regeneration[86-150], as a measure of the interest in the industry for this area of research, identifying the currently available technical developments, favorite research strategies and main points of interest. Parameters analyzed include not only chronological patent publishing trends, but also the most cited patents, top patent owners (assignees), most cited documents, and the classification of patents among technology areas according to the International Patent Classification (IPC). Moreover, hair regeneration applications that have been patented throughout the years are screened (Figure 2).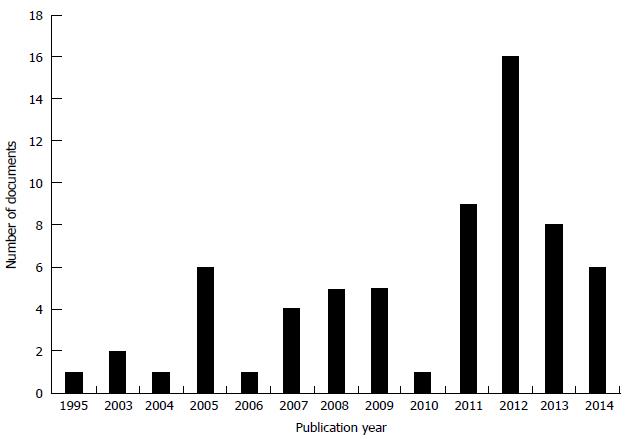 Figure 2 Evolution of the number of patent applications related to hair regeneration (time frame 1990-2014).
Own investigation using patent data base Thomson Innovation.
Patent search was performed using the Thomson Innovation Database, a collaboaration platform for searching and analyzing global patents, integrated with analytics and workflow tools which allow access to more than 40 databases from different countries. For each particular group of hair regeneration, specific keywords (descriptors) were selected. Descriptors were chosen based on the synergy of two approaches: the search of specific keywords and concepts used in academic publications, and the selection of additional descriptors from specific patent vocabulary. Therefore, the keywords are: Stem cell; progenitor cell; precursor cell; repair; growth; wound; regeneration; neogenesis; skin; tissue engineering; dermis; epidermis; dermal; hair follicle; sebaceous gland and sebaceous unit. The presence of the chosen descriptors was checked in the title, abstract and claims of existing patents, considering documents published between years 1990 and 2014. More than forty technology patent and patent application databases were used for patent search, including the Spanish OEPM, the American USPTO, the worldwide WIPO, the European EPO, the patent offices of France, Germany, Great Britain and the Far-Eastern patent offices of Japan, China and South Korea. Besides the keywords, the search process was completed with the use of the IPC codes under which the patents of interest could be framed. The combination of the search approaches previously mentioned offered a universe of about 475 patent families, which were manually reviewed and filtered, setting aside those directed to gene therapies, mesenchymal, embryonic stem cell, osteoblast, neuron and hematopoietic cell and others. The result of this process was the identification of 65 patent families[86-150]. The selection of the document to be considered in patent trends was the first published. It is important to note that patent applications can be published in different countries under different national numbers. This is called the family of the patent. In the search performed for the present study, care was taken to include just one patent per family.
Tables showing patents that are most frequently cited take into account all the patents in the family, since it may occur that the earliest document is not necessarily the most cited one.
Competitive dynamics
The competitive dynamics indicator shows the distribution of patents among the different organizations, providing a general picture of the tissue repair regeneration industry and their relative positioning. On the basis of this information we can identify the most prolific applicants for hair regeneration technology patents in the world, by establishing the number of applications filed by each company.
Table 1 lists the applicants that have filed more than one application, which will be our "Reference Group". Most of the members of this group are manufacturing companies, indicating that this technology belongs to the industrial sector. The highest percentile is shared by a small number of applicants with five patents each, while a second group includes a wide range of companies with no clear technological leadership.
Assignee
No of patent applications
Percentage
Shiseido Co Ltd
5
7.69%
Aderans Research Institute Inc
5
7.69%
Hospital for Sick Children
2
3.08%
Biointegrence Inc, phoenixbio Co Ltd
2
3.08%
Follica Inc
2
3.08%
Organ technologies Inc
2
3.08%
Universitiy of Jilin
2
3.08%
University of Southern California
2
3.08%
National University of Taiwan
2
3.08%
Aderans Research Institute Inc, Bioamide Inc
1
1.54%
Agency for science, technology and research
1
1.54%
Alvi Armani Genomics Inc
1
1.54%
Anticancer Inc, Li L, Yang M
1
1.54%
Beijing Yonghe Hair Transplant Technology
1
1.54%
Biomaster KK
1
1.54%
Chen B, Gao Q, Zeng Q
1
1.54%
Chinese Academy of Science Institute of Zoology
1
1.54%
Total No of patent applications
65
100.00%
No of Entities
50
The group of companies of the first percentile shown in Table 1, are the leading hair regeneration manufacturers Shiseido Co ltd and Aderans Research Institute, which own more than five published patents each, and which own almost 20% of all filed applications in this field.
The second percentile of institutions having one or two applications each could offer a favorable scenario for technology transfer.
It should be highlighted that there are over 20 institutions or about 40% patent applications from non-profit institutions including universities and foundations. The most prolific institutions are: Jilin University, University of Pennsylvania, University of Southern California and National Taiwan University, which gives an idea that this field is very prolific in academic institutions.
Technology trends
The patent technology trends indicator introduces the serial number of patent applications showing how technology has evolved over time as well as its appropriation by companies and non-profit institutions in the field of hair regeneration. This technological area has experienced constant growth. In the 90's an average of 2.5 patent applications were filed per year, and in the first decade of the 21th century the average increased to 6 patent applications per year (Figure 2).
The years 2011 and 2012 stand out as the ones with the most patent applications, 10 and 16 respectively.
Aderans Corp Company filed most patent applications from 2005 to 2008. Shiseido and Follica, as well as the University of Pennsylvania have filed patent applications in recent years.
From this general perspective, it can be inferred that the technological field is, at present time, in a developmental stage, with an annual growth rate of 10%, based on the number of patent documents filed since 2010.
From another perspective, Figure 3 shows the cumulative patent families published in the last 20 years. As it can be seen, since 2005 there has been a remarkable increase of attraction in the area: while 50% of the patents required 15 years to be generated, the remaining 50% has been filed over the past five years.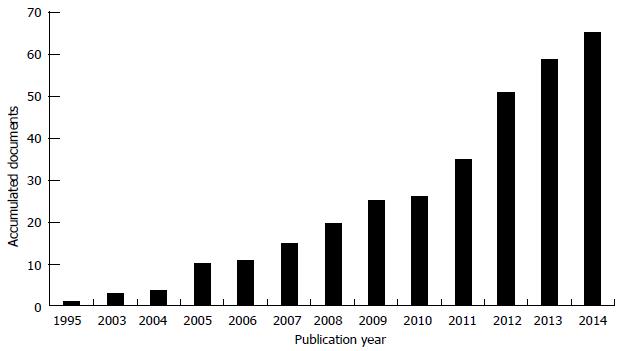 Figure 3 Evolution of accumulated patent families.
Tendency line. Own generation based on patent databases.
The analysis of patent application-trends shows that, at the present time, the development of hair regeneration technology is evolving positively, making this technological field attractive to companies that start producing and selling products as a result of the development of hair regeneration technology.
Technological leadership indicator
The technology leadership indicator identifies specific companies with the most consolidated and developed technologies in this specific field. The Patents which have received the highest number of citations are considered to have the highest degree of technological progress or impact. The analysis of patent citations allows the identification of patents which have been most useful for later researchers and for the development of newer technologies and may illustrate the diffusion of technical knowledge and its different practical applications throughout the years.
Just as those patents that have received most citations are not always the most relevant ones, and those most relevant are not always the most cited ones; a number of empirical studies demonstrate a strong correlation between those variables. In Table 2 the 10 most cited institutions as references are listed.
| | | | | | | |
| --- | --- | --- | --- | --- | --- | --- |
| Publication number | Title | Assignee | Inventor | Publication year | Count of citing patents | Ref. |
| WO1995001423A1 | Methods of culturing and modulating the growth of hair follicular stem cells | New York State Univ, Pennsylvania Univ | Lavker RM, Sun T, Yang J | 1995 | 29 | [86] |
| WO2005053763A1 | Hair growth method | Biointegrence Inc, Phoenixbio Co Ltd | Matsunaga M, Matsunaga MC, Shimada T, Shimada TC, Toyoshima K, Toyoshima KC, Yoshizato K | 2005 | 17 | [94] |
| WO2003024406A2 | Nestin-expressing hair follicle stem cells | Anticancer Inc | Li L, Lingna L, Meng Y, Ri R, Yang M | 2003 | 17 | [87] |
| WO2005071063A1 | Methods of making and using skin-derived stem cells | Hospital For Sick Children | Biernaskie J, Fernandes K, Fernandez K, Mckenzie I, Miller F, Miller FD | 2005 | 16 | [91] |
| WO2002060396A2 | Hair follicle neogenesis by injection of follicle progenitor cells | Aderans Res Inst Inc, Bioamide Inc | Barrows TH | 2002 | 16 | [88] |
| US20050214344A1 | Tissue engineered biomimetic hair follicle graft | Aderans Res Inst Inc | Barrows T, Barrows TH, Cochran S, Cochran SA, Marshall B | 2005 | 15 | [90] |
| US20070092496A1 | Method of delivering cells to the skin | Aderans Res Inst Inc | Du X, Stenn K, Stenn KS, Washenik K, Washenik KJ, Zhang Y, Zheng Y | 2007 | 10 | [99] |
| WO2003104443A2 | Hair follicle mesenchymal stem cells and use thereof | Torico Sci Innovations Inc, Trichoscience Innovations Inc | Hoffmann R, Mcelwee KJ | 2003 | 9 | [89] |
| US20070122387A1 | Hair grafts derived from plucked hair | Aderans Res Inst Inc | Barrows TH, Cochran SA, Marshall B, Schlicher R, Su Y | 2007 | 9 | [105] |
| WO2007062386A2 | Hair follicle graft from tissue engineered skin | Aderans Res Inst Inc | Barrows TH, Macintyre P, Washenik KJ | 2007 | 8 | [98] |
Up to the present, New York University and Pennsylvania State University have received the highest number of citations with 29 citations which reflects the importance of the works of Lavker et al[86] previously described. Following these institutions, companies likse Biointegrence Co and Phoenixbio Co Inc, and Anticancer Inc have 17 citations. The Hospital for Sick Children, Aderans Research Institute Inc, Sci Torico Innovations Inc and Trichoscience Innovations Inc are among the most innovative companies.
Skin substitutes were among the earliest products to be developed using principles of tissue engineering, and their success is evident in the clinical use of several commercially available products. However, skin substitutes capable of performing all the functions of normal skin are not currently available, which limits their use in patients. Hair follicle neogenesis is not observed using current skin substitutes. Thus, the efforts in hair and skin bioengineering continue to be in a leading place in regenerative medicine. Furthermore, hair restoration is one of the fastest growing areas of cosmetic therapies for both men and women.
Hair follicles are important not only for appearance, skin hydration, barrier formation, and protection against pathogens but also in wound healing. As hair follicles store epidermal stem cells, skin with hair follicles heals faster. In addition, bulge stem cells are less susceptible to loss through minor trauma and damage through ultraviolet light. Thus, treatments that involve neogenesis of normal hair follicles would find much wider application for restoring normal skin function and appearance.
Methods and compositions capable of generating morphologically-correct, fully-developed human hair follicles, useful for treating conditions such as full- or partial-thickness skin loss, wounds, burns, scars, and hair loss have been developed in order to fulfill this necessity. In this analysis, only patents aiming to hair follicle regeneration or neogenesis have been selected. As reviewed, it has been determined that both epithelial cells and mesenchymal cells are essential for hair follicle regeneration. The regeneration of chimeric hair follicles comprised of mouse DPC and human epithelial cells has been shown to be possible, however it is still not possible to regenerate completely human hair follicles. One of the reasons for this is the difficulty to obtain an adequate number of human DPCs having the ability to induce hair follicle formation to be used for transplantation. Consequently, most of the patents filed in this field provide cellular compositions capable of hair neogenesis and regeneration or methods for isolating progenitor skin cells as well as the culture conditions that will allow them to keep their inductive properties to promote hair neogenesis or regeneration.
The first most cited patent listed in Table 2 (WO1995001423), published in 1995, described a method of culturing and modulating subpopulations of follicular keratinocytes from upper portions of hair follicle to be used for identifying agents which stimulate hair growth or prevent hair loss and useful for follicular reconstruction and transplantation as well as wound coverage in burns and skin ulcer[86] .
In 2005 a patent application (WO2005053763A1) developed a method for transplanting the dermal papilla or dermal papilla cells and outer skin epidermis tissue or epidermal cells to hairless scalp to regenerate hair[94].
Different tissue engineered-hair follicle grafts were also patented; a scaffold constructed to mimic the architecture of the native hair follicle and for percutaneous implantation facilitating the follicle neogenesis process[90] (US20050214344), a hair graft comprising plucked hairs having adhered epidermal stem cells and follicular dermal cells for implantation into wounded skin[105] (US20070122387A1) and a hair graft comprising a scaffold, and tissue engineered epidermal and dermal layer with hair follicle progenitor cells (WO2007062386A2)[98].
Several methods for isolating skin-derived precursor stem cells from hair follicles or dermal papillae as well as the culture conditions or the delivery into the skin of these cells in order to induce hair growth are also among the most cited patents (WO2002060396A, WO2005071063A1 and US20070092496A1)[88,91,99].
Finally, among the most cited patents are those describing methods for isolating hair follicle mesenchymal stem cells useful for treating alopecia and gene therapy (WO2003104443A2)[89] or useful for hair loss, burns or skin replacement as well as for treating neurological or degenerative disorders (WO2003024406A2)[87].
The rest of the patents analyzed whose content is not mentioned, can be found in the References section[86-150] at the end of this review.
CONCLUSION
Although a successful strategy to generate human hair follicles from adult cells has not yet been reported, the results presented in this review suggest the issues that need to be addressed before success can be achieved. Perhaps the most important of those issues is to provide cells with a three-dimensional structure that simulates the natural scaffold. Herein the cells should develop and interact among themselves or with other cell types in the epithelial-mesenchymal interactions. Improving culture conditions that allow the expansion of these cells without losing their natural properties, as well as selecting the appropriate epithelial stem cells, should give us the tools needed to face the challenge of regenerating human hair follicles.
These efforts in hair and skin bioengineering are also visible in the growing number of patent applications filed during the last decade, indicating that this technological field is not only attractive to academic research but also to the companies that own almost half of these patents.
P- Reviewer: Kiselev SL, Shawcross SG, Wakao H S- Editor: Tian YL L- Editor: A E- Editor: Wu HL