Copyright
©The Author(s) 2023.
Published by Baishideng Publishing Group Inc. All rights reserved.
Tissue-specific cancer stem/progenitor cells: Therapeutic implications
Amani Yehya, Joe Youssef, Sana Hachem, Jana Ismael, Wassim Abou-Kheir, Department of Anatomy, Cell Biology and Physiological Sciences, American University of Beirut, Beirut 1107-2020, Lebanon
Author contributions: Yehya A contributed conceptualization, investigation, methodology, visualization, and validation, wrote the original draft, and reviewed and edited the manuscript; Youssef J, Hachem S, and Ismael J contributed investigation, methodology, and validation, wrote the original draft, and reviewed and edited the manuscript; Abou-Kheir W contributed conceptualization, project administration, supervision, validation, and visualization, reviewed and edited the manuscript, and gave final approval; All authors have read and approved the final manuscript.
Conflict-of-interest statement: All the authors report no relevant conflicts of interest for this article.
Open-Access
: This article is an open-access article that was selected by an in-house editor and fully peer-reviewed by external reviewers. It is distributed in accordance with the Creative Commons Attribution NonCommercial (CC BY-NC 4.0) license, which permits others to distribute, remix, adapt, build upon this work non-commercially, and license their derivative works on different terms, provided the original work is properly cited and the use is non-commercial. See:
https://creativecommons.org/Licenses/by-nc/4.0/
Corresponding author: Wassim Abou-Kheir, MSc, PhD, Associate Professor, Department of Anatomy, Cell Biology and Physiological Sciences, American University of Beirut, Bliss Street, Hamra, Beirut 1107-2020, Lebanon. wa12@aub.edu.lb
Received: December 28, 2022
Peer-review started: December 28, 2022
First decision: January 31, 2023
Revised: February 14, 2023
Accepted: April 12, 2023
Article in press: April 12, 2023
Published online: May 26, 2023

Surgical resection, chemotherapy, and radiation are the standard therapeutic modalities for treating cancer. These approaches are intended to target the more mature and rapidly dividing cancer cells. However, they spare the relatively quiescent and intrinsically resistant cancer stem cells (CSCs) subpopulation residing within the tumor tissue. Thus, a temporary eradication is achieved and the tumor bulk tends to revert supported by CSCs' resistant features. Based on their unique expression profile, the identification, isolation, and selective targeting of CSCs hold great promise for challenging treatment failure and reducing the risk of cancer recurrence. Yet, targeting CSCs is limited mainly by the irrelevance of the utilized cancer models. A new era of targeted and personalized anti-cancer therapies has been developed with cancer patient-derived organoids (PDOs) as a tool for establishing pre-clinical tumor models. Herein, we discuss the updated and presently available tissue-specific CSC markers in five highly occurring solid tumors. Additionally, we highlight the advantage and relevance of the three-dimensional PDOs culture model as a platform for modeling cancer, evaluating the efficacy of CSC-based therapeutics, and predicting drug response in cancer patients.
Core Tip: Therapeutic approaches targeting cancer stem cell (CSC) markers hold great promise toward developing effective anti-cancer treatment. Tissue-specific CSCs (TSCSCs) possess unique expression profile that allows for their identification, isolation, and targeting. TSCSCs, isolated from patient tumor tissues, were shown to form organ analogs or patient-derived organoids (PDOs) under specific culturing conditions in vitro. These models simulate the original tumor characteristics in a three-dimensional culture dish. As such, PDOs have the potential to be used in patient-specific in vitro drug clinical trials and proof-of-concept studies on CSC-targeted therapies.
---
Citation: Yehya A, Youssef J, Hachem S, Ismael J, Abou-Kheir W. Tissue-specific cancer stem/progenitor cells: Therapeutic implications. World J Stem Cells 2023; 15(5): 323-341
---
INTRODUCTION
Cancer disease remains a leading cause of death worldwide. Despite significant progress directed toward developing anti-cancer therapies, the successful management of cancer remains impeded by multiple challenges, including metastatic dissemination, conventional-therapy resistance, and disease relapse[1,2]. Accumulating evidence suggests that the cancer stem cells (CSCs) subpopulation plays a vigorous role in sustaining the tumorigenic properties, thus contributing to tumor re-growth and progression[3] (Figure 1). This subpopulation of multipotent cells possesses unique properties of self-renewal and differentiation and is capable of extensively proliferating and generating different lineages of cancerous cells, which constitute the tumor bulk and contribute to the heterogeneous phenotype found in tumors[2,4].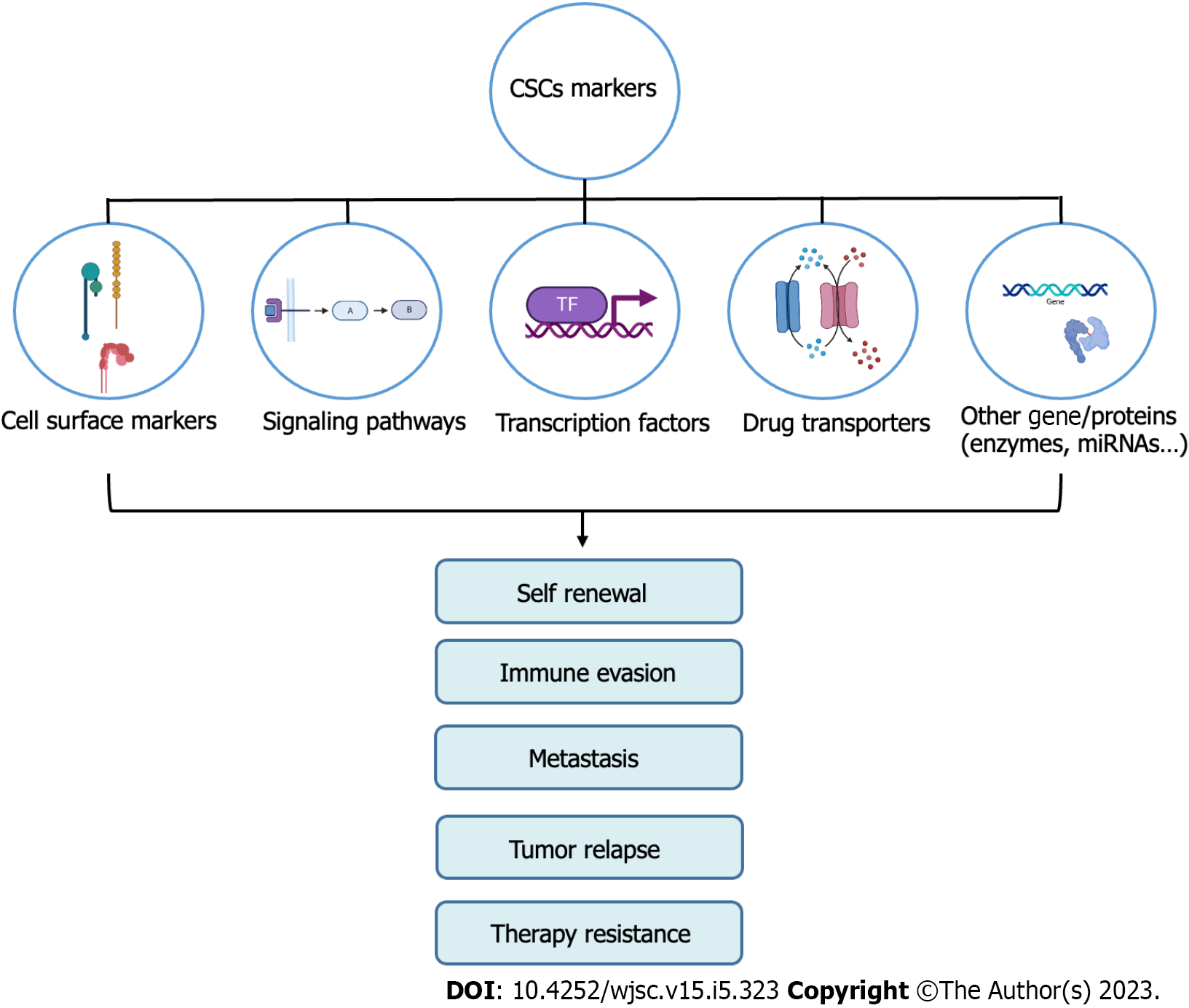 Figure 1 Schematic presentation of cancer stem cell markers and their contribution to cancer development, progression, and resistance to therapy.
Several cancer stem cell (CSC) markers and regulatory signaling pathways are involved in the sustenance and activation of self-renewal, immune evasion, and tumor metastasis, and contribution to tumor re-growth and therapy resistance. CSC markers serve as potential therapeutic targets for cancer treatment. CSCs: Cancer stem cells.
CSCs may arise from the transformation of normal stem cells (SCs) found within tissues or from the de-differentiation of differentiated cells[5]. They were first identified in acute myeloid leukemia[6], and compelling evidence later showed that they exist in a variety of solid tumors where they act as key drivers of tumor progression and metastasis[7,8]
CSCs harbor multiple resistance mechanisms that enrich cancer hallmarks and result in the failure of conventional anti-cancer therapies. One underlying mechanism is the disrupted intracellular pathways that profoundly control CSCs behavior. For instance, overexpression of the Notch pathway plays a dual role that is context and cell-type-dependent, acting either as an oncogene or tumor suppressor[9-11]. In the context of CSCs, the Notch pathway has been implicated in proliferation, angiogenesis, metastasis, stemness maintenance, tumor immune evasion, and resistance to radiation[9,11-13]. Moreover, the Wnt pathway has been linked to the activation of dormant CSCs, their proliferation, maintenance, and inhibition of apoptosis. This pathway also plays a role in the metastasis and de-differentiation of CSCs[14,15]. Besides, the Hedgehog pathway is associated with increased proliferation, maintenance, and self-renewal of CSCs, as well as their migration, invasiveness, and resistance to chemotherapy[14,16,17]. Additionally, the NF-κB pathway is implicated in self-renewal, maintenance, and inhibition of apoptosis of CSCs, as well as regulation of epithelial to mesenchymal transition (EMT), angiogenesis, and metastasis[18]. Finally, the aberrant expression of the JAK/STAT3 pathway promotes cell survival and stemness properties, as well as metastasis and resistance to chemotherapy[14,19]. The intrinsic regulation of CSCs also occurs at the level of stemness-related transcription factors (TFs) such as OCT-4, SOX2, KLF4, c-MYC, STAT3, and NANOG, as well as epigenetics and epi-transcriptomics, which contribute to stemness maintenance and plasticity of CSCs[11]. Additionally, CSCs are regulated at an extrinsic level by their microenvironment, specifically by cancer-associated fibroblasts and tumor-associated macrophages. The tumor microenvironment is a major player in modulating CSCs resistance, metastasis, and heterogeneity[11,20].
The resistance mechanisms of CSCs further include their overexpression of DNA repair genes, resulting in resistance to radiotherapy and other DNA-damaging agents[21]. Also, they express upregulated multidrug efflux pumps such as ATP-binding cassette (ABC) transporters that mediate the active transport of chemotherapeutic drugs out of the cell[22]. CSCs were shown as well to overexpress aldehyde dehydrogenases (ALDHs) which are enzymes involved in the detoxification of aldehydes, chemotherapeutic agents, and reactive oxygen species[23]. Another mechanism that promotes the survival of CSCs is their ability to exist at a reversible quiescent state in the G0 phase, which contributes to their drug resistance since most chemotherapeutic agents target highly proliferative tumor cells[24]. Thus, standard therapies succeed at reducing tumor size but tend to spare the highly resistant CSCs subpopulation. The successful elimination of tumors, therefore, necessitates targeting the residual dormant CSCs to yield long-lasting eradication of cancer and prevent relapse.
In this review, we provide a recapitulation of the main tissue-specific CSC (TSCSC) biomarkers in five of the most diagnosed solid tumors. Importantly, we highlight the beneficial role of these CSCs in providing relevant preclinical cancer models and thus improving CSC-targeted therapies.
TISSUE-SPECIFIC CANCER STEM CELLS
Given the importance of CSCs in tumor progression and prognosis, several attempts were made to identify and isolate CSCs from the tumor mass based on the markers they express. CSCs express a wide spectrum of markers, some of them being more universal than others. Several markers, mostly located on the cell surface, are often used in combination to ensure a more tissue-specific isolation of targeted CSCs. Here we provide an updated overview of the most prominent TSCSC surface markers, focusing on five solid cancers (prostate, colon, bladder, breast, and lung). Refer to Table 1 for the full list of markers.
TSCSCs markers

---

PCSCs

---

CCSCs

---

BCSCs

---

BrCSCs

---

LCSCs

---

Ref.

---

CD24
-
+
+
-
[64,90,159,160]
CD26
+
[161]
CD29
+
+
+
+
[99,162

-

164]
CD44
+
+
+
+
+
[31,63,74,108,165]
CD47
+
+
+
[78,166,167]
CD49b (integrin α2 or ITGA2)
+
+
-
+
+
[168

-

171]
CD49f (integrin α6 or ITGA6)
+
+
+
+
+
[99,169,172,173]
CD51
+
+
[69,174]
CD61
+
[99]
CD66c
+
-
[84,175]
CD67LR
+
[84]
CD87
+
[116]
CD90
+
+
+
+
[99,110,176,177]
CD117
+
+
+
[38,116,178]
CD126
+
+
+
[179

-

181]
CD133
+
+
+
+
+
[28,51,87,99,107]
CD151
+
[35]
CD166
+
+
+
+
[46,104,182,183]
CD326 (EpCAM or ESA)
+
+
+
+
+
[48,56,116,184,185]
Integrin α2β1
+
+
[27,186]
TRA-1-60
+
+
[35,187]
Trop2
+
[45]
CXCR4
+
+
+
+
[102,162,188,189]
ABCB5
+
[73]
ABCG2
+
+
+
+
+
[49,102,177,190,191]
MAGE-A3
+
[177]
GLDC
+
[102]
ALDH
+
+
+
+
+
[44,68,96,102,177]
BCMab1
+
[79]
Lgr5
+
+
+
[53,99,192]
Prox1
+
+
[70,193]
EMA (MUC1)
+
+
-
[77,194,195]
E-cadherin
+
+
[196,197]
ZEB-1
+
+
+
+
[198

-

200]
PSA
-
[201]
CK5
+
+
+
+
[117,202

-

204]
CK17
+
[89]
CK18
-
-
-
[89,205,206]
CK20
-
[89]
Ar-v7
+
[207]
Prostate-specific cancer stem cells
The presence of prostate CSCs (PCSCs) was identified by Collins et al[25] using SCs markers (integrin α2β1 and CD133) that were previously identified in the normal prostate epithelium[25,26]. This subpopulation of PCSCs isolated from human prostate cancer (PC) biopsies showed a high expression of CD44, CD133, and integrin α2β1. The isolated cells exhibited high proliferative ability and were highly invasive on MatrigelTM. Moreover, they possessed a high self-renewal ability and could also differentiate into cells expressing the same phenotype as PC cells, thus re-establishing the original heterogeneous tumor from which they were isolated[27].
CD133 (Prominin-1), a cell surface glycoprotein, remains one of the most used biomarkers to identify and isolate PCSCs either alone or in combination with other markers. In fact, CD133+ PC cells that were isolated from human PC cell line exhibited self-renewal ability, which was correlated with their expression of stemness genes[28]. These cells could also generate a heterogeneous tumor mass when transplanted into immunocompromised mice. Moreover, they displayed high clonogenic abilities and led to the formation of tumor spheres (prostaspheres) that were more malignant than the ones formed by CD133- PC cells. Furthermore, the CD133+ cells were chemo-resistant and demonstrated high proliferation[28]. Interestingly, a well-established combination of CD133+ and CD44+ PC cells allowed the isolation of PCSCs and the formation of spheroids characterized by heterogeneous PC cells[29].
CD44 (also referred to as P-Glycoprotein 1) is a transmembrane glycoprotein that interacts with several extracellular matrix components, such as collagen, hyaluronic acid, osteopontin, and matrix metalloproteinases. It is one of the most conventional markers used to identify and isolate PCSCs. The expression of CD44 allowed the isolation of cells that were able to differentiate into all types of PC epithelium leading to complete reconstitution of the original tumor bulk when injected into immunocompromised mice[30]. Notably, CD44+ PC-derived cells expressed elevated levels of several mRNAs associated with stemness[31]. This marker was also associated with several aspects of PC tumorigenesis including proliferation, invasion, adhesion, EMT initiation, metastasis, and therapy resistance[32].
T cell receptor alpha locus (TRA-1-60) is a carbohydrate addition to podocalyxinis, which is a cell surface antigen that belongs to the CD36 family. TRA-1-60 is expressed on pluripotent SCs conferring them the ability to induce differentiation. TRA-1-60 was shown to be overexpressed in PC cells as compared to the adjacent normal prostate tissue, which qualifies it as a favorable marker to specifically target PCSCs while sparing normal cells[33]. Moreover, it was detected in the peripheral blood of patients with metastatic PC[34]. The isolation of TRA-1-60+ cells led to the generation of spheres and initiation of PC in a more efficient manner as compared to other known PCSCs markers. TRA-1-60 was then combined with two other markers of PCSCs (CD166 and CD151) leading to a more enhanced sphere-forming ability. Furthermore, the injection of the triple-marker-positive cells was able to form tumors with at least 5-fold more efficiency as compared to TRA-1-60+ cells alone[35].
CD117 (also termed c-Kit) is a member of the Type-III tyrosine kinase receptors known to be involved in several cancer mechanisms by binding to its stem cell factor (SCF) ligand[36]. CD117 overexpression was detected in PC[37]. A recent study suggested that CD117 may be considered a potential marker for PCSCs because it was shown to display a broad spectrum of tumorigenic abilities[38]. In fact, CD117 stimulated PC cell proliferation and migration. Moreover, CD117+ cells were able to form 1.35-fold larger prostaspheres as compared to CD117- cells. Most importantly, CD117+ cells expressed stemness genes and their implantation into immunocompromised mice led to PC initiation[38].
CD49f (integrin α6 or ITGA6) is a transmembrane glycoprotein that was demonstrated to be a putative marker of PCSCs. CD49fhigh cells were shown to be tumor-initiating cells in the Pten-null PC model[39]. Moreover, CD49f was shown to be the most selective marker for targeting colony-forming cells[40]. Additionally, it was expressed on the surface as well as in the middle of prostatospheres[41]. Importantly, the expression of CD49f allowed the isolation of sphere-forming SCs[42].
In addition to the ones discussed above, there are several markers that can be used to target PCSCs including ALDH1A1 (ALDH 1 family member A1)[43,44], trop-2 (Tumor-associated calcium signal transducer 2)[45], CD166 (activated leukocyte cell adhesion molecule)[46,47], EpCAM (Epithelial cell adhesion molecule)[48], and ABCG2 (ATP binding cassette super-family G member 2)[49].
Colon-specific cancer stem cells
Colon CSCs (CCSCs) were first identified and isolated by Ricci-Vitiani et al[50] after the injection of colon cancer (CC) CD133+ cells into immunocompromised mice, which led to the generation of the original tumor mass contrary to their CD133- counterparts. The CD133+ cells were able to exponentially grow in vitro as undifferentiated spheres while preserving the same phenotypic properties of the initial colon tumor[50]. O'Brien et al[51] in 2007 also showed that all CC-initiating cells were CD133+ cells that were able to either maintain themselves as undifferentiated CCSCs or to differentiate and therefore sustain the tumor heterogeneity[51].
Leucine-rich repeat-containing G-protein-coupled receptor 5 (LGR5) (also recognized as FEX; HG38; GPR49; GPR67) is a seven-transmembrane G-protein coupled receptor. LGR5 is an "orphan" receptor abundantly expressed in active SCs of the intestinal crypts[52]. LGR5 was shown to be overexpressed in CC[53]. A growing body of evidence supports the idea that LGR5 is a main marker of CCSCs. For instance, human LGR5+ CC cells were visualized as the CSC pool in proliferating CC tissue[54]. Furthermore, LGR5 was demonstrated to be a marker of tumor-initiating cells, where implantation of LGR5+ cells was able to form colon tumors, indicating that LGR5 provides a dynamic stemness characteristic in CC[55]. Additionally, LGR5 was correlated with tumor proliferation due to the ability of LGR5+ cells to form more multipotent spheres as compared to LGR5- cells[56]. Notably, LGR5 was shown to be involved in the colony formation capacity of CCSCs[56,57]. Importantly, LGR5 was found to have an essential role in CC metastasis where organoids derived from LGR5+ cells led to liver cancer formation in the absence of a primary tumor[55]. In addition, LRG5 was selected to be the most suitable CSC marker that identifies immature cancer cells in regional lymph nodes of CC patients[58].
EpCAM (also known as CD326) is a Type-I transmembrane glycoprotein that serves as an epithelial cell adhesion molecule. Interestingly, EpCAM along with its reprogramming TFs were shown to be overexpressed in CC-initiating cells leading to a high self-renewal ability and increased invasiveness[59]. In fact, EpCAM was considered to be a robust CCSCs marker[60]. Indeed, it was used along with CD133 and CD44 to initiate CC in mice[61]. Furthermore, EpCAM provided more enhanced CSC-like properties when combined with LRG5 and CD44[56]. Moreover, EpCAM was proven to promote CC invasion and metastasis, as EpCAMhigh/CD44+ cells were visible in corresponding liver metastasis regions of CC patients[62].
CD44 was also shown to be a robust marker for CCSCs. In fact, a single CD44+ cell was able not only to generate a sphere, but also to form a tumor with similar characteristics as the primary one from which it was isolated[63]. Moreover, the expression of CD44 was correlated with CC proliferation[4]. Furthermore, CD44 was reported as a stemness marker in spherical clusters[64]. In addition, CD44 was considered a reliable marker for the prediction of hepatic cancer metastasis in CC patients[65].
ALDH1 is also selected as a potential marker for CCSCs. ALDH1 expression increased during CC tumorigenesis and the implantation of only 25 ALDH1+ cells into immunocompromised mice led to the generation of xenograft tumors even in the absence of other CCSCs markers such as CD133 and CD44[66]. Furthermore, ALDH1 expression conferred high tumorigenic abilities and chemo-resistance to CC cell lines[67]. Interestingly, ALDH1 was linked to lymph node and vascular invasion in CC patients[68].
Among the most specific CSCs related to CC are LGR5, CD44 and EpCAM. However, the combination of multiple markers allows more accurate detection of CSCs which was proven when LGR5, CD44 and EpCAM resulted in more potent CSCs properties as compared to each marker alone[56]. Other markers are also attributed to CCSCs such as CD59[69], Prox1 a regulator of Notch-independent LGR5+ SCs[70,71], CD24[4,64], CD166[72], and ABCB5 (ATP binding cassette super-family B member 5)[73].
Bladder-specific cancer stem cells
Bladder CSCs (BCSCs) were first isolated in 2009 by using markers for normal basal bladder SCs (CD44+). It was found that the CD44+ subpopulation of bladder cancer (BC) cells was 10 to 200 more likely to form tumors in immunocompromised mice in comparison with their CD44 counterparts[74]. Additionally, CD44+ BCSCs efficiently maintained the heterogeneity of the initial tumor mass after serial transplantation[74].
Epithelial membrane antigen (EMA, also known as MUC1) is a membrane-bound glycoprotein that belongs to the family of mucins[75]. EMA+ bladder cells are usually located in the mature differentiated layer of the urothelium, whereas EMA- cells are found in the basal layers, where SCs reside. It was demonstrated that EMA- BC cells had a greater colony-forming ability when compared with the unsorted BC population[75,76]. BCSCs can thus be identified through the combination of EMA- and CD44+ BC cells[77].
CD47 (also known as integrin associated protein) is a transmembrane protein overexpressed on the surface of CD44+ BCSCs compared to the CD44- subpopulation and was thus hypothesized to be a BCSCs marker[78,79]. CD47 acts like a "don't eat me" signal by interacting with the signal regulatory protein-1 receptor on the surface of macrophages and neutrophils. Thus, CD47 has an immunosuppressive role, protecting the BSCSC from phagocytosis[78,79], that makes it a promising target for cancer therapy[80,81].
ALDH1A1 has also been used to isolate BCSCs. In fact, ALDH1A1+ cells retained the stem-cell ability to divide asymmetrically, yielding both ALDH1A1+ and ALDH1A1- cells[82]. Additionally, ALDH1A1+ BCSCs exhibited a greater tumorigenic potential both in vitro (sphere formation ability) and in vivo (xenografts in immunocompromised mice) compared to ALDH1A1- BC cells[82]. Knocking down the ALDH1A1 gene in BCSCs reduced their proliferation, confirming the key role played by the ALDH enzyme in BCSCs division and renewal[83]. Furthermore, ALDH1A1 BCSCs maintained the original tumor heterogeneity after sequential transplantations into immunocompromised mice[83]. Finally, ALDH+ BCSCs demonstrated an enhanced ability to migrate and invade tissues contrary to ALDH- BC cells[82].
67LR+ (67KDa Laminin Receptor)/ CD66c- (also known as CEACAM6) BC cells were demonstrated to have stemness properties. These markers, similar to CD44, are also present in normal bladder SCs[84]. He et al[85] showed that 67LR+ BCSCs were 5 to 10 times more potent in initiating tumors in vivo compared to 67LR- ones[85]. In addition, 67LR+ BCSCs expressed a panel of genes involved in stemness and resistance to chemotherapy and radiation[85,86]. Similarly, CD66c- cells were demonstrated to be more tumorigenic than the CD66c+ counterparts[85].
CD133+ BC cells were shown to upregulate the expression of genes involved in pluripotency. This subpopulation of BC cells was also more resistant to the chemotherapeutic agent cisplatin and to radiation. Additionally, CD133+ BCSCs exhibited a greater tumorigenicity both in vitro and in vivo, as well as a more aggressive proliferation in immunocompromised mice in comparison to CD133- BC cells[87].
Additional markers are also used for the identification of BSCSC namely MAGE-A3 (Melanoma antigen family A, 3)[88], BCMab1[79], and several members of the cytokeratin family of proteins (CK5+, CK17+, CK18-, CK20-)[89].
Breast specific cancer stem cells
The importance of breast CSCs (BrCSCs) markers was first demonstrated by Al-Hajj et al[90] only a subpopulation of human breast cancer (BrC) cells appeared to lead to the formation of tumors in immunocompromised mice. Al-Hajj et al[90] isolated ESA+CD44+CD24-/Low cells from human BrC tissue, and showed that as low as 200 of these cells were enough to initiate cancer in immunocompromised mice, whereas more than 50000 BrC cells with a different phenotype were unable to form tumors[90].
CD44 and CD24 are often used in combination to detect and isolate BrCSCs[91]. In addition to its key role in adhesion, cell survival, metastasis and angiogenesis, CD44 act as a TF to regulate metastasis and stemness of BrCSCs[92,93]. On the other hand, CD24 is a cell surface adhesion glycoprotein which plays a key role in cell-cell and cell-extracellular matrix (ECM) interactions[94,95]. Even though CD24 is overexpressed in a number of cancers (including BrC), only CD44+CD24-/Low BrCSCs were able to form tumors in immunocompromised mice[90]. CD44+CD24-/Low BrCSCs were also shown to be more resistant to chemotherapy[91].
ALDH1 has also been used to target BrCSCs, as it was shown that ALDH1+ BrC cells were more resistant to chemotherapy and were able to form tumors in immunocompromised mice in comparison to ALDH1- cells[96]. ALDH1 is essential for the early development of the stemness properties of BrCSCs[97]. Interestingly, the subpopulation of BrC cells expressing ALDH1 is distinct from the CD44+CD24-/Low BrCSCs, with minimal overlap between the two (approximately 1%)[91]. Moreover, ALDH1+/CD44+ BrCSCs were highly tumorigenic, with a higher metastatic potential, and greater resistance to cancer therapies[91].
To date, CD44, CD24 and ALDH1 remain the most used biomarkers to isolate BrCSCs. Although there is little overlap between CD44+CD24-/Low and ALDH1+ BrCSCs, cells that share all three markers were more tumorigenic[98]. Moreover, the CD44/CD24 markers were more associated with cell proliferation and tumorigenesis while the ALDH1 marker was positively correlated with tumor metastasis[98]. Nonetheless, other markers have been studied and found suitable for the identification of BrCSCs, such as CD133 (in triple negative BrC; TNBC), GD2 (ganglioside in TNBC), CD49f, CD61+ (β3 integrin in Her2 BrC), CD29 (β1 integrin), CD90, and EpCAM[99-101].
Lung cancer stem cell markers
Lung cancer is histologically divided into non-small cell lung carcinoma cells (NSCLC) and small cell lung carcinoma (SCLC)[102]. Due to a higher incidence and the greater ease to obtain NSCLC tissue, NSCLC CSCs (referred to afterward as lung CSCs; LCSCs) markers have been better characterized.
CD166 (also known as ALCAM) has also been associated with stemness properties of NSCLC. CD166 is a member of the immunoglobulin superfamily of cell adhesion molecules and participates in both homophilic and heterophilic interactions. Additionally, CD166 plays an important role in migration and invasion of LCSCs[103]. CD166 was characterized by Zhang et al[104] as the most robust cell marker for isolating LCSCs among other candidates (CD44, EpCAM and CD133)[104]. In contrast to CD166- NSCLC cells which failed to form tumors in vivo, CD166+ LCSCs were able to initiate tumors in immunocompromised mice. Furthermore, CD166+ NSCLC cells had enhanced self-renewal properties and were able to consistently form spheres in vitro.
The CD133+ subpopulation of NSCLC cells were able to indefinitely divide and form spheres in an in vitro setting, whereas CD133- NSCLC cells were characterized by a slow growth and an inability to form spheres[105]. These results also parallel the in vivo ability of CD133+ LCSCs to form tumors in immunocompromised mice compared to CD133- cells; the CD133+ xenografts were histologically similar to the initial cancer mass[105,106]. Moreover, the expression of CD133 in LCSCs was associated with increased resistance to chemotherapy and radiation[105,107]. Finally, CD133+ LCSCs are more prone to metastasize than their CD133- counterparts, especially to lymphoid organs. In fact, detection of CD133+ metastatic NSCLC in lymph nodes is indicative of a poor prognosis[107].
CD44 has also been studied as a marker to isolate LCSCs. Accordingly, CD44+ NSCLC cells demonstrated a greater ability to form spheres in vitro and to initiate tumors in immunocompromised mice in comparison to CD44- cells. Additionally, CD44+ LCSCs upregulated several stemness TFs to maintain their pluripotent properties. CD44+ LCSCs were also more resistant to the chemotherapeutic agent cisplatin compared to CD44- cells[108]. Moreover, the expression of CD44 in LCSCs was associated with an enhanced ability to metastasize and invade tissues[20].
CD90 (also known as Thy-1) is a glycosylphosphatidylinositol-anchored surface protein that is involved in cell-cell as well as cell-ECM interactions[109]. Initial studies have shown that CD90+ NSCLC cells demonstrated greater self-renewal and proliferative properties and expressed a higher level of stemness genes. Additionally, when compared to a control, as few as 5000 CD90+ LCSCs were able to initiate tumors in immunocompromised mice, indicating the stronger tumorigenicity associated with CD90[110].
ALDH1 was also suggested to be a LCSCs marker. Indeed, ALDH1+ LCSCs exhibited enhanced proliferative abilities and self-renewal properties[111,112]. Accordingly, knocking down the ALDH1A3 gene greatly reduced the tumorigenicity and clonogenicity of LCSCs[113]. In addition, ALDH1high LCSCs also showed greater resistance to chemotherapeutic drugs in comparison to ALDH1low cells[112]. Interestingly, the overexpression of the TAZ oncogene induces the formation of LCSCs by activating the ALDH1 gene[114] ALDH1 also appears to play a key role in chemoresistance as its inhibition leads to the re-sensitization of LCSCs to cisplatin[115].
Of note, additional markers have been used to isolate LCSCs. These include but are not limited to CD47, CD87, CD117, EpCAM, and CK5[116,117].
TSCSCS' BENEFICIAL ROLE IN CANCER MODELING FOR THERAPEUTICIMPLICATIONS
The conception of CSCs-targeted therapies relies on employing the above-mentioned CSCs' resistant characteristics and markers, which allows for CSCs' isolation, enrichment, characterization, and targeting[118]. CSCs-based therapeutic strategies include selectively targeting the stemness markers, such as the TSCSCs' surface markers, TFs, ABC transporters, and ALDHs[14,119]. As well as, the disrupted signaling pathways that enrich CSCs'-resistant features and contribute to their survival, proliferation, self-renewal, and differentiation. Also, targeting the tumor microenvironment components which acts as a foster niche in protecting CSCs[14,119].
In spite of the significant advances in CSCs' research and the great interest in drug discovery, there are currently few therapeutic approaches that have reached the late clinical stages. Many CSCs-targeting therapeutics performing remarkably in vitro and in vivo cultures have faced multiple hurdles in clinical trials[14,120]. One major reason behind this is the irrelevance of the preclinical cancer models being used[121-123]. Thus, more relevant CSCs models, that reflect the original tumor behavior of the individual patients, might strengthen the rationale for developing effective CSCs-targeted therapeutic modalities and complement more conventional cancer therapies.
A new era of targeted and personalized anti-cancer therapies has evolved with the three-dimensional (3D) patient-derived organoids (PDOs)[124]. This versatile technique relies on the exclusive ability of SCs to give rise to organ-like structures known as organoids[125]. Sato et al[126] established the first organoid model with small intestinal crypt LGR5+ SCs[126]. Subsequently, models of normal and cancer PDOs from multiple tissues were derived successfully[127-134].
The formation of the 3D microscopic organoids from patient tumor tissues is accomplished using specific culturing conditions that are designed to preserve the CSCs component of the patient's tumor[135]. The formed PDOs, hence, recapitulate the structural and functional complexity constituting the originating tumor, mediated by the CSCs' ability for self-renewal and differentiation into multiple cell types[136,137]. PDOs tool allows the modeling of human carcinogenesis in an in vitro culture dish[138,139]. Precisely, the process followed to generate cancer PDOs includes utilizing a tumor tissue sample, surgically isolated from a cancer patient, and dissociating it into single-cell suspension using mechanical dissociation and enzymatic digestion methods. The heterogeneous population of cells obtained, containing TSCSCs, is then cultured in proper culturing conditions to allow the self-organization of cells into functional units or tissue-specific architectures; organ analogs. The suspended culturing system includes the usage of biological or synthetic hydrogel scaffolds that mimic the natural ECM components. In addition to using a specific culturing medium that contains a cocktail of growth factors and inhibitors to imitate the organ stem cell niche, allow the generation of distinct component lineages, and stimulate the long-term expansion of organoids[140,141].
As PDOs are CSCs-based structures and replicate faithfully the heterogeneity and histological characteristics of the original cancers, they gain superiority over other models in terms of mimicking tumor microenvironments, facilitating the formation of ECM, exhibiting adequate proliferation rates with representative cellular morphology, maintaining the expression of 'stemness-related' markers and genes, and demonstrating a realistic individualized drug response[142-144]. This nominates PDOs to be ideal preclinical drug-response models for providing perspectives for testing novel CSCs-targeted therapies and evaluating the potential drug effectiveness in cancer patients (Figure 2).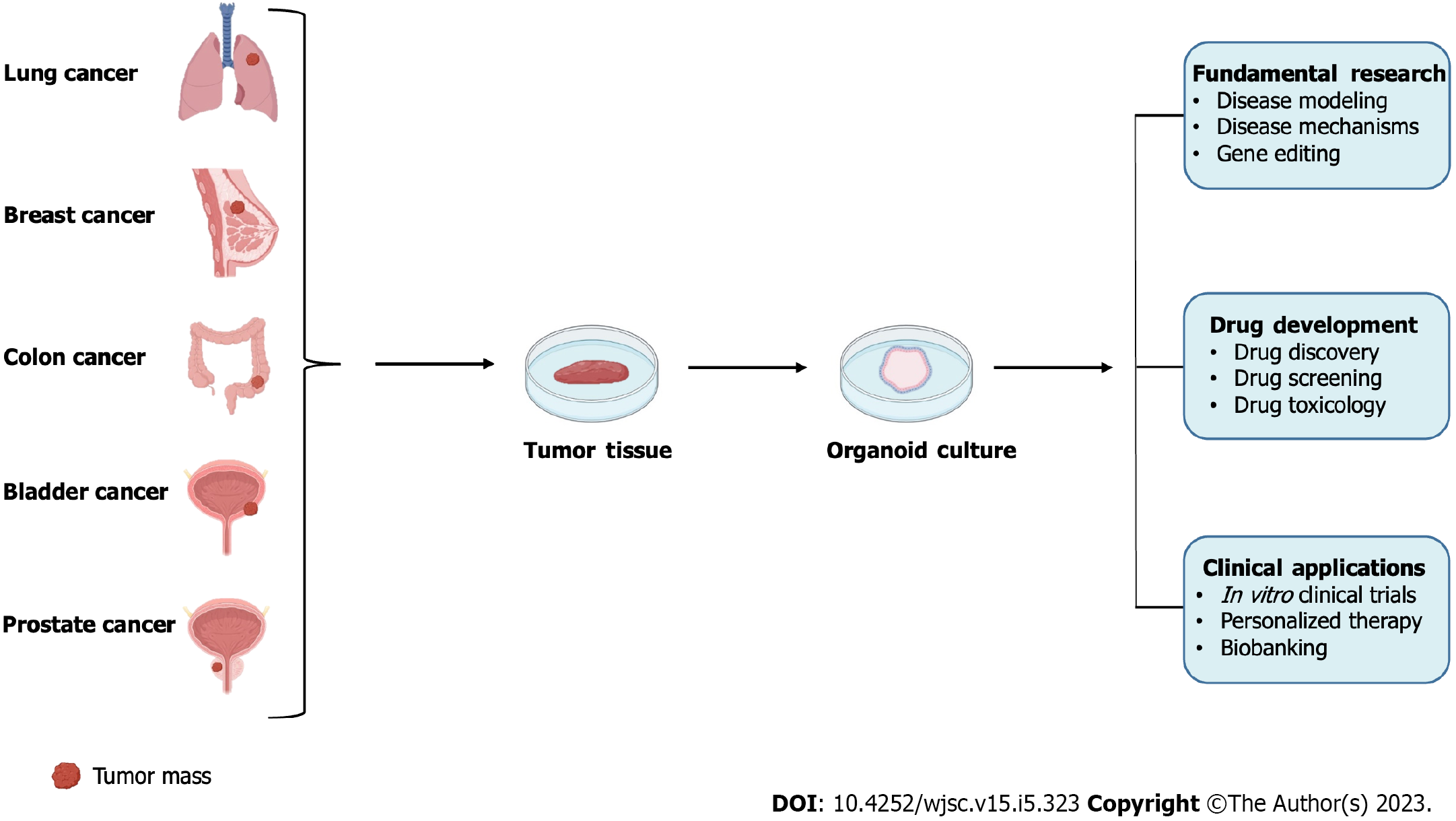 Figure 2 Schematic presentation of patient-derived organoid applications in cancer research. Patient-derived organoid (PDO) models can be utilized in multiple fields of cancer research including fundamental research, drug development, and clinical application. Cancer PDOs have been used to simulate the tumor tissue in vitro, study the disease mechanisms and gene expression patterns, and expose them to different drugs for efficacy screenings and drug discovery validations. Organoids are further used as in vitro pre-clinical models for personalized medicine and the generation of 'living' organoid biobanks. PDO culturing system serves as an advanced tool in the implementation and development of precision medicine.
PDOs technique generally shares several main steps but differs in varying degrees depending on the type of tissue being processed. Scaffold-based techniques are mostly adopted in culturing PDOs, where MatrigelTM is commonly used. The latter is a mixture of heterogeneous and gelatinous proteins secreted by mouse sarcoma cells. It comprises mainly adhesive proteins such as laminin, collagen IV, entactin, and heparin sulphate glycoprotein, which resemble the ECM and provide interactive and structural support to the cells[145-148]. Moreover, the universal organoid medium used in the culturing system adopts the first protocol developed by Sato et al[126] which includes advanced DMEM/F12 medium supplemented with epidermal growth factor, Noggin (NOG), and Wnt agonist R-spondin-1[126,127]. Other factors were then added including anaplastic lymphoma kinase 3/4/5 inhibitor A83-01, dihydrotestosterone, fibroblast growth factor-10, fibroblast growth factor-2, prostaglandin E2, nicotinamide (NAM), and p38 inhibitor SB202190, N-acetylcysteine (NAC), B27 supplement and Rho kinase inhibitor Y-27632 to culture PDOs successfully[149].
To date, organoids derivation from multiple human tumors including prostate, colon, bladder, breast, and lung cancers has been described, with varying success rates[133,150-155]. The established PDOs are subjected to tissue-specific genes and lineage markers expression studies to confirm that they represent the original tumor of the patient. Importantly, the cancerous origin of these organoids is confirmed by checking for the CSCs markers specific to each tumor tissue. The patient drug response to the therapy of interest can then be evaluated primarily by assessing the organoids' formation efficiency and size.
For example, a study done by Cheaito et al[150] established a minimum of 5-factor medium including NAC, NOG, A83-01, B27, and NAM to grow and maintain PC PDOs. Histopathological, transcriptomic, immunofluorescent, and immunohistochemical studies showed that the formed PDOs mimicked the histological architecture and prostate lineage profiles of their corresponding tissue specimens. This was confirmed by the presence of both prostate epithelial lineages, as the organoids stained positive for the luminal- (CK8, AR, and PSA) and basal- (CK5, CK14, and p63) specific markers. In addition, an intermediate cell population, co-expressing luminal CK8 and basal CK5 markers was also detected. Interestingly, CSCs markers, CD44 and CD49f, positive staining demonstrated the existence of putative stemlike cells within the bulk of the PDOs. Furthermore, differential drug response, between different patient samples, was recognized upon treatment with chemo-, radio-, and androgen-deprivation therapies[150]. In another study, Monzer et al[151] succeeded in establishing and propagating PDOs that model CC disease. The formed organoids recapitulated the architecture and the characteristics of CC tissues as revealed by the co-expression of the epithelial marker lineage CK19 and the CSC surface marker CD44. The organoids derived from different patients showed to exhibit different responses to Diiminoquinone treatment tested alone or in combination with Fluorouracil (5FU) chemotherapeutic drug. Similarly, Al Bitar et al's study showed different responses to individual and combination treatments of radiation and Thymoquinone in CC PDOs[152].
Moreover, Yu et al[153] utilized BC PDOs to evaluate chimeric antigen receptor (CAR)-T cell-mediated cytotoxicity against BC. Analysis was done to confirm that the established organoids recapitulate the heterogeneity and the key features of the parental BCs. Based on a set of luminal (CK20, uroplakin II, and GATA3) and basal markers (CK5, P63, and CD44), the formed organoids were classified into luminal or basal subtypes, respectively. All the BC PDOs and their corresponding tumors expressed Ki67 and E-cadherin, confirming their epithelial origin and high proliferative ability. Additionally, the specific surface antigen profiling of each tumor sample was analyzed, and the MUC1 antigen was shown to be highly expressed among all tested antigens, in both the cancer tissues and their derived organoids. MUC1 was then used as a putative target to test the efficacy of second-generation CAR-T cells in BC PDOs[153]. Furthermore, a promising study done by Chen et al[154], showed the significance and applicability of using BrC PDOs as pre-clinical models for broader cancer studies, and more specifically as a tool to provide personalized therapy recommendations for patients with advanced refractory disease. This study focused mainly on deriving PDOs from specimens isolated from patients with advanced clinical features, including drug-resistant and metastatic BrC. The histopathological, immunohistochemical, and genomic characteristics were shown to be well inherited by the formed PDOs from the drug-treated as well as treatment-naïve tumors. Distinctive drug responses were also observed[154]. Furthermore, Kim et al[133] demonstrated the distinctive therapeutic responses of LC and normal bronchial PDOs, derived from patient tissues comprising five histological subtypes of LC and non-neoplastic bronchial mucosa. The differential responses to the tested drugs were shown to be affected by the individual genomic alterations profile. The PDOs were also proved to duplicate the tissue architecture and maintain the genomic alterations of the parental lung tumors during long-term expansion in vitro[133].
CONCLUSION
In this review, we have discussed briefly some of the CSC features that are known to account for cancer resistance and relapse and make CSCs promising anti-cancer targets. Additionally, we have summarized the updated list of the TSCSC molecular markers in prostate, colon, bladder, and lung tumors that are significant to selectively isolate and therapeutically target the CSCs subpopulation. Besides, we highlighted the advantage of utilizing the CSC-based PDO models to simulate carcinogenesis and predict patient-specific drug responses in vitro.
Despite the present challenges[156,157], PDOs are highly credible models that possess more physiological and pathological relevance than traditional ones. This robust method proved to faithfully maintain the histological, genetic, and stemness characteristics of their respective native tissues. Interestingly, the CSCs profile mimicked by the PDOs can serve as a platform for testing CSCs-targeted therapeutics. To our knowledge, there are no clinical trials discussing cancer PDOs in a preclinical context for testing CSC-targeted therapeutics[158].
Indeed, PDOs have prospective applications in patient-specific in vitro drug clinical trials and proof-of-concept studies on CSC-targeted therapies and -resistance mechanisms. If remarkable advancements are made, cancer patients will ultimately benefit from this radical technology.
ACKNOWLEDGEMENTS
We want to thank the members of the Abou-Kheir's Laboratory (The WAKers).
Provenance and peer review: Invited article; Externally peer reviewed.
Peer-review model: Single blind
Specialty type: Cell and tissue engineering
Country/Territory of origin: Lebanon
Peer-review report's scientific quality classification
Grade A (Excellent): A
Grade B (Very good): B
Grade C (Good): 0
Grade D (Fair): 0
Grade E (Poor): 0
P-Reviewer: Crocé LS, Italy; Elbadawy M, Egypt S-Editor: Li L L-Editor: A P-Editor: Zhang XD