Copyright
©The Author(s) 2021.
Published by Baishideng Publishing Group Inc. All rights reserved.
Percutaneous drainage in the treatment of intrahepatic pancreatic pseudocyst with Budd-Chiari syndrome: A case report
Gang Zhu, Yi-Sheng Peng, Cheng Fang, Xiao-Li Yang, Bo Li, Department of General Surgery (Hepatobiliary Surgery), Academician (Expert) Workstation of Sichuan Province, The Affiliated Hospital of Southwest Medical University, Luzhou 646000, Sichuan Province, China
Author contributions: Li B and Yang XL proposed the idea and supervised, reviewed and edited the writing; Zhu G collected the data, analyzed the literature, and wrote the manuscript; Peng YS collected and analyzed the literature; Fang C assisted with literature analysis, manuscript preparation and image analysis; All authors read and approved the manuscript.
Supported by the National Natural Science Foundation of China, No. 81802778.
Informed consent statement: Informed written consent was obtained from the patient for publication of this report and any accompanying images.
Conflict-of-interest statement: The authors declare that they have no conflict of interest.
CARE Checklist (2016) statement: The authors have read the CARE Checklist (2016), and the manuscript was prepared and revised according to the CARE Checklist (2016).
Open-Access
: This article is an open-access article that was selected by an in-house editor and fully peer-reviewed by external reviewers. It is distributed in accordance with the Creative Commons Attribution NonCommercial (CC BY-NC 4.0) license, which permits others to distribute, remix, adapt, build upon this work non-commercially, and license their derivative works on different terms, provided the original work is properly cited and the use is non-commercial. See:
http://creativecommons.org/Licenses/by-nc/4.0/
Corresponding author: Bo Li, PhD, Doctor, Department of General Surgery (Hepatobiliary Surgery), Academician (Expert) Workstation of Sichuan Province, The Affiliated Hospital of Southwest Medical University, No. 25 Taiping Street, Jiangyang District, Luzhou 646000, Sichuan Province, China. liboer2002@126.com
Received: February 26, 2021
Peer-review started: February 26, 2021
First decision: May 11, 2021
Revised: May 17, 2021
Accepted: August 9, 2021
Article in press: August 9, 2021
Published online: October 6, 2021

BACKGROUND
Intrahepatic pancreatic pseudocyst (IHPP) is an extremely rare complication of acute pancreatitis, with only a few cases previously described in the literature. To the best of our knowledge, IHPP with Budd-Chiari syndrome (BCS) has not yet been described.
CASE SUMMARY
A 35-year-old male presented with abdominal pain, vomiting and anorexia, followed by severe swelling of the lower body after 4 d. The morphological assessment (using computed tomography revealed the presence of a huge cyst of 18.28 cm × 10.34 cm under the liver capsule accompanied by a large amount of ascites. Percutaneous puncture allowed us to detect a high level of amylase in the collection, confirming the diagnosis of IHPP. The cyst was treated by percutaneous drainage, producing complete resolution of the cyst.
CONCLUSION
IHPP can be treated with percutaneous drainage, endoscopic drainage, surgery or even conservative treatment, depending on the specific condition. We recommend percutaneous drainage as the first choice of treatment when IHPP with secondary BCS.
Core Tip: Intrahepatic pancreatic pseudocyst (IHPP) is a rare complication secondary to pancreatitis. We present herein, a rare case of IHPP with Budd-Chiari syndrome (BCS), developed in a male patient who had undergone left kidney surgery for kidney rupture due to pancreatitis. Cyst drainage analysis showed high levels of amylase. This case highlights that for BCS secondary to IHPP, emergency percutaneous drainage is a safe and effective treatment strategy.
---
Citation: Zhu G, Peng YS, Fang C, Yang XL, Li B. Percutaneous drainage in the treatment of intrahepatic pancreatic pseudocyst with Budd-Chiari syndrome: A case report . World J Clin Cases 2021; 9(28): 8476-8481
---
INTRODUCTION
Pancreatic pseudocysts are common complications that occur at least 4 wk after the manifestation of acute or chronic pancreatitis. They are a collection of tissue and fluid formed by a fibrotic non-epithelial wrap. Pancreatic pseudocysts can form anywhere in the abdominal cavity, but due to the presence of hydrolytic enzymes in pancreatic juice they most commonly form around the pancreas, and about 22.4% of patients may have ectopic pancreatic pseudocysts, such as mediastinum, spleen, stomach and even scrotum[1-3]. However, intrahepatic pancreatic pseudocysts (IHPPs) are very uncommon. We report an extremely rare case of a patient with secondary Budd-Chiari syndrome (BCS) caused by a huge IHPP compressing the hepatic vein, and the patient was cured by treatment with percutaneous drainage.
CASE PRESENTATION
Chief complaints
A 35-year-old male patient came to the emergency room of our hospital with complaints of abdominal pain and severe swelling of the lower body.
History of present illness
The patient's symptoms started 2 wk prior and were accompanied by abdominal pain, vomiting, and anorexia, which had worsened during the last 48 h.
History of past illness
The patient had undergone partial left nephrectomy in an outside hospital 4 mo earlier due to rupture of his kidney caused by severe pancreatitis.
Personal and family history
His personal and family history was unremarkable.
Physical examination
Physical examination revealed obvious swelling of the body below the chest, tenderness in the abdomen, and palpable swollen liver under the costal margin, but no obvious jaundice was found (Figure 1A and B).
Laboratory examinations
Laboratory analyses revealed a white blood cell count of 7510/mm3 and hemoglobin level of 92 g/L. They also found slightly elevated levels of serum alanine aminotransferase (101 U/L), serum aspartate aminotransferase (81.1 U/L), and total bilirubin (24 µmol/L). Additionally, the levels of serum amylase, lipase and alkaline phosphatase were found to be elevated at 247, 297 and 336 U/L, respectively.
Imaging examinations
An admission abdominal computed tomography (CT) scan revealed the presence of two low-density cystic lesions in the liver (the largest being 18.28 cm × 10.34 cm), multiple pancreatic pseudocysts, massive ascites, portal hypertension with open collateral circulation and high-density imaging of the left kidney area. An enhanced CT scan showed that the lesion caused significant compression of the inferior vena cava (Figure 2).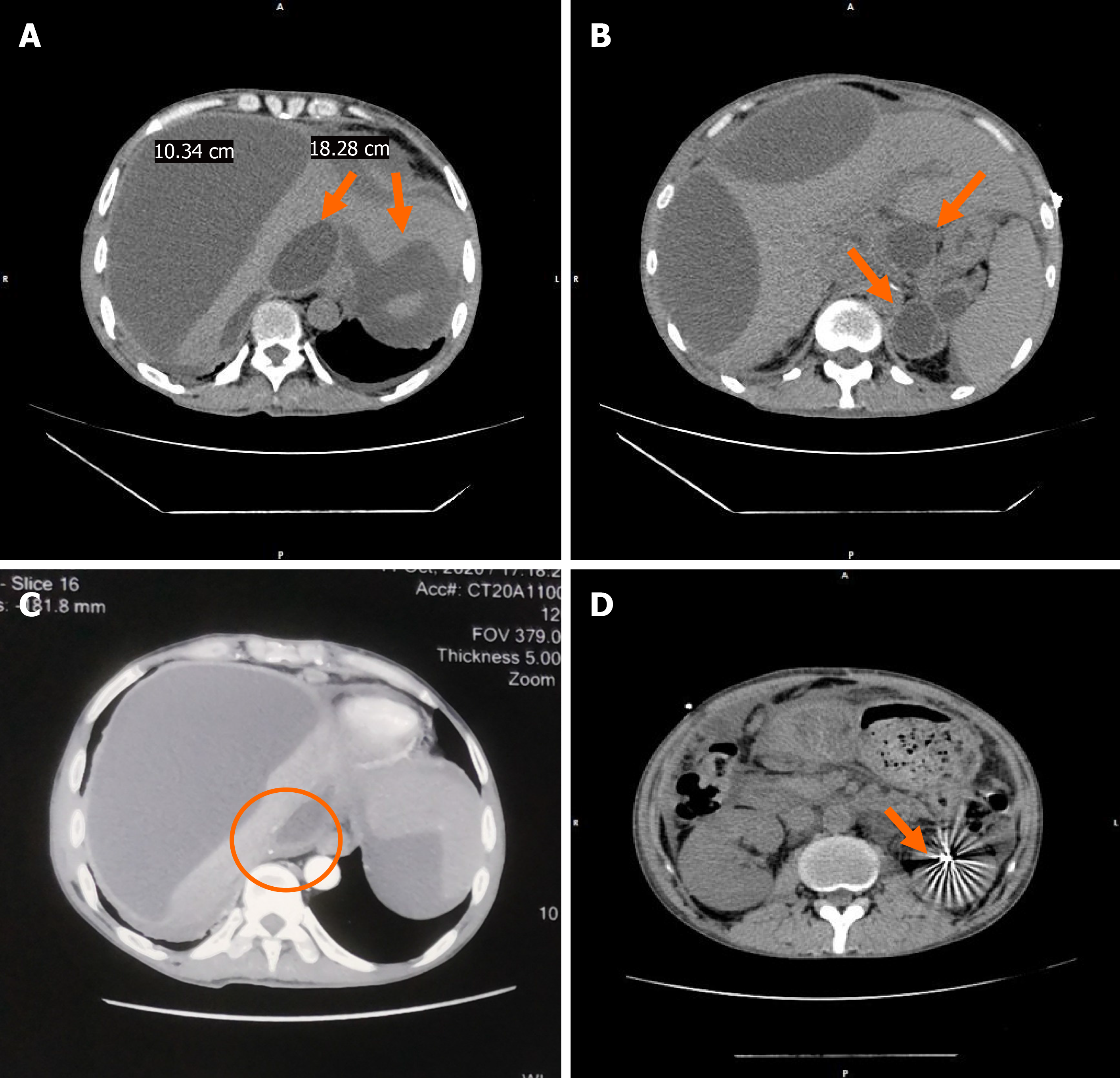 Figure 2 Computed tomography image before percutaneous drainage.
A: Multiple cystic space in the liver (the size of the largest cyst was 18.28 cm × 10.34 cm), and fluid around the spleen; B: Multiple pseudocysts in the pancreatic body and tail; C: Enhanced computed tomography scan showing compressed inferior vena cava; D: High-density shadow after left kidney surgery.
FINAL DIAGNOSIS
The final diagnosis of the presented case was IHPP with secondary BCS.
TREATMENT
Despite the lack of a definitive diagnosis based on the liver lesions, we decided to perform radiation-guided percutaneous drainage for intrahepatic lesions in order to relieve the compression of the inferior vena cava as soon as possible (Figure 3A). The cystic fluid was gray-yellow; analysis showed that it had high levels of amylase (16480 U/L) and fluid cultures were negative, consistent with pancreatic pseudocyst.
OUTCOME AND FOLLOW-UP
Approximately 1000 mL of fluid slowly flowed out of the cyst over a week and the patient was discharged 9 d after drainage without any complications, and all the original signs disappeared (Figure 1C and D). Due to the fear of recurrence of IHPP, the drainage tube was removed at the time of discharge. Eventually, 24 d after the drainage, the patient was free of disease and a CT scan showed the disappearance of intrahepatic cysts (Figure 3B), so the drainage tube was then removed. During the 24 d of treatment, the patient performed well, without any complaints.
DISCUSSION
IHPPs are extremely rare and were first reported by Cécile et al[4] in 1974. CT is generally considered as the modality of choice for the diagnosis of IHPP, which can show low-density cystic lesions in the liver and the shape of the pancreas[5]. However clinical diagnosis of IHPP is quite difficult, due to the rarity of the diagnosis of IHPP, and some patients with normal pancreatic shape only show elevated serum amylase and lipase[6]. Therefore, it is necessary to differentiate from a variety of intrahepatic cystic lesions, such as liver abscesses, peribiliary cysts, echinococcal cyst, intrahepatic bile duct dilatation, etc.
The formation of IHPP can be explained by two pathophysiological mechanisms. The first is that the pancreatic juice around the pancreas penetrates through the posterior layer of the parietal peritoneum to reach the lesser sac, and along the omentum or gastrohepatic ligament to the left hepatic lobe; this fluid will corrode the liver capsule and commonly causes a subcapsular cyst in the left hepatic lobe[7]. The other mechanism is that pancreatic juice can diffuse from the head of the pancreas to the porta hepatis (transverse fissure) along the hepatoduodenal ligament, which results in the formation of intraparenchymal collections[8]. In our case, CT scans showed that the pancreas body and tail were abnormal, and the cysts were located under the liver capsule, which is more in line with the first mechanism. In addition, there is another mechanism, in which the patient's retroperitoneum is incomplete due to kidney surgery, and the fluid around the pancreas could easily reach the liver, thus corroding the liver capsule and forming an IHPP.
Percutaneous, endoscopic, and surgical drainage are the main treatments for symptomatic pancreatic pseudocysts[9,10]. However, there is no clear guideline for pseudocysts in the liver. Analysis of the previous literature revealed that most patients can be treated by percutaneous or endoscopic drainage, although surgical resection is another option in the case of intrahepatic cyst rupture or drainage failure[11]. In addition, some patients can be cured by conservative treatment[12]. In the case described here, the patient also had secondary BCS, which, while rare, is accompanied by high mortality. If untreated, 70% of patients die within 1 year, and the most common cause of death is liver failure[13].
We treated the patient with emergency percutaneous drainage for the following four reasons. (1) Percutaneous drainage is safe and effective in treating subcapsular cysts of the liver. At the same time, the slow drainage of the cyst fluid can prevent the circulatory system disturbance caused by the sudden decrease of intra-abdominal hypertension. (2) The patient had multiple pancreatic pseudocysts, and the drainage tube connected to the outside can effectively prevent the recurrence of IHPP. (3) The patient also presented with acute secondary BCS. So, in order to prevent fulminant and progressive liver failure and hepatic encephalopathy, the treatment with emergency percutaneous drainage was safe and effective. And (4) Gastric or duodenal varices caused by portal hypertension due to BCS are contraindications of endoscopic drainage[14,15], and high complications of surgical drainage will also increase the risk of death for this patient. Therefore, percutaneous drainage is recommended for patients with huge intra-abdominal pressure caused by IHPP, especially for patients with BCS.
CONCLUSION
IHPP is a rare disease and CT is the primary diagnostic method. However, it is often necessary to distinguish IHPP from a variety of complex intrahepatic cystic lesions. The diagnosis can be confirmed if the analysis of cystic puncture fluid indicates high amylase levels. Treatment options for IHHP include percutaneous/endoscopic drainage, surgical resection, or conservative treatment. However, the appropriate treatment method should be selected according to the location, size, number and complications of IHPP in the liver.
ACKNOWLEDGEMENTS
We are grateful to this patient for providing the information and support, as well as providing the written informed consent allowing us to publish their data. We thank Dr Xie (Department of Medical Image, the Affiliated Hospital of Southwest Medical University) for providing technical support and insightful comments.
Manuscript source: Unsolicited manuscript
Specialty type: Gastroenterology and hepatology
Country/Territory of origin: China
Peer-review report's scientific quality classification
Grade A (Excellent): 0
Grade B (Very good): 0
Grade C (Good): C, C, C
Grade D (Fair): 0
Grade E (Poor): 0
P-Reviewer: Poturoglu S, Uhlmann D S-Editor: Zhang H L-Editor: Filipodia P-Editor: Xing YX