Copyright
©The Author(s) 2015.
Published by Baishideng Publishing Group Inc. All rights reserved.
Giant cell arteritis: Current treatment and management
Cristina Ponte, Ana Filipa Rodrigues, Lorraine O'Neill, Raashid Ahmed Luqmani, Nuffield Department of Orthopaedics Rheumatology and Musculoskeletal Sciences, Botnar Research Centre, University of Oxford, Oxford OX1 2JD, United Kingdom
Cristina Ponte, Department of Rheumatology, Hospital de Santa Maria, CHLN, Lisbon Academic Medical Centre, 1649-035 Lisbon, Portugal
Ana Filipa Rodrigues, Department of Internal Medicine, Hospital das Caldas da Rainha, Centro Hospitalar Oeste, 2500-176 Caldas da Rainha, Portugal
Lorraine O'Neill, Department of Rheumatology, St Vincent's University Hospital, Dublin, Ireland
Author contributions: All authors contributed to the writing of this review manuscript.
Conflict-of-interest: The authors have no conflicts of interest.
Open-Access: This article is an open-access article which was selected by an in-house editor and fully peer-reviewed by external reviewers. It is distributed in accordance with the Creative Commons Attribution Non Commercial (CC BY-NC 4.0) license, which permits others to distribute, remix, adapt, build upon this work non-commercially, and license their derivative works on different terms, provided the original work is properly cited and the use is non-commercial. See: http://creativecommons.org/licenses/by-nc/4.0/
Correspondence to: Cristina Ponte, MD, Nuffield Department of Orthopaedics, Rheumatology and Musculoskeletal Sciences, Botnar Research Centre, University of Oxford, Nuffield Orthopaedic Centre, Windmill Road, Oxford OX3 7LD, United Kingdom. cristinadbponte@gmail.com
Telephone: +44-1865-227374
Received: January 5, 2015
Peer-review started: January 20, 2015
First decision: January 30, 2015
Revised: February 28, 2015
Accepted: March 30, 2015
Article in press: April 2, 2015
Published online: June 16, 2015

Glucocorticoids remain the cornerstone of medical therapy in giant cell arteritis (GCA) and should be started immediately to prevent severe consequences of the disease, such as blindness. However, glucocorticoid therapy leads to significant toxicity in over 80% of the patients. Various steroid-sparing agents have been tried, but robust scientific evidence of their efficacy and safety is still lacking. Tocilizumab, a monoclonal IL-6 receptor blocker, has shown promising results in a number of case series and is now being tested in a multi-centre randomized controlled trial. Other targeted treatments, such as the use of abatacept, are also now under investigation in GCA. The need for surgical treatment is rare and should ideally be performed in a quiescent phase of the disease. Not all patients follow the same course, but there are no valid biomarkers to assess therapy response. Monitoring of disease progress still relies on assessing clinical features and measuring inflammatory markers (C-reactive protein and erythrocyte sedimentation rate). Imaging techniques (e.g., ultrasound) are clearly important screening tools for aortic aneurysms and assessing patients with large-vessel involvement, but may also have an important role as biomarkers of disease activity over time or in response to therapy. Although GCA is the most common form of primary vasculitis, the optimal strategies for treatment and monitoring remain uncertain.
Core tip: Giant cell arteritis (GCA) is the most common form of primary systemic vasculitis. Treatment with high doses of glucocorticoids should be initiated as early as possible to prevent ischaemic manifestations, such as blindness (occurring in up to 20%). However, glucocorticoid therapy leads to significant toxicity in over 80% of the patients. Various steroid-sparing agents have been tried, but robust scientific evidence of their efficacy and safety is still lacking. Not all patients follow the same course, but there are no valid biomarkers to assess therapy response. The authors review the optimal strategies for treatment and monitoring of patients with GCA.
---
Citation: Ponte C, Rodrigues AF, O'Neill L, Luqmani RA. Giant cell arteritis: Current treatment and management. World J Clin Cases 2015; 3(6): 484-494
---
INTRODUCTION
Giant cell arteritis (GCA), also called temporal arteritis, is the most common form of primary systemic vasculitis, with an overall incidence of 15-25 per 100000 per year[1]. It affects large and medium-sized blood vessels with a predisposition for the cranial branches derived from the carotid artery; in approximately 50% of cases, the aorta and its major branches may also be involved[2,3]. It typically affects individuals aged above 50 years and is two to four times more common in women than men[4,5]. Polymyalgia rheumatica (PMR) can be present in up to 50% of the cases, beginning before, simultaneously or after the clinical manifestations of GCA, suggesting they are different spectrums of the same disease process[6].
Due to the intense myointimal proliferation and vessel occlusion, which in up to 20% of the cases may lead to blindness (usually permanent), GCA is considered a medical emergency[7,8]. Treatment with high doses of glucocorticoids should be initiated as early as possible to rapidly control inflammatory symptoms and prevent ischaemic manifestations, such as jaw claudication, visual loss and stroke. However, the burden of high-dose glucocorticoids is considerable, especially in the elderly, with over 80% of the patients experiencing significant treatment related side-effects[9]. Proven et al[10] have reported a high number of major adverse advents related to long-term glucocorticoid use in GCA: posterior subcapsular cataract (41%), bone fractures (38%), infections (31%), hypertension (22%), diabetes mellitus (9%) and gastrointestinal bleeding (4%).
Moreover, the optimal duration and doses of glucocorticoid treatment varies from patient to patient, as well as the need to add other immunosuppressant agents to control disease activity and reduce glucocorticoid toxicity.
The key issues in managing GCA after its diagnosis are prompt institution of correct therapy; recognition and amelioration of the adverse events related to immunosuppressant medications; and rapid identification of disease activity and flares.
Our purpose is to review the current therapeutic options, guidelines and clinical trials in GCA, as well as to discuss follow-up strategies and potential biomarkers for this condition (Figure 1).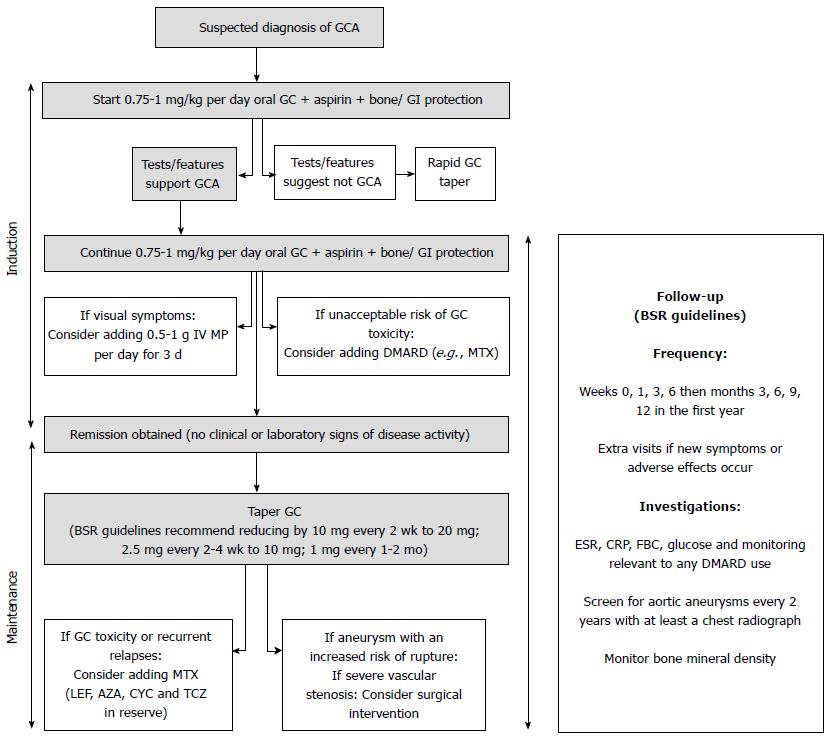 Figure 1 Current schema for giant cell arteritis treatment.
AZA: Azathioprine; BSR: The British Society for Rheumatology; CRP: C-reactive protein; CYC: Cyclophosphamide; DMARDs: Disease-modifying antirheumatic drugs; ESR: Erythrocyte sedimentation rate; FBC: Full blood count; GC: Glucocorticoids; GI: Gastrointestinal; GCA: Giant cell arteritis; IV: Intravenous; LEF: Leflunomide; MP: Methylprednisolone; MTX: Methotrexate; TCZ: Tocilizumab.
MEDICAL TREATMENT
In GCA medical treatment is required for induction and maintenance of remission.
SURGICAL TREATMENT
Extracranial involvement in GCA, or large-vessel GCA (LV-GCA), has been described in 30%-80% of cases, varying according to the imaging modality performed[70,71]. However, most patients with LV-GCA improve with medical treatment alone, making the need for surgical interventions uncommon.
The risk of aortic aneurysm is higher in patients with GCA when comparing with the general population (twofold increased risk in the United Kingdom[72]), and the aneurysms are more likely to occur late in the disease course. Given there are no validated guidelines on surgical repair of aneurysms in patients with GCA, most strategies are based on the recommendations of atherosclerosis-related aneurysms. Surgical intervention should be considered in case of symptomatic aneurysm; ascending aorta aneurysm >5 cm in diameter; descending aorta aneurysm > 6 cm; abdominal aorta aneurysm > 5.5 cm; and an aneurysm which has grown > 0.5 cm within a 6 mo period[73].
In addition, revascularization procedures (e.g., angioplasty, stenting or bypass surgery) due to artery stenosis are rarely required. Although narrowing of important arteries, such as the subclavian artery, may compromise distal tissue viability, the development of extensive collateral circulation over time is usually sufficient to maintain adequate tissue viability, even when ischaemic symptoms, such as limb claudication or loss of large vessel pulses, are observed. There have been some case reports of successful revascularization surgery, but with common restenosis[74-76]. When necessary, surgical treatment should be performed in the quiescent phase of the disease and in experienced centres[9].
Aortic structural damage in GCA is associated with a trend towards increased mortality (of any cause)[77]; however, the comparison between surgical outcomes in GCA and other causes of aortic disease has not been evaluated.
MANAGEMENT
Not all patients with GCA respond to therapy in the same way, but there are no valid biomarkers to assess treatment response. Several potential molecular and imaging biomarkers have been investigated.
Molecular markers
Changes in the conventional inflammatory markers (CRP and ESR) do not consistently reflect disease activity[78]; however, they are still the laboratory tests used routinely to monitor the effects of therapy. Serum levels of IL-6 have been found to be more sensitive than ESR for indicating disease activity in untreated and treated patients with GCA[79]. Additionally, circulating pentraxin 3 (PTX3) and vascular endothelial growth factor (VEGF) levels have been recognized to be significantly increased in patients with very recent optic nerve ischaemia[80], with VEGF levels responding well to treatment[81]. Antibodies against ferritin have also been suggested as potential activity markers for GCA, particularly in patients without cranial artery involvement[82]. However, further studies with larger series are warrant to understand the potential role of these serum markers in the assessment of GCA.
Imaging
Imaging techniques, especially for patients with extracranial involvement, have an important role in monitoring patients with GCA.
Ultrasound: Three meta-analyses have reported the high value and validity of ultrasound in diagnosing GCA[83-85], and we have recently completed patient recruitment for a large multicentre study looking at ultrasound as a diagnostic tool for GCA - TABUL study (Temporal Artery Biopsy vs ULtrasound in diagnosis of GCA)[86]; however, the role of ultrasound as a measure of disease activity is still unclear. In small case series and case reports, abnormal ultrasound appearances have been reported to resolve within 2 d of starting glucocorticoids[87] or alternatively, to persist for 11 wk despite treatment[88], allowing correlation of imaging changes with clinical response. In the TABUL study, we performed a cross-sectional analysis of 131 patients with GCA and positive ultrasound halo (dark area around arterial wall); the size of the halo was found to be smaller in patients who had received more days of glucocorticoid treatment, as well as correlating with the presence of ischaemic symptoms, supporting the early use of ultrasound as a potential prognostic marker and monitoring tool[89]. In addition, Czihal et al[90] documented that the clinical pattern of patients with extracranial GCA and cranial GCA, all identified by ultrasound, substantially differs, with visual impairment inversely correlated to the frequency of extracranial GCA (Figure 2).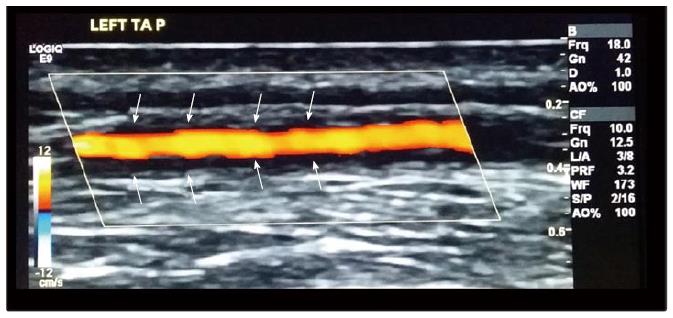 Figure 2 Ultrasound of the left temporal artery showing a dark halo (arrows) around the vessel wall of the parietal branch compatible with vascular inflammation.
Magnetic resonance imaging/magnetic resonance angiography: Magnetic resonance imaging (MRI) and magnetic resonance angiography (MRA) can demonstrate the presence of increased wall thickness, oedema; mural contrast enhancement is highly suggestive of vascular inflammation. These imaging modalities can be used in patients with GCA, not only to verify extra-cranial involvement, but also to evaluate temporal arteries. High-resolution MRI of the cranium has been reported to detect biopsy-positive GCA with high sensitivity[91,92], but future research is needed to validate this technique for diagnosis of cranial GCA.
There are still controversies regarding the use of MRI/MRA to monitor patients with extracranial GCA. Although it has great value for assessing aortitis and potential associated aneurysms and stenoses, MRI has failed to correlate well with clinical measures of disease activity[93-95]. In addition, false-positives may occur due to increased mural contrast enhancement as a result of vascular remodelling.
Because MRI/MRA are not invasive and do not involve ionizing radiation, they are widely used for monitoring GCA, despite their limitations.
18F-Fluorodeoxyglucose positron emission tomography: 18F-Fluorodeoxyglucose positron emission tomography (18F-FDG PET) is a functional imaging technique which is very sensitive for diagnosing inflammatory changes in vessels with a diameter greater than 4 mm[96] (Figure 3). When compared to MRI, it appears to be more sensitive in detecting early vascular inflammation and correlates better with changes in disease activity over time[93,97,98]. However, like MRI, the relationship between PET findings and the prediction of disease activity or relapse is also inconsistent[93,97], which can be partly explained by the lack of standardized and validated criteria for disease activity in large vessel vasculitis.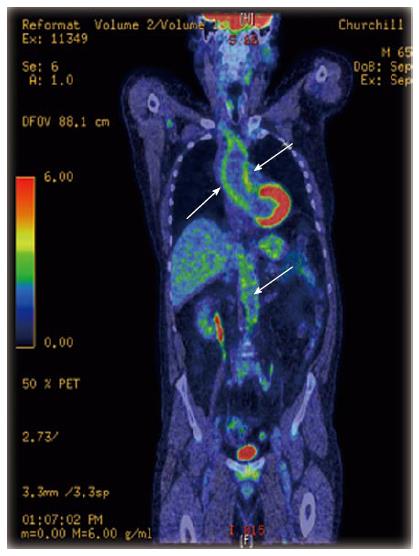 Figure 3 Whole body positron emission tomography-computerised tomography scan of a patient with large vessel vasculitis, showing increased fluorodeoxyglucose uptake in the ascending and abdominal aorta (arrows).
The main limitations of this modality are: the lack of a uniform definition of vascular inflammation based on the FDG uptake; inability to provide information regarding wall structure or luminal flow; inability to visualize the temporal arteries; the use of large amounts of ionizing radiation (typically 15-20MSv per scan); and the limited access to this technique by most health institutions.
Computerised tomography/computerised tomography angiography: In GCA the main role of computerised tomography/computerised tomography angiography is to assess large vessel involvement or late complications of the disease, such as vessel stenosis, occlusions or aneurysms. This imaging modality has been proposed to evaluate response to treatment in Takayasu patients[99], but to our knowledge the same has not been considered in GCA.
Chest radiograph: The main use for regular chest radiographs in patients with GCA is to monitor for potential aortic aneurysms. Although the BSR recommends its performance at least every 2 years[100], we have recently demonstrated that the risk of aneurysm development as a result of GCA is actually quite low[72]; if an aneurysm is suspected, more advanced imaging modalities (described above) should additionally be obtained in order to confirm the diagnosis and evaluate possible treatment measures.
Follow-up
The frequency for patient follow-up should be guided by their clinical manifestations and adverse advents. The BSR recommends follow-up during the first year at weeks 0, 1, 3, 6, then months 3, 6, 9, 12 and if new symptoms or adverse effects occur[13]. At each visit bloods tests for ESR, CRP, full blood count, glucose as well as monitoring relevant to any DMARD use should be performed. In practice, this is often not achievable in secondary care and therefore involvement by the patient's primary care physician is usually required. Screening for aortic aneurysms and monitoring bone density may be indicated in high risk individuals (e.g., older male smokers have the highest risk of aortic aneurysm).
CONCLUSION
Despite the severe consequences of untreated GCA, such as blindness, there is no consensus on the optimal therapeutic strategies for this disease. Early initiation of glucocorticoid treatment is essential; however, the value of additional steroid-sparing synthetic or biologic agents to avoid the common glucocorticoid adverse effects or obtain quicker remission is still uncertain. We do not know how many and which synthetic DMARDs should be used before considering a biologic agent, because there are no valid and specific biomarkers to assess therapy response in GCA. Potential biomarkers which require further validation include circulating levels of IL-6 and VEGF as well as imaging assessments, such as ultrasound. Further investigation is needed to establish the role of these biomarkers, which can assist in the development and testing of innovative targeted therapies whose effects can be more reliably measured.
P- Reviewer: Kim ST, Trohman RG, Yokoyama Y S- Editor: Qi Y L- Editor: A E- Editor: Wu HL