Copyright
©The Author(s) 2015.
Published by Baishideng Publishing Group Inc. All rights reserved.
Crohn's disease with gastroduodenal involvement: Diagnostic approach
Sachin B Ingle, Saleha Siddiqui, Department of Pathology, MIMSR Medical College, Latur, Maharashtra 4132512, India
Baban D Adgaonkar, Chitra R Hinge, Department of Physiology, MIMSR Medical College, Latur, Maharashtra 4132512, India
Nawab P Jamadar, Department of Anesthesia, MIMSR Medical College, Latur, Maharashtra 4132512, India
Author contributions: Ingle SB, Adgaonkar BD, Siddiqui S and Hinge CR prepared the manuscript; Ingle SB and Jamadar NP critically revised the intellectual content and gave final approval of manuscript.
Conflict-of-interest: None is to be declared.
Open-Access: This article is an open-access article which was selected by an in-house editor and fully peer-reviewed by external reviewers. It is distributed in accordance with the Creative Commons Attribution Non Commercial (CC BY-NC 4.0) license, which permits others to distribute, remix, adapt, build upon this work non-commercially, and license their derivative works on different terms, provided the original work is properly cited and the use is non-commercial. See: http://creativecommons.org/licenses/by-nc/4.0/
Correspondence to: Sachin B Ingle, Professor, Department of Pathology, MIMSR Medical College, Ambajogai Road, Vishwanathpuram, Latur, Maharashtra 413531, India. dr.sachiningle@gmail.com
Telephone: +91-2382-227424 Fax: +91-2382-228939
Received: November 21, 2014
Peer-review started: November 22, 2014
First decision: December 12, 2014
Revised: April 14, 2015
Accepted: April 27, 2015
Article in press: April 29, 2015
Published online: June 16, 2015

Crohn's disease (CD) is a chronic idiopathic inflammatory disease of gastrointestinal tract characterized by segmental and transmural involvement of gastrointestinal tract. Ileocolonic and colonic/anorectal is a most common and account for 40% of cases and involvement of small intestine is about 30%. Isolated involvement of stomach is an extremely unusual presentation of the disease accounting for less than 0.07% of all gastrointestinal CD. To date there are only a few documented case reports of adults with isolated gastric CD and no reports in the pediatric population. The diagnosis is difficult to establish in such cases with atypical presentation. In the absence of any other source of disease and in the presence of nonspecific upper gastrointestinal endoscopy and histological findings, serological testing can play a vital role in the diagnosis of atypical CD. Recent studies have suggested that perinuclear anti-neutrophil cytoplasmic antibody and anti-Saccharomycescervisia antibody may be used as additional diagnostic tools. The effectiveness of infliximab in isolated gastric CD is limited to only a few case reports of adult patients and the long-term outcome is unknown.
Core tip: The stomach is rarely the sole or predominant site of Crohn's disease (CD) accounting for less than 0.07% of all gastrointestinal CD. Serological testing and meticulous histopathological examination by excluding other causes of granulomatous gastritis can play a vital role to arrive at the correct diagnosis.
---
Citation: Ingle SB, Adgaonkar BD, Jamadar NP, Siddiqui S, Hinge CR. Crohn's disease with gastroduodenal involvement: Diagnostic approach. World J Clin Cases 2015; 3(6): 479-483
---
INTRODUCTION
Crohn's disease (CD) can affect any region from mouth to the anus. Isolated Gastroduodenal involvement is an extremely unusual event. The CD is diagnosed usually on the basis of clinical, laboratory, upper gastrointestinal (GI) scopy and histopathology. The anti-Saccharomycescervisia antibody (ASCA) is relatively good specific marker with minimal sensitivity. However, it is difficult to diagnose it in patients with isolated involvement of stomach and duodenum. In such circumstances other granulomatous conditions must be excluded with careful evaluation of the patient to hit the accurate pathological cause[1,2].
The famous criteria to diagnose this rare condition are: (1) evidence of noncaseating granulomas on histopathology; and (2) confirmation of changes of Crohn's disease on endoscopy or radiography[3-10].
EPIDEMIOLOGY
Incidence
It occurs in 0.5% to 4% patients of CD[3-6]. Isolated stomach and duodenum involvement accounts for less than 0.07% of all cases of CD[1].
PATHOPHYSIOLOGY
For pathogenesis of isolated gastric CD multiple hypothesis were postulated: (1) the hygiene hypothesis relatively less trained and weak immunological system leading to ineffective immune response to newer antigens; (2) the environmental factors i.e., geography, smoking, drugs, diet are also main contributing factors[13,14]; (3) immune mechanism - It is being postulated that the immune reactivity in this disease is due to "loss of immune tolerance" to self antigens of intestinal flora, resulting into an inappropriate granulomatous immune response of Chron's disease[15,16]; and (4) role of chemical mediators - interferon-γ, interleukin (IL)-12, IL-18 and increased expression of T-bet[17-19]. T-cells are not undergoing apoptosis [20-25].
DIAGNOSTIC EVALUATION
Radiological signs
Aphthous ulcer is the early feature on radiography[28]. The characteristic features are presence of nodularity in the mucosa giving classic appearance of "cobblestone"[4]. Radiography examination using double-contrast medium is useful in cases with stenoses or strictures which are mainly seen in advanced disease[6,12,27,29,30]. A barium enema should be done in suspected cases of gastro colic fistula[4].
Endoscopy
Endoscopy with biopsy is an effective diagnostic modality[6,9,27,30]. Endoscopic findings include patchy erythema, gastric outlet narrowing (Figure 1) mucosa is friable, thickening of mucosa and ulcerations linear as well as aphthous[4,7,9,12]. The ulcers of CD are typically linear or serpiginous in contrast to the peptic ulcers[27]. In cases with diffuse stomach involvement a linitis plastica appearance,is seen[31,32]. Sophisticated endoscopic features such as, bamboo-joint-like appearance and notched sign can be seen[33].
Biopsy findings
The biopsy findings are often nonspecific. Exclusion of other causes of granulomatous lesions is important. Granulomas without caseation are noted in 5% to 83% of cases (Figure 2)[9,12]. The differential diagnosis of granulomatous gastritis are H. pylori infection, gastric sarcoidosis, tuberculosis, syphilis, etc[7,9,32]. So presence of granuloma is not a definitive criterion to arrive at the diagnosis. H. pylori negative chronic gastritis is common feature.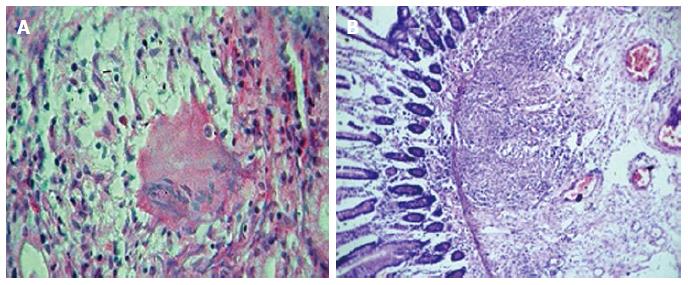 Figure 2 Biopsy showing non-caseating granulomas and oedema in the submucosa (HE × 10).
A: Non-caseating granulomas; B: Oedema alongwith granulation tissue.
Additional histological features are mucosal edema, crypt abscesses, lymphoid aggregates and fibrosis[32-34].
Serological markers
Currently, it has been stated that perinuclear anti-neutrophil cytoplasmic antibody (pANCA) and ASCA can be used as supportive diagnostic tools. Indeed, ASCA is detected in 55%-60% of children and adults with CD and only 5%-10% of controls with other gastrointestinal disorders. This finding pANCA highlights the relatively good specificity but poor sensitivity of ASCA as a marker for CD. pANCA on the other hand is more specific to ulcerative colitis.
Genetic studies
In addition, some NOD2/ CARD15 gene polymorphisms were found to be associated with CD with gastroduodenal involvement. It is possible that these genes might also help to support the diagnosis in the atypical presentation of CD in the future[2].
DIFFERENTIAL DIAGNOSIS
The differential diagnosis includes corrosive gastritis due to ingestion of lye, gastric scirrhous carcinoma, Ménétrier's disease. Pseudolymphoma, amyloidosis can also mimic CD[29]. Although Ménétrier's disease can involve the entire stomach and produce ulcérations, it does not cause transmural disease[29]. Malignant and infiltrative processes are to be ruled out by the histological findings.
TREATMENT
Medical treatment
Proton pump inhibitors in combination with steroids are the first line of treatment in active CD. Some of the studies proved steroid-induced remission in active disease[10,11,35-39]. But, 6-Mercaptopurine and azathioprine are proved to be helpful to maintain steroid induced remission.
Surgical intervention
Some of the patients requires surgical intervention, where patients are not responding to medical treatment[44]. Other situations are massive and persistent upper gastrointestinal hemorrhage, gastric outlet obstruction, and fistula or abscess formation[4,5,7,10,12,45]. The important indication is duodenal obstruction[6]. The surgical modalities of treatment include bypass surgery with gastrojejunostomy[6,7,9]. Gastrojejunostomy with highly selective vagotomy is an ideal line of management[44]. Delayed gastric emptying is a postoperative complication seen in 24% of cases, but this may be seen in stricturoplasty also[6,46,47]. Additional post operative complications are anastomotic leak, enterocutaneous fistula, intraabdominal abscess, and stomal ulceration[48].
CONCLUSION
To conclude, CD with isolated gastric involvement is an extremely unusual event in clinical practice. Endoscopic biopsy along with battery of laboratory tests is an effective tool to hit the correct diagnosis by exclusion of various causes of granulomatous gastritis. This prevents untoward mortality and/morbidity related to disease and treatment.
P- Reviewer: Chen JQ, Caviglia R, Hokama A S- Editor: Gong XM L- Editor: A E- Editor: Wu HL