Figure 1 Physical examination and positron emission tomography/computed tomography scan (PET/CT).
A: The forehead, behind the ears, neck and chest had dense flaky erythema with scattered bleeding spots of different sizes; B: PET/CT showed that metabolism was obviously increased in the right nasal cavity, right maxillary sinus, right frontal sinus, partial ethmoid sinus, bilateral sphenoid sinus, right turbinate, nasopharynx, uterus, tail of pancreas, bilateral breast, multiple lymph nodes, liver and spleen, and bone marrow.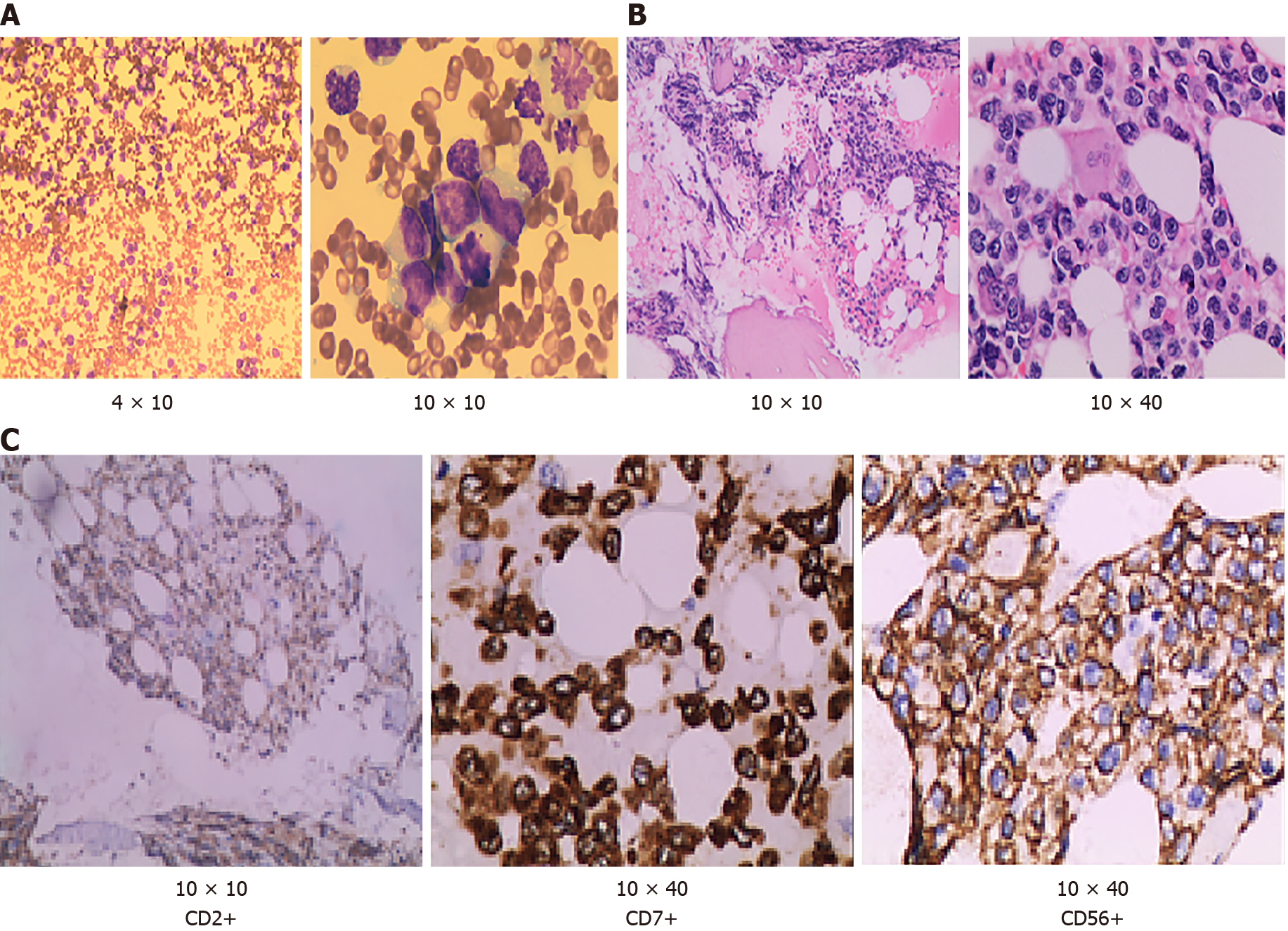 Figure 2 Hematoxylin–eosin staining.
A: Bone marrow cell morphology test showed that cells with unknown classification and abnormality were easy to see, accounting for 94% (magnification: 4 × 10 and 10 × 10); B: Bone marrow biopsy test showed that hematopoietic tissue proliferation was heterogeneous, adipose tissue hyperplasia was decreased, granulocyte and erythrocytic proliferation was decreased, megakaryocytic hyperplasia (0–4/high-power field) was scattered (magnification: 10 × 10 and 10 × 40); C: Immunohistochemical of bone marrow biopsy showed that the atypical cells were positive for CD2, cCD3, CD7, CD20, CD34, CD68, CD56, and negative for sCD3 (magnification: 10 × 10; 10 × 40 and 10 × 10).
---
Citation: Peng XH, Zhang LS, Li LJ, Guo XJ, Liu Y. Aggressive natural killer cell leukemia with skin manifestation associated with hemophagocytic lymphohistiocytosis: A case report. World J Clin Cases 2021; 9(34): 10708-10714
---