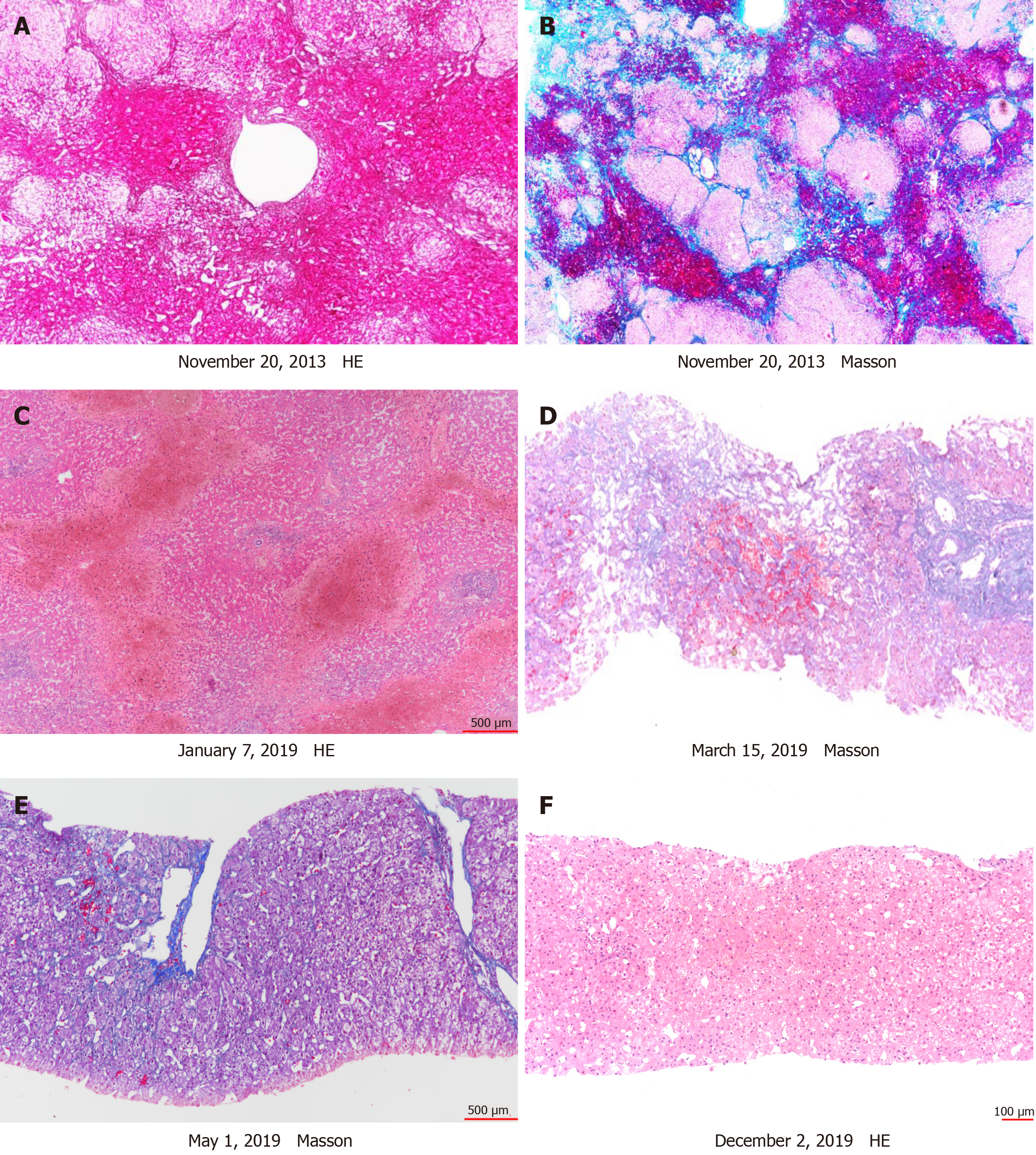 Figure 1 Hepatic venography.
A and B: Native liver showed marked sinusoidal dilatation and congestion in centrilobular regions and extensive bridging fibrosis and necrosis linking central to central areas; C: Explanted first liver graft characterized by massive perivenular congestion and hemorrhage with marked sinusoidal dilatation. Portal tract was not remarkable; D: Two months after liver retransplantation, liver biopsy was performed to clarify the diagnosis. The second liver graft liver pathology showed sinusoidal dilatation and congestion; E: In addition to warfarin, tacrolimus was switched to cyclosporine A. Two months after treatment, perivenular congestion and sinusoidal dilation were alleviated and were only observed in the focal perivenular area; F: Nine months later, there was no perivenular congestion and only mild sinusoidal dilatation.

Figure 2 Computed tomography image.
A: Before liver retransplantation, computed tomography (CT) showed hepatomegaly and heterogeneous, patchy enhancement; B: Two months later, the patient complained of abdominal distension. CT revealed hepatomegaly with patchy enhancement and ascites; C: Two months after treatment with anticoagulation and immunosuppressant conversion, CT showed alleviation of hepatomegaly and heterogeneous enhancement.
---
Citation: Liu Y, Sun LY, Zhu ZJ, Wei L, Qu W, Zeng ZG. Is sinusoidal obstructive syndrome a recurrent disease after liver transplantation? A case report . World J Clin Cases 2021; 9(2): 489-495
---