Figure 1 Pulmonary computed tomography images showing bilateral consolidation with air-bronchogram, especially in the right lung with multiple ground glass low-density shadows.

Figure 2 Abdominal transverse computed tomography images.
A: Free air in the abdomen and fluid around the liver; B: Intestinal wall thickening in the right lower quadrant and seepage, scattered with free air.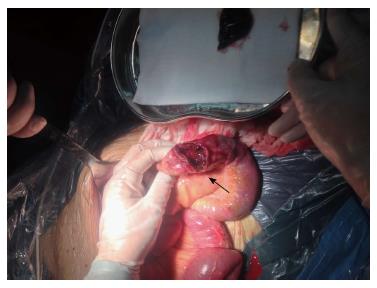 Figure 3 Introperative findings.
There were 11 perforations in the intestine. The arrow points to the bigger one measuring about 3 cm × 3 cm.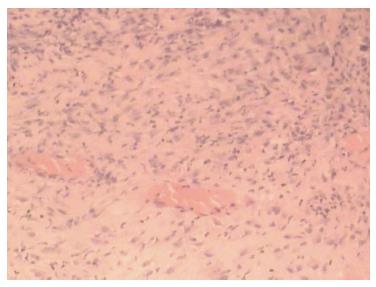 Figure 4 Histopathological examination showing a large number of infiltrated inflammatory cells (HE staining, × 100).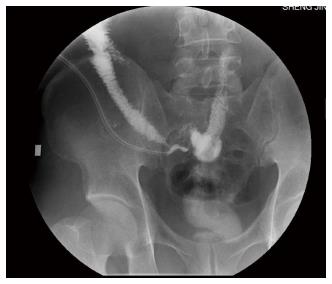 Figure 5 Fistulography showing that after injection of contrast agents, the intestine of the right lower quadrant abdomen developed a fistula.
---
Citation: He JN, Tian Z, Yao X, Li HY, Yu Y, Liu Y, Liu JG. Multiple perforations and fistula formation following corticosteroid administration: A case report. World J Clin Cases 2017; 5(2): 67-72
---