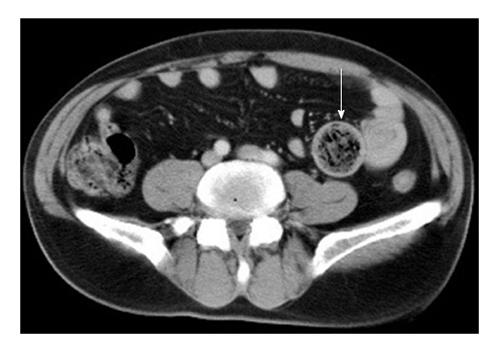 Figure 1 Intraluminal round bezoar and mottled gas pattern were seen in the jejenum segment.
Wall thickening due to inflammation were seen at the obstruction site (arrow).

Figure 2 A 62-year-old male patient. Multiple small bowel bezoars which have round or irregular shape and mottled gas pattern were detected on abdominal computed tomography (A and B; arrows). Intraoperative finding (C); an irregular shaped bezoar which caused intestinal obstruction was removed via enterotomy, dilated proximal segments and non-dilated distal segments are visible.
---
Citation: Dikicier E, Altintoprak F, Ozkan OV, Yagmurkaya O, Uzunoglu MY. Intestinal obstruction due to phytobezoars: An update. World J Clin Cases 2015; 3(8): 721-726
---