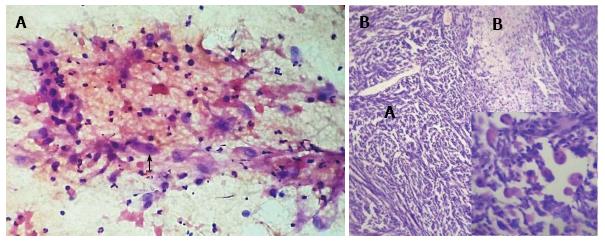 Figure 2 Photomicrograph.
A: Photomicrograph of cytological smear showing spindle cells with pleomorphic hyperchromatic nuclei and a plump cell (arrow) with abundant eosinophilic cytoplasm; B: Photomicrograph showing hypercellular areas (Antoni A) of spindle cells having hyperchromatic nuclei and hypocellular areas (Antoni B) (100 ×). Inset shows rhabdomyoblastic differentiation (400 ×).

Figure 3 Immunohistochemistry.
A: Immunohistochemistry showing focal S100 positivity in spindle cells; B: Immunohistochemistry showing Desmin positivity in rhabdomyoblasts.
---
Citation: Shete S, Bolde S, Pandit G, Matkari P, Ingle SB. Unusual histological variant of malignant peripheral nerve sheath tumor with rhabdomyoblastic differentiation. World J Clin Cases 2015; 3(4): 389-392
---