Copyright
©2012 Baishideng.
All rights reserved.
World J Gastrointest Oncol.
Jul 15, 2012;
4(7): 184-186
Published online Jul 15, 2012. doi: 10.4251/wjgo.v4.i7.184
Adenocarcinoma of the small bowel in a patient with occlusive Crohn's disease
Lior Drukker, Yair Edden, Petachia Reissman, Department of General Surgery, Shaare Zedek Medical Center, Hebrew University, Hadassah School of Medicine, PO Box 3235, Jerusalem 91031, Israel
Author contributions: Drukker L and Reissman P performed the surgical procedure and provided clinical data; Drukker L and Edden Y wrote the case report; all authors revised the paper and approved the final version.
Correspondence to: Petachia Reissman, MD, Professor of Medicine, Chief of General Surgery Department, Shaare Zedek Medical Center, Hebrew University, Hadassah School of Medicine, PO Box 3235, Jerusalem 91031, Israel. reissman@szmc.org.il
Telephone: +972-2-6666310 Fax: +972-2-6666253
Received: August 18, 2011
Revised: May 29, 2012
Accepted: May 31, 2012
Published online: July 15, 2012

A 40-year-old male, diagnosed with mild Crohn's disease (CD) 11 years ago but with no prior abdominal surgeries, was diagnosed with a small bowel stricture, due to ongoing abdominal pain and intolerance of enteral diet, and referred for surgical treatment. Exploratory laparoscopy revealed a white solid mass causing a near total jejunal obstruction with significant proximal dilatation. An adjacent small node was sampled for frozen biopsy, revealing a lymph node infiltrated with adenocarcinoma. Laparoscopic assisted small bowel resection and appendectomy were carried out. Final pathological results supported the initial report of diffuse small bowel adenocarcinoma. In conclusion, once a small bowel stricture associated with CD is suspected, rapid action should be considered to avoid late diagnosis of a neoplasia.
---
Citation: Drukker L, Edden Y, Reissman P. Adenocarcinoma of the small bowel in a patient with occlusive Crohn's disease. World J Gastrointest Oncol 2012; 4(7): 184-186
---
INTRODUCTION
The prevalence of Crohn's disease (CD) has risen over the past decades, ranges from 26 to 199 per 100 000 people and is most frequently diagnosed before adulthood[1]. Primary small bowel adenocarcinoma (SBA), a rare entity in the general population, is estimated to occur 20-40 times more in patients with CD[2] and at a much younger age then SBA in the general population[3]. SBA can mimic small bowel stricture by causing nonspecific symptoms, being amenable to endoscopic evaluation and lacking characteristic appearance on imaging, thus contributing to a 6-8 mo delay in the establishment of SBA diagnosis[4,5]. Surgical procedures involving a small bowel resection remain the most common procedure in patients with CD and this rate has not been significantly altered with the introduction of the new biological agents[6]. The most common indications for surgery in CD patients are failure of conservative treatment and a small bowel obstruction due to a stricture. SBA is only rarely suspected preoperatively and in most cases is diagnosed at an advanced stage, either during surgery or during the pathological examination of a specimen[7]. The prognosis of SBA in CD is generally unfavorable, with a 5-year survival of 20%-30%[4]. We report a patient diagnosed with CD who underwent a surgical procedure for severe obstructive symptoms and was found to have a SBA.
CASE REPORT
A 40-year-old male, with an 11-year history of CD and no prior abdominal surgery or any extraintestinal involvement of CD, was presented to the surgical service. Over the last 6 mo, worsening abdominal pain, progressive intolerance of enteral diet and failure of conservative medical treatment were reported. Since his CD diagnosis was made, he was treated primarily with 5-ASA derivates, during which he had suffered from few episodes of abdominal pain, responding to conservative treatment.
Subsequent to his admission, a computerized tomography enterography revealed a thickened jejunal wall with narrowed lumen and prestenotic dilatation, thickened and strictured terminal ileum, minimal mesenteric lymphadenopathy, as well as congestion of the mesenterial blood supply (Figure 1).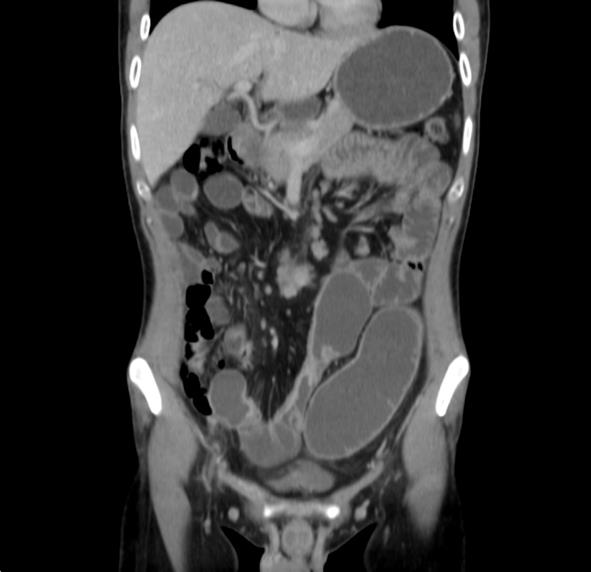 Figure 1 Abdominal computed tomography scan revealing a classic radiological finding of Crohn's disease: Thickened jejunal wall with pre stenotic dilatation, as well as congestion of the mesenterial blood vessels.
Initially, the patient was put on an elemental diet but still presented with obstructive symptoms and did not tolerate oral diet. Total parenteral nutrition was administered without signs of improvement. Based on the clinical and radiological picture, the patient was taken for an exploratory laparoscopy.
On laparoscopy, a one meter long segment of distal jejunum with multiple strictures was evident; in the middle of this segment, a large firm white mass was visualized and two adjacent enlarged lymph nodes were noted (Figure 2). One mesenteric lymph node was sent for frozen section evaluation, revealing adenocarcinoma. No other distant metastases were seen.
Given these findings, the patient underwent a laparoscopic assisted resection of a 70 cm segment of jejunum, as well as an appendectomy.
Histopathological results supported the frozen section's initial result of high grade adenocarcinoma with signet ring cells. Five out of 15 lymph nodes were infiltrated with adenocarcinoma cells. Surprisingly, the macroscopically normally appearing appendix was infiltrated with adenocarcinoma cells as well.
The postoperative course was unremarkable. Oral diet was tolerated 4 d after surgery and the patient was discharged home a week later. Oncological therapy was initiated. Unfortunately, the patient succumbed to his disease 6 mo later.
DISCUSSION
While CD incidence rates have been on the rise in developed countries and have finally reached a plateau[8], SBA associated with CD remains a rare entity, first described in 1956, and to date, fewer than 200 cases have been reported in the English literature[4]. Palascak-Juif et al[9] have estimated the cumulative risk of SBA in CD to range between 0.2% and 2.2% after 10 and 25 years respectively. In a recent meta-analysis by von Roon et al[10], SBA was found to be the most common malignancy in CD patients. A dysplasia-adenocarcinoma sequence as sequelae of chronic recurrent or persistent inflammatory process has been suggested as the pathogenesis of SBA in CD[11,12].
Dossett et al[13] reviewed 154 cases of SBA in CD and found several risk factors: duration of disease, male sex and the presence of a bypassed segment. Piton et al[3] summarized 29 patients with CD who developed SBA and found that prolonged salicylate use and small bowel resection may protect against SBA in CD.
It is nearly impossible to differentiate between a CD associated small bowel stricture and SBA. Both may present with the same symptoms, have no distinguishing features on imaging, are equally inaccessible for diagnostic evaluation and even may have the same appearance during surgery. Hence, most diagnoses are accomplished at an advanced stage, during or after surgery[4]. Dossett et al[13] also found that merely 3.1% of the cancer diagnoses were made preoperatively, while the majority (61.5%) of diagnoses were made postoperatively by histological examination.
We report a CD patient with obstructive symptoms, initially presumed to be a small bowel stricture, which was diagnosed during laparoscopy with an advanced SBA. This case highlights the need for a high index of suspicion of SBA in patients with obstructive symptoms of CD generally associated with a small bowel stricture.
Since generally diagnosis is late and prognosis is poor, a small bowel stricture associated with CD should be suspected as neoplastic until proven otherwise.
Peer reviewer: Chris N Conteas, MD, Division of Gastroenterology, Southern California Permanente Medical Group, 1526 N.Edgmont St 7th floor, Los Angeles, CA 90027, United States
S- Editor Wang JL L- Editor Roemmele A E- Editor Zheng XM