Figure 1 Aspartate aminotransferase and alanine aminotransferase levels in case 1 and case 2 prior and after immunosuppression and hepatitis C infection treatment.
ALT: Alanine aminotransferase; AST: Aspartate aminotransferase.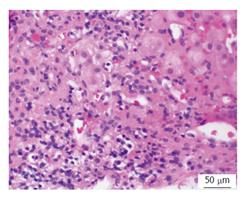 Figure 2 Liver biopsy of case 3 demonstrating interface activity with abundant plasma cell infiltration (600 × H and E staining).
---
Citation: Sahebjam F, Hajdu CH, Nortey E, Sigal SH. Direct acting antiviral therapy is curative for chronic hepatitis C/autoimmune hepatitis overlap syndrome. World J Hepatol 2016; 8(14): 632-636
---