Copyright
©The Author(s) 2016.
Published by Baishideng Publishing Group Inc. All rights reserved.
Malaria modeling: In vitro stem cells vs in vivo models
Florian Noulin, Department of Microbiology and Molecular Genetics, The Kuvin Center for the Study of Infectious and Tropical Diseases, IMRIC, The Hebrew University-Hadassah Medical School, Jerusalem 91120, Israel
Author contributions: Noulin F performed the literature search and wrote the manuscript.
Conflict-of-interest statement: The author declares no conflict of interest.
Open-Access: This article is an open-access article which was selected by an in-house editor and fully peer-reviewed by external reviewers. It is distributed in accordance with the Creative Commons Attribution Non Commercial (CC BY-NC 4.0) license, which permits others to distribute, remix, adapt, build upon this work non-commercially, and license their derivative works on different terms, provided the original work is properly cited and the use is non-commercial. See: http://creativecommons.org/licenses/by-nc/4.0/
Correspondence to: Florian Noulin, PhD, Department of Microbiology and Molecular Genetics, The Kuvin Center for the Study of Infectious and Tropical Diseases, IMRIC, The Hebrew University-Hadassah Medical School, Ein Kerem Campus, Jerusalem 91120, Israel. flo.noulin@mail.huji.ac.il
Telephone: +972-2-6757082 Fax: +972-2-6757244
Received: August 25, 2015
Peer-review started: August 28, 2015
First decision: December 4, 2015
Revised: January 8, 2016
Accepted: January 27, 2016
Article in press: January 29, 2016
Published online: March 26, 2016

The recent development of stem cell research and the possibility of generating cells that can be stably and permanently modified in their genome open a broad horizon in the world of in vitro modeling. The malaria field is gaining new opportunities from this important breakthrough and novel tools were adapted and opened new frontiers for malaria research. In addition to the new in vitro systems, in recent years there were also significant advances in the development of new animal models that allows studying the entire cell cycle of human malaria. In this paper, we review the different protocols available to study human Plasmodium species either by using stem cell or alternative animal models.
Core tip: To better understand Plasmodium biology, researchers can whether proceed to in vitro studies or use in vivo models. Thanks to recent progresses, stem cells have been extensively employed to study Plasmodium liver and blood cycle in vitro. In parallel, the development of animal models opened new opportunities to study parasite biology in vivo. In this review, I go through and discuss the different available protocols using stem cells for modeling malaria in vitro as well as available animal models. This review has for goal to decipher which system would be the more suitable to study the parasite biology.
---
Citation: Noulin F. Malaria modeling: In vitro stem cells vs in vivo models. World J Stem Cells 2016; 8(3): 88-100
---
INTRODUCTION
Despite many years of eradication efforts, Malaria remains a major threat to humans living in endemic area, particularly in sub-Saharan Africa (WHO report 2014). In the last two decades, the knowledge on many aspects of Plasmodium biology advanced significantly including mechanisms of motility and cell invasion[1], modification of the host cell such as cytoadherence[2], immune evasion[3] establishment of liver infections[4] and hypnozoites dormancy[5]. These achievements would not be possible unless Trager et al[6] were able to establish Plasmodium culturing in vitro. The ability to successfully freeze Plasmodium isolates[7,8] and routinely culture laboratory-adapted strains (i.e., DD2, 3D7, W2) was one of the most important steps that allowed more researchers to study malaria outside endemic areas.
In recent years, breakthroughs in stem cell research provided additional opportunities to study new aspects of the parasite biology, primarily of stages in the cell cycle in which culturing had been thus far challenging or impossible. In addition, the development of novel animal models completes the study of the entire cell cycle of human Plasmodium spp. and represents an appealing alternative to study host-parasite interactions with no need of human infection.
In this current paper we review and discuss the recent advances of novel procedures used to study human Plasmodium infection in vitro and in vivo.
STEM CELL DERIVED CELLS
Stem cell derived-erythrocytes
The lack of blood supply in blood banks that rely on constant blood donations, lead many researchers to look for alternative solutions to produce erythrocytes for transfusion[9]. The first report of the production of human erythrocytes from hematopoietic stem cells using a liquid system was described by Fibach et al[10]. These authors isolated mononuclear cells (MNC) from peripheral blood of a patient with -thalassemia, in which a defect in the chain of hemoglobin, cause an erythropoiesis increase. Using a two-step protocol, they could observe erythroid cells when cultured in the presence of erythropoietin (EPO). However, ethical concerns of using blood from a β-thalassemia patient presenting a defect in hemoglobin still remain (Figure 1).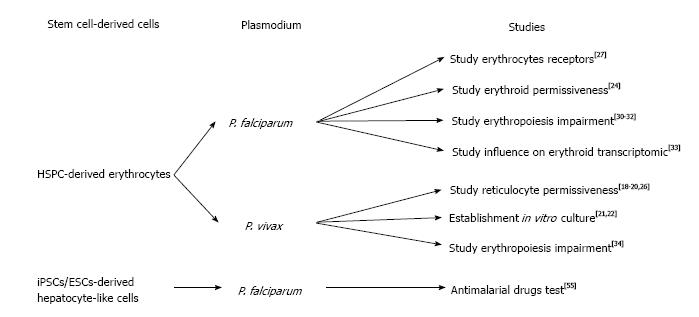 Figure 1 Chart of the different stem cells used for Plasmodium in vitro modeling and their applications. Scheme of the different sources of stem cells used for liver and blood cycles of Plasmodium falciparumin vitro studies. The main aims of each study are indicated on the right.
Following this study, many protocols have been developed in order to generate erythrocytes from HSC (reviewed by Migliaccio et al[11]). In 2005, Giarratana et al[12] published what could be considered as the reference protocol to generate erythrocytes from HSC. Briefly, after isolation of HSC from diverse origins (peripheral blood, umbilical cord blood, bone marrow and leukaferesis product) through a magnetic assorted cell sorting (MACS) selection based on the CD34+ expression, cells were co-cultured with mouse stromal cells (MS5). The cells were cultured in the presence of a cocktail of specific growth factors to allow a correct differentiation toward erythroid commitment: interleukin 3 (IL-3), hydrocortisone (HDS), stem cells factor (SCF) and EPO. After 20 d in culture, pure population of erythrocytes could be isolated from the supernatant. Nonetheless, production of erythrocytes from HSC faced some difficulties that limited the amount of cells which are produced as well as the ability to produce mature red blood cells (RBCs) (as the hemoglobin isoforms remain at fetal state).
The stem cell-derived erythrocytes have recently been intensively used in the malaria field to try to solve the challenging in vitro culture of Plasmodium vivax (P. vivax)[13]. Unlike P. falciparum that can invade erythrocytes of all ages, P. vivax shows a preference for invading immature erythrocytes (named reticulocytes)[14]. This preference for reticulocyte invasion makes use of peripheral blood as a source of cells to culture parasites in vitro nearly impossible as reticulocyte are only 0.5%-1% of erythrocytes in the blood stream and their lifespan prior to maturation is only 24 h. Thus a reticulocyte-enriched source of blood is needed in order to grow P. vivax in vitro. Early studies used several methodologies to concentrate reticulocytes from blood by ultracentrifugation[15], centrifugation on Percoll layer[8,16] or lysis buffer[17]. However, more recent studies demonstrated the preference of P. vivax for CD71high cells (reticulocytes)[18-20] revealing the possibility of using stem cell-derived reticulocytes. The first report attempting to establish an in vitro culture of P. vivax using HSPC-derived reticulocytes showed that parasites could be maintained in culture for more than 50 d using stem cell-derived reticulocytes[21]. This important study confirmed that stem cells could be used as a source of reticulocytes for P. vivax in vitro culture. However conditions still needed to be optimized as reticulocyte production were only 0.5% (after 14 d) and the parasitemia reached very low levels (below 0.0013%). In a more recent study, Noulin et al[22] were able to generate, after 14 d of culture, up to 18% of reticulocytes which were permissive to P. vivax invasion. They were also able to successfully cryopreserve reticulocytes in order to create a stock of cells to provide to P. vivax at each schizogony cycle. Nevertheless, the amount of reticulocytes generated remained extremely low and the parasite could still not multiply in vitro.
Before HSPC-derived reticulocytes can be used for successful P. vivax in vitro culture, the problems of low reticulocyte yield and the lack of intra-erythrocyte development of the parasite must be addressed. Very recently, Roobsoong et al[23] proposed optimized P. vivax culture conditions in order to better maintain the parasite in vitro. As a source of reticulocytes, they differentiated CD34+ cells into reticulocytes using the previously described protocol and interestingly purified the reticulocyte population passing the cells through leukocyte reduction filters to get rid of nucleated cells. Alternatively, they also concentrated reticulocytes from peripheral blood (PB) and umbilical cord blood (UCB) on a 19% Nycodenz layer. They also tested different culture media (McCoy's 5A, RPMI or Waymouth) supplemented with different serum concentrations. The authors claimed they could maintain the parasite in vitro for 26 mo, though the parasite density dramatically dropped from the first day to an almost undetectable level after the second day. We could conclude from these observations that P. vivax did not grow in vitro and thus more improvements are needed to reach a viable in vitro system.
The parasite's ability to invade and replicate within reticulocytes generated from HSPC is a precondition for the establishment of in vitro culture that relies on stem cells as a source.
Tamez et al[24] were interested in identifying the earliest erythroid stage, which is permissive to P. falciparum invasion. They differentiated HSPC according to a previously published protocol[25]. Briefly, after CD34+ isolation, HSPCs were cultured for 8 d in the presence of IL-3, EPO and SCF with medium refreshment at day 3 and 6 without IL-3 and decreased SCF concentrations. A selection was done after 7 d by FACS sorting based on CD71+ expression and the cells were cultured with only EPO supplementation for an additional 10 d. They found that the polychromatic erythroblasts were poorly invaded while ortho-erythroblasts could be invaded and allowed for parasite intra-cellular maturation, indicating the permissiveness of erythroid progenitors to P. falciparum.
Fernandez-Becerra et al[26] generated reticulocytes starting from HSPC isolated from adult PB, umbilical cord blood UCB and bone marrow (BM). Notably, they used 3T3 cells instead of the more-commonly used MS5 cells as a layer for differentiating erythroid progenitors. They could reach a significant yield of reticulocytes (up to 83.5%) and observed the presence of adult hemoglobin in reticulocytes derived from PB and BM. However, no information was given about the level of parasitemia post-invasion. A year later, Noulin et al[20] investigated different sources of HSPC. Remarkably, after CD34+ isolation and before differentiation, they applied an expansion step to increase their HSPC population. They could dramatically increase the HSPC population up to 10 fold for UCB source, 3 fold for BM source and 1 fold for PB source. They also observed better enucleation in PB source (32%) vs BM (20.5%) and UCB (18%). All three sources tested had similar permissiveness and better invasion rates compared to reticulocyte-enriched blood leading to the hypothesis that P. vivax prefers immature reticulocytes.
Recently, Egan et al[27] used a reverse genetics approach to investigate the role of RBC receptors that are involved in P. falciparum invasion. Using lentiviral shRNA delivery, they performed gene knockdown (kd) of different genes encoding for potential receptors in erythroid cells (starting from PB/HSPC isolated from Granulocyte-colony stimulating factor-stimulated patient or BM). They differentiated those that were genetically modified erythroid progenitors on stromal cell layer to obtain enucleated cells used further for P. vivax invasion assays. The authors observed a dramatic invasion decrease in CD55kd as well as in CD44kd RBCs. This work was the first to highlight the possibility of using genetically modified erythrocytes to study Plasmodium biology. Nevertheless, since it is impossible to maintain HSPC as stem cells it is essential to repeat the kd procedure every time, which causes some variability between kd experiments.
Significant blood hemolysis was reported during malaria infection[28] and thus, HSPC are also of particular interest to study erythropoiesis impairment that leads to anemia during malaria episodes[29]. Several studies tried to investigate the mechanism by which Plasmodium infection causes erythropoiesis impairment. In this scope Hemozoin (Hz) attracted particular interest. Hz is produced by the parasite when it metabolizes heme in its food vacuole[30]. Casals-Pascual et al[31] and Skorokhod et al[32] investigated the influence of Hz on erythroid development. They isolated CD34+ cells by MACS followed by a well-established differentiation protocol[12] and noticed a marked decrease in erythroid production in presence of Hz.
The influence of Hz on erythropoiesis was investigated by Malleret et al[19] using a different protocol. Starting from UCB, they differentiated CD34+ cells based on a 3-step process[20]: 7 d in presence of Fms-like tyrosine kinase 3 (FLT-3) and thrombopoietin (TPO), 7 d with an addition of insulin growth factor-1 (IGF-1), SCF and EPO, and finally 2 to 7 d without SCF. They found that the main reasons for hemolysis are soluble mediators from Hz-stimulated PBMC rather than erythropoiesis impairment due to Hz itself.
It appears that P. falciparum infection significantly influences transcription in erythroid progenitors as shown by Tamez et al[33]. Following the erythroid development protocol they previously developed[24], they observed an up-regulation of 35 genes in polychromatophilic erythroblasts and 609 regulated genes in ortho-erythroblasts. These results may indicate a negative effect (direct or indirect) of P. falciparum on erythropoiesis.
P. vivax infection has a similar effect on erythroid development[34]. Using a modified protocol previously developed by Giarratana et al[12] (without stromal feeder cells) the authors co-culture erythroid cells with P. vivax-infected reticulocytes (intact or lysed), uninfected erythrocytes, in presence of tumor necrosis factor alpha (TNF-α) or interferon gamma (IFN-γ). They observed a decrease of the erythroid multiplication and development in the presence of infected reticulocytes lending support to the idea that that P. vivax might have a negative effect on erythropoiesis.
The recent important development of stem cell research contributed to the production of stem cell-derived erythrocytes, and enabled testing the use of human embryonic stem cells (hESCs) or human induced pluripotent stem cells (hiPSC). Indeed, recent findings have demonstrated that those pluripotent cells can be maintained and expanded in vitro prior to differentiation into specific lineage[35,36]. To date, several protocols have been developed to generate mature erythrocytes from hESC or hiPSCs with partial success. Lu et al[37] developed a protocol to produce enucleated red blood cells from ESC. The differentiation was initiated by dispensing hESC as erythroid bodies (EBs) in presence of bone morphogenetic protein 4 (BMP4), vascular endothelial growth factor 165 (VEGF165), beta fibroblast growth factor (β-FGF), TPO, FLT-3 and SCF to induce mesodermal commitment. The second step, which is the erythropoiesis leading to the last stages of the blood production, was performed in co-culture with OP9 cells or human mesenchymal stem cells (huMSC) in presence of IL-3, HDS, EPO and SCF. Using this technique, they could get up to 40% of enucleated cells. In 2010 Lapillonne et al[38] reported that by starting from hESC and hiPSCs they could get up to 66% of enucleated erythrocytes. To achieve this amount, they used a two-step protocol where the cells were initially cultivated as EBs in the presence of 5% human plasma with BMP-4, VEGF165, TPO, FLT3, SCF, IL-3, EPO and IL-6 for 20 d. After dissociation into single cells with collagenase B, cells were cultured in feeder-free condition with 10% human serum together with growth factor cocktail as previously described[12] for 25 d.
Although discussed in many papers, to the best of our knowledge, there is no record for the application of ESCs/iPSCs in malaria research thus far. The development of such techniques and the possibility to permanently edit the genome of erythroid cells will make a great contribution for a deeper study of intra-erythrocyte parasite biology.
Stem cell derived-hepatocytes
Studying the liver stage of Plasmodium parasites is of great importance for understanding the establishment of infection, and for immunogenic and therapeutic purposes[39,40]. In addition, P. vivax can produce dormant forms known as hypnozoites in the liver[41]. These hypnozoites are responsible for its ability to maintain long term infections and relapsing episodes that contribute to the difficulties of eradicating P. vivax[42].
An immortalized HepG2 cell line[43] has been extensively used as starting material to investigate the exo-erythrocytic (E.E) cycle of P. berghei[44], P. vivax[45], P. falciparum[46] and P. gallinaceum[47]. However, even though they were able to infect liver cells with P. falciparum sporozoites, it is still difficult to get these parasites to successfully complete the cycle and infect RBCs. This difficulty was overcome by Sattabongkot et al[48] that generated a hepatocyte cell line (HC04) that enabled the full development of both P. vivax and P. falciparum. Briefly, hepatocytes isolated from a hepatoma patient were cultivated with insulin, epidermal growth factor, thyrotropin releasing factor, HDS, glucagon, nicotinamide, linoleic acid, L-glutamine, pyruvic acid and MEM essential amino acids at 37 °C and 5% CO2. Interestingly, the levels of enzyme activities and protein secretions were higher than the ones observed in HepG2 cell line. These cells were infected with P. falciparum and P. vivax sporozoites and when RBCs were added to the culture, blood stage parasites were observed after 7 and 10 d for P. falciparum and P. vivax, respectively.
One of the drawbacks of using immortalized cell lines is that the metabolism of those cells might differ from the in vivo ones. To solve this problem Mazier et al[49] used primary rodent hepatocytes to try and mimic the in vivo conditions. They found that P. vivax parasites were able to develop and after 10 d, rings could be observed in reticulocytes added in co-culture. Recently, using human and primate primary hepatocytes, Dembélé et al[50] successfully cultured in vitro E.E stages of P. falciparum as well as P. cynomolgi, for which they able to get the hypnozoite forms.
Using primary cells for parasite cultures requires that fresh cells be constantly available. To bypass this obstacle, March et al[51] were able to culture previously frozen primary hepatocytes that remained permissive to Plasmodium sporozoites, in a microsystem surrounded by fibroblast stromal cells.
Primary simian hepatocytes were used to evaluate the effect of a drug (KAI407) on P. cynomolgi liver stage[52]. Primary hepatocytes isolated from rhesus macaques were infected with P. cynomolgi sporozoites in the presence or absence of the KAI407 compound. The development of E.E stage was well established in vitro, but the incubation with KAI470 was shown to inhibit formation of liver schizonts as well as hypnozoites. Similarly, P. berghei liver stages could develop within murine primary hepatocytes in vitro but their ability to infect RBCs remain unexplored in this study[53].
Immortalized murine hepatocytes (Hepa1-6) were used to test malaria vaccine candidates on P. berghei E.E stage[54]. It appears that the TRAP-based vaccine in the presence of CD8+ enriched splenocytes inhibits the parasite development in the liver. This method was proposed as an in vitro system to screen possible vaccine candidates but its suitability to human Plasmodium vaccines needs further investigation.
Surprisingly, stem cell-derived hepatocytes have not been used widely used for malaria research. Nonetheless, Ng et al[55] generated hepatocyte-like cells (HLCs) from ESC or iPSCs originating from human foreskin fibroblasts, which were permissive to different Plasmodium species including P. falciparum, P. vivax, P. berghei and P. yoelii. The hepatocyte differentiation protocol was adapted from the one previously described[56], in which the ESCs/ iPSCs were cultivated for the first 5 d in presence of activin A (100 ng/L) to induce endodermal commitment. The following 10 d led to hepatoblast formation through hypoxia culture condition and was divided into two steps; the first 5 d in presence of BMP-4 and FGF-2 and the last 5 d in presence of hepatocyte growth factor (HGF). During the last 5 d, the cells were maintained with oncostatin to generate mature hepatocyte-like cells. Their HLCs allowed them to test different antimalarial drugs such as Atovaquon or Primaquine on liver stages. However, iPSC-derived HLCs have low levels of enzymes that metabolize drugs as they remain immature hepatocytes and thus are not optimal for antimalarial drug screen.
Many protocols to generate HLCs from ESCs/iPSCs (reviewed in Schwartz et al[57]) or adult stem cells (reviewed in Zhang et al[58]) are available. However, one should note that different protocols seem to create a variety of HLCs with different characteristics. A general scheme can be drawn with a 4-steps protocol: Mesodermal differentiation (in presence of activin A), hepatic specification, hepatoblast expansion and hepatic maturation. For each of these 4 steps, growth factor concentrations as well as the time of exposure remain variable between different studies.
Optimizing the generation of stem cell-derived hepatocytes, which are more similar to the adult hepatocyte, would have great impact on understanding the biology of Plasmodium E.E stages and lead to improved testing of potential antimalarial drugs and vaccine candidates.
ANIMAL MODELS
Murine models
Besides the use of in vitro modeling to study Plasmodium biology, there are several in vivo models that aim to mimic human infections. Several animal models are available for diverse Plasmodium species. Among those, the most common one remains the mouse model, which is less costly, more available and much more convenient to maintain than primates or other large models. P. berghei and P. yoelii (both rodent Plasmodia) are commonly used for in vivo studies as these species share important similarities with primate and human parasites[59]. P. yoelii shares common features with P. vivax [i.e., P. yoelii virulence genes (yir genes) homolog of P. vivax vir genes] that make this parasite ideal for in vivo studies[60]. P. berghei seems to be a better model for P. falciparum in vivo studies, especially concerning blood stage vaccine studies[61] (Figure 2).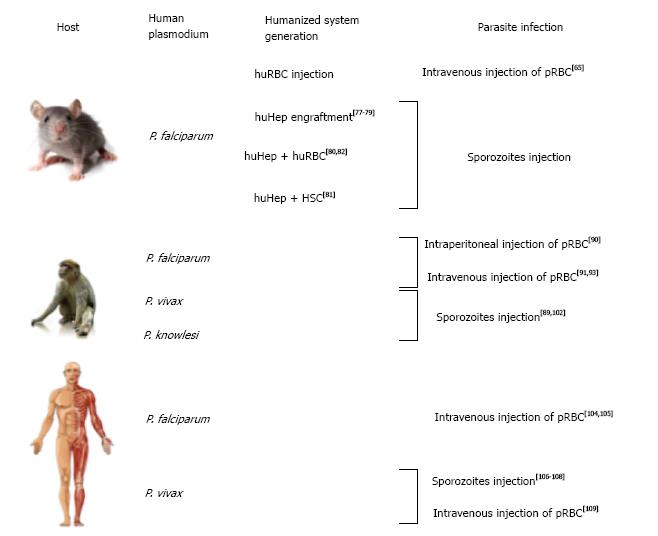 Figure 2 Chart of the different combinations animal model/human Plasmodia for in vivo studies. Scheme of the different animal models coupled with human Plasmodium studies. The different cell types injected within humanized mice are indicated in the column "Humanized system generation" and the Plasmodium injection mode under the column "Parasite infection".
Nevertheless, even in murine Plasmodium species that share some features with human Plasmodium, the ability to interpret and draw conclusion from phenotypic observations from murine to human species remains questionable.
Recent developments has partially resolved this problem, through the use of humanized mice (reviewed in Kaushansky et al[62]) .This system represented an important breakthrough in the field of laboratory modeling[63] and the application of this model through infections of humanized mice with P. falciparum begins to make an impact the malaria field. Infection of humanized mice with P. falciparum infected RBCs was done by directly injecting human red blood cells (huRBCs) into the mouse blood stream via the intra-peritoneal route[64] or intravenous route[65]. The main problem using intra-peritoneal injections is the difference in migration of the injected huRBCs into the blood stream between experiments and the lack of reproducibility from one mouse to another. Intravenous delivery as proposed by Arnold et al[65] allows a more stable and long-lasting presence of huRBCs within mouse host. Notably, they also injected parasitized huRBCs and could reach significant parasitemia (up to 10%) by adding new huRBCs intravenously every 2-3 d.
An alternative method that is now more commonly used is the engraftment of HSPCs into immune-deficient mice[66]. This method allows for continuous production of human RBC in the mouse blood stream. The main obstacles of this methodology are the short lifespan of those cells within mouse bone marrow and the variability in the engraftment success[67]. Technically speaking, many protocols have been investigated with different combination of mice and HSC sources. Generally, CD34+ cells mainly isolated from umbilical cord blood were isolated via MACS selection and injected intrahepatic or intravenously within immune-depressed mice. Interestingly, TPO was shown to increase engraftment of CD34+ cells in mouse host[68].
Recently, Amalados et al[69] were able to generate huRBC permissive to different P. falciparum strains by transfecting the HSC with a plasmid that expresses IL-3 and EPO. Using this procedure they were able to produce only low amounts of huRBC (1.5%-2.8%) and parasite density was decreasing constantly and thus will require further optimization. Unfortunately, to the best of our knowledge there is no report on using similar systems of humanized mice to study the P. vivax asexual cycle in vivo.
To date, the major contribution of using humanized mice was to study liver stage parasites which remain the main target for vaccine development[70].
To engraft human hepatocytes (huHep) within immune-depressed mice, it is essential to initially generate damage in order to activate the liver cell repopulation to allow integration of delivered human cells. Several options are available to manipulate mouse hepatocytes: (1) use urokinase plasminogen activator (uPA) toxin[71]; (2) use fumarylacetoacetate hydrolase knockout mice, dependent of the protection of the 2-(2-nitro-4-trifluomethylbenzoyl)-1,3-cyclohexanedione (NTBC) drug[72]; (3) use herpes simplex virus type 1 thymidine kinase transgene dependent of ganciclovir (GGV) activation[73]; (4) use caspase 8 oligomerization activated with AP20187 drug[74]; and (5) use diphtheria toxin receptor transgenic mice[75]. According to the different reports the success rate of colonization of the mouse liver by human hepatocytes range between nearly 50%[76] to 60%[75]. A higher ratio of 90% remains so far untenable as murine hepatocytes are needed for metabolic functions.
P. falciparum was shown to be able to invade and develop within hepatocytes of several humanized mice models. The first successful attempt was reported by Morozan et al[77]. Using uPA mice, they were able to engraft human hepatocytes (up to 26%) and after 3 mo, injected them with P. falciparum sporozoites. This methodology allowed them to complete the EE development of the parasite to the final schizogony stage. One of the applications of humanized mice is the investigation of potential hepatocyte receptor for Plasmodium sporozoites invasion. Foquet et al[78] investigated the possibility that CD81 receptor and scavenger receptor type B class I (SR-BI) are the entry gates for P. falciparum into the liver. They showed that in presence of anti-CD81, the hepatocyte invasion was prevented while anti-SR-B1 did not alter the infection process. The humanized mice used for this study were uPA mice but no indication on the level of human hepatocytes engrafted was indicated. Drug tests can be performed as well in humanized mice as demonstrated by Douglass et al[79]. They monitored the clearance of GFP-luc transgenic P. falciparum from the liver after treatment with different antimalarial drugs and could observe a complete clearance of the parasite using Atovaquone (inhibitor of mitochondrial electron transport chain), Serdemetan (p-53 activator) and Obatoclax (BCL-2 family inhibitor). This work shed light on the use of humanized mice to test potential antimalarial drug effect in the human hepatocyte niche.
Recently, humanized mice have been described as a perfect environment to genetically cross Plasmodium strains in order to study genetic determinants[80]. Sporozoites of two different Plasmodium strains were injected intravenously into FRG NOD HuHep mice and the EE stage monitored by bioluminescence. The injected sporozoites could maturate and invade huRBC injected within the same mice. Unfortunately, the mice were rapidly euthanized and thus no information on the parasite development in the huRBC could be documented.
Combining human liver and blood stages to get a whole vertebrate cycle within humanized mice remains the ultimate goal of those models. Wijayalath et al[81] reported this full cycle in a humanized mouse. To create the mouse model, they injected CD34+ cells that can be the origin of many cell types (i.e., cardiomyocytes, endothelial cells or hepatocytes) in order to be able to recreate a whole human system suitable for the parasite. They could observe an engraftment of 0.023% of huHep, 11% of human Kupffer cells and only 0.2%-1% of huRBC due to poor erythroid differentiation. Sporozoites were injected intravenously, developed within the liver (as shown by immunohistochemistry) and then reached the blood circulation with a very low parasite density of 2-5 parasite/L (parasite density 0.0001%). The asexual stages were then cultivated in vitro to obtain gametocytes that could develop into oocytes and sporozoites within mosquitoes. The possibility of getting the whole P. falciparum cycle in humanized mice would be a great achievement. Nevertheless, in this study, the low levels of engraftments of human cells, the low parasite density as well as the obligation to generate gametocytes in vitro indicate that this system needs further optimization for studying the complete cycle of Plasmodium parasites. More recently, Soulard et al[82] achieved the complete P. falciparum cycle in humanized mice, from liver stages to sexual forms in the blood. They got up to 80% of huHep and above 80% of huRBC that can be maintained for 5 wk in mice with daily injections. P. falciparum sporozoites could migrate into huHEP in the mice liver and schizonts were observed 7 d post-infection. The parasite asexual stages could be detected in the blood from 8 d post-infection and sexual stages after 21 d. The parasitemia reached up to 1.52%. In addition, they could infect hepatocytes with P. ovale sporozoites and observe the formation of several hypnozoites, but there was no indication for P. ovale asexual stages in the blood.
These mice open new frontiers for studying human Plasmodium in vivo. Nevertheless, the variations between mice and experiments should be taken into account when designing experiments and analyzing the results. It would be extremely beneficial to expand the use of these mice and apply it to get a mouse model for P. vivax (using reticulocyte-enriched huRBC).
While the use of humanized mice obviously offers a wide range of new possibilities to study the biology of human Plasmodium spp. in vivo, the need to work with immune-depressed mice makes them unsuitable for vaccine development.
Primate models
Beside the use of mice as animal model, primates appear to be a very suitable model to study malaria as they are evolutionary close to humans[83] and they are natural hosts of human Plasmodium spp.[84,85]. Studies on host-parasite interactions benefit from of this in vivo system that allows collecting samples and data regularly. A complete overview of the use of primates for malaria modeling has already been reviewed by Beignon et al[86].
Nowadays, the uses of non-human primates (NHP) are preferred for in vivo research despite ethical reasons that restrict experimenting on primates. Therefore, NHP allows larger sample size and more reagents are available for these models[87].
To increase parasite density and maintain long-term Plasmodium infections within the host, primates need to be splenectomized[88]. Parasite infection is done either by injecting Plasmodium sporozoites[89] or by direct injection of parasitized RBC (pRBC)[90,91].
The use of these primate models for P. falciparum studies has been restricted mainly to Aotus monkeys[92] that could be infected with several P. falciparum strains. The first report of Aotus infection with P. falciparum was described by Geiman et al[90]. They injected intraperitoneally pRBC from a P. falciparum infected woman into a splenectomized Aotus monkey. They were able to detect asexual forms of the parasite in the primate blood 54 d post-injection. These primate models were used to test potential blood stage antigens for vaccine development, i.e., MSP-1[93] or PfEBA-175[91]. Briefly, Aotus primates pre-treated with potential vaccine-candidates were challenged by the injection of pRBC and the parasite density was monitored in order to analyze the protection provided by the initial challenge of the potential vaccines.
Many P. vivax isolates have been adapted to several NHP models, among those: The Chesson strain, Salvador I strain and others, which allowed getting an important source of study material. In 1966, Young et al[94] were able to infect Aotus primate with pRBC isolated from a P. vivax infected patient. Interestingly, they also infected two human volunteers as well as one primate through infected mosquito bites and after 11 d they could only identify P. vivax infection in the human volunteers while parasitemia in the monkeys could be observed only after 41 d followed by his death 5 d later.
Primate models have been intensively used to study P. vivax liver stages[87]. The development of an in vivo system to study the ability of P. vivax to generate dormant forms (hypnozoites) in the liver, which cause relapses of the infective forms[41] would aid in understanding the dynamics of this process. Collins et al[89] tested different primate species infected with the P. vivax Salvador I strain and identified Saimiri boliviensis as the most suitable primate species to study P. vivax liver stages.
As an alternative to human Plasmodium studies in monkeys, researchers recently focused on close simian Plasmodium spp in NHP: P. knowlesi as a model for P. falciparum and P. vivax[95,96] and P. cynomolgi for P. vivax[97]. Indeed, these simian Plasmodium spp share important features with their human orthologues and can be used to better understand parasite biology or test potential vaccines[98]. The primate infection remains identical to the process used for P. falciparum and P. vivax. Krotoski et al[99] were the first to identify the P. cynomolgi hypnozoite stage after inoculation of sporozoites into rhesus monkeys. Akinyi et al[100] were able to create a P. cynomolgi transgenic line expressing a red fluorescent protein, which was used to track the parasite in vivo.
P. knowlesi can also infect humans can be used as model for both P. falciparum and P. vivax infections and also to study its own infection traits in human[101]. Irradiated P. knowlesi sporozoites injected into rhesus monkeys achieved a relative protection against further P. knowlesi infections, demonstrating the use of P. knowlesi as a model for vaccine development[102].
P. knowlesi can also be applied as a model to study severe malaria usually caused by P. falciparum. Barnwell et al[103] could observe a link between the expression of schizont-infected cell agglutination and the severity of the infection in rhesus monkeys, linking between pathogenicity and antigenic variation caused by variant surface antigens in P. knowlesi and P. falciparum.
One of the major drawbacks of using primate as a model to investigate Plasmodium in vivo remains their availability and the significant cost of the colony maintenance that limits the development of this research line.
Human model
Perhaps the most relevant model to study malaria, in such cases that allows experimenting, is the human host itself. Naturally, potential candidate vaccine candidates have to be tested in humans during clinical trial. For example, to test the RTS/S vaccine, healthy volunteers that were prime-boosted immunized with candidate vaccines were infected with P. falciparum sporozoites to test the efficacy of these vaccine candidates[104,105]. We can also cite the control human malaria infection program that allows inoculating parasites in human volunteers in order to test potential vaccines or anti-malarial drugs[106,107].
Interestingly, the lack of an in vitro model for P. vivax[13] pushed researchers to infect human volunteers with P. vivax sporozoites in order to develop a model for P. vivax drug screening and vaccine development. Herrera et al[108] let P. vivax- infected Anopheles mosquitoes feed on different groups of volunteers, each exposed to increasing number of mosquito bites. They observed that malaria symptoms appeared after 9 d and a total clearance of the parasites was observed 48 h post treatment at the latest. No record of P. vivax relapsing after the end of the study was reported and thus, the system is claimed to be safe to test antimalarial drugs in vivo.
More recently, McCarthy et al[109] infected human volunteers via intra-venous injection of pRBC isolated from a P. vivax positive woman. The first symptoms appeared 11 d post-inoculation and disappeared 24 h post-antimalarial drug treatment. The advantage of using pRBC instead of sporozoites is to avoid the formation of hypnozoites and thus re-infection. Their goal was to establish a P. vivax in vivo system similar to the work described earlier by Herrera et al[108] and only the inoculation method (sporozoites vs pRBC) and the number of volunteers (18 vs 2) was different. Although biologically, humans are the most relevant models, there are important ethical issues that prevent wide use of human volunteers in in vivo experiments out of phase II clinical trials.
CONCLUDING REMARKS
Establishing good experimental models for malaria research has great importance in understanding fundamental aspects of the parasites' biology, the course of infection and disease establishment and progression. It is an important tool for laboratories located in non-endemic areas that have more facilities to perform state of the art research to help fighting malaria.
The development of stem cell research has opened many new options to study parasite interactions with human host. Combining these novel in vitro systems with animal models offered a wide range of new avenues to study aspect of the parasite biology, which were not possible before.
Each technique has its advantages and weakness depending on the parasite species and the stage in the cell cycle being investigated.
Thus far, despite their great potential, the use of stem cells for malaria in vitro studies is limited. The establishment of good in vitro culture of P. vivax in reticulocytes originated from HSC has not been successful even though there is a great interest in such a model. On the other hand, the use of HSC to study erythroid impairment during malaria episodes was shown to be a great tool, which is expected to have a significant contribution to the field in coming years. Very surprisingly, although understanding the biology of Plasmodium liver stages is of major importance for drug and vaccine development, the use of hepatocyte-derived stem cells is poorly developed and there is a great need for a better cell line that differentiates into mature hepatocytes.
Animal model have been intensively developed to gain an understanding that will be able to be rapidly translated to the clinic. Monkeys appear to be the most suitable models, especially for P. vivax, but the cost of colony maintenance limits the use of this model. Nevertheless, P. vivax primate model are used successfully and are currently the best option for research since an in vitro culture of this parasite remains challenging. The development of in vitro stem cell techniques would offer an important tool to study P. vivax biology, especially for the intra-erythrocytic cycle. Recent protocol improvements give great hope that with additional optimization these systems will be available in coming years.
The use of humanized mice to study Plasmodium biology through an in vivo system offers new opportunities, however, the short-term life span of engraftment and the low levels of chimeric systems eventually obtained have to be taken into account in the process of data analyses.
The use of simian Plasmodium species that could infect humans to overcome the difficulties in maintaining cultures seems like an attractive option, however, the use of the human Plasmodium spp. will yield the most relevant observations that could be directly translated to human malaria.
Additional tools such as mathematical and bio-informatics modeling could also become valuable as recently shown by MacDonald et al[110] that used computational methods to investigate potential antimalarial drugs.
The combination of stem cell research and animal modeling such as humanized mice could be the key to move a step forward in the study of Plasmodium biology. Optimization of those techniques and generation of new animal/human stem cell combinations could bring malaria modeling to the next level.
ACKNOWLEDGMENTS
I would like to thank Prof. Ron Dzikowski, Dr Adina Heinberg and Dr Domiziana Costamagna for their critical revision of this manuscript.
P- Reviewer: Liu SH S- Editor: Qiu S L- Editor: A E- Editor: Lu YJ