Copyright
©The Author(s) 2021.
Published by Baishideng Publishing Group Inc. All rights reserved.
Fully covered metal biliary stents: A review of the literature
Robert Lam, Thiruvengadam Muniraj, Department of Medicine, Yale University School of Medicine, New Haven, CT 06520, United States
Author contributions: Lam R and Muniraj T equally contributed to the work; All authors have read and approved the final manuscript.
Conflict-of-interest statement: None of the authors have any conflicts of interest to disclose.
Open-Access
: This article is an open-access article that was selected by an in-house editor and fully peer-reviewed by external reviewers. It is distributed in accordance with the Creative Commons Attribution NonCommercial (CC BY-NC 4.0) license, which permits others to distribute, remix, adapt, build upon this work non-commercially, and license their derivative works on different terms, provided the original work is properly cited and the use is non-commercial. See:
http://creativecommons.org/Licenses/by-nc/4.0/
Corresponding author: Thiruvengadam Muniraj, FRCP, MD, PhD, Assistant Professor, Department of Medicine, Yale University School of Medicine, 333 Cedar Street, 1080 LMP, New Haven, CT 06520, United States. thiruvengadam.muniraj@yale.edu
Received: March 30, 2021
Peer-review started: March 30, 2021
First decision: June 23, 2021
Revised: July 9, 2021
Accepted: August 27, 2021
Article in press: August 27, 2021
Published online: October 14, 2021

Fully covered self-expandable metal stents (FCSEMS) represent the latest advancement of metal biliary stents used to endoscopically treat a variety of obstructive biliary pathology. A large stent diameter and synthetic covering over the tubular mesh prolong stent patency and reduce risk for tissue hyperplasia and tumor ingrowth. Additionally, FCSEMS can be easily removed. All these features address issues faced by plastic and uncovered metal stents. The purpose of this paper is to comprehensively review the application of FCSEMS in benign and malignant biliary strictures, biliary leak, and post-sphincterotomy bleeding.
Core Tip: Fully covered self-expandable metal stents (FCSEMS) are composed of a metal alloy tubular mesh with a synthetic covering to minimize tumor ingrowth. They have a broad range of biliary endoscopic applications, including the treatment of strictures, biliary leak, and post-sphincterotomy bleeding. Novel anchoring designs have been effective at addressing the common problem of stent migration with FCSEMS.
---
Citation: Lam R, Muniraj T. Fully covered metal biliary stents: A review of the literature. World J Gastroenterol 2021; 27(38): 6357-6373
---
INTRODUCTION
Recent advances in endoscopic stenting have enabled the treatment of a wide range of obstructive biliary pathologies previously requiring surgical and percutaneous intervention[1]. Early randomized control studies found that endoscopic stenting compared to surgical or percutaneous intervention was associated with decreased 30 d morbidity and mortality, decreased complications rates, lower overall cost, and higher quality of life[2-4]. Plastic stents were the earliest stent type used, and metal stents were introduced later in the 1980s[5]. The purpose of this report is to review the current applications of fully covered self-expandable metal stents (FCSEMS) for biliary strictures, biliary leak, and post-sphincterotomy bleeding.
PLASTIC STENTS
Plastic stents are commonly used because of their efficacy, easy insertion and removal, and low cost[1,6,7] (Figure 1A). Plastic biliary stents come in various shapes and can be made of Teflon, polyethylene or polyurethane materials. Standard diameters of plastic biliary stents are 7.0 Fr, 8.5 Fr, 10.0 Fr and 11.5 Fr, and standard lengths range from 5 cm to 18 cm. Appropriate stent length is determined using a graduated guide wire and guiding catheter. Initial placement is guided using a radio-opaque guidewire. Plastic stents are equipped with side holes that allow for drainage even when the ends are impacted against the biliary or digestive tract wall, or clogged with debris. Additionally, plastic stents may have anchoring flaps to prevent stent migration. Multiple plastic stents (MPS) can be inserted during each endoscopic retrograde cholangiopancreatography (ERCP) session.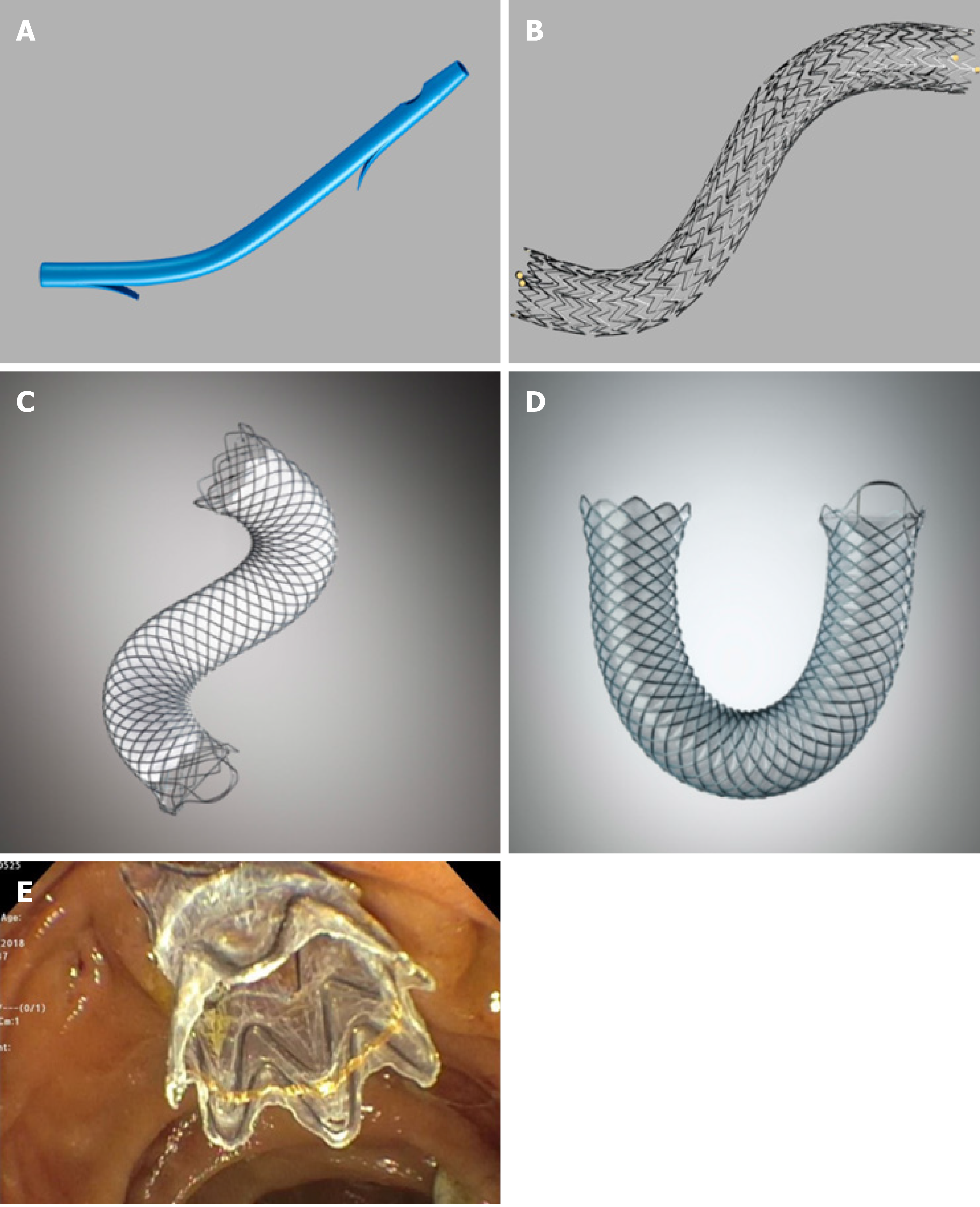 Figure 1 Various types of plastic and metal stents for endoscopic treatment.
A: Plastic biliary stent (10 Fr with flaps); B: Uncovered metal biliary stent; C: Partially covered metal biliary stent; D: Fully covered self-expandable metal biliary stent; E: Fully covered self-expandable metal biliary stent with anti-migration fins (Images B-D courtesy of Boston Scientific Corporation, Boston, United States).
A major disadvantage of plastic stents is the tendency for occlusion due to the formation of a bacterial biofilm, leading to recurrent jaundice and pruritis[8,9]. Acute cholangitis may develop in up to 20%-40% of cases requiring the need for stent exchange[10]. Stent occlusion rates and complications of acute cholangitis are lower with large stent diameters of 10 Fr and 11.5 Fr compared to 7 Fr or 8.5 Fr stents, likely due to a higher biliary flow rate[11]. However, a retrospective study of 33 patients comparing the efficacy and complications of 10 Fr biliary stents to 11.5 Fr stents for use in malignant and benign biliary tract disease found no significant differences in success rates or complications[12]. Median patency for 10 Fr plastic stents is an estimated 4-5 mo[13]. Moreover, a special therapeutic duodenoscope with a wide working channel of 4.2 mm diameter is needed to use 11.5 Fr plastic stents.
SELF-EXPANDABLE METAL STENTS
Self-expandable metal stents (SEMS) were designed with a larger luminal diameter than plastic stents to prolong stent patency and address occlusion complications faced by plastic stents[14-16]. The core structure of a SEMS comprises a 4-12 cm long tubular mesh made up of metal alloys, including stainless steel, Nitinol, Elgiloy and Platinol[17] (Figure 1B). Metal alloys allow adequate radial expansible force without compromising on flexibility inside the duct. Each metal stent is more expensive than a plastic stent. However, SEMS have a lower risk of recurrent biliary obstruction compared to plastic stents. Overall, SEMS is more cost-effective than plastic stents over time, especially when life expectancy exceeds 4 mo[18-22]. Comparisons between plastic stents and different types of SEMS are summarized in Table 1.
---

Strengths

---

Disadvantages

---

Plastic stents
Easy placement, removal, and exchange; Cost-effective for use < 4 mo; Variety of shapes and sizes
Tendency for stent occlusion after several months
Uncovered self-expandable metal stents (USEMS)
Long stent patency due to large luminal diameter; Stent malposition is rare
Cost-effective for use > 4 mo; High risk for tissue ingrowth or tumor overgrowth; Risk for duodenal wall erosion; Biliary leakage possible; Difficult to reposition or remove
Partially covered self-expandable metal stents (PCSEMS)
Long stent patency due to large luminal diameter; Biliary leakage is rare
Cost-effective for use > 4 mo; Intermediate risk for tissue ingrowth or tumor overgrowth; Risk for duodenal wall erosion; Difficult to reposition or remove; Side branch obstruction possible
Fully covered self-expandable metal stents (FCSEMS)
Long stent patency due to large luminal diameter, covering inhibits tissue/tumor in-growth through mesh; No biliary leakage
Cost-effective for use > 4 mo; Risk for duodenal wall erosion; Difficult to reposition or remove; High risk of stent migration; Side branch obstruction possible
SEMS are constrained by an 8-8.5 Fr surrounding sheath while it is inserted through a channel in the duodenoscope. Deployment occurs when the sheath is retracted, expanding the stent to a maximal diameter of 10 mm.
Mechanisms of SEMS occlusion differ from plastic stents via the following: (1) Tissue in-growth through the stent mesh; (2) Tumor overgrowth around the proximal or distal end of the stent; (3) Mucosal hyperplasia into the stent because of a chronic inflammatory reaction to the stent mesh; and, less commonly; and (4) Biliary sludge[23-26]. In contrast to plastic stents, occluded SEMS with tumor or tissue in-growth or over-growth are often difficult to reposition or remove once deployed[27]. Treatment of a SEMS occlusion involves insertion of new plastic stents or deployment of another SEMS within the initial stent. Mechanical cleaning with an extraction balloon may also be helpful[28]. Additional complications of SEMS include duodenal wall erosion by the stent, which may lead to duodenal perforation and acute bleeding[29].
Stent designs continue to evolve to overcome these factors. Silicone, polyurethane, and expanded polytetrafluoroethylene coverings may be applied over a part (partly-covered) or entire (fully-covered) length of SEMS to prevent tumor in-growth through the mesh[27,30] (Figures 1C, 1D, and 1E). Additionally, the covering allows for easier SEMS removal compared to bare-metal stents[31].
BENIGN BILIARY STRICTURES
Benign biliary strictures (BBS) form after an initial insult to the biliary duct that leads to inflammation, collagen deposition, fibrosis, and bile duct narrowing[32]. Common causes include post-operative injury, chronic pancreatitis (CP), and chronic inflammatory cholangiopathies (Table 2)[33]. BBS may present with pain, jaundice, pruritis, and/or elevated liver function tests[34]. A combination of magnetic resonance cholangiopancreatography (MRCP) and/or endoscopic (ERCP) retrograde cholangiopancreatography may be used during the evaluation process to elucidate biliary ductal anatomy[35]. Tissue sampling via endoluminal biopsy or biliary brushings will confirm non-malignant tissue and determine the primary etiology. ERCP is the therapeutic modality of choice for BBS because of its efficacy, safety, and noninvasive nature[36-38].
Extrinsic

---

Intrinsic

---

Chronic pancreatitis
Post-operative (i.e., post-liver transplantation and post-cholecystectomy)
Pancreatic fluid collection
Primary sclerosing cholangitis
Cholecystitis
IgG Cholangiopathy
Post-operative BBS
The most common causes of post-operative BBS occur after cholecystectomy and biliary duct surgery[39,40]. An effective means of therapeutic decompression using plastic stents can be achieved with the placement of MPS side-by-side across the stricture[41]. Plastic stents used for up to 1 year with interval replacement in 3-4 mo intervals have demonstrated excellent safety, high clinical success rates, and low rates of stricture recurrence[42]. Plastic stent occlusion within 4-5 mo requiring endoscopic stent exchange is a major limitation because of overall cost and requirement for patient compliance[13,43].
In contrast, FCSEMS can expand to a large stent diameter equivalent to three 10 Fr stents, and its chemical covering limits tissue hyperplasia and in-growth. A single FCSEMS can remain in place for a prolonged period without the need for repeated stent exchange prior to removal[44,45].
In a retrospective study of 69 patients comparing the efficacy and safety of FCSEMS and plastic stents for postsurgical BBS, findings revealed a similar technical success rate (100% in both groups) and stricture recurrence (16% in the PS group and 22% in the FCSEMS group)[46]. However, the median duration of stenting in the FCSEMS group (5.2 mo) was significantly lower than that of the PS group (10.7 mo), requiring multiple stent exchanges. In fact, the FCSEMS group had a shorter total operation and fluoroscopy time because only one metal stent needed to be deployed compared to 2-5 plastic stents in the PS group. The study highlighted the use of FCSEMS as a practical and effective alternative means to the endoscopic treatment of post-surgical BBS with plastic stents.
A prospective, nonrandomized study of 18 patients also evaluated the 6-12 mo temporary use of FCSEMS for symptomatic post-cholecystectomy BBS, including a 5 year follow-up time period[47]. Successful FCSEMS placement deployment and removal was achieved in 83% of patients with a median indwell time of 11 mo. As well, 72% of patients achieved stricture resolution at the end of the FCSEMS indwell period. Kaplan Meier analysis predicted 61% probability of remaining stent-free among patients who received FCSEMS. Complications included spontaneous stent migration (17%) and stent-related adverse events, including cholangitis (33%) and pancreatitis (6%). Despite a large sample size and absence of a control group, the study showcased that temporary 1-year placement of FCSEMS can maintain long-term stricture resolution. Table 3 highlights differences in study outcomes between plastic stents and FCSEMS for use in post-operative BBS.
Ref.

---

Methods

---

Patients

---

Stent placement

---

Followup time(mo)

---

Clinical success1 (%)

---

Recurrence (%)

---

Bergman et al[42]
Retrospective, single center
57
Two 10F plastic stents
24
77
20
Costamagna et al[41]
Retrospective, single center
154
Multiple plastic stents
108
96.7
12
Chaput et al[44]
Retrospective, single center
92
FCSEMS
12
84.9
21.9
Tringali et al[47]
Prospective, mult-center
187
FCSEMS
60
83.3
15.4
Anastomotic biliary strictures from orthostatic liver transplantation
Anastomotic biliary strictures (AS) are responsible for nearly 80% of biliary strictures after orthostatic liver transplantation (OLT)[48,49]. They typically occur within 1-2 mo of surgery, and are characterized as single BBS short in length. Existing strategies to treat AS associated BBS include balloon dilatation and endoscopic stenting[50]. While the use of MPS is the gold standard similar to the treatment post-cholecystectomy BBS, premature stent occlusion is a major limitation[51-53].
In the only meta-analysis to date comparing FCSEMS to plastic stents in the use of post-OLT AS, there was no significant difference in stricture resolution, complications, and recurrence[54]. However, FCSEMS use was associated with reduced treatment time (mean difference of -3.58 mo). Complications of pancreatitis and post-procedural pain were more common in FCSEMS. While prior studies have identified FCSEMS with stent migration rates as high as 33%, this adverse event could not be compared in the metanalysis because it was inconsistently reported across the 7 included studies[55,56].
Novel FCSEMS designs with antimigration properties have been developed to address shortcomings with stent migration. A retrospective multicenter Australian study evaluated the use of a novel FCSEMS in 36 patients for treatment of AS after OLT. Some of the patients within the cohort had failed the MPS approach[57]. The Niti-S FCSEMS biliary stent (Taewoong Medical Co Ltd., South Korea) used had an antimigration waist, short stent length, and a removable string for easy removal. Average duration of indwell treatment time was 3.8 mo. Stricture resolution was achieved in 100% of patients and all stents were removed without any difficulty. Only 2.8% of patients experienced stent migration. Nearly 75% of patients remained free of AS recurrence. Excellent clinical and technical success in this study with low rates of stent migration was a major breakthrough in the use of FCSEMS with anti-migration features for AS.
A more recent British retrospective study also evaluated the same type of antimigration FCSEMS (Taewoong Medical Co Ltd., South Korea) in a cohort of 62 patients[58]. Approximately 96% of patients had immediate stricture resolution after 12 wk indwell time. Furthermore, 72% of patients continued to maintain long-term resolution of the AS with a mean follow up period of 548 d. No stent migration occurred in any of the patients. Complication rates were low at 15%, and were primarily stent and procedure-related, such as pancreatitis, cholangitis and wire-guided perforation.
Overall, study findings using FCSEMS with new antimigration designs have shown promise in their application for post-OLT AS treatment. Larger cohort and randomized controlled studies should compare these novel FCSEMS to plastic stents. Alternative antimigration designs should be considered to maximize safe indwell time of stents.
CP
CP-associated BBS are a consequence of recurrent inflammation and subsequent fibrosis. Stricture formation occurs in up to 30% to 40% of cases[59]. Endoscopic intervention is focused on draining the main pancreatic duct to provide pancreatic decompression[60]. Historically, the strictures were treated via balloon dilation and endoscopic plastic stent placement, requiring up to 3 or more ERCP sessions[61]. Current recommendations from the Asia-Pacific guidelines recommend the use of FCSEMS or MPS for the endoscopic treatment of CP-associated BBS[62]. To date, the WallFlex Biliary RX Fully Covered Stent (Boston Scientific, United States) is the only FCSEMS approved by the United States Food and Drug Administration for treatment of BBS due to CP for indwell time up to 12 mo[63].
Existing retrospective and case series studies have supported the use of FCSEMS for the treatment of refractory pancreatic duct strictures: clinical and technical success rates have been as high as 90%-100% with a shorter indwell time compared to plastic stents[64-66]. The largest and longest prospective study to date investigated long-term outcomes after 10-12 mo indwell of a single FCSEMS for CP-associated BBS[67]. The cohort consisted of 118 patients, most of whom had failed previous treated with plastic stents. Patients were regularly followed for 5 years after FCSEMS removal. Approximately 80% of patients had stricture resolution at the time of stent removal. Nearly 62% of patients remained stent-free following 75 mo of FCSEMS placement. The success rate was relatively high compared to traditional outcomes with a single plastic stent, which faces issues of short occlusion time[68,69]. In fact, 78% of patients who had a resolved BBS post-indwell continued to remain stent free for 5 years. Of note, 23% of patients experienced serious adverse events that were mostly stent-related, including cholangitis, pancreatitis, and cholecystitis. This study was important in further demonstrating the single-use application of FCSEMS for CP BBS with long term stricture-free durability. This is notable in CP BBS, which notoriously has a poor response to endoscopic intervention with high risks of recurrence.
MALIGNANT BILIARY STRICTURES
Malignant biliary strictures (MBS) are most commonly caused by pancreatic cancer, but can also be caused by cholangiocarcinoma and metastatic disease[70,71]. Clinical presentation is consistent with biliary duct obstruction, including jaundice and cholestatic pattern of transaminase elevation. While MBS shares the same diagnostic evaluation as BBS with MRCP and/or ERCP modalities, tissue sampling will be the differentiating factor with findings of malignancy. Prognosis is poor 5-year survival rates for pancreatic cancer and cholangiocarcinoma are 8% and 10% respectively[72,73].
Non-hilar MBS
Among the 30% of MBS cases which are surgically resectable, endoscopic intervention may be considered to provide preoperative biliary decompression (PBD) (Figures 2A and 2B). PBD decompression is an area of great controversy because of the risks for serious complications, including pancreatitis and cholangitis. A landmark randomized control trial of 202 patients with a pancreatic head cancer compared the outcomes of preoperative biliary drainage for 5 wk to 6 wk preceding surgery to surgery alone. The biliary drainage group had significantly higher (74%) rates of complications than the surgery alone group (39%). Mortality or hospital length of stay did not differ between both groups[74]. Metanalyses investigating the benefits of preoperative biliary drainage has found similar results–length of hospital stay and mortality rate are comparable in preoperative biliary drainage and surgery alone groups[75,76]. Currently, preoperative biliary drainage is indicated for patients with MBS with concurrent severe symptomology (i.e., severe pruritis, cholangitis), elevated bilirubin > 250 μmol/L, or patients undergoing neoadjuvant chemotherapy[77,78].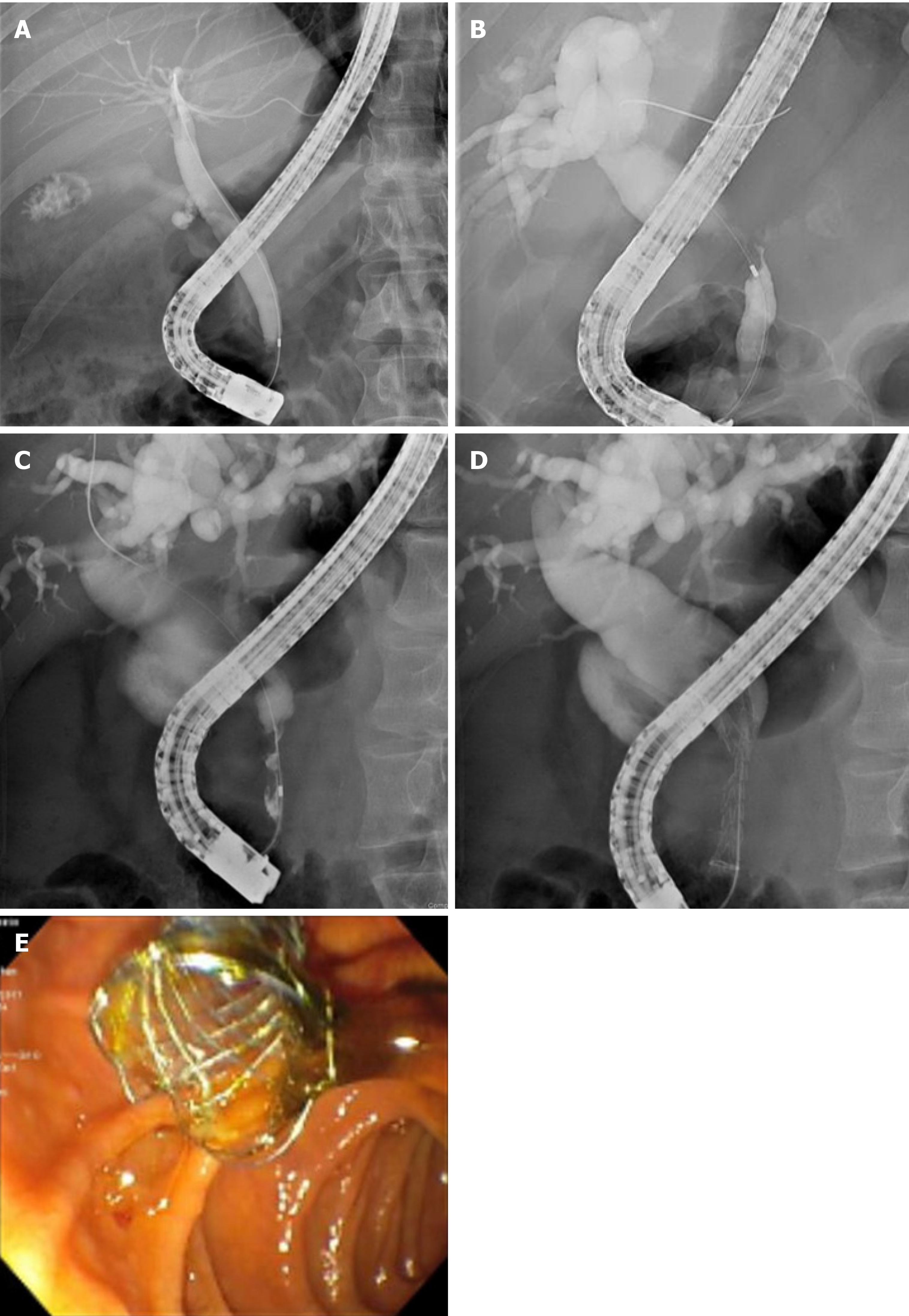 Figure 2 Endoscopic retrograde cholangiopancreatography showing cholangiocarcinoma in mid and distal common bile duct compared to normal anatomy.
A: Normal anatomy demomonstrating patent cystic, common bile, and intrahepatic ducts; B: Mid common bile duct biliary stricture with dilated common bile duct and intrahepatic ducts; C: Distal common bile duct biliary stricture with dilated common bile duct and intrahepaptic ducts; D: Fully covered self-expandable metal stent (FCSEMS) placement in the common bile duct; E: Endoscopic view of FCSEMS placed in the distal common bile duct.
Nearly 70% of MBS are surgically unresectable at the initial presentation[79]. Endoscopic palliative stent placement for symptom relief is one approach to management. SEMS placement is preferred over plastic stents, especially when life expectancy is greater than 4-6 mo – SEMS have lower rates of stent dysfunction, reintervention, and cholangitis, and higher survival and stent patency rates[80-82].
Outcomes of FCSEMS compared to uncovered self-expandable metal stents (USEMS) in patients with unresectable MBS have also been extensively studied. A randomized controlled trial (RCT) of 749 patients with MBS investigated the outcomes of FCSMES vs USEMS placement. No significant difference was found between both groups for patency or survival rates[83]. Tumor ingrowth was higher in the USEMS group compared to the FCSEMS group. However, patients in the FCSEMS were more prone to stent migration and acute pancreatitis. Another recent RCT compared the use of FCSEMS to USEMS in 158 patients with nonresectable MBS. Surprisingly, median stent patency was lower for the FCSEMS (240 d) than the USEMS (541 d) group[84]. Consistent with the other study, FCSEMS had a significantly higher rate of migration, with no difference in overall survival between both groups[84]. To explain the stent patency finding in the FCSEMS group, the study proposed that occlusion may not be due to tumor ingrowth per se. The specific NitiS FCSEMS stent chosen for the study may promote an inflammatory reaction causing tissue hyperplasia. Thus, this finding may not be generalizable to all FCSEMS.
Metanalyses have also investigated this topic with mixed results, including studies with partly covered SEMS. A metanalysis involving 5 RCTs with 781 patients showed that CSEMS had superior patency rates compared with UCSEMS for MBS[85]. However, another metanalysis involving 9 RCTs with 1061 patients found no difference in stent patency between both groups[86].
Overall, there is no consensus regarding the superiority of FCSEMS or USEMS for palliative decompression of MBS. FCSEMS may be preferred for ease of removal or in circumstances where tumor ingrowth risk is high, such as in pancreatic cancer or cholangiocarcinoma. However, the problem of stent migration should be factored into the management decision. UCSEMS should be considered when there is short survival time or where likelihood of tumor in growth is low.
Hilar MBS
Malignant Hilar Strictures (MHS) are most commonly unresectable at presentation[87] (Figure 2C). MHS are classified by the Bismuth-Corlette classification, which accounts for the extent of involvement of the hilum and/or left or right main hepatic ducts[88]. The goal of management is to provide palliative decompression to improve quality of life, reduce jaundice, and decrease risk of cholangitis[89]. As with other MBS, metal stents are preferred over plastic ones because of superior patient survival, drainage rate, and stent patency[90]. Stent placement in the hilar region is technically difficult, and can be managed by unilateral or bilateral stenting (Figures 2D and 2E). Bilateral stenting can be approached via stent in stent or side by side approach[91].
A RCT involving 159 patients with malignant hilar biliary obstruction showed that patients with unilateral stenting (88.6%) had significantly higher rate of technical success than bilateral stenting (76.9%)[92]. Additionally, the bilateral stent group (16.6%) had significantly higher rates of early cholangitis. Study findings suggested that unilateral drainage was superior to bilateral stenting with lower risk of adverse complications. However, a more recent multicenter RCT found no significant difference in the technical success rate between bilateral (95.5%) and unilateral groups (100%). The median stent patency was higher in the bilateral group (252 d) than the unilateral (139 d), with fewer reinterventions needed for the bilateral group[93]. A metanalysis with 1292 patients found higher success rate in the unilateral group (97%) than the bilateral group (89%)[94]. Other retrospective studies have found comparable rates of technical success between both groups[95-98]. Overall, there is no clear consensus whether the unilateral or bilateral approach is superior. Unilateral approach may be preferred given the technical difficulty of bilateral placement.
Y-shaped bilateral SEMS devices have also been designed, which offers an effective and safe approach for unresectable MHS[98,99]. However, they are yet to be practiced routinely across endoscopic centers.
BILIARY LEAK
Biliary leak occurs due to traumatic injury or iatrogenic injury to the biliary duct from cholecystectomy, ERCP, liver resection, or orthostatic liver transplantation[100-103]. Biliary leak tends to present within 1 wk postoperatively, and are commonly located at the end of the cystic duct stump or duct of Luschka[104]. Minor bile duct leaks are characterized by low drain output and self-resolve without intervention[105]. In contrast, complex bile leaks are characterized by the persistent biliary discharge from an open T-tube or drain[106,107]. Standard of care involves plastic stent placement with or without sphincterotomy to reduce transpapillary pressure gradient[108]. As a result, bile drainage will preferentially drain into the duodenum and bypass the site of bile leak. Complex bile leaks commonly occur in anastomotic bile leaks following orthostatic liver transplantation or cholecystectomy, and may be refractory to plastic stent intervention[103,109]. FCSEMS have been investigated for use in these situations because of the larger expansile diameter and membrane coating, which theoretically provides an effective seal at the site of the leak (Figures 3A and 3B).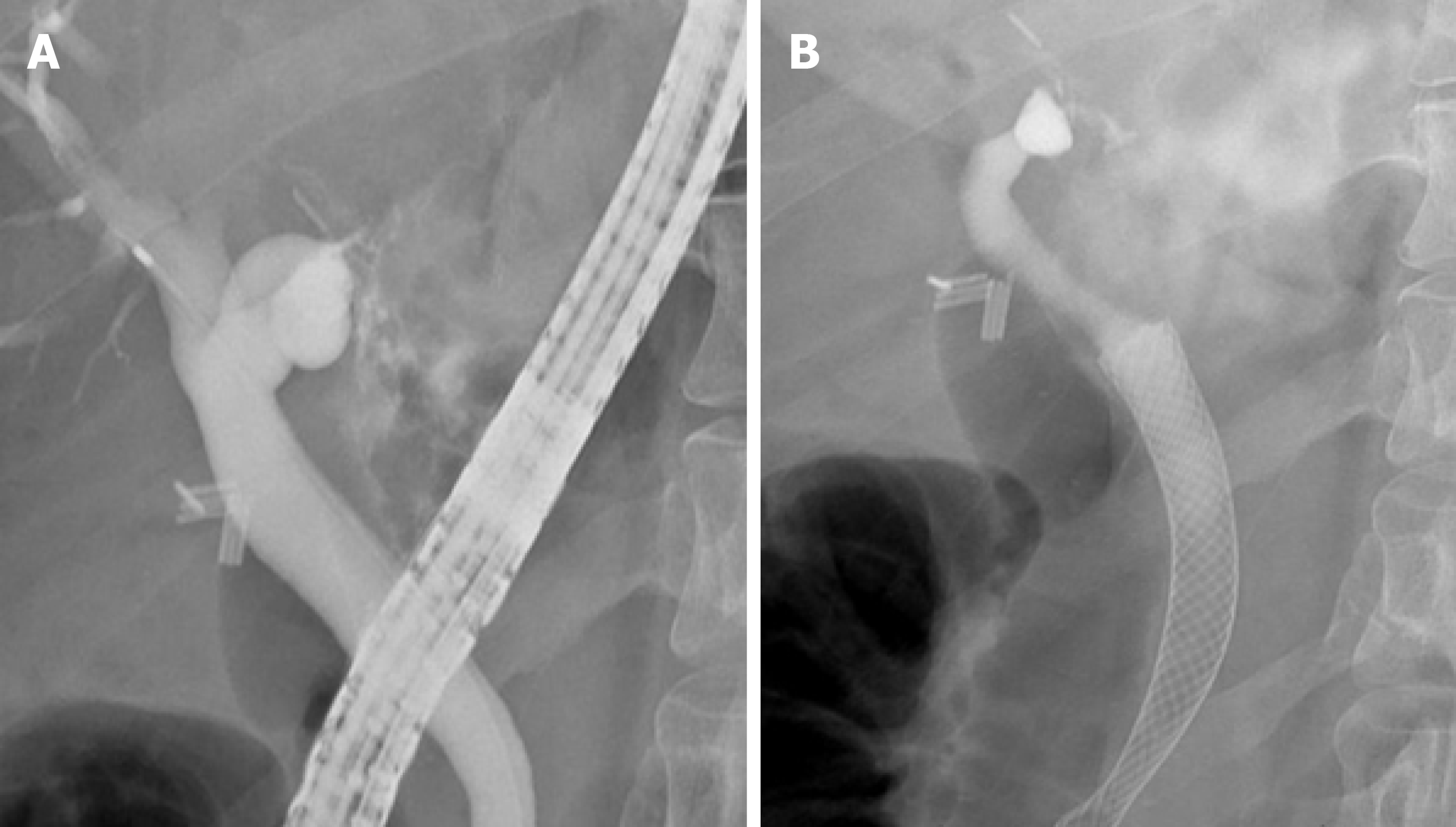 Figure 3 Endoscopic treatment of biliary leak after donor liver transplantation.
A: Extravasation of contrast at site of biliary leak; B: Resolution of biliary leak after placement of a fully covered self-expandable metal stent.
In a retrospective study investigating patients with complex post-OLT bile leaks treated with CSEMS placement, successful deployment and long-term leakage control was achieved using FCSEMS with fins (77.8% of patients) and FCSEMS with flared ends (70%)[110]. A concerning finding was that large number of patients who received FCSEMS with fins (35%) experienced post-stent removal biliary strictures. This likely occurred due to stent-induced biliary duct compression and ischemia, which highlights one of the major risks of FCSEMS use for biliary leak.
Another US-based study evaluated the use of Viabil FCSEMS (Gore, United States) placement for 5 patients with bile leaks[111]. All patients had successfully sealed bile leaks confirmed with cholangiogram. Most patients did not have any complications. However, 1 patient developed a hepatic abscess and sepsis. Another patient had stent occlusion after being lost to followup for 8.5 mo, but post-ERCP removal of the occluded stent revealed a sealed bile leak on cholangiogram.
A pilot study consisted of 16 patients who underwent CSEMS placement for a biliary leak. These patients either failed to respond to conventional ERCP or had severe comorbidities that prevented multiple procedures[112]. Nearly all (15/16 patients) of the patients had complete resolution of the leak confirmed with cholangiogram. Only 1 proximal and distal migration complication was documented.
In summary, existing studies have demonstrated proof of successful bile leak closure using FCSEMS (Table 4). However, complications, including stent migration and post-removal strictures, make the widespread use of FCSEMS for complex biliary leaks debatable. Future studies should investigate this topic using larger cohort sizes.
Ref.

---

Methods

---

Patients

---

Type, duration of stent placement (mo)

---

Follow-up time (mo)

---

Clinical success rate1 (%)

---

Martins et al[110]
Restrospective, single center
31
PCSEMS (3), FCSEMS with fins (3.3), FCSEMS with flare ends (3)
PCSEMS (44), FCSEMS with fins (27), FCSEMS with flare ends (6.6)
PCSEMS (100), FCSEMS with fins (77.8), FCSEMS with flare ends (70)
Lalezari et al[111]
Retrospective, single center
5
FCSEMS with fins (3)
26
100
Kahaleh et al[112]
Retrospective single, center
16
FCSEMS (3)
9
94
POST-SPHINCTEROTOMY BLEEDING
Biliary endoscopic sphincterotomy (ES) refers to the resection of the biliary sphincter and intraduodenal segment of the common bile duct. It is an essential procedure for ERCP in the treatment for a variety of biliary and papillary disease, including choledocholithiasis, bile leak, and biliary strictures[113]. Post-endoscopic bleeding is a major complication of biliary sphincterotomy[114]. Most post-ES bleeds are small and resolve spontaneously[115]. Other cases present with significant bleeding requiring blood transfusion support and urgent endoscopic intervention. While existing methods include injection, balloon tamponade, and mechanical (e.g., embolization) approaches, endoscopic hemostasis can also be achieved by tamponade effect via FCSEMS deployment[113].
The largest retrospective study to date evaluated 67 patients with post-ES bleeding, and compared the use of FCSEMS treatment vs non-FCSEMS treatment (e.g., balloon tamponade, sclerotherapy, epinephrine injection, thermal cautery or clip placement)[116]. At 72 h post intervention, the study found that the FCSEMS group (0.66 g/dL) had a significantly lower bleeding rate than the non-FCSEMS group (1.98 g/dL) even though the proportion of patients determined to be at high risk for post-ES bleeding was higher in the FCSEMS treatment group (40%) vs non-FCSEMS treatment group (9%). All patients in the FCSEMS group achieved hemostasis, and no adverse events were documented. The study findings supported the use of FCSEMS in patients with severe or immediate bleeding not responsive to initial endoscopic treatment.
Smaller-sized retrospective and case studies have demonstrated similar success with complete hemostasis using FCSEMS for difficult-control post-ES bleeding[117,118]. No studies to date have investigated the use of FCSEMS as primary post-ES treatment therapy. Larger perspective and randomized controlled studies should be conducted to evaluate the optimal timing for FCSEMS removal after achieving hemostasis.
COMPLICATIONS
Stent migration is the most frequent complication of FCSEMS, which occurs in 20%-40% of cases[119,120]. Proximal stent migration refers to FCSEMS migration into the biliary duct, while distal stent migration refers to migration to the duodenum or bowel. Endoscopic intervention is needed to remove and replace the displaced stent. A prospective study comparing the temporary use of FCSEMS with unflared ends to flared ends in patients with CP-related BBS revealed the migration rate was 100% for unflared FCSEMS compared to 40% of flared FCSEMS[121]. FCSEMS designed with anchoring flaps or flared ends are preferred as they reduce the risk of migration. A multicenter, prospective study of compared the antimigration effects and efficacy of FCSEMS with an anchoring flap to a flared end at the proximal end. After a median followup time of 6 mo, none of the patients in the anchoring flap had stent migration compared to 33% of patients in the flared end, suggesting that the anchoring flap design was superior to the flared end design. Both types of FCSEMS were able to be removed in all of the patients[122]. Overall, new stent designs including anchoring flaps, flared ends, and additional anchoring plastic stents have been validated in studies to reduce migration risk[123-125].
Cholecystitis is another complication associated with FCSEMS use most commonly in MBS. The pathophysiological mechanism is thought to be obstruction of biliary flow if the cystic duct orifice is obstructed by the synthetic covering of the FCSEMS[126,127].
Stent occlusion may occur from tumor ingrowth, tissue overgrowth, or sludge, predisposing to the development of cholangitis[23-26]. However, time to and rate of occlusion is considerably less compared to plastic stents[128]. Factors such as FCSEMS location and treatment indication dictate different levels of risk[129].
CONCLUSION
FCSEMS represents the latest development of SEMS used by endoscopists treat a variety of benign and malignant biliary pathology, including biliary leak, post-sphincterotomy bleeding, and strictures. A chemical covering reduces the risk of tissue hyperplasia and tumor ingrowth, prolonging stent patency. The studies examined in our review have shown that FCSEMS can be clinically effective for a variety of endoscopic applications. However, FCSEMS commonly face problems of stent migration, which can be addressed with modifications including flared ends and anchoring flaps. Future areas of research will continue to expand the interventional applications using FCSEMS, and design new modifications to reduce complications.
Manuscript source: Invited manuscript
Corresponding Author's Membership in Professional Societies: American Gastroenterological Association; American College of Gastroenterology; American Society for Gastrointestinal Endoscopy.
Specialty type: Gastroenterology and hepatology
Country/Territory of origin: United States
Peer-review report's scientific quality classification
Grade A (Excellent): 0
Grade B (Very good): 0
Grade C (Good): C
Grade D (Fair): 0
Grade E (Poor): 0
P-Reviewer: Kosuga T S-Editor: Ma YJ L-Editor: A P-Editor: Xing YX