Copyright
©The Author(s) 2023.
Published by Baishideng Publishing Group Inc. All rights reserved.
World J Gastrointest Surg.
May 27, 2023;
15(5): 757-775
Published online May 27, 2023. doi: 10.4240/wjgs.v15.i5.757
Application of indocyanine green in surgery: A review of current evidence and implementation in trauma patients
Husham Abdelrahman, Ruben Peralta, Trauma Surgery, Hamad Medical Corporation, Doha 3050, Qatar
Ayman El-Menyar, Hassan Al-Thani, Trauma and Vascular Surgery, Hamad Medical Corporation, Doha 3050, Qatar
Author contributions: Abdelrahman H, El-Menyar A, Peralta R, and Al-Thani H contributed to the manuscript in terms of substantial contributions to conception and design of the study, acquisition of data, or analysis and interpretation of data; drafting the article or making critical revisions related to important intellectual content of the manuscript; all authors contributed to final approval of the version of the article to be published.
Conflict-of-interest statement: There are no conflicts of interest to report.
Open-Access
: This article is an open-access article that was selected by an in-house editor and fully peer-reviewed by external reviewers. It is distributed in accordance with the Creative Commons Attribution NonCommercial (CC BY-NC 4.0) license, which permits others to distribute, remix, adapt, build upon this work non-commercially, and license their derivative works on different terms, provided the original work is properly cited and the use is non-commercial. See:
https://creativecommons.org/Licenses/by-nc/4.0/
Corresponding author: Ayman El-Menyar, FACC, FESC, FRCP, MBChB, MSc, Associate Professor, Director, Senior Scientist, Trauma and Vascular Surgery, Hamad Medical Corporation, Al Rayyan Road, Doha 3050, Qatar. aymanco65@yahoo.com
Received: December 17, 2022
Peer-review started: December 17, 2022
First decision: January 3, 2023
Revised: January 18, 2023
Accepted: March 27, 2023
Article in press: March 27, 2023
Published online: May 27, 2023

Background: Modern surgical medicine strives to manage trauma while improving outcomes using functional imaging. Identification of viable tissues is crucial for the surgical management of polytrauma and burn patients presenting with soft tissue and hollow viscus injuries. Bowel anastomosis after trauma-related resection is associated with a high rate of leakage. The ability of the surgeon's bare eye to determine bowel viability remains limited, and the need for a more standardized objective assessment has not yet been fulfilled. Hence, there is a need for more precise diagnostic tools to enhance surgical evaluation and visualization to aid early diagnosis and timely management to minimize trauma-associated complications. Indocyanine green (ICG) coupled with fluorescence angiography is a potential solution for this problem. ICG is a fluorescent dye that responds to near-infrared irradiation. Methods: We conducted a narrative review to address the utility of ICG in the surgical management of patients with trauma as well as elective surgery. Discussion: ICG has many applications in different medical fields and has recently become an important clinical indicator for surgical guidance. However, there is a paucity of information regarding the use of this technology to treat traumas. Recently, angiography with ICG has been introduced in clinical practice to visualize and quantify organ perfusion under several conditions, leading to fewer cases of anastomotic insufficiency. This has great potential to bridge this gap and enhance the clinical outcomes of surgery and patient safety. However, there is no consensus on the ideal dose, time, and manner of administration nor the indications that ICG provides a genuine advantage through greater safety in trauma surgical settings. Conclusions: There is a scarcity of publications describing the use of ICG in trauma patients as a potentially useful strategy to facilitate intraoperative decisions and to limit the extent of surgical resection. This review will improve our understanding of the utility of intraoperative ICG fluorescence in guiding and assisting trauma surgeons to deal with the intraoperative challenges and thus improve the patients' operative care and safety in the field of trauma surgery.
Core Tip: There is no consensus on the ideal dose, time, and manner of administration of Indocyanine green Fluorescence (ICG) as well as its indications in the acute surgical settings. There is a scarcity of publications describing the use of ICG in trauma patients as a useful adjunct to facilitate intraoperative decisions and to safely limit the extent of surgical resection. ICG has been increasingly used for surgical guidance as an intraoperative localizing technique, tissue perfusion evaluation, and imaging for anatomy identification and leaks as well as to provide targeted therapies. This review explored the potential utility of ICG in trauma surgery.
---
Citation: Abdelrahman H, El-Menyar A, Peralta R, Al-Thani H. Application of indocyanine green in surgery: A review of current evidence and implementation in trauma patients. World J Gastrointest Surg 2023; 15(5): 757-775
---
INTRODUCTION
Hollow viscus injury is relatively uncommon[1,2]. Early diagnosis and timely management are essential to minimize the associated complications[3,4]. Identifying structures that need to be resected and spared during traumatic surgery is of paramount importance. Surgical resection of the damaged or devascularized bowel segments is often required. In daily practice, resection is guided primarily by the surgeon's ability to recognize and assess injured segments using conventional room light (white-light imaging), which relies on visual inspection. Resection is often followed by immediate bowel anastomosis.
Bowel anastomosis after trauma-related bowel resection may be associated with high leak rates[5]. Although the etiology of these leaks may be multifactorial, tissue perfusion at the ends of the resected bowel remains one of the most important determining factors for anastomotic leaks and strictures[5,6].
Technological developments have transformed human lives and medical practice in several fields. The ability of the bare eye of surgeons to determine bowel viability remains limited, and the need to obtain a more standardized objective assessment has not been fulfilled[7]. There is a need for tools to enhance surgical evaluation and visualization while eliminating the risk of damage to vital structures. Fluorescence angiography (FA) with indocyanine green (ICG-FA) is a potential solution to this perplexing problem[7] and is used worldwide to assess visceral perfusion[8]. The fluorescent signal obtained following intravenous ICG injection is thought to be proportional to blood flow. This allows surgeons to address poor regional perfusion that is otherwise challenging to detect intraoperatively[9,10]. Evidence in elective surgeries is available; however, reports on this technology in trauma are sparse[11].
ICG is a fluorophore dye with fluorescent properties that respond to near-infrared (NIR) irradiation. ICG has many applications in different medical fields and has been used for several decades to determine the cardiac output, hepatic function, and fluorescence-guided surgery (FGS). Examples include intraoperative localization techniques (e.g., sentinel lymph node mapping or metastasis), tissue perfusion evaluation (for resection and anastomosis), imaging for vital structure identification (e.g., cholangiogram, ophthalmic structures, and neurovascular structures), leaks, and targeted therapies[8,12-15].
ICG for real-time tissue perfusion assessment is feasible in open and minimally invasive surgeries (MIS). This has been proposed as a potential solution to the limitations of bowel viability assessments, particularly for MIS[16]. Fluorescence angiography helps surgeons assess bowel perfusion and viability for better resection margins, preserve normally perfused bowel, and minimize the potential for ischemia-related anastomotic leaks[17]. It has great potential to bridge this gap and enhance the clinical outcomes of surgery and patient safety[18].
Advances in imaging and intraoperative tools have impacted medical and surgical practices and may help resolve this precision surgery dilemma[19,20]. Adopting technology for surgical procedures and trauma care is a natural process. Despite these advances, surgical complications remain high, with implications for mortality, cost, and long-term complications; thus, the game is not over[8,11,21-24]. We conducted a narrative review to address the utility of ICG in the surgical management of patients with trauma as well as elective surgery. This will guide and help trauma surgeons to deal with the intraoperative challenges, improve the patients' operative care, and improve the safety in trauma surgery.
INTRAOPERATIVE INDOCYANINE GREEN FLUORESCENCE GUIDANCE
Indocyanine green fluorescence (IO-ICGF) guidance is an evolving and exciting concept. The limitations of the human senses are well-documented: Sight and touch, which open the door for technological augmentation and support (guide) of the surgeon's visual and tactile localization. The need is amplified in MIS[16,17]. Evidence shows that surgeons' assessment of tissue perfusion concerning future anastomotic leaks has low sensitivity and specificity[25]. The potential benefits of such guidance include increased safety, reduced operating time, decreased need for second look operations, and decreased risk of complications such as leaks, infections, dehiscence, strictures, and reoperations. Proper resection margins are achieved by removing damaged tissue while protecting the normal tissue and enhancing adequate healing.
Residual ischemia on extrapolation resembles residual tumors after surgical resection; residual ischemia strongly predicts anastomotic failure, and residual tumors predict tumor recurrence. In the event of cancer, histopathological evaluation of the margins of frozen sections (FS) is a viable intraoperative solution for some tumors. Nonetheless, the literature discloses various FS-related problems, and the FS results differ by up to 15% from the permanent pathological data. However, solutions for residual ischemia are yet to be adequately addressed[26]. This problem can be exploited for the use of IO imaging, such as computed tomography/magnetic resonance imaging, as described in Neuro Surgical practice with apparent complexities of the cost, the needed space, logistics, and the potential interruption of operative time, which makes them non-practical solutions in many setups[27].
ICG, as an example of FGS, has been a strong competitor since 1948 in the search for a practical solution to the dilemma of perfusion assessment. ICG was first used in biological applications in 1956 and was authorized by the Food and Drug Administration (FDA) for diagnostic use in cardio-circulatory and hepatic functions[28].
Fluorescence angiography is a potential solution to the perfusion problem with reported high sensitivity, specificity, contrast, safety, low cost, ease of use, and seamless real-time imaging utility when it comes to interrupting operative processes[27,29]. ICG is the primary agent with a long history of use and high safety profile.
Owing to several merits, FGS has excellent potential for improving surgical practices and associated outcomes. It can direct IO image-guidance margin assessments and detect microscopic tumors, residual lesions, and tissue perfusion. Furthermore, it may aid in avoiding surgical complications, and the benefits of ICG may open new applications in various trauma-related subspecialities. Nonetheless, most surgeons continue to rely heavily on conventional visual and tactile cues and preoperative imaging to make resection decisions[19,20].
There is explosive interest in FGS research, fluorescence imaging devices, and system development and adoption. Nevertheless, a common problem is that evolving technology requires long standardization[18,30]. These arrangements include a wide range of technological issues, such as determining the appropriate agents (fluorophores or dyes), specific indications and clinical utility, acquiring supporting data and evidence, selecting the correct dose, and determining the optimal time for administration (whether before the operation, intraoperatively, or both). Nevertheless, the adoption of FGS is on the rise. The industry is actively introducing new probes and devices, including improved portable cameras with real-time imaging and easy non-distracting integration, enriching this attention and growing interest[18,31].
Furthermore, other technical aspects of this technology need to be addressed in the future: whether we need a subjective dose (individualized) is also a possible way to optimize the tissue dosage and effects; can we measure real-time quantity at the tissue level? Tissue-to-background ratio optimization is an ongoing discussion in the literature[32]. A recent consensus paper surveyed 19 international experts in FGS and reported strong agreement on its safety and effectiveness. Although it is no longer considered experimental, there is a considerable need to study ICG administration details (dose, concentration, route, and timing for optimal use)[18].
In many oncological practices, using NIR fluorescence imaging with ICG has become commonplace, both in open surgery and MIS, such as during staging laparoscopy for cancer[33]. This fact makes ICG the primary available dye with considerable literature support and wide use. The equipment available is designed to handle this agent and is one of the few FDA-approved agents.
Regarding MIS, Laparoscopic systems [high-definition (HD) cameras attached to a laparoscope with an NIR filter to detect fluorescence] were reported by Boni et al[34]. NIFICG allows real-time direct image assessment of tissue perfusion and vascularization related to anastomotic and stapler line leaks[35]. A full HD image 1 S camera, switching to NIR mode within a few seconds after the injection of ICG, provides real-time angiography of bowel perfusion before the anastomosis and another additional dose after establishing the anastomosis to confirm anastomotic perfusion with adequate vascularization.
TECHNOLOGY AND APPROVED FLUOROPHORES
The imaging step requires an NIR fluorescent agent (or fluorophore) and imaging system to excite and detect fluorophore signals within milliseconds. Two approved generic agents are used clinically by the FDA and the European Medicines Agency: ICG and methylene blue. Methylene blue is a weak fluorescent dye with low yield, which is why it is not commonly used. On the other hand, ICG is the most widely used fluorophore for this purpose for all the reasons mentioned above; historical, safe, and practical. There is increasing interest in the development of new tracers for expanding clinical applications[29].
CHARACTERIZATION, METABOLIZATION, ADMINISTRATION, AND OPTICAL PROPERTIES OF ICG
ICG is a water-soluble, anionic, amphiphilic tri-carbo-cyanine iodide dye probe with a molecular weight of 776 Da[36,37]. It binds to plasma proteins, has a short half-life (150-180 s), and is rapidly eliminated by hepatic clearance[37,38]. It was used in human health at the Mayo Clinic after it was launched as a dye in photography by the Kodak research facilities in 1955. The FDA approved it in 1959 as an indicator material (e.g., photometric hepatic function diagnostics and fluorescence angiography) in circulatory, hepatic, cardiac output, and ophthalmic research. It is injected intravenously and depending on liver function, has a half-life of approximately 3-4 min in the body[8,38]. ICG sodium salt is often available in powder form and is soluble in a variety of solvents; 5% (depending on the batch) sodium iodide is typically added to improve its solubility[15]. ICG is limited to the vascular system after forming a strong bond with plasma proteins. ICG is only eliminated from the circulation by the liver and converted to bile[15]. The recommended dose is 2.5 mg before indulging in the anastomosis performance or 0.2-0.5 mg/kg[34,39,40]. The vasculature was visible within 60 s, and the anastomotic site was visible on NIR fluorescence imaging[41-43]. A second bolus of 2.5 mg, usually 15 min after the first injection, can be repeated if the signal begins to fade. Good perfusion supports completing the anastomosis as planned; furthermore, the check for perfusion(ischemia) should be performed before or after the anastomosis or both[44]. A similar dosage is also used for liver resection margins, where liver segment perfusion happens within one-two minutes (similar time frame). There are two routes: The peripheral veins and portal vein[45-47].
The lag in advancing the technique was related to the technical limitations associated with film-based photography. Since 1980, several technological challenges have been resolved, owing to the invention of new camera types, improved films, and higher-resolution photometric measurement tools. ICG is now routinely used in medicine, which has happened in the meantime. Since its early inception in the medical field, more than 5000 scientific papers on ICG in Surgery have been published worldwide[15].
ICG exhibited NIR absorption and fluorescence spectra. Both parameters varied significantly, depending on the concentration and solvent used[48]. ICG emits fluorescence between 750 nm and 950 nm and absorbs mostly between 600 nm and 900 nm[48]. The significant overlap between the absorption and fluorescence spectra caused ICG to absorb light significantly. The fluorescence spectra were highly diverse. It reaches its highest levels in water at 820 nm and in blood at approximately 830 nm[48]. ICG becomes a fluorescent (or light-emitting) form of luminescence upon excitation with a specific wavelength of light (about 820 nm) in the NIR spectrum.
Furthermore, NIR light (700-900 nm) is more valuable than visible light, as it allows for up to 10 mm of tissue penetration, provides maximum tissue contrast because auto-fluorescence is not observed, and maximizes signal-to-background ratios[49]. The emitted signal can be detected even within deep structures because it is transmitted through the tissue. This feature allows for less invasive real-time imaging of vessels and lymphatic ducts inside organs during surgery[50,51]. NIR ray illumination of ICG generates NIR fluorescence, permitting real-time transcutaneous intraoperative visualization of structures, such as superficial lymphatics and vessels. Merging these signals with normal RGB (red, green, and blue) color videos facilitates anatomical orientation, recording, and analysis.
Several NIR fluorescence imaging devices have been developed for intraoperative clinical use. Despite differences in the technical parameters, all these devices offer the surgeon an image of the NIR fluorescence signal[52]. Color imaging using imaging systems such as the HyperEye Medical System can simultaneously detect NIR rays under ambient light with outstanding diagnostic precision[53].
Literature on ICG use in trauma is limited, and our search identified only a few reports. The first is a recent case series demonstrating the utility of this technique in guiding anastomosis after post-traumatic damage-controlled resection. In one case, it led to further resection; in the other two, it assured good perfusion and permitted anastomosis without subsequent leaks[54].
Secondly, a retrospective study by Yamaguchi et al[11] explored the use of ICG NIR fluorescence to reduce postoperative complications in operative cases of mesenteric and bowel injuries. They concluded that ICG NIR tended to be associated with fewer complications after traumatic damage, regardless of the need for resection. This procedure is easy and quick. However, the study had several limitations. The authors called for randomized controlled trials to explore this technology for its routine use in stable patients[11]. Unfortunately, in the setup of trauma, recruitment would be very challenging.
Furthermore, Aggarwal et al[55] reported a case of ICG FA guiding the resection of post-traumatic bowel ischemic ileal strictures. It provides real-time objective perfusion assessment to show the length of the ischemic segment to be resected.
Despite the availability of few reports (even small case series), Smyth et al[56] commented on the use of ICG in trauma settings to predict anastomotic leaks considering it a very new and promising concept[54,56].
SAFETY AND ADVERSE EVENTS ASSOCIATED WITH ICG
ICG has been used successfully in clinical research for over 50 years, has been shown to have a favorable safety profile, and is rarely associated with adverse reactions. ICG is very safe, with rare cases of anaphylaxis and caution regarding potential cross-reactions in patients with iodine sensitivity[57]. It has a long history of use, and a high safety index with rarely reported allergies (1:10000) supports this growing interest[28,37]. The intestinal mucosal membrane does not absorb ICG, and therefore, its toxicity is minimal. It is microsomal digested in the liver and eliminated by the liver and bile ducts. There are risks associated with administration during pregnancy[58].
It has been understood that ICG breaks down into harmful waste products when exposed to UV radiation, producing a multitude of as-yet-unidentified compounds[59,60]. In one of every 42000 instances, people experienced minor side effects, including sore throats and heat flashes[58,59]. Anaphylactic shock, hypotension, tachycardia, dyspnea, and urticaria were only seen in a few instances; the risk of severe side effects increases in patients with chronic renal impairment[58,60].
THE NEED FOR ICG IN TRAUMA SURGERY
Anastomotic leakage is a perplexing and frequently clinically challenging issue in elective and emergency surgeries with significant morbidity and mortality. Hypoperfusion near resection margins is thought to be a powerful indicator of anastomotic failure and subsequent leakage[5]. Gross surgical assessment is the gold standard for perfusion (vascularity) assessment[11]. This assessment involved visual inspection, palpation of the mesentery, and intraoperative ultrasound assessment. Naked eye assessment is limited, whereas palpation and ultrasound assessments may not be an option for MIS[25]. There is an urgent need to augment perfusion assessment using a simple and affordable tool without interrupting the flow of the surgery[8], and it can also be applied for MIS.
The merits of Intraoperative NIR fluorescence or simple fluorescence imaging include high contrast, low cost, safety (no ionizing radiation, low incidence of allergic reactions), ease of use, high sensitivity, and specificity[27,31,61], and the MIS option make it the best available solution.
Along with other oncological surgical benefits, such as lymph node mapping and tumor tissue identification, intraoperative vascularity assessment may increase the extent of resection, shorten the surgical time, protect viable tissues, lessen the need for second-look surgeries, and identify vital structures. As a result, there has been growing acceptance in recent years. Our literature review found that tissue perfusion adequacy is the primary determinant of visceral tissue viability[62] and is the main reason for its use during trauma. Theoretically, all the other reported uses are potential areas for use in trauma surgery, with only a few supporting reports.
The recent clinical trials on the use of ICG in trauma and surgery
Table 1 summarizes most of the concurrent clinical trials addressing the utility of ICG in trauma (n = 18) and general surgery (n = 13), and most of the latter was for cancer surgery. Moreover, Figure 1 illustrates the different utilities of ICG that also can be used as an algorithm for bowel injury management.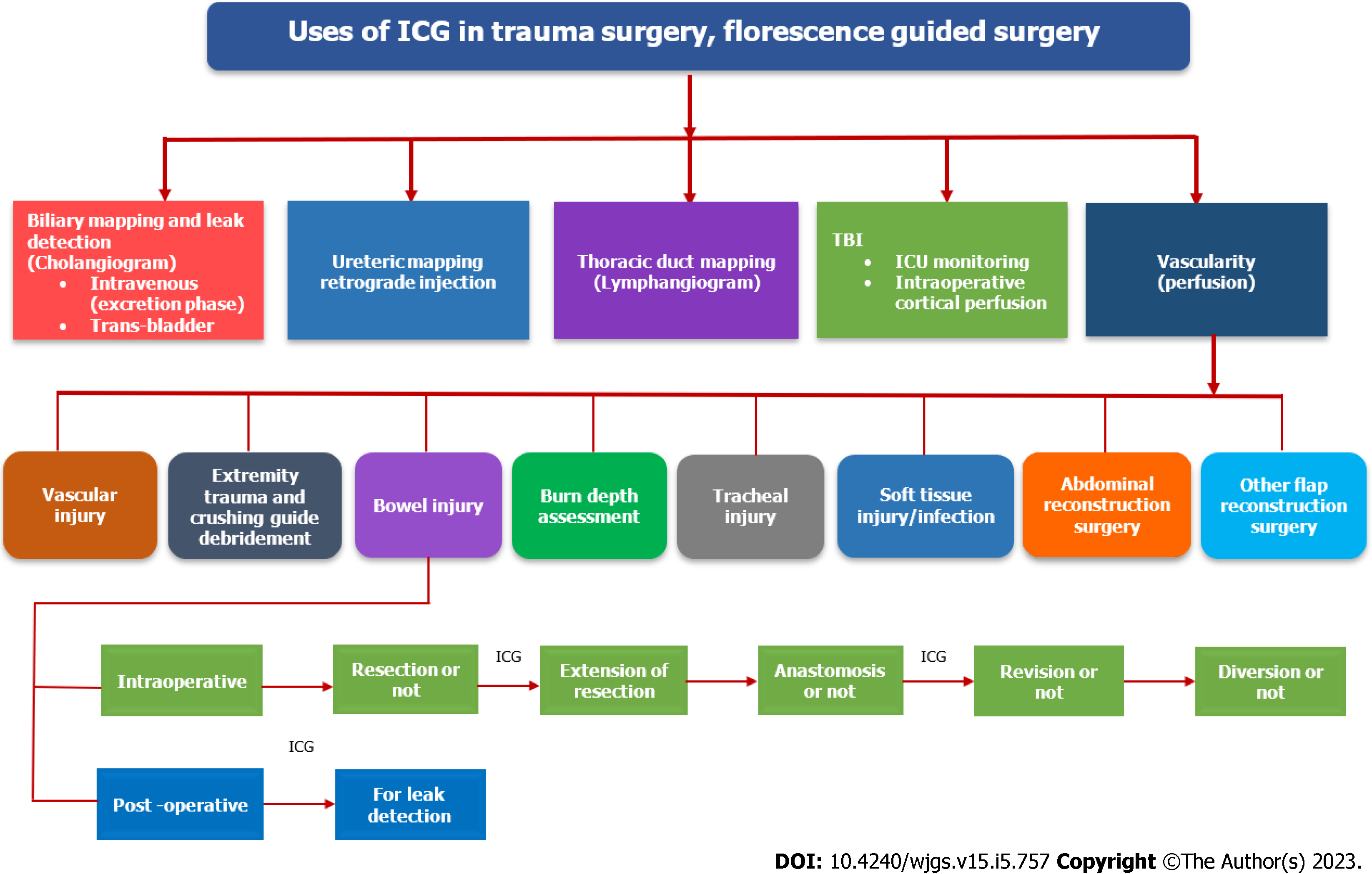 Figure 1 Utility of indocyanine green in trauma and surgery.
ICG: Indocyanine green; TBI: Traumatic brain injury.
Trial title

---

Subject/field

---

Status

---

ICG fluorescence imaging in trauma patients
Bone/soft tissue perfusion in fracture patients and surgical site infection
Completed
ICG fluorescence imaging in open fracture trauma patients
Open extremity fracture
Recruiting
ICG 24 h Prior to operative treatment of orthopedic infection
Bone trauma and soft tissue infection
Active, not recruiting
The role of indocyanine green angiography fluorescence on intestinal resections in pediatric surgery
Intestinal resection margins during elective and emergency pediatric surgeries
Completed
ICG fluorescence imaging in lower extremity amputation patients
Lower extremity amputation in and trauma
Recruiting
ICG fluorescence imaging in post-traumatic infection
Trauma injury
Recruiting
Feasibility and usability of intraoperative fluorescent angiography with indocyanine green in penetrating abdominal trauma
Abdominal trauma
Completed
Non-invasive measuring of cerebral perfusion after severe brain injury with near-infrared-spectroscopy and ICG
Subarachnoid hemorrhage, intracerebral hemorrhage, TBI
Recruiting
Dynamic contrast-enhanced fluorescence arthroscopy of meniscus pilot
Knee injury
Recruiting
ICG 24 h prior to operative treatment of orthopedic infection
Trauma injury, infection
Active not recruiting
A study assessing circulation around surgical incisions at the time of laparotomy closure
Laparotomy
Completed
Application
Fractures, comminuted, surgical wound dehiscence, necrosis
Terminated has results
NIRST and ICG-based perfusion imaging in acute compartment syndrome
Compartment syndrome lower limb, forearm
Recruiting
ICG and SPY imaging for assessment of burn healing
Burns
Completed
NIR arthroscopic fluorescence angiography of menisci
Meniscus rupture
Not yet recruiting
Detection of cerebral ischemia with a non-invasive neurometabolic optical monitor
TBI, ischemic stroke, intracerebral hemorrhage
Completed
A new multi-parameter neuromonitoring system to save patients' lives in stroke and brain injury
Subarachnoid hemorrhage
Completed
Pilot study to assess the use of spy elite for assessment of amputation healing
Wound healing lower extremity amputation
Completed
Near-infrared fluorescence with indocyanine green for identification of sentinels and parathyroid during thyroidectomy
Thyroid cancer
Unknown
Near infrared fluorescence imaging with ICG
Lung cancer
Completed
A study of perfusion of colorectal anastomosis using FLAG-trial
Colorectal cancer
Completed
Near-infrared fluorescence imaging as a supportive tool for localization of deep infiltrating endometriosis during laparoscopy
Endometriosis
Completed
Prospective evaluation of near-infrared fluorescence imaging use as a supportive tool in deep infiltrating endometriosis surgery
Endometriosis
Completed
NIF-guided ramie using ICG vs OTE feasibility randomized controlled trial
Esophageal cancer
Recruiting
Falcon: A multicenter randomized controlled trial
Cholecystitis
Unknown status
Quantitative ICG fluorescence angiography in colorectal surgery
Colorectal cancer
Recruiting
Effect and long-term outcomes of indocyanine green fluorescence imaging method vs modified inflation-deflation method in identification of intersegmental plane
Lung cancer
Recruiting
Intraoperative ICG fluorescence angiography in colorectal surgery to prevent anastomotic leakage
Colorectal cancer
Not yet recruiting
Synapse 3D with intravascular ICG
Lung cancer
Not yet recruiting
The role of ICG fluorescence imaging on anastomotic leak in robotic colorectal surgery
Colorectal diseases
Unknown status
ICG molecular fluorescence imaging technique using in diagnosis and treatment of primary liver cancer
Liver cancer
Recruiting
THE USES OF ICG IN TRAUMA
The use of ICG in trauma surgery is primarily associated with anatomical identification (visualization of vital structures). Examples include the cystic duct, ureters, nerves, vessels (angiography), and thoracic ducts (lymphography)[11]. Every operation has the unique risk of causing inadvertent harm to a neighboring vital structure. Effective intraoperative procedures are required to locate and safeguard structures. Based on their clearance characteristics, fluorescence imaging with ICG can identify and map the biliary tree, cystic artery, and ureter via different routes of administration[8].
FUTURE PERSPECTIVES
Despite expanded clinical trials, fluorescent agents, and imaging systems for intraoperative FI, there currently needs to be a standardized strategy for evaluating the imaging system performance and post-acquisition image processing[19,123]. There is a paucity of high-level evidence and the need for rigorous ways to address this continuous shortfall despite recent increases in publications, notably the number of meta-analyses and systematic reviews and the poor quality of the included data. Therefore, surgeons need to embrace and explore technological adjuncts to guided surgery[124].
Currently, two fluorescent compounds are FDA-approved and are used clinically (ICG and methylene blue). There is increasing interest in expanding fluorescence-guided surgery, and there is a need to develop other tissue-specific agents that would enhance surgical anatomical identification and protect important structures, such as nerve-specific agents, which are currently at the animal study level, to avoid accidental nerve damage with their sequelae[125].
The future is anticipated to accelerate the development of specific molecular tracers that are expected to introduce a paradigm shift in surgical decisions regarding resection based on additional molecular information. Fluorescein- and 5-aminolevulinic acid-induced protoporphyrin IX (PpIX-an endogenous metabolic fluorophore) imaging for neurosurgery and certain superficial cancers such as the urinary bladder. Technology (i.e., FGS systems and imaging) is evolving in terms of specifications and performance differences. Desirable criteria or optimum systems have been published to define standards of care for evaluating new systems. A set of desirable criteria were presented to guide the evaluation of the instruments in this regard including: (1) Real-time overlay of white-light and fluorescence images; (2) operation within ambient room lighting; (3) nanomolar-level sensitivity; (4) quantitative capabilities; (5) simultaneous multiple fluorophore imaging; and (6) ergonomic utility for open surgery[30,126]. There is no perfect system; nevertheless, knowing the differences and limitations of available systems helps define clinical utility more precisely.
Furthermore, hybrid tracers (radioactive and fluorescent) are being researched to aid in expanding image navigation and precision procedures in elective settings, as well as oncologic excision[127]. Quantitative assessment of suitable or unsuitable pre-anastomotic perfusion is not well determined, mostly because most real-time imaging systems cannot assess tissue perfusion. However, some experimental studies have evaluated fluorescence quantification in animal models[124]. A technological upgrade would undoubtedly benefit the outcome of ICG application; nonetheless, system development has recently undergone a significant trial to establish a benchmark.
There is an interest in the objective assessment of tissue perfusion as a predictor of healing failure, which is performed in a poorly perfused segment of the bowel and is subjective based on the surgeon's experience with the previously mentioned limitations of human senses and ill-defined experience. This review discusses ICG-based fluorescence angiography as a practical solution. However, there are other options, such as hyperspectral imaging (HIS). Briefly, the tissue was illuminated with a broadband light source, and reflectance was measured with an image sensor in various bands of the electromagnetic spectrum in the visual and NIR range (400-1000 nm). Tissue composition permits absorption, scattering, or reflection; measuring this information works like a tissue fingerprint and can be used to measure perfusion status without the need for an exogenous fluorophore, and it can easily be repeated. The clinical use of this technique has been less studied in the literature, and the comparison of this technique with older ICG FA is limited. Pfahl et al[127] combined the data of the two techniques for the first time after an initial surgeon transaction-line decision; however, before resection, the complementary information of the two techniques may provide better tissue vascularization data. They concluded that more studies are needed to define the roles and recommend the routine integration of these techniques. Therefore, the future may determine the most promising, reliable, and safe method for assessing tissue perfusion during surgical resection and anastomosis in different disease processes, including trauma, tumors, and inflammatory bowel disease.
The combined application of ICG-FA and HIS within one imaging system may provide supportive and complementary information regarding tissue vascularization, minimize perioperative mortality, and shorten the surgical time. Different degrees of infusion[127]. To compensate for the scarcity of approved fluorophores, some groups have used NIR coating of equipment with materials that have a similar spectral ICG range to allow the use of already available ICG cameras such as ureteric stents, magnetic anastomotic devices, tumor endoscopic clips for laparoscopic identification, and Foley[128]. The future may integrate the artificial intelligence system with functional imaging into the challenging trauma surgery arena.
REVIEW LIMITATIONS
This narrative review is based on an interpretation of the literature on the topic rather than a systematic literature review. This study overlooks a few of these issues. Additionally, the arguments and views presented in this review are based on the authors' interpretation of NIR FA, which remains a novel tool. The heterogeneity between published studies may limit the possibility of conducting a meta-analysis.
CONCLUSION
FGS is a surgical navigation tool with evolving uses. Although ICG is extensively used for various reasons in monitoring organ perfusion, developments in existing systems are continually being made to define standards, quantify fluorescent signals, and discover new prospective tracers. This represents a paradigm change and the possibility of using molecular data in surgical decision-making for trauma, elective, and emergency surgeries. ICG, a relatively safe, sensitive, and nonspecific fluorophore widely used in NIR fluorescence imaging, can help surgeons to operate on injured patients. Minimizing the risk of anastomotic leakage remains a core goal of clinical practice. The large-scale use of ICG and further standardization and training of this technique are necessary to obtain specific and robust evidence to confirm its clinical value and define specific indications in trauma surgery. Additionally, a successful program for the development and application of FGS would require solid collaboration with optical engineers (for the development of hardware), computer scientists (for the development of the software), chemists (for the engineering of fluorophores), and medical professionals to enable clinical translation. Defining the therapeutic value of this method in trauma, including the timing, doses, and damage pattern indications, further research, including prospective trials, could offer great information and value for both surgeons and patients.
Provenance and peer review: Invited article; Externally peer reviewed.
Peer-review model: Single blind
Specialty type: Surgery
Country/Territory of origin: Qatar
Peer-review report's scientific quality classification
Grade A (Excellent): 0
Grade B (Very good): B
Grade C (Good): 0
Grade D (Fair): D
Grade E (Poor): 0
P-Reviewer: Liu L, China; Pswarayi R, South Africa S-Editor: Chen YL L-Editor: A P-Editor: Zhao S