World J Gastrointest Surg.
Feb 27, 2016;
8(2): 169-172
Published online Feb 27, 2016. doi: 10.4240/wjgs.v8.i2.169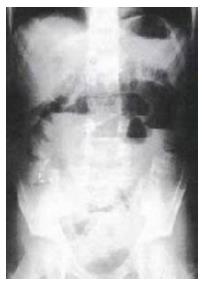 Figure 1 Abdominal plain X-ray examination demonstrated a ladder-like series of distended small-bowel loops.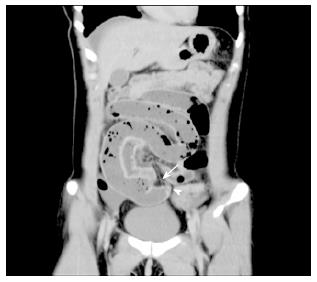 Figure 2 Contrast-enhanced computed tomography (coronal section image) showing a blind loop of the bowel extending near the uterus (arrowhead) and a fibrotic band connecting the mesentery to the top of the bowel (arrow) suggesting Meckel's diverticulum and a mesodiverticular band.
The terminal ileum appeared to be conglutinated to the band and a change in caliber was ascertained.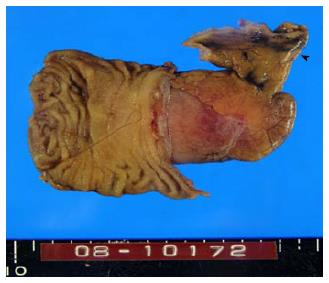 Figure 4 The resected Meckel's diverticulum and adjunctive small intestine.
The cut mesodiverticular band is seen at the blind end of the diverticulum (arrowhead).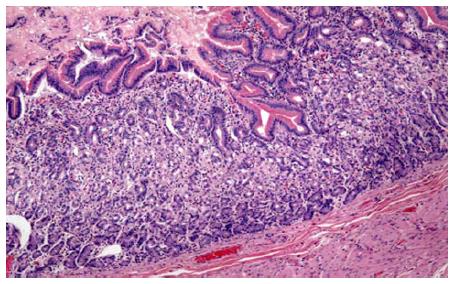 Figure 5 Histological features of the diverticulum.
Heterotopic gastric mucosa was seen in the mucosa of the diverticulum (hematoxylin-eosin staining, × 100).
---
Citation: Matsumoto T, Nagai M, Koike D, Nomura Y, Tanaka N. Laparoscopic surgery for small-bowel obstruction caused by Meckel's diverticulum. World J Gastrointest Surg 2016; 8(2): 169-172
---