World J Gastrointest Surg.
Aug 27, 2015;
7(8): 174-177
Published online Aug 27, 2015. doi: 10.4240/wjgs.v7.i8.174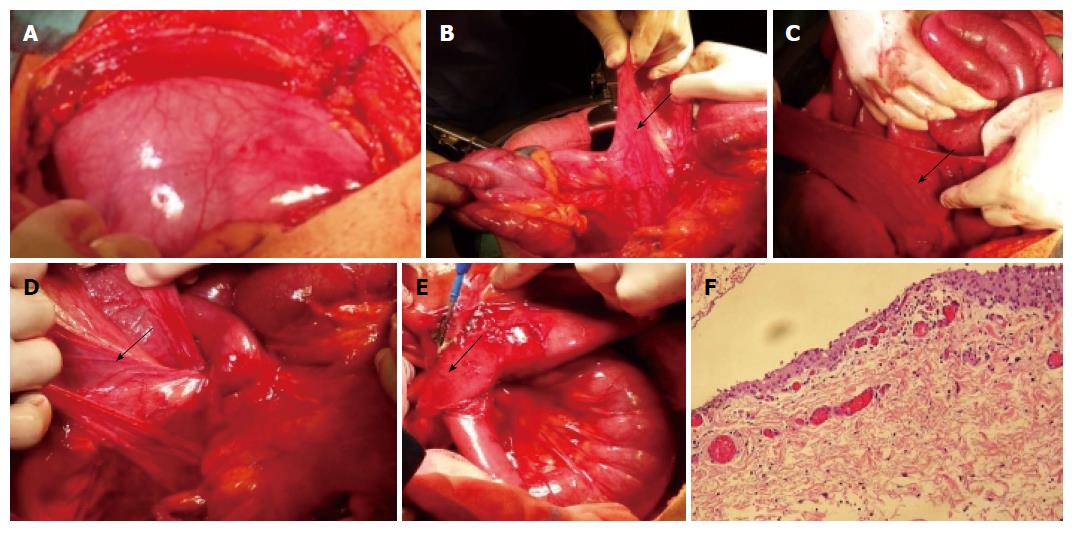 Figure 1 Intraoperative aspect.
Total peritoneal encapsulation of small bowel and great omental hypoplasia (A). Opening the peritoneal sac and excision of almost all of anchor points up (B-D). The obstruction was found to be caused by the posterior aspect of the right edge's sac. At this point, it trapped the ileum against sacral promontory causing obstruction. The band was divided to release the obstruction.The band contained a vessel which splits into two branches above the terminal ileum (E). Histological examination of specimen demonstrated fibrovascular tissue covered by mesothelium of peritoneal origin (F).
---
Citation: Teixeira D, Costa V, Costa P, Alpoim C, Correia P. Congenital peritoneal encapsulation. World J Gastrointest Surg 2015; 7(8): 174-177
---