Copyright
©2013 Baishideng Publishing Group Co.
World J Gastrointest Surg.
Dec 27, 2013;
5(12): 337-340
Published online Dec 27, 2013. doi: 10.4240/wjgs.v5.i12.337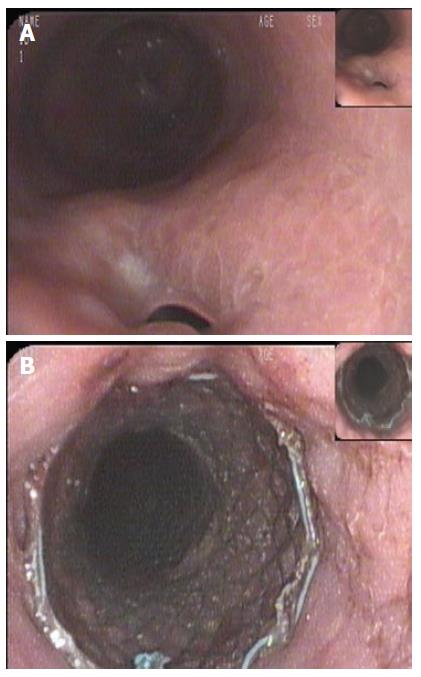 Figure 1 Endoscopic image.
A: An opening at the area of the staple line near the gastroesophageal junction; B: A 12 cm fully covered self-expandable metal stent was inserted in the esophagus and overlapped the staple line leak.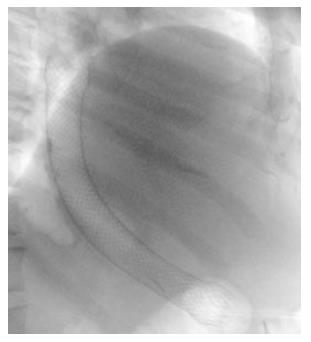 Figure 2 A fluoroscopic image demonstrating the deployed stent in the esophagus with its distal end extending into the stomach remnant.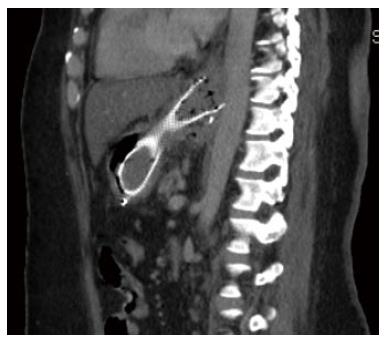 Figure 3 A reconstructed sagittal image of the computed tomography scan demonstrating the proximal aspect of the metal stent in very close proximity to the wall of the descending aorta but there was no evidence of active bleeding.
---
Citation: Almadi MA, Bamihriz F, Aljebreen AM. Fatal aortoesophageal fistula bleeding after stenting for a leak post sleeve gastrectomy. World J Gastrointest Surg 2013; 5(12): 337-340
---