World J Gastrointest Endosc.
Jan 25, 2016;
8(2): 40-55
Published online Jan 25, 2016. doi: 10.4253/wjge.v8.i2.40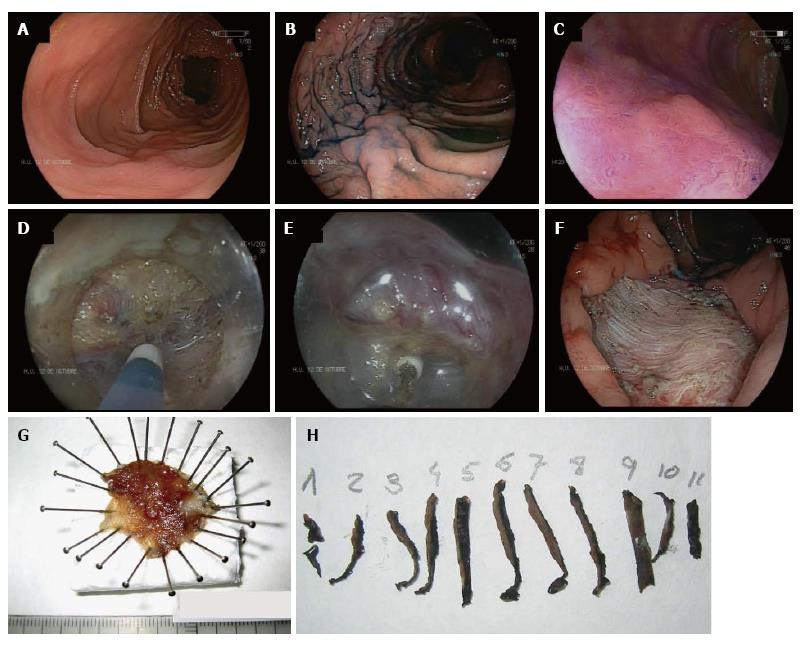 Figure 1 Endoscopic assessment and endoscopic submucosal dissection for a laterally spreading tumor non granular pseudodepressed type in the transverse colon.
A: High resolution white light endoscopy; B: Targeted chromoendoscopy with indigo carmine (0.4%) highlights the border and characteristics of the lesion; C: Magnification chromoendoscopy with crystal violet (0.05%) shows a Kudo's Vi pit-pattern; D: Performing ESD with a 1.5 mm Flush-knife BT (Fujinon, Tokyo, Japan); E: Submucosal dissection of the lesion with an IT nano (Olympus, Tokyo, Japan); F: Residual scar after completion of the procedure; G: Resected specimen of CR-ESD stretched with pins on foam. Maximum diameter of the lesion was 32 mm; H: Specimen sectioned into pieces for histological assessment in the Department of Pathology. ESD: Endoscopic submucosal dissection; CR-ESD: Colorectal endoscopic submucosal dissection.
---
Citation: Marín-Gabriel JC, Fernández-Esparrach G, Díaz-Tasende J, Herreros de Tejada A. Colorectal endoscopic submucosal dissection from a Western perspective: Today's promises and future challenges. World J Gastrointest Endosc 2016; 8(2): 40-55
---