Copyright
©2013 Baishideng Publishing Group Co.
World J Gastrointest Endosc.
Jul 16, 2013;
5(7): 340-345
Published online Jul 16, 2013. doi: 10.4253/wjge.v5.i7.340

Figure 1 Radiographic findings of the second patient with Zenker's diverticulum. A: Barium swallow showing the Zenker's diverticulum (arrow) out-pouching from the posterior wall of the esophagus. Computed tomography scan showing the cervical esophageal leakage with periesophageal mediastinal abscess and extraluminal air (arrow); B: Contrasted esophagus (asterisk) with extravasation; C: Gastrografin swallow after endoscopic-vacuum assisted closure treatment showing a small residual saccular protrusion (arrow), but no leakage and no stenosis, clip in situ.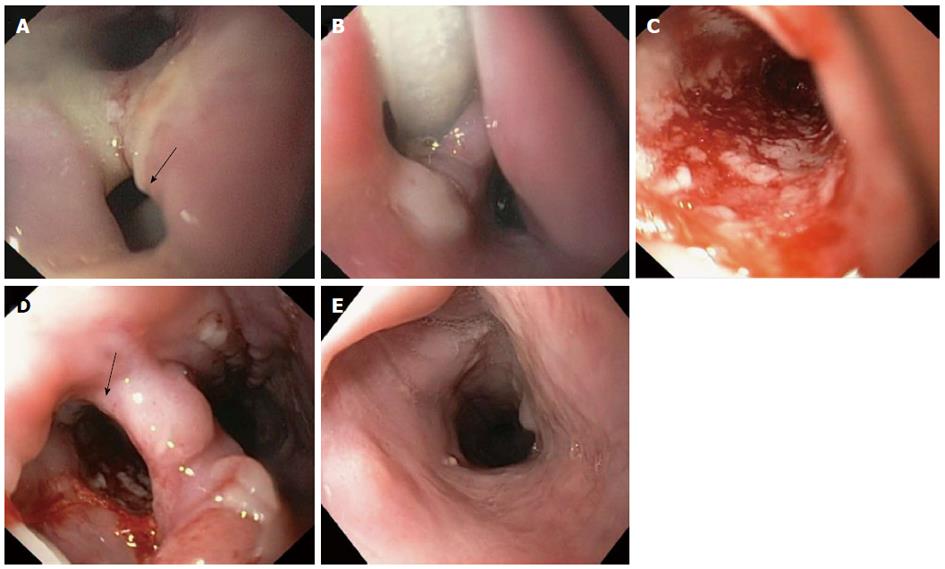 Figure 2 Endoscopic images of cervical esophageal leakage after surgical diverticulectomy and cricopharyngeal myotomy and subsequent treatment with endoscopic-vacuum assisted closure.
A: The defect was large enough to be intubated with a standard endoscope (arrow); B: Sponge positioned in the extraluminal wound cavity and connected to a drainage tube; C: Clean wound ground and formation of fresh granulation tissue with good vascularisation at 3 d after the endoscopic-vacuum assisted closure (E-VAC) therapy; D: Appearance of esophageal defect (arrow) at 11 d after the E-VAC therapy; E: Complete healing of the leakage at 47 d after completion of the E-VAC treatment.
---
Citation: Lenzen H, Negm AA, Erichsen TJ, Manns MP, Wedemeyer J, Lankisch TO. Successful treatment of cervical esophageal leakage by endoscopic-vacuum assisted closure therapy. World J Gastrointest Endosc 2013; 5(7): 340-345
---