Copyright
©The Author(s) 2015.
Published by Baishideng Publishing Group Inc. All rights reserved.
Immunotherapy for hepatocellular carcinoma: From basic research to clinical use
Yu-Peng Hong, Department of Oncology, Zhejiang Provincial People's Hospital, Hangzhou 310014, Zhejiang Province, China
Zi-Duo Li, Department of Oncology, Shijitan Hospital, Capital Medical University, Beijing 100038, China
Pankaj Prasoon, Qi Zhang, Department of Hepatobiliary and Pancreatic Surgery, the Second Affiliated Hospital, Zhejiang University School of Medicine, Hangzhou 310009, Zhejiang Province, China
Qi Zhang, Key Laboratory of Cancer Prevention and Intervention, National Ministry of Education, Hangzhou 310009, Zhejiang Province, China
Author contributions: Hong YP and Zhang Q wrote the manuscript; Li ZD performed the searches and made critical revision of the manuscript; Prasoon P revised the manuscript.
Supported by The National Natural Science Foundation of China, No. 81401954.
Conflict-of-interest: The authors declared no conflict of interests.
Open-Access: This article is an open-access article which was selected by an in-house editor and fully peer-reviewed by external reviewers. It is distributed in accordance with the Creative Commons Attribution Non Commercial (CC BY-NC 4.0) license, which permits others to distribute, remix, adapt, build upon this work non-commercially, and license their derivative works on different terms, provided the original work is properly cited and the use is non-commercial. See: http://creativecommons.org/licenses/by-nc/4.0/
Correspondence to: Qi Zhang, MD, Department of Hepatobiliary and Pancreatic Surgery, the Second Affiliated Hospital, Zhejiang University School of Medicine, No. 88 Jiefang Road, Hangzhou 310009, Zhejiang Province, China. zhangqi86@gmail.com
Telephone: +86-571-87315207
Received: August 28, 2014
Peer-review started: August 29, 2014
First decision: October 14, 2014
Revised: December 22, 2014
Accepted: February 4, 2015
Article in press: February 9, 2015
Published online: May 8, 2015

Hepatocellular carcinoma (HCC) is a common cancer worldwide with a poor prognosis. Few strategies have been proven efficient in HCC treatment, particularly for those patients not indicated for curative resection or transplantation. Immunotherapy has been developed for decades for cancer control and is attaining more attention as a result of encouraging outcomes of new strategies such as chimeric antigen receptor T cells and immune checkpoint blockade. Right at the front of the new era of immunotherapy, we review the immunotherapy in HCC treatment, from basic research to clinical trials, covering anything from immunomodulators, tumor vaccines and adoptive immunotherapy. The mechanisms, efficacy and safety as well as the approach particulars are unveiled to assist readers to gain a concise but extensive understanding of immunotherapy of HCC.
Core tip: This paper supplies a comprehensive review of immunotherapy for hepatocellular carcinoma from basic experiments to clinical trials. The development of interferon, chemokines, tumor vaccines, adoptive immunotherapy, including natural killer, natural killer T and T cells armed with chimeric antigen receptor, as well as regulatory T cell is summarized.
---
Citation: Hong YP, Li ZD, Prasoon P, Zhang Q. Immunotherapy for hepatocellular carcinoma: From basic research to clinical use. World J Hepatol 2015; 7(7): 980-992
---
INTRODUCTION
Hepatocellular carcinoma (HCC) accounts for 95% of primary liver cancer[1], the second most common cause of cancer-associated death worldwide and estimated to be responsible for around 746000 deaths in 2012[2]. Only liver resection and liver transplantation are considered curative, with poor efficiency of other modalities such as radiofrequency ablation (RFA) and transarterial chemoembolization (TACE). However, very few patients are indicated for liver resection and donors of liver are usually exceptional. Postoperative recurrence frequently occurs, resulting in a dismal prognosis in most affected individuals[3].
Immunotherapy has been explored in HCC for decades[4] and carries high expectations due to the recent progress in other malignancies such as melanoma. Different from other organs, liver shows its distinguished characteristics, such as an "immune organ", and patients with HCC present with unique anti- or pro-tumor responses during the development and progression of HCC[5]. Immunotherapy can be categorized into several types according to their distinct strategies. For instance, immunomodulators and tumor vaccines are used to enhance the immune response to HCC in an indirect way; adoptive immunotherapy introduces a great amount of effective immune cells to directly remove tumor cells. In this review, we summarize the critical immune characteristics of liver and cover the immunotherapy of HCC in animal models as well as clinical trials (Figure 1).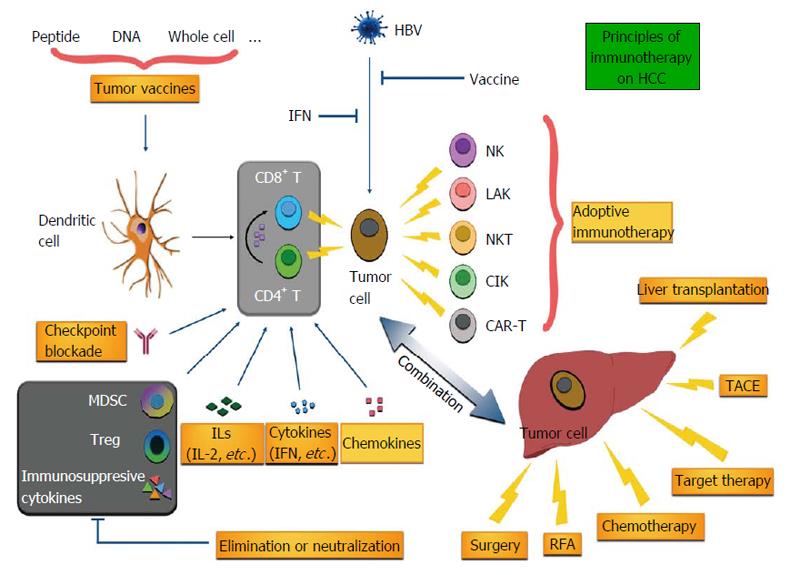 Figure 1 Principles of immunotherapy on hepatocellular carcinoma.
NK: Natural killer; LAK: Lymphokine-activated killer; NKT: Natural killer T; CIK: Chemokine-induced killer; CAR-T: Chimeric antigen receptor-T; HBV: Hepatitis B virus; MDSC: Myeloid-derived suppressor cells; Treg: Regulatory T; IL-2: Interleukin 2; IFN: Interferon; TACE: Transarterial chemoembolization; RFA: Radiofrequency ablation; HCC: Hepatocellular carcinoma.
ROLES OF THE IMMUNE SYSTEM IN CARCINOGENESIS AND PROGRESSION OF HCC
The inherent immune tolerance of liver hinders immune surveillance and therefore makes the carcinogenesis of HCC possible. Liver confronts abundant xenogenous antigens within blood from the gut via the portal vein. Specific mechanisms with regards to immune tolerance are activated to inhibit unneeded immune responses. Unfortunately, these mechanisms, such as recruitment of regulatory T cells (Tregs) and myeloid-derived suppressor cells, as well as overexpression of inhibitory ligands such as programmed death ligand 1 (PD-L1), contribute to weaken anti-tumor immune responses[6].
As an "immune privileged" organ, multiple pathways exist within liver to maintain its function. Not only can hepatocytes cause T cell anergy in certain conditions, but many other nonparenchymal cells, including stellate cells, hepatic dendritic cells and liver sinusoidal endothelial cells, also induce tolerance or apoptosis of effective or naive T cells. In particular, HCC lacks major histocompatibility complex (MHC) class II, the activator of CD4+ T helper (Th) cells[6].
Clinically, various cytokines dysregulate and contribute to HCC progression[7]. Increased immunosuppressed cells in patients are in parallel with a poorer prognosis. Th17 and its secretory product interleukin 17 (IL-17) promote angiogenesis of HCC and recruit neutrophils to enhance angiogenesis[8,9]. The effector function of CD8+ T cells is prone to be impaired by increased Tregs, which predicts a poor prognosis of HCC patients[10]. In addition, the functional impairment of other cells like natural killer (NK) cells also contributes to tumor progression[11].
IMMUNOMODULATORS
Cytokines
Various cytokines are involved in immune responses. Certain cytokines can directly inhibit tumor cell growth or enhance the capacity of relevant immune cells to delay tumor development.
Interferon is well known for immunomodulation, anti-proliferation and anti-angiogenesis. They were found to be decreased in serum of patients with HCC. All three types of interferon (IFN-α, IFN-β, IFN-γ) have been proved to be effective in inhibiting HCC by inducing tumor cell apoptosis or autophagy[12-14]. However, the efficiencies among different types of interferon are under debate. Although some investigators have addressed that IFN-β showed better anti-HCC effects[15], the use of IFN-α in HCC treatment have been more frequently reported. However, IFN-α alone did not show satisfactory survival benefit in patients with unresectable HCC, confirmed by randomized controlled trials (RCTs)[16,17]. IFN-α-2b also failed to decrease the risk of postoperative recurrence[18]. In contrast, interferon showed some benefits when combined with other modalities such as chemotherapy, curative resection and TACE[19-22]. Two meta-analyses revealed that adjuvant interferon therapy after curative therapy for HCC could improve both overall survival and recurrence-free survival[23,24]. Combination of IFN-α with sorafenib was also reported to be efficient in a mouse model[25] but this has not been tested in humans. In addition, interferon treatment may gain further benefits for HCC patients with hepatitis B or C virus infection from removing the viruses[26,27]. Currently, two registered clinical trials regarding IFN-α are still recruiting participants. One multicenter RCT is planning to test IFN-α as an adjuvant therapy in HCC with low miR-26 expression (NCT011681446) and the other phase II trial is trying to combine IFN-α with fluorouracil to treat HCC patients who underwent liver resection (NCT01834963). Generally, IFN-α showed demonstrated equivocal effects and should only be applied to selected patients as supportive or adjuvant therapy within the assumption of the current evidence.
ILs
ILs have been applied to enhance anti-tumor responses of the immune system. However, few studies concerning these ILs have been performed in humans. Small scale clinical studies evaluated the efficacies of IL-2 or IL-12 alone or combined together in HCC treatment but the results were inconclusive[28,29]. Other sorts of ILs were also studied. For instance, IL-37 was found to selectively recruit NK cells to conduct anti-tumor activity in HCC patients[30]. IL-24 was reported to show in vivo anti-tumor activity in the presence of apoptin[31]. However, clinical trials are lacking to determine the therapeutic effects of ILs in human.
Chemokines
Chemokines regulate activities and behavior of cells, including hepatocytes, immune cells and the tumor microenvironment. By mediating pro- and anti-inflammatory responses, chemokines can regulate leukocyte recruitment, angiogenesis and tumor progression[32]. Several chemokine-associated signaling, including CXCR4/CXCL12, CCR6/CCL20 axes, were evident in promoting HCC[33,34]. Blockade of these signalings by relevant receptors seems logical to control HCC.
Chemokines can regulate the function of immune cells by interacting with the receptors on the membrane of these cells. Tumor infiltrating anti-tumor cells, including T cells, NK cells and natural killer T (NKT) cells, showed enhanced expression of certain chemokine receptors[35]. Consistently, overexpression of certain chemokine genes, such as CXCL10, CCL5 and CCL2, in HCC tissue correlated with Th1, cytolytic T lymphocyte (CTL) and NK cells and predicted a better prognosis[36]. Regulated release of chemokines or genetic modification of chemokine receptors in immune cells may enhance anti-tumor immune response. Unfortunately, only preclinical data can be found in this field.
IMMUNE CHECKPOINT BLOCKADE THERAPY
Due to the great achievements in melanoma, immune checkpoint blockade therapy sheds light on other solid tumors, including HCC. Co-inhibitory signals diminish the intensity of anti-tumor response even although HCC specific antigen has presented with MHC receptors. To overcome these, immune checkpoints should be a promising approach to restore anti-tumor function of immune cells. Many immune checkpoints have been identified in the lab. In addition to PD-1 and CTLA-4 which have been intensively studied, there are also other potential checkpoints, like TIM-3, OX40, VISTA, LAG-3 and BTLA[37].
Anti-CTLA-4 antibody blocks the binding of CTLA-4 and CD80/86, which is a defunct antigen-presenting cell (APC) and results in suppressed anti-tumor immune responses mediated by T cells[38,39]. Basically, the efficacy of CTLA-4 blockade correlates with the immunogenicity of the tumor. A phase I trial of tremelimumab (anti-CTLA-4 monoclonal antibody) in HCC patients was reported in 2013[40]. The study enrolled 21 patients with advanced HCC not amenable to percutaneous ablation or TACE and showed that tremelimumab was well tolerated. Partial response was found in 17.6% of the patients and 45% of the cases had stable disease for more than 6 mo. Another phase I clinical trial of tremelimumab combined with RFA or TACE is now ongoing (NCT01853618; Table 1).
| | | | | | | |
| --- | --- | --- | --- | --- | --- | --- |
| Interventions | Design | Start year | Main inclusion criteria | Primary outcomes | Registered No. | Status |
| CP-675,206: anti-CTLA-4 antibody | Phase II | 2008 | Unresectable disease not amenable to loco regional treatment, HCV chronic infection | Tumor response | NCT01008358 | Completed |
| CT-011 (Pidilizumab): anti-PD-1 antibody | Phase I/II | 2009 | HCC not eligible for surgery, TACE, or other systematic treatments | Safety and tolerability | NCT00966251 | Terminated because of slow accrual |
| Nivolumab: anti-PD-1 antibody | Phase I | 2012 | Advanced HCC, failed in previous one line therapy | Adverse events | NCT01658878 | Recruiting |
| Tremelimumab: anti-CTLA-4 antibody, combined with TACE or RFA | Phase I | 2013 | Not amenable to curative resection, transplantation or ablation | Safety and feasibility | NCT01853618 | Recruiting |
Anti-PD-1 and anti-PD-L1 antibodies interfere with the binding of PD-1 and PD-L1/2 which inhibits T cell proliferation and cytokine release[41]. Although CTLA-4 and PD-1 were found predominantly expressed in T cells with anti-tumor function[42,43] and showed similar effects when used alone, different mechanisms and indicated patients regarding the two pathways were suggested by clinical observations[44]. Unfortunately, the phase I/II trial (NCT00966251) of a new PD-1 blockade CT-011 was terminated because of slow accrual. Another phase I trial of nivolumab (anti-PD-1 monoclonal antibody) is ongoing. This trial plans to recruit three cohorts of patients stratified by viral infection hepatitis C virus, hepatitis B virus (HBV) and no viral infection.
With the satisfactory effects in animal models, more and more trials are being conducted to investigate the role of immune checkpoint blockade therapy in HCC treatment (Table 1). Immune checkpoint blockade therapy is considered to be a strategy with a bright future and is cast into the limelight by oncologists worldwide.
TUMOR VACCINES
Although prophylactic vaccines for HCC such as HBV vaccine contributed to the decrease of HCC patients[45], a therapeutic vaccine for HCC is still awaited. Numerous approaches have been investigated, seeking to trigger the host immune system to remove cancer cells. The most important constraint for progression of a tumor vaccine is the lack of tumor specific antigens or tumor associated antigens (TAA). With all the evolving understanding of tumor heterogeneity, it appears to be unprecedentedly challenging to exterminate cancer cells by a tumor vaccine alone. On the other hand, it could possibly be an effective approach to exhibit positive aspects in certain patients and play important roles in regimens.
Peptide-based vaccine
Alpha-fetoprotein (AFP) and glypican-3 (GPC3) are two frequently used TAAs in HCC vaccines. GPC3 can be overexpressed in more than 80% of HCC and AFP can be positive in 60%-80% of HCC. Other HCC biomarkers that might be candidates for a vaccine involving antigens include squamous cell carcinoma antigen, heat shock protein 70, NY-ESO-1b, etc[46,47].
AFP is rare in healthy adults but can be highly expressed in HCC, making it an ideal target for anti-HCC immunotherapy. Actually, AFP is currently the most well studied target antigen for HCC immunotherapy. The earliest relevant clinical trial was more than a decade ago, testing AFP-specific T cell response to an AFP-derived peptide in six patients[48]. GPC3 (144-152) (FVGEFFTDV) and GPC3 (298-306) (EYILSLEEL) peptides were proven to induce specific CD8+ CTLs in HCC patients with HLA-A2 and HLA-A24 restriction, respectively[49]. Encouraged by this result, a phase II trial of a GPC3-based vaccine as adjuvant therapy for patients after surgery or RFA was registered and is now ongoing (UMIN-CTR: 000002614).
Proper design of epitopes with cross-recognition of wild-type antigens can enhance immune responses. To overcome the limitation of weak immune responses induced by native TAAs, Hong et al[50] created a highly immunogenic AFP via computer-guided methodical epitope optimization. This genetic modified AFP vaccine showed amazing anti-tumor effects in xenograft and diethylnitrosamine-induced mouse model of HCC by means of activating CD8+ T cells[50]. Polypeptide or fusion peptide was another method to amplify anti-tumor immune responses. A combination of full-length HBV core protein, HBV-X protein (HBx)52-60, HBx140-148, AFP158-166 and melanoma antigen gene-A271-279 is an example for a HCC vaccine[51]. Innovative creation of a fusion peptide containing different epitopes that involve multiple steps of the immune response was also proved to inhibit HCC in animals[52].
For a peptide-based tumor vaccine, the choice of peptide is critical for clinical response. Not all proteins that contribute to tumor progression are suitable for vaccine development. For instance, although expression and activity of telomerase was found up-regulated in most HCCs[53,54], telomerase peptide did not lead to any complete or partial responses in a phase II study on advanced HCC[55]. Additionally, the origin of the peptide affects induction efficiency of CLTs and consequent anti-tumor effects. Peptides originated from endogenously presented antigen are thought to be sparse on tumor cells and inefficient in inducing CTLs[56]. Intratumoral peptide injection was thus developed to enhance tumor cell antigenicity[56]; however, this needs further investigation.
DNA-based vaccine
A DNA-based vaccine assumes that DNA directly injected into the body undergoes transcription and translation in host cells and that the expressed peptide induces immune responses. Theoretically, all peptide vaccines can be transformed into DNA vaccines. AFP and GPC3 DNA vaccines were both developed and tested in the lab and showed tumor growth inhibition and survival improvement in mouse models[57-59]. In a recent small scale clinical observation, two HCC (stage II) patients after locoregional therapy underwent AFP DNA vaccine and adenovirus boost immunization. This approach was confirmed to be safe and well tolerated; however, both patients experienced HCC recurrence after a mere nine and eighteen months, respectively[60]. To our best information, no clinical trial regarding DNA vaccines on HCC has been reported or is currently ongoing.
Tumor vaccine using antigen-presenting cells
APCs play a key role in anti-tumor function of immune responses. Dendritic cells (DCs) are the most potent APC and are closely related to HCC. Numerous studies have proved that DCs from peripheral blood and lymph nodes of HCC patients were decreased, with an immature phenotype and an impaired function[61-63]. A study revealed that the more DCs that were detected in HCC nodules, the better the prognosis would be. Infiltration of DCs in HCC nodules was strongly associated with the prognosis of HCC patients after surgical resection[64]. The composition of DCs in the hepatic lymph nodes of HCC patients was aberrant which may be one of the causes of the inadequate T cell response against HCC in these patients[65]. In addition, some tumor-derived factors, such as vascular endothelial growth factor, granulocyte macrophage colony-stimulating factor, IL-6 and IL-10, influence the differentiation, number and phenotype of DCs[66].
Given the importance in cancer development, DCs are increasingly applied to vaccination in various cancers, including HCC. A DC-based vaccine was reported to not only induce tumor antigen-specific CTLs[67], but also to activate NK cells and inhibit Tregs in HCC patients[51,68]. Logically, DCs pulsed with tumor tissue of an individual patient should be used. However, the tumor tissue is not always available. Therefore, peptides or cell line lysate was commonly used to substitute tumor tissue by many investigators. At least in HCC, this replacement strategy proved to be feasible and safe[69]. DCs infused with cancer cells, transfected with total RNA of cancer cells or transfected with designed plasmids were all able to mature and prime Th1 cells and CTLs[69-71].
Based upon these characteristics and success in preclinical studies, many clinical trials were carried out to evaluate the efficacy of DC-based immunotherapy to treat HCC patients. Two phase I studies showed immunization by tumor lysate pulsed DCs was feasible for end stage HCC patients[72,73]. Another clinical trial of a DC vaccine pulsed with autologous tumor lysate addressed that 12.9% of advanced HCC patients had partial response (PR) and 54.8% had SD[74]. Notably, a monthly boost vaccination resulted in a significantly better 1 year survival[74]. In another RCT on advanced HCC, DCs pulsed with HepG2 cell lysate resulted in 13.3% patients with PR and 60% with SD after 6 mo of treatment[75]. However, the proportion of clinical response with this therapy is relatively low. As an illustration, one phase II study using DCs pulsed with tumor lysate in HCC revealed only one out of 39 patients exhibited PR[76]. Furthermore, a phase I/II study using a multiple TAA-pulsed DC vaccine showed clinical response in only one out of five patients with advanced HCC[77]. Some studies also evaluated the efficacy of DC immunotherapy combined with local radiation[78] or TACE[79,80] but the results showed that DC infusion could not prevent HCC recurrence. Therefore, further studies are needed to increase the efficacy of this therapeutic approach. A new phase I trial on DC vaccine for HCC was registered last year and is now recruiting participants (NCT 01974661; Table 2).
| | | | | | | |
| --- | --- | --- | --- | --- | --- | --- |
| Interventions | Design | Start year | Main inclusion criteria | Primary outcomes | Registered No. | Status |
| AFP + GM-CSF plasmid prime and AFP adenoviral vector boost | Phase I/II | 2008 | Locoregionally treated HCC | Dose, toxicity, and immunological response rate | NCT00669136 | Terminated because of poor accrual |
| DC loaded with autologous tumor | Phase II | 2008 | Metastatic HCC, available of tumor tissue | 2-mo response rate | NCT00610389 | Unknown |
| DC loaded with specific peptides of AFP | Phase I/II | 2009 | Patients with previous treatment, AFP ≥ 40 ng/mL, HLA A 0201 group | Adverse events | NCT01128803 | Terminated |
| DEC-205-NY-ESO-1 fusion protein vaccine | Phase I | 2012 | After resection and TACE for HCC | Adverse events | NCT01522820 | Recruiting |
| COMBIG-DC: allogeneic DC cancer vaccine | Phase I | 2013 | Not eligible for curative treatment or TACE, BCLC stage B and C | Adverse events | NCT01974661 | Recruiting |
| In-situ therapeutic cancer vaccine | Phase I | 2013 | Refractory HCC, not eligible for or failed any treatment, AFP > 30 | Safety | NCT01923233 | Recruiting |
| V5 therapeutic vaccine | Phase III | 2014 | Advanced HCC | Changes in plasma AFP | NCT02232490 | Not yet recruiting |
ADOPTIVE IMMUNOTHERAPY
Adoptive immunotherapy is now promising in the scenario of potential approaches for the treatment of solid tumors which are refractory to conventional therapies. An increasing amount of the literature discusses the efficacy of adoptive immunotherapy to control tumors. Meanwhile, many clinical trials have demonstrated that adoptive immunotherapy showed potentially promising anti-tumor effects on various cancers, including HCC.
CONCLUSION
An array of translational research and pilot clinical trials have revealed that immunotherapy is safe and tolerated by patients with cancers. The efficacies are also offered in some types of immunotherapy in selected patients. In HCC, more studies, including basic and clinical research, are urgently required to improve the outcomes of immunotherapy with best cost performance. Currently, immune checkpoint blockade and CAR-T strategies are specifically expected. In addition, it is become obvious that incorporating standard anti-tumor therapies with immunotherapy is the most likely effective alternative. Ultimately, more substantial randomized, controlled trials are required to authenticate the efficacy of immunotherapy for HCC patients.
P- Reviewer: Lakatos PL, Petrovic D S- Editor: Song XX L- Editor: Roemmele A E- Editor: Liu SQ