Copyright
©The Author(s) 2015.
Published by Baishideng Publishing Group Inc. All rights reserved.
Immunology of hepatocellular carcinoma
Meenakshi Sachdeva, Sunil K Arora, Department of Immunopathology, Postgraduate Institute of Medical Education and Research, Chandigarh 160012, India
Yogesh K Chawla, Department of Hepatology, Postgraduate Institute of Medical Education and Research, Chandigarh 160012, India
Author contributions: Arora SK conceived, read, and edited the manuscript; Chawla YK provided the clinical information and read the manuscript; Sachdeva M collected the literature, and compiled and wrote the manuscript.
Conflict-of-interest statement: The authors have no conflicts of interest related to the manuscript.
Open-Access: This article is an open-access article which was selected by an in-house editor and fully peer-reviewed by external reviewers. It is distributed in accordance with the Creative Commons Attribution Non Commercial (CC BY-NC 4.0) license, which permits others to distribute, remix, adapt, build upon this work non-commercially, and license their derivative works on different terms, provided the original work is properly cited the use is non-commercial. See: http://creativecommons.org/licenses/by-nc/4.0/
Correspondence to: Sunil K Arora, PhD, Professor, Department of Immunopathology, Postgraduate Institute of Medical Education and Research, Sector:12, Chandigarh 160012, India. arora.sunil@pgimer.edu.in
Telephone: +91-172-2755192 Fax: +91-172-2744401
Received: March 31, 2015
Peer-review started: April 1, 2015
First decision: April 23, 2015
Revised: May 28, 2015
Accepted: July 18, 2015
Article in press: July 22, 2015
Published online: August 18, 2015

Hepatocellular carcinoma (HCC) is primarily a malignancy of the liver, advancing from a damaged, cirrhotic liver to HCC. Globally, HCC is the sixth most prevalent cancer and the third-most prevalent reason for neoplastic disease-related deaths. A diverse array of infiltrating immunocytes regulates the development and progression of HCC, as is the case in many other cancers. An understanding of the various immune components during HCC becomes necessary so that novel therapeutic strategies can be designed to combat the disease. A dysregulated immune system (including changes in the number and/or function of immune cells, cytokine levels, and the expression of inhibitory receptors or their ligands) plays a key role in the development of HCC. Alterations in either the innate or adaptive arm of the immune system and cross-talk between them make the immune system tolerant to tumors, leading to disease progression. In this review, we have discussed the status and roles of various immune effector cells (e.g., dendritic cells, natural killer cells, macrophages, and T cells), their cytokine profile, and the chemokine-receptor axis in promoting or impeding HCC.
Core tip: Hepatocellular carcinoma (HCC) is a heterogeneous disease caused by multiple factors, and has its immunopathogenesis complicated by the paradoxical role of various immune cells. This review provides a comprehensive insight into the immunological mechanisms that control hepatocarcinogenesis. A better and fuller understanding of the precise function of each cellular subset may open new avenues for the treatment of HCC.
---
Citation: Sachdeva M, Chawla YK, Arora SK. Immunology of hepatocellular carcinoma. World J Hepatol 2015; 7(17): 2080-2090
---
INTRODUCTION
Hepatocellular carcinoma (HCC) is a cancer that originates in the liver, and is thus different from metastatic liver cancer that hails from other organs and culminates in the liver. Worldwide, HCC is the sixth most prevalent cancer, as well as being the third most common cause of mortality and poor-prognosis malignancy due to recurrence after surgery and metastasis[1]. It accounts for approximately 70%-80% of all primary liver cancer cases[2]. HCC is most prevalent in Asian nations like China and Japan, where it has a high mortality rate within weeks or months after detection. The disease is generally diagnosed at a late stage, which significantly brings down the survival rate to less than 14% within a span of five years[3]. The available treatment options are not 100% successful and the estimated recurrence rates are around 50% over a span of 3 years post-surgery and with a survival rate of only 30%-40% at five years post-surgery[4].
The major risk factors for chronic liver disease and subsequent HCC include prior infection with viruses like hepatitis B and hepatitis C[5]. Studies in mouse models have indicated the major role of local intra-hepatic chronic inflammation in promoting hepatocarcinogenesis in animals with non-alcoholic steatohepatitis (NASH)[6]. Accumulating data in humans also indicate an increasing role for NASH as a risk factor for HCC development[7]. In addition, other emerging risk factors are: obesity (especially visceral adiposity leading to non-alcoholic fatty liver disease), alcohol consumption, tobacco use, consumption of foodstuffs contaminated with aflatoxin B1, diabetes, overuse of oral contraceptive pills, and iron overload[4].
Factors promoting tumor antigen tolerance, such as decreased recognition of malignant cells, suppression of immunity, and chronic inflammation (either mediated by virus[8] or immune dysregulation), all lead to carcinogenesis[9]. Recent studies have provided evidence that a dysregulated immune system, including changes in the number or function of immune cells, cytokine levels, and expression of inhibitory receptors or their ligands significantly contribute to the development of HCC[10,11]. Alterations in the function or expression of immune components shift the immune response towards tumor tolerance, resulting in its progression. Tumor-related immune cells, such as cytotoxic T cells, CD4+ T cells, regulatory T cells (Tregs), myeloid-derived suppressor cells (MDSCs), natural killer (NK) cells, and the cross-talk between these have all been reported to be involved in the development of HCC (Figure 1). In this review, we have discussed the immunology of HCC in terms of the status of various immune effector cells.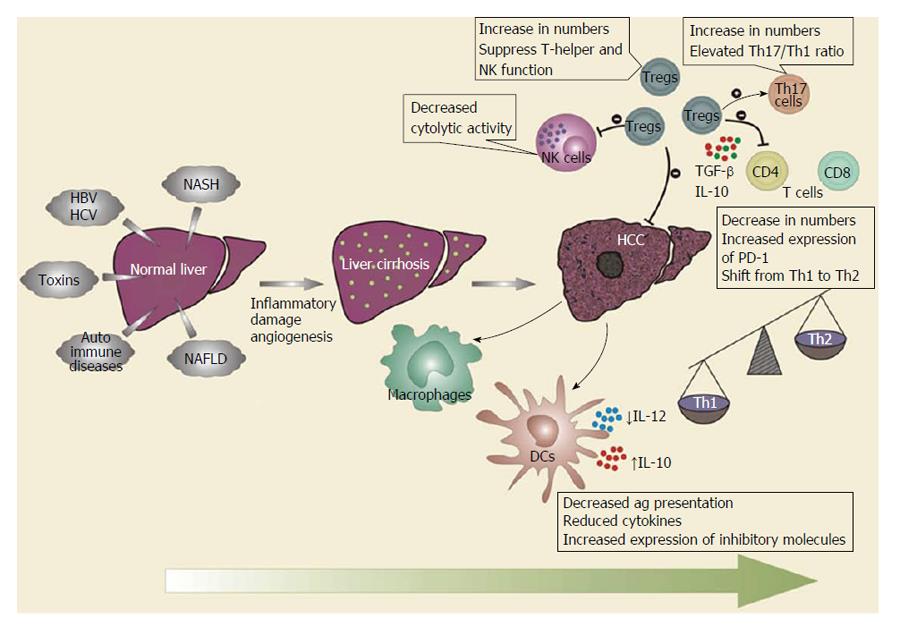 Figure 1 Role of immune cells in hepatocellular carcinoma. As the disease progresses from cirrhosis of the liver to hepatocellular carcinoma (HCC), the functions of various immune cells become dysregulated. Dendritic cells (DCs) lose their antigen presentation capabilities with the reduced secretion of Th1 cytokines. Macrophages differentiate into an "alternatively-activated phenotype" that generates a Th2-type immune response that promotes regulatory T cell (Tregs) recruitment and development. Natural killer (NK) cells have reduced cytolytic activities. T cells, both CD4+ and CD8+, decrease in numbers with attenuated function and increased expression of inhibitory receptors during HCC. Th17 cells increase in number and correlate with angiogenesis and poor-prognosis. Tregs exert negative effects on T cells, DCs, and NK cells, and may promote the differentiation of Th17 cells via immunosuppressive cytokines. There is shift in overall cytokine milieu from a Th1 to Th2 profile. HBV: Hepatitis B virus; HCV: Hepatitis C virus; IL-12: Interleukin 12; TGF: Transforming growth factor.
INNATE IMMUNE SYSTEM
Dendritic cells
Efficient recognition, processing, and presentation of tumor antigens by dendritic cells (DCs) are prerequisites for an effective immune response against tumors. Failed HCC-associated antigen presentation by DCs might not only be due to a decreased expression of human leukocyte antigen (HLA) class-I molecules[11], as maturation defects like reduced endocytosis, allostimulation, and interleukin 12 (IL-12) secretion can lead to a weak T cell immune response[12]. Even in the presence of strong maturation stimuli like high levels of inflammatory cytokines, DCs remain refractory to these stimulatory signals. Studies have previously shown that there is a numerical and functional defect in the peripheral DCs in HCC patients with hepatitis B and C virus infections, although it is unclear whether this defect is a cause or an effect[13,14]. On the other hand, there have been reports that have shown the frequency of activated CD83+ DCs in the peripheral circulation of HCC patients was comparable to patients with liver cirrhosis and normal healthy controls[15]. However, when compared to peripheral blood, activated DCs were present at a much lower frequency in the liver tissues of the other study groups. Additionally, the activated DCs in HCC patients were not able to infiltrate the cancer nodules, resulting in impaired recruitment of tumor-specific lymphocytes to tumor areas.
Recently, a new regulatory subset of DCs called CD14+ cytotoxic T-lymphocyte-associated protein (CTLA)-4+ DCs, which expresses inhibitory molecule-like CTLA-4 and programmed death receptor (PD)-1, were observed in the peripheral blood lymphocytes and tumor masses of HCC patients[16]. High levels of anti-inflammatory cytokine, IL-10, and indoleamine 2, 3-dioxygenase secreted by these cells' post-stimulation suppressed the CD4+ T-cell immune response, thereby assisting tumor progression and immune escape.
Macrophages and myeloid-derived suppressor cells
Tumor-associated macrophages (TAMs) represent the main inflammatory cells associated with cancer-related inflammation[17]. While in infiltrating tumors, TAMs differentiate towards an M2 phenotype characterized by the expression of immunomodulatory cytokines [e.g., IL-10 and transforming growth factor (TGF)-β] and poor antigen presentation capacity. TAMs also express chemokines like CCL17, CCL22, and CCL24, along with arginase and low levels of proinflammatory cytokines and reactive oxygen species[18]. In HCC, the cytokines IL-6 and TGF-β (in particular) favor tumor growth, tumor necrosis factor (TNF)-α and IL-6 are involved in invasion and metastasis, and TGF-β, in concert with IL-10, has been shown to promote the suppression of anti-tumor immune response[19]. This alternative phenotype of macrophages further participates in the activation of a T helper type 2 (Th2) immune response, thereby promoting the recruitment and development of Tregs. Chronic inflammation was reported primarily to be coupled with a higher prevailing level of macrophage colony stimulating factor and a higher infiltration of macrophages, which were reportedly associated with HCC progression and intrahepatic metastasis, thereby signifying the role of TAMs in the recurrence and metastasis of HCC[20,21].
Another heterogeneous population of cells called MDSCs, which are a subset of inflammatory monocytes, has been identified that comprises immature myeloid progenitors not already committed to any cell lineage[20]. They can exert inhibitory functions and regulate T cell responses through the up-regulated expression of several factors, such as free radicals, arginase activity, and production of TGF-β, thereby encouraging the induction of Treg cells[22]. Like typical monocytes, these cells express CD14 but have a lower or no expression of HLA-DR. An increased frequency of these cells has been reported in the peripheral circulation and tumor environment of HCC patients[23].
Similarly, neutrophils are a common inflammatory infiltrate in tumors that could also provide a prediction of poor survival in HCC patients, since their numbers correlated positively with the stage of cancer. Kuang et al[24] demonstrated that peritumoral stromal cells were fortified with neutrophil populations under the influence of Th17 cells through chemokines, like CXCL8, produced by epithelial cells. These neutrophils produce proteases like matrix metalloproteinase-9 in HCC tissues, promoting angiogenesis. Thus, neutrophils provide a connection between immune cells and angiogenesis, as well as promoting tumor growth.
NK cells
An exaggerated cytolytic population of NK cells serves as an immune invigilator in the liver microenvironment[25]. NK cells are cytotoxic and regulate the activity of other immune cells through the cytokines they release[26]. Under normal physiological conditions, NK cells mediate their functions in the liver via the production of "cytolytic granules" containing perforin, granzymes, tumor necrosis factor-related apoptosis-inducing ligand (TRAIL), and interferon (IFN)-γ[27]. However, their functions are not completely imparted in the case of many cancers, including HCC. For instance, in HCC patients, a significant decrease in the CD56dim NK subsets in the peripheral blood has been reported as compared to healthy subjects[28]. A significantly lower proportion of these NK cell subsets exhibited reduced levels of IFN-γ, and cytotoxic potential also being reported in tumor regions compared with non-tumor regions in HCC patients[29]. Multiple mechanisms have been put forward to explicate the decreased functioning of NK cells and their association with cancer and cirrhosis of the liver, including fibrotic damage to NK cells[30], phagocytic uptake of NK cells by activated hepatic stellate cells[31], and the up-regulation of inhibitory or down-regulation of activating receptors, respectively[32].
ROLE OF CYTOKINES AND CHEMOKINES
GAPS IN EXISTING KNOWLEDGE
Insights into the immune signaling pathways are being provided by recent studies analyzing the role of immune effector cells. However, a complete understanding of many immune components, such as NKT cells, gamma delta T cells, and the role of many cytokines and chemokines, has not yet been achieved. It is generally believed that T lymphocytes play a protective role in inhibiting tumor growth and development, while TAMs, MDSC, Tregs, Th17 cells, and their associated cytokines (IL-6, TNF-α, IL-1β, IL-23, and TGF-β) may play important roles in promoting the growth and survival of cancer. However, defining their roles as pro-tumor or anti-tumor still requires caution. It is also unclear as to how TAMs and TGF-β regulate the generation and function of Tregs in the development and establishment of the solid tumor microenvironment. Of further importance is understanding whether TGF-β production preferentially induces Tregs or promotes the development of Th17 cells within the tumor microenvironment. Further research into better understanding the balance between all immune components at all stages of carcinogenesis is essential for the development of effective cancer therapies that target or utilize immunological mechanisms.
Recent observation of many solid tumors suggests the use of checkpoint inhibitors that decide a balance between co-stimulatory and inhibitory signals in inducing a strong anti-tumor response that needs to be evaluated in HCC. Tumor vaccines and therapeutic agents for targeting various checkpoints represent some novel strategies for inducing immune resistance. These combinatorial approaches induce tumor regression in patients that would not have responded to either treatment alone. Strategies to deliver genetically modified T cells into the tumor microenvironment, such as via a hepatic artery, are underway and being evaluated in clinical trials that have already proven successful in the treatment of other cancers[88]. Novel epitopes specific for tumor-associated antigens should be designed using high throughput "omics" technology with the aim to induce anti-tumor CD4+ and CD8+ T-cell responses. In this context, high resolution mass spectrometry has been used for directly sequencing peptides presented by HLA molecules from tumor cells so as to identify naturally processed class I and II tumor-associated peptides[89]. Combining key components of the tumor microenvironment, as compared to chemotherapy alone, would improve the clinical outcome. Finally, therapeutic agents capable of reversing the immunosuppressive nature of HCC tumors via administration alone or in combination with other modalities will be critical in optimizing clinical outcomes for HCC patients.
CONCLUSION
Since HCC accounts for 90% of all liver cancers and is usually multifocal at the time of diagnosis, treatment is difficult and affronted with a higher recurrence rate in these patients. The incidence of the disease is accelerating at a regular rate and will likely increase further over the coming years. Hence, in this context, there is an imperative demand for newer and better therapeutic strategies to combat this predicament. This requires a fuller discernment of the function of various components of our immune system and how they interplay in creating immune responses against tumors. Immune suppression is predominantly mediated by cytokine secreted in the local milieu by Tregs that down-regulate the effector and cytotoxic activities of CD8+ T-cells and NK cells. The antigen presenting functions of DCs are also affected due to the expression of several inhibitory receptors that further suppress the functions of helper T cell. TAMs and MDSCs contribute to the ongoing inflammation and participate in the activation of a Th2 immune response that favors Treg recruitment and development, thus promoting angiogenesis. These cell types can help in the differentiation of Th17 cells that also infiltrate the tumor microenvironment, and correlate with poor survival in HCC patients; however, their roles still remain incompletely defined. Similarly, despite being the predominant population in the liver, the role of NKT cells in hepatocarcinogenesis remains to be completely elucidated. Soluble factors, including cytokines and chemokines, play a crucial role in immunosurveillance and immunoregulation. The cytokine milieu in livers with metastatic HCC is skewed towards a Th2 profile, with a concomitant decrease in pro-inflammatory cytokines. The roles of many cytokines like IL-22 have recently been deciphered in HCC, which adds to the current knowledge about the milieu of liver tumors. The chemokine ligand-chemokine receptor axis plays a role in regulating the differential recruitment of effector T cells to the tumor and the interconnections between different axes, as not just a single axis should be surmised. Future studies are warranted to understand the complexity of interactions between these immune cells to potentiate the immune system and for the designing of newer immune-therapeutics against HCC.
P- Reviewer: Calvisi DF, Chua MS, Geller DA, Simonovic SZ S- Editor: Ma YJ L- Editor: Rutherford A E- Editor: Liu SQ