Copyright
©The Author(s) 2015.
Published by Baishideng Publishing Group Inc. All rights reserved.
Spectrum of biliary complications following live donor liver transplantation
Priya Simoes, Varun Kesar, Jawad Ahmad, Division of Liver Diseases, Icahn School of Medicine at Mount Sinai, New York, NY 10029, United States
Author contributions: Simoes P made the substantial contribution to manuscript design and manuscript writing; Kesar V contributed to writing the manuscript; Ahmad J conceptualized and designed manuscript drafted and critically revised the manuscript and approved the final version.
Conflict-of-interest statement: No conflict of interest to disclose.
Open-Access: This article is an open-access article which was selected by an in-house editor and fully peer-reviewed by external reviewers. It is distributed in accordance with the Creative Commons Attribution Non Commercial (CC BY-NC 4.0) license, which permits others to distribute, remix, adapt, build upon this work non-commercially, and license their derivative works on different terms, provided the original work is properly cited and the use is non-commercial. See: http://creativecommons.org/licenses/by-nc/4.0/
Correspondence to: Jawad Ahmad, MD, FRCP, Division of Liver Diseases, Icahn School of Medicine at Mount Sinai, 1428 Madison Ave, New York, NY 10029, United States. javbob@hotmail.com
Telephone: +1-212-2418035 Fax: +1-212-7317340
Received: October 7, 2014
Peer-review started: October 20, 2014
First decision: December 17, 2014
Revised: January 22, 2015
Accepted: July 7, 2015
Article in press: July 8, 2015
Published online: July 18, 2015

Liver transplantation is the optimal treatment for many patients with advanced liver disease, including decompensated cirrhosis, hepatocellular carcinoma and acute liver failure. Organ shortage is the main determinant of death on the waiting list and hence living donor liver transplantation (LDLT) assumes importance. Biliary complications are the most common post operative morbidity after LDLT and occur due to anatomical and technical reasons. They include biliary leaks, strictures and cast formation and occur in the recipient as well as the donor. The types of biliary complications after LDLT along with their etiology, presenting features, diagnosis and endoscopic and surgical management are discussed.
Core tip: Living donor liver transplantation (LDLT) is associated with increased risk of post transplant biliary complications in recipients and donors, namely bile leaks and biliary strictures. Large bile leaks present early after LDLT and are treated with endoscopic stenting. Ischemic injury to cholangiocytes is the main cause of stricture formation. These may present early or late and are managed with endoscopic dilation followed by stent placement. Occasionally, surgical repair may be required. Cast formation may complicate biliary strictures, requiring endocopic extraction and frequent replacement of stents with cleaning of biliary sludge and debris.
---
Citation: Simoes P, Kesar V, Ahmad J. Spectrum of biliary complications following live donor liver transplantation. World J Hepatol 2015; 7(14): 1856-1865
---
INTRODUCTION
Liver transplantation (LT) is the optimal treatment for many patients with advanced liver disease, including decompensated cirrhosis, hepatocellular carcinoma and acute liver failure. The vast majority of LT involves the use of organs from deceased donors but despite strategies to increase the supply of deceased donors, organ shortage continues to be the main determinant of death on the waiting list[1]. Due to the lack of organs and also cultural and societal beliefs against the use of deceased donors, living donor LT (LDLT) with split liver grafts was developed in the late 1980s[2,3]. LDLT has potential benefits over deceased donor LT (DDLT) including lower overall costs with elective transplantation, better graft viability and reduced cold ischemia time, and theoretical immunological advantages suggested by the lower incidence of steroid resistant rejection[4-6]. Recipient survival is higher in LDLT but this has to be tempered against the risk of donor complications. Recipient morbidity in LDLT is primarily related to the risk of biliary complications which are twice as common as seen with DDLT[7]. Hospitalization rates and duration of hospital stay post LDLT are also significantly higher than after DDLT even in experienced centers and this is primarily attributed to the higher incidence of biliary complications[8].
The incidence of biliary complications after orthotopic liver transplantation varies between 11%-35%[7,9], with a decreasing trend in recent years. These include strictures, leaks, casts, sludge, stones and Sphincter of Oddi dysfunction of which strictures, bile leaks and cast formation are the commonest, affecting patient and graft survival as well as re transplantation rates. Biliary complications occur because of several anatomical and technical reasons and the management depends on a multi-disciplinary approach involving surgery, hepatology and radiology.
ANATOMICAL CONSIDERATIONS IN THE BILIARY TRACT
It is important to have an understanding of hepatic vascular anatomy as it explains the high incidence of biliary complications after LT. The liver parenchyma has a dual blood supply via the hepatic artery and portal vein, but the biliary system is only supplied arterially. The biliary epithelium is more liable to ischemic injury than hepatocytes. While bile ducts are relatively more tolerant than hepatocytes to anoxic injury, they are more susceptible to reoxygenation/reperfusion injury[10]. This in part explains the biliary complication rate as does the higher incidence of ischemic cholangiopathy in donation after cardiac death (DCD) organs compared to donation after brain death organs[11,12].
The biliary tree is divided into 3 segments: the hilar segment consisting of the right and left hepatic ducts, the supra-duodenal segment consisting of the common hepatic duct (CHD) and the upper common bile duct (CBD) and the retro-pancreatic segment consisting of the lower CBD. The supra-duodenal duct receives its blood supply in the form of a plexus of many small arteries, mainly the 3 o'clock artery and the 9 o'clock artery running along the lateral borders of the duct arising from the retro-portal, retro-duodenal artery, gastro-duodenal artery, right branch of the hepatic artery, and/or cystic artery. Around 60% of the arterial supply runs superiorly, mainly from the gastro-duodenal artery, around 40% runs inferiorly from the common hepatic artery with a tiny fraction coming off the main trunk of the middle hepatic artery[13,14] (Figure 1).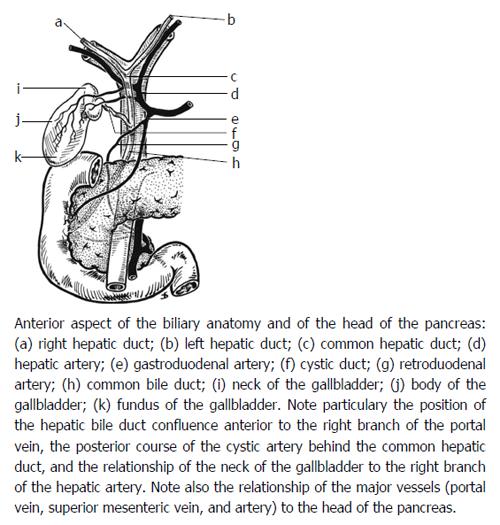 Figure 1 Arterial supply of the biliary tree[19] (reprinted with permission from Elsevier).
The hilar and intrahepatic ducts are supplied by the peri-biliary vascular plexus, a network of capillaries arising from the terminal arterial branches of the right and left hepatic artery which also connects with the peri-ductal plexus supplying the supra-duodenal bile duct. A communicating arcade of blood vessels connecting the right and left arterial system of the liver is located within the hilar plate originating from the segment 4 artery and the right branch of the middle hepatic artery. This communicating arcade is spared during LDLT to provide adequate blood supply to the donor duct[15].
Most of the arterial supply of the middle portion of the CBD comes from the retro-duodenal and retro-portal arteries below, and less comes from the right hepatic artery above. During surgery, when these are dissected the middle part of the CBD is prone to ischemic injury. The nature of the arterial supply is the basis for why ischemia chiefly affects the middle third of the CBD, followed by the hepatic duct confluence, with intrahepatic involvement being the least common. Segment 4 and the central portion of the left hepatic duct are often supplied by the right arterial system which is generally transected while performing a right hepatectomy compromising the blood supply to the donor biliary system contributing to donor morbidity[11,13,14].
Generally the stump of the donor bile duct is divided away from the confluence of bile ducts to avoid a stricture of the bile duct remaining in the donor liver resulting in a higher incidence of multiple ducts in the right liver graft[14,16]. Two or more ductal anastomoses has been shown to be a risk factor for developing biliary complications[17,18]. However, studies published[19] since 2008 have shown a considerable drop in overall incidence of biliary complications in recipients owing to more experience and better technique of the biliary anastomosis.
Biliary complications occurring after LDLT are classified according to the Clavien system described below[20,21] (Table 1).
| | |
| --- | --- |
| Grade 1 | Any alteration from the ideal postoperative course, with complete recovery or which can be easily controlled and which fulfills the following general characteristics: |
| | (1) Not life threatening |
| | (2) Not requiring use of drugs other than immunosuppressants, analgesics, antipyretics, anti-inflammatory agents, antiemetic, drugs required for urinary retention or lower urinary tract infection, arterial hypertension, hyperlipidemia or transient hyperglycemia |
| | (3) Requiring only therapeutic procedures that can be performed at the bedside |
| | (4) Postoperative bleeding requiring ≤ 3 units of blood transfusion |
| | (5) Never associated with a prolongation of ICU stay or total hospital stay to more than twice the median stay for the procedure in the population of the study |
| Grade 2 | Any complication that is potentially life threatening or results in ICU stay > 5 d, hospital stay > 4 wk for the recipient, but which does not result in residual disability or persistent disease |
| Grade 3 | Any complication with residual or lasting functional disability or development of malignant disease |
| Grade 4 | Complications that lead to re transplantation (grade 4a) or death (grade 4b) |
RECIPIENT BILIARY COMPLICATIONS
The incidence of biliary complications after LDLT is very variable but can be divided into two main categories: bile leaks and strictures of the biliary tree (Table 2). The type of graft used in LDLT affects the complication rate, depending on whether the right or the left lobe is used. To try and ensure adequate graft function and prevent small for size syndrome, the graft size required is dependent on the weight of the recipient (typically at least 0.8%-1% of the recipient weight). Hence, in adult to adult liver transplantation the larger right lobe is almost always used. This typically increases the complication rate but the management strategies remain similar.
Ref.
Year
Country
Grafts (n)

---

Biliary complications (%)

---

Right
Left
Leaks
Strictures
Overall rate
Ghobrial et al[22]
2001
United States
20
25
-
-
Gondolesi et al[23]
2004
United States
96
0
21.9
22.9
40.6
Liu et al[24]
2004
China
41
0
7.3
24.3
24.3
Giacomoni et al[25]
2006
Italy
23
0
21.7
21.7
34.8
Soejima et al[26]
2006
Japan
50
132
11.5
25.3
36.8
Shah et al[27]
2007
Canada
128
0
14.8
17.1
26.0
Mita et al[28]
2008
Japan
5
226
-
9.5
-
Freise et al[7]
2008
United States (A2ALL)
384
0
27.2
18
35.5
Marubashi et al[29]
2009
Japan
57
26
1.2
7.2
8.4
Lin et al[30]
2009
China
-
-
-
-
8.9
Wadhawan et al[31]
2010
India
338
0
8.8
10.3
19
Kim et al[32]
2010
South Korea
22
0
0
9.1
9.1
Soin et al[14]
2010
India
218
26
2
3.7
5
Bile leaks
Bile leaks are a common biliary complication after LDLT compared to DDLT. In the United States, the multicenter A2ALL study reported two thirds of biliary complications after LDLT were due to bile leaks compared to less than a third after DDLT. Studies have reported a 6%-27% overall incidence of bile leaks after LDLT[31,33-35]. Most of these bile leaks were Clavien grade 2 or 3 complications resulting in prolonged hospital stay or permanent disability while a few resulted in graft failure, re transplantation and occasionally death of the recipient, though grade 4 complications in LDLT were less common than in DDLT. Anastomoses involving three or more donor bile ducts were associated with an increased risk while hepatitis C virus cirrhosis as the indication for LT and greater surgical expertise were associated with a lower risk for developing bile leaks[7].
There are two main types of bile leak after LDLT-anastomotic leaks, and cut surface leaks[36]. Anastomotic leaks are the more common type and occur more frequently with Roux-en-Y anastomoses than with duct to duct anastomoses[23]. Cut surface bile leaks usually originate from small bile ducts in the caudate lobe that are transected during surgery and are usually detected incidentally at reoperation[37].
Bile leaks have been shown to decrease overall survival and graft survival post transplant[23,38] and are also a significant risk for subsequent development of a stricture[23,27,31,38].
Bile leaks usually present within 2 mo after LDLT, with most presenting 2-14 d post transplant[7,23,39]. They may present as bilious ascites, biloma or persistent post-operative bile drainage or can be incidentally discovered during computed tomography or endoscopic retrograde cholangiopancreatography (ERCP) performed for other reasons[27].
Treatment is often not required for small leaks as they usually heal spontaneously. Larger leaks can be managed with endoscopic treatment by transpapillary stenting (with or without sphincterotomy) which typically seals the leak. Endoscopic methods have shown excellent success in the management of bile leaks, with a reported resolution rate of 82%-92%[31,34]. Percutaneous drainage and stenting by endoscopic retrograde cholangiography (ERC) may be performed simultaneously if there is a significant collection. If copious biliary drainage persists or if there is simultaneous stricture development, surgical reconstruction or conversion of the anastomoses may be performed[27,34]. Most bile leaks in recipients of LDLT resolve within 3 mo after presentation, with a median time to resolution of 1 mo[38]. Figure 2 demonstrates a leak at the anastomosis in a right lobe recipient which was successfully treated with stent placement.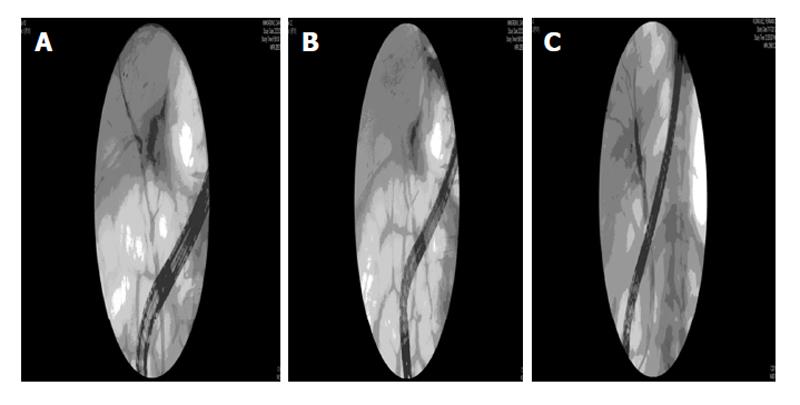 Figure 2 Endoscopic retrograde cholangiograms from a patient with an anastomotic leak after live donor liver transplantation.
A: Cholangiogram demonstrating leak (extravasation of contrast) coming off the anastomosis after right lobe live donor liver transplant; B: Cholangiogram with plastic stent deployed across the anastomosis to heal the leak; C: Cholangiogram showing resolution of the leak several months later.
Biliary strictures
Biliary strictures are also common after LDLT. The A2ALL study reported the incidence of biliary strictures to be 18%-21%[7] with other studies reporting an incidence of 13%[31]. Most biliary strictures described in these studies were Clavien grade 2 or 3 complications. Biliary strictures are of 2 types - anastomotic strictures (AS) and non-AS (NAS).
Anastomotic strictures: Anastomotic strictures occur at the site of duct to duct anastomosis and are typically isolated and shorter in length.
The development of AS is associated with multiple operative factors such as biliary ischemia, cold ischemia time, type of anastomosis (duct to duct vs hepatico-jejunostomy), single vs double duct anastomosis, surgical expertise, prior bile leak and donor factors such as age, gender, weight, blood type and liver steatosis. In DDLT, transplantation in the post MELD era and the use of DCD organs also appears to influence AS formation[18,31,40-44].
The incidence of AS is reported to be around 8%-31% after LDLT[23,24,34], with a cumulative incidence of 6.6%, 10.6% and 12.3% after 1, 5 and 10 years respectively after DDLT[41].
Anastomotic strictures may present either early or late post-transplant. The median time to presentation reported varies between 2.5-9 mo post-transplant[23], with most presenting within 6 mo[18].
The most common presentation is an asymptomatic patient with elevated cholestatic liver enzymes. Abdominal pain, jaundice, fever, increased liver enzymes and recurrent cholangitis may also be presenting features and if present, warrant further investigation for an AS.
If an AS is suspected, liver ultrasound with Doppler imaging or computed tomography angiography to rule out hepatic artery thrombosis should be performed. Ultrasound alone has poor sensitivity for detecting a stricture and is generally followed by magnetic resonance cholangiopancreatography which is a non-invasive diagnostic test with 94.9% sensitivity and 88.9% specificity. The gold standard for diagnosing biliary strictures remains ERCP.
Serial endoscopic balloon dilatation with stenting is the main treatment for an AS. Balloon dilatation followed by plastic stent placement has shown better results than stenting alone. In general, stents are changed every few months, and if the stricture is adequately treated, they are removed between 3-12 mo[45]. Verdonk et al[41] showed that 75% of AS could be successfully stented by ERCP, with a median of 3 ERCP sessions for diagnosis and successful treatment of the stricture. They also showed a higher number of ERCP sessions and greater number of stents were required to treat strictures presenting after 6 mo compared with those presenting earlier. The success of endoscopic treatment varies between 53%-88% depending on center experience[23,31,34,46] and is preferred as the initial method of treatment. In cases where endoscopic management has failed, percutaneous trans hepatic biliary dilatation and stenting of strictures may be attempted, however the success rate of this method is lower and has a higher complication rate[23,41].
Surgical management may be attempted if both endoscopic and percutaneous treatment fails, especially if there are concomitant bile leaks. This may involve surgical repair or revision of the anastomosis from a duct to duct anastomosis to hepaticojejunostomy[47].
The most common complications of endoscopic, percutaneous and surgical methods of treating biliary strictures are recurrent cholangitis, post procedural bleeding, post ERCP pancreatitis, peritonitis and rarely death[45,48].
Figure 3 illustrates a typical anastomotic stricture which was treated with multiple dilations and stent placement.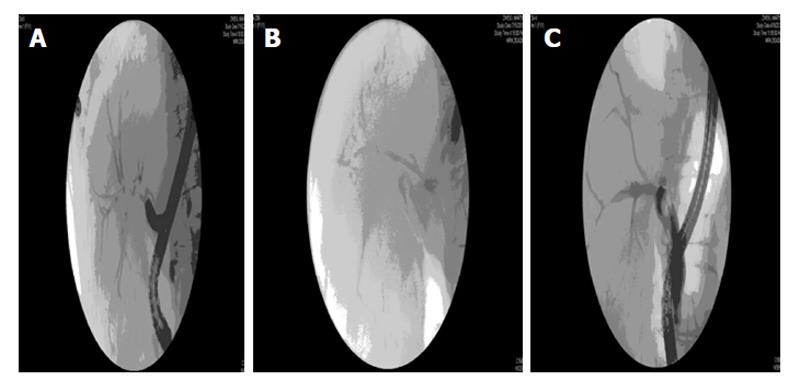 Figure 3 Endoscopic retrograde cholangiograms from a patient with an anastomotic stricture after live donor liver transplantation.
A: Cholangiogram demonstrating complex anastomotic stricture after right lobe live donor liver transplant; B: Cholangiogram with plastic stent deployed across the stricture; C: Cholangiogram showing marked improvement in stricture after multiple dilation and stenting.
Non anastomotic strictures: Non anastomotic strictures usually occur in the hilar region but may occur diffusely in the recipient biliary tract. They are thought to be related to ischemic and /or immune injury to the biliary mucosa during LT.
A number of operative factors such as total ischemia time, hepatic artery thrombosis, total operative time, type of bile duct anastomosis, and recipient factors such as pre transplant liver disease especially primary sclerosing cholangitis (PSC), bile salt composition and chronic ductopenic rejection as well as donor factors like ABO incompatibility, cytomegalovirus (CMV) infection, donor and recipient gender matching and miscellaneous factors like preservation techniques have all been variably associated with development of NAS[49-51].
Studies by Moench et al[52] and Buis et al[53] attempted to classify NAS into those caused by macro-angiopathy (hepatic artery thrombosis), micro-angiopathy (prolonged ischemia times and preservation injury) and immunological causes (ABO incompatibility, CMV infection, autoimmune hepatitis, or PSC and rejection).
In DDLT early NAS are found more often at the bifurcation of the CHD common hepatic duct or around the CBD common bile duct while late NAS are more often peripherally located within the liver[54].
Hepatic artery thrombosis and prolonged ischemia times both result in ischemic injury to the biliary endothelium, which heals by fibrosis and stricture formation. Previous studies have shown that the biliary epithelium is exquisitely sensitive to ischemia[10]. During LT, the blood supply to the bile ducts via the pancreatic head and gastro duodenal artery is interrupted, making the bile ducts solely dependent on the hepatic artery for perfusion, and thus more susceptible to ischemic injury. In LDLT cold ischemia time is short so interruption to hepatic artery flow is the main concern. Immunologically mediated injury of the biliary epithelium may be from direct cytokine mediated activation of inflammatory cells and thus more often affects the peripheral bile ducts.
The reported incidence of NAS varies between 9%-32%[49,55]. Guichelaar et al[49] found the mean duration to presentation varies between 23.6 ± 34.2 wk to after LDLT. Other studies have described the presentation being between 3.3-5.9 mo, with a median of 4.1 mo[55,56].
Non-anastomotic strictures present in the same way as AS with elevated cholestatic liver enzymes, abdominal pain, pruritus or cholangitis. Biliary ductal dilatation may also be seen incidentally on imaging. Studies have suggested a variation in the time to presentation with NAS secondary to ischemic causes presenting before 1 year and NAS secondary to immunological causes presenting after 1 year[55].
Initial evaluation may include liver United States with Doppler examination of the vasculature. However, this method has only 33%-66% sensitivity and may not be suitable for detecting biliary complications in liver transplant recipients. Magnetic resonance cholangiogram has good sensitivity and specificity and is the best initial non-invasive diagnostic test. Endoscopic retrograde cholangiogram allows simultaneous diagnosis and intervention and is less invasive than percutaneous cholangiography[57]. Rarely, a liver biopsy may be required to differentiate rejection or CMV infection in a patient with elevated cholestatic enzymes and concern for biliary obstruction due to NAS. The ERCP findings in NAS include pre-stenotic dilatation and mucosal narrowing. Non-anastomotic strictures tend to be multiple and longer than AS and less amenable to endoscopic treatment.
Endoscopic management for NAS includes balloon dilatation of all accessible strictures with plastic stent placement and replacement every few months and cleaning out of biliary sludge and casts that may be present in the damaged duct. The success of endoscopic management of NAS in LDLT has been disappointing, with a success rate of 25%-30%[34,57-59] which is below that for NAS seen with DDLT or for AS in LDLT. Percutaneous interventions have a success rate of 40%-85%, but are more invasive and associated with hemorrhagic complications and bile leaks. Non-anastomotic strictures require regular surveillance. Long term outcomes of NAS include recurrent cholangitis, development of biliary cirrhosis and decreased graft survival. Endoscopic and percutaneous methods are often only a temporary solution and re-transplantation has to be considered[27,49,56].
Biliary complications after LDLT are less likely to respond to endoscopic therapy than in DDLT, so preventive strategies to avoid these are important[60]. In right lobe LDLT, high hilar dissection to create a short donor stump and a long recipient stump and ductoplasty to ensure adequate vascularization of the duct ends and intraoperative cholangiogram to early identify biliary leaks are being examined as strategies to reduce the incidence of both AS and NAS[27,47,61]. However, leaving too long a common hepatic duct remnant in the recipient also poses a risk, as some part of this may develop ischemia and later develop a stricture[62].
Other techniques like side to side duct anastomosis and use of interrupted vs uninterrupted biliary sutures have shown minimal benefit[63,64]. Generally, good perfusion of the biliary end and avoidance of vascular injury is the best way to prevent biliary complications[57,59]
Another potential complication of NAS is the formation of casts that deposit in the biliary tree, typically in the setting of ischemic injury. There are 2 main types, composed of either collagen from sloughed off necrotic biliary epithelium or precipitated bile with high bilirubin content. The second type are more frequently seen with biliary strictures[31,65,66] and lead to obstruction and an increased incidence of cholangitis.
Biliary casts develop in 4%-18% of LDLT recipients and are associated with an increased morbidity in the recipient[67-69]. Ischemic events, hepatic artery thrombosis and the presence of biliary strictures are all independently associated with the development of biliary casts[62]. Recurrent cholangitis, prolonged cold ischemia time and acute cellular rejection have also been hypothesized as risk factors.
Biliary cast syndrome presents within a year of transplant, usually within 16 wk, though some delayed cases have been described[67,70]. Elevated cholestatic liver enzymes or incidental bile duct dilatation with echogenic material filling the bile duct may be seen on ultrasound. However, ultrasound has low sensitivity and biliary casts can only reliably be detected by ERC or percutaneous transhepatic cholangiography (PTC), where they may appear as irregular filling defects within the biliary tree[65].
Endoscopic or percutaneous removal of casts with the use of basket or balloon devices, irrigation and hydraulic or mechanical lithotripsy is the typical management strategy. The success of endoscopic and percutaneous methods is reported at 25%-70%[67,70].
A complex NAS is shown in Figure 4 with biliary cast formation. Several ERCPs and dilation, cast extraction and stenting were required over several years with preservation of graft function.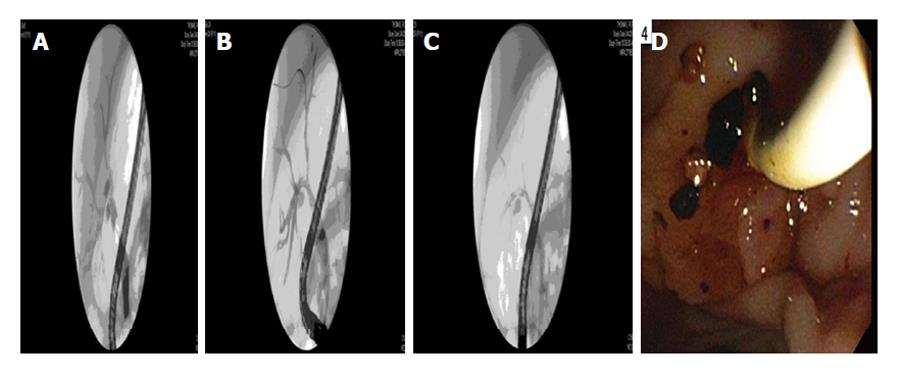 Figure 4 Endoscopic retrograde cholangiograms from a patient with a non-anastomotic stricture after live donor liver transplantation complicated by biliary cast formation (endoscopic image).
A: Cholangiogram demonstrating non-anastomotic stricture after right lobe live donor liver transplant with irregular filling defects (casts) in a dilated segment (running at 8 o'clock in the image); B: Cholangiogram demonstrating clearance of the filling defects; C: Cholangiogram demonstrating two plastic stents deployed into the right anterior and right posterior systems after the casts were removed. Note how well the biliary tree has drained; D: Endoscopic image of the cast material being removed through the ampulla.
DONOR COMPLICATIONS
Adult to adult LDLT also carries some risks to the donor beyond the typical complications associated with abdominal surgery. Various studies (Table 3) have reported a 6%-18% incidence of donor biliary complications[39,71-73]. Most of these complications were classified as Clavien grade 3 or 4.
Ref.
n
Graft type
Leak (%)
Stricture (%)
Overall rate (%)
Iida et al[76]
500
Right
10.6
1.6
12.2
762
Left
4.7
0.3
4.9
El-Meteini et al[77]
207
Right
22
1.6
13.04
Taketomi et al[78]
69
Right
-
-
10.1
137
Left
-
-
2.9
Lo et al[79]
561
Right
6.1
1.1
7.1
939
Left
Shio et al[75]
434
Right
9.9
2.1
11.1
297
Left
1.7
1
2.4
Ghobrial et al[72]
393
Right
9
0.5
9.6
Ozgor et al[74]
500
Right
-
-
10.8
Left
European Liver
276
Right
5
3
8
Transplant Registry[80]
Left
In contrast to the recipient, bile leaks and biliary fistulas are more common in the donor than strictures. The A2ALL study in the United States reported on almost 400 patients who donated the right lobe and found an incidence of 9% of bile leak or biloma, with a 0.5%-1.5% incidence of post-operative biliary strictures since no biliary anastomosis is required in the donor[72,74]. Due to larger graft size, complications are most after right lobe donation and least with left lateral grafts[74-76]. Factors associated with developing bile leaks include elevated pre-operative alkaline phosphatase levels to > 86 IU/L and requiring a blood transfusion during surgery but center experience was not a factor in donor biliary complications[72]. Figure 5 demonstrates a bile leak from the right common hepatic duct stump a few days after right lobe donation.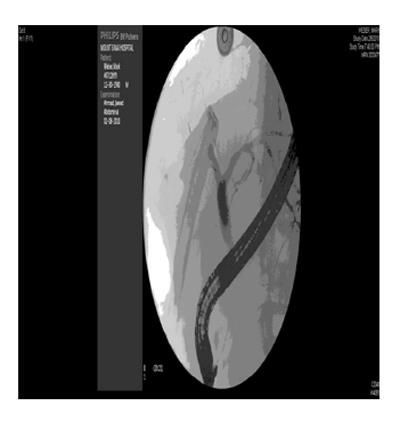 Figure 5 Endoscopic retrograde cholangiogram from a patient with a leak from the remnant right common hepatic duct a few days after right lobe live donor liver transplantation.
The drain to the left can be seen filling when contrast is injected into the right common hepatic duct. This was managed successfully by a transpapillary stent.
Donor biliary complications generally present within 2 wk of surgery. Bile leaks can be noted from bilious drain output or present with pain or suspicion for an intra-abdominal collection. Imaging can also be helpful. As in the recipient, strictures present with elevated cholestatic liver enzymes or jaundice.
Management of bile leaks and strictures is similar to the recipient with ERCP and stent placement the mainstay. Almost 80% of leaks were successfully treated by ERCP or percutaneous drainage, though a few required surgical revision or repair[75]. Strictures can be more difficult to manage after right lobe donation as they form as the liver regenerates and wire access to the remaining left lobe biliary tree can be very difficult either endoscopically or percutaneously. Surgical revision is then required. Figure 6 shows a stricture that developed at the takeoff of the left common hepatic duct a few weeks after right lobe donation which could not be treated at ERCP or PTC. The patient was asymptomatic but presented with rising cholestatic enzymes and was successfully treated with biliary bypass surgery.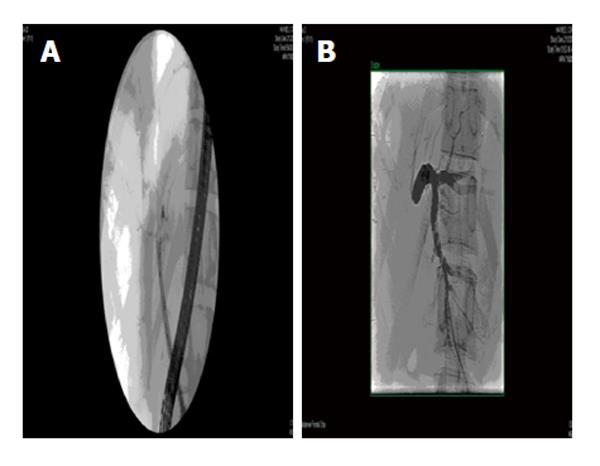 Figure 6 Stricture in donor after right lobe live donor liver transplantation.
A: Endoscopic retrograde cholangiogram showing minimal filling of the left system a few weeks after right lobe live donor liver transplantation; B: Percutaneous transhepatic cholangiogram from the same patient in Figure 4A demonstrating a tight stricture at the take off the left common hepatic duct.
CONCLUSION
The development of LDLT with split liver grafts has allowed for elective liver transplants with shortened wait times. It offers several advantages over DDLT but carries an increased risk of biliary complications, mainly bile leaks and strictures. These present within a few weeks to months post transplant. They are usually managed endoscopically, with stenting for bile leaks and dilatation followed by stenting for strictures. Occasionally, endoscopic methods fail and surgical repair or even re transplantation may be required. Strategies to avoid vascular injury and ischemia of the biliary tree are important in preventing these complications.
P- Reviewer: Celikbilek M, Peltec A, Rodriguez-Castro KI S- Editor: Tian YL L- Editor: A E- Editor: Liu SQ