Copyright
©2014 Baishideng Publishing Group Inc.
All rights reserved.
Differential diagnosis and management of liver tumors in infants
Israel Fernandez-Pineda, Rosa Cabello-Laureano, Department of Pediatric Surgery, Virgen del Rocio Children's Hospital, Sevilla 41013, Spain
Author contributions: Fernandez-Pineda I and Cabello-Laureano R designed the review article and wrote the manuscript.
Correspondence to: Israel Fernandez-Pineda, MD, Department of Pediatric Surgery, Virgen del Rocio Children's Hospital, Av. Manuel Siurot s/n, t. 0034 955012924, Sevilla 41013, Spain. israfdez@hotmail.com
Telephone: +34-955-012924 Fax: +34-955-012805
Received: January 21, 2014
Revised: March 21, 2014
Accepted: May 31, 2014
Published online: July 27, 2014

During the first year of life, most of the liver neoplasms are benign in origin, but some of these histologically benign lesions may be challenging in their management. Although most hepatic hemangiomas can be safely observed until involution is documented, some patients will need treatment due to progressive hepatomegaly, hypothyroidism and/or cardiac failure. Large mesenchymal hamartomas may require extensive hepatic resection and an appropriate surgical plan is critical to obtain good results. For malignant neoplasms such as hepatoblastoma, complete surgical resection is the mainstay of curative therapy. The decision about whether to perform an upfront or delayed resection of a primary liver malignant tumor is based on many considerations, including the ease of resection, surgical expertise, tumor histology and stage, and the likely chemosensitivity of the tumor. This article reviews the initial management of the more common hepatic tumors of infancy, focusing on the differential diagnosis and treatment options.
Core tip: Management of liver neoplasms during the first year of life may be challenging. Some of these tumors may be observed but others require extensive surgical resection and adjuvant therapies. Differential diagnosis and treatment options are discussed in our article.
---
Citation: Fernandez-Pineda I, Cabello-Laureano R. Differential diagnosis and management of liver tumors in infants. World J Hepatol 2014; 6(7): 486-495
---
INTRODUCTION
The management of infants with liver tumors may be challenging and it may require a complete work-up because of symptoms or concern about malignancy. Initial evaluation should be focused on patient history, pregnancy evaluation, gestational age at birth, weight and findings on physical exam. Diagnostic imaging modalities may facilitate the identification of benign and malignant liver tumors, however biopsy or resection for histological diagnosis sometimes becomes necessary. Some of these infantile hepatic neoplasms are highly vascularized and surgical interventions are at high risk of bleeding. Certain tumor markers may be helpful in the initial work-up and evaluation of response to therapy. Alpha-fetoprotein (AFP) level may be elevated in children with malignant lesions such as hepatoblastoma and hepatocellular carcinoma, but cautious interpretation is warranted as AFP level is frequently elevated in infants up to 6 mo of age and may be slightly elevated with benign tumors and with hepatic insult or regeneration. Therapy must be tailored according to the nature of the lesion. Observation is recommended for asymptomatic hepatic hemangioma, whereas complete surgical resection in the mainstay of treatment in hepatoblastoma. Benign primary liver tumors described in infants include hemangioma, focal nodular hyperplasia and mesenchymal hamartomas. Hepatic adenoma is almost exclusively a disease of older children. Malignant lesions include hepatoblastoma, biliary tract rhabdomyosarcoma, angiosarcoma, rhabdoid tumor, undifferentiated embryonal sarcoma and metastatic neuroblastoma (Table 1). The aim of this article is to review the clinical features and management of infants diagnosed with a liver tumor.
| | | | | | |
| --- | --- | --- | --- | --- | --- |
| | Clinical findings | Laboratory findings | Biopsy findings | Therapy | Outcome |
| Hepatic hemangioma | Cutaneous hemangiomas | Decreased T3, T4 | Glut-1 positive/negative | Observation Propranolol Embolization | Favourable |
| Focal nodular hyperplasia | Bleeding Torsion | - | Glutamine synthetase | Observation Surgery | Favourable |
| Mesenchymal hamartoma | Hepatomegaly | - | Vimentin, desmin, a-1 antitrypsin, actin, cytokeratins | Surgery | Favourable |
| Hepatoblastoma | Hepatomegaly | Elevated AFP | Small cells Embryonal epithelial cells | Chemotherapy Surgery | EFS 30%-90% |
| Billiary tract rhabdomyosarcoma | Jaundice Hilum of the liver | Cholestasis | Embryonal or botryoid subtype | Chemotherapy Radiation therapy Surgery | EFS 60%-90% |
| Angiosarcoma | Metastatic disease | - | Glut-1 negative | Chemotherapy Radiation therapy Surgery | Unfavourable |
| Malignant rhabdoid tumor | Metastatic disease | - | INI1/BAF 47 | Chemotherapy Surgery | Unfavourable |
| Undifferentiated embryonal sarcoma | Right lobe of the liver | - | SMA, a-ACT, desmin, vimentin | Chemotherapy Surgery | Unfavourable |
| Metastatic hepatic disease from NB | Hepatomegaly | Elevated catecholamines | MYC-N | Chemotherapy Radiation therapy Surgery | EFS 50%-90% |
BENIGN LIVER TUMORS IN INFANTS
Hepatic hemangioma
Hepatic hemangioma (HH) is the most common benign liver tumor of infancy and it must be differentiated from misnamed hepatic hemangiomas seen in adults, which correspond actually to hepatic venous malformations[1,2]. These adult cases are histologically described as cavernous hemangiomas with large, dilated, blood-filled vessels lined by flattened endothelium, whereas HH are true vascular tumors composed of proliferating endothelial cells. A great variety of pediatric vascular lesions is incorrectly referred to as "hemangiomas" in the medical literature and a significant number of patients receive ineffective and potentially harmful treatment based on misclassification. In 2007, Christison-Lagay et al[3] from Vascular Anomalies Center in Boston Children's Hospital postulated three principal categories of HH (focal, multifocal, and diffuse) and a clinical practice algorithm. These lesions share the same patterns of growth, histological findings and involution as their cutaneous counterparts, the infantile hemangioma (IH) and the Rapidly Involuting Congenital Hemangioma (RICH)[4-6]. Focal hemangioma seems to correspond with a RICH, a vascular tumor completed formed at birth with no postnatal growth in which involution is normally observed in the first 12-18 mo after birth. Multifocal and diffuse HH correspond with IH, the most common vascular tumor in children that shows a rapid postnatal growth (0-12 mo) followed by slow involution (1-5 years). It is probable that most HH remain undiagnosed since they are asymptomatic self-limiting lesions, although they often come to clinical attention while screening for visceral hemangioma based on the presence of multiple cutaneous IH (Figure 1), since the liver is the most commonly involved organ[3,7,8]. Some patients may develop a congestive heart failure associated with high-volume vascular shunting and treatment is warranted. Unresponsive patients to therapy may develop a severe cardiac failure with hypothyroidism (IH express type 3 iodothyronine deiodinase that converts thyroid hormone to its inactive form, resulting in an acquired hypothyroidism), abdominal compartment syndrome, and death[9-12].
Differential diagnosis with malignant liver tumors should be performed and AFP should be included in the initial lab work. Focal HH (Figure 2) shows centripetal enhancement and central sparing because of thrombosis, necrosis, or intralesional hemorrhage on computed tomography (CT) or gadolinium magnetic resonance imaging (MRI). Multifocal HH shows multiple well-defined, spherical lesions with intervening areas of normal hepatic parenchyma, whereas diffuse lesions (Figure 3) nearly totally replace the liver. On CT, lesions are hypodense relative to liver without contrast but enhance centripetally with contrast. Central sparing, thrombosis, or necrosis is not seen in multifocal and diffuse HH. Radiologists who are very specialized in looking at vascular lesions feel comfortable in many cases saying that something is an hemangioma vs another tumor based upon its radiographic presentation. Hepatoblastomas tend to be heterogeneous on T2-weighted imaging and angiosarcomas seem to have central enhancement rather than centrifugal enhancement, but if there is any question about the diagnosis, a biopsy is recommended, although this procedure is at high risk of bleeding[13-16].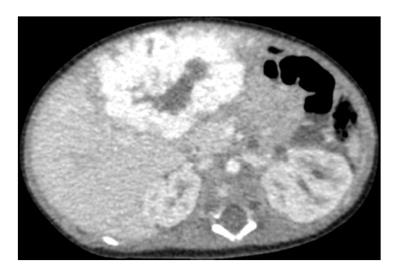 Figure 2 Abdominal computed tomography-contrast.
Focal hepatic hemangioma that shows centripetal enhancement and central sparing because of thrombosis, necrosis and/or intralesional hemorrhage.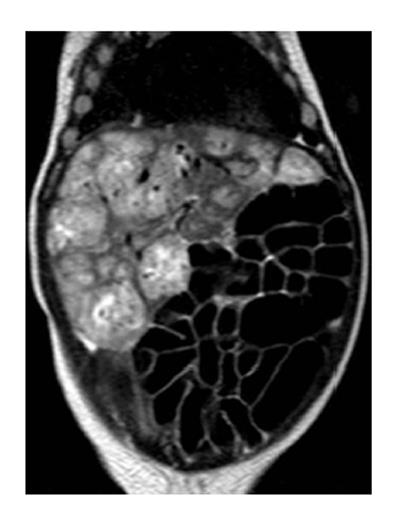 Figure 3 Abdominal magnetic resonance imaging-contrast.
Diffuse hepatic hemangioma that nearly totally replaces the liver.
Most of the diagnosed HH may be observed closely with serial abdominal ultrasonography until involution is documented. If the lesions become symptomatic (hemodynamically significant shunting), medical therapy is firstly recommended. Recently, propranolol has been introduced as an effective treatment for cutaneous IH and several recent cases have been reported showing excellent response of diffuse HH to propranolol, even in patients with associated hypothyroidism. Corticosteroids have been first line treatment of infantile hemangioma, but the use of propranolol is emerging as the treatment of choice for high-risk infantile hemangiomas[17,18]. Other therapeutic options include arterial embolization, hepatic artery ligation, resection, or liver transplantation[3].
Focal nodular hyperplasia
Focal nodular hyperplasia (FNH) of the liver is a rare benign lesion, usually seen in older children rather than infants. Girls are more affected than boys. An asymptomatic incidental finding on a diagnostic study is commonly observed[19,20]. A cumulative incidence is reported in oncologic pediatric patients after completion of therapy and differential diagnosis to other focal hepatic lesions, such as metastasis, is often challenging. Infants with neuroblastoma and metastatic hepatic disease seem to be a specific risk-group for FNH development, especially if they underwent chemotherapy and/or radiation therapy to the liver during treatment[21-23]. Gutweiler et al[24] reported a hepatoblastoma case presenting with FNH after treatment of neuroblastoma. FNH should be considered in patients with persistent late imaging changes. Classical CT-contrast picture is a lesion enhanced when compared with normal liver and a central scar that becomes hyperintense owing to concentration of the contrast. Currently, liver ultrasound (US) and MRI are the recommended diagnostic imaging tools for characterizing the lesion and subsequent follow-up. Glutamine synthetase is a nitrogen metabolism enzyme with a distribution in the human liver characterized by its strict pericentrolobular localization[25]. It has emerged as a good marker for identification of resected FNH and for differentiating FNH from all other types of hepatocellular nodules developed on normal liver[26]. Acute abdominal pain may develop owing to torsion or rupture of the lesion with bleeding. Although FNH is a benign lesion that is typically managed conservatively in adults, most children with FNH undergo biopsy or resection because of increasing size, concerning symptoms or inability to rule out malignancy, especially in pediatric cancer survivors[27].
Mesenchymal hamartoma
After hemangiomas, mesenchymal hamartoma of the liver (MHL) is the second commonest benign hepatic tumor in childhood, but these tumors are relatively rare. Most MHLs are large benign multicystic masses that present in the first 2 years of life[28]. Prenatal diagnosis of MHL has been reported, most often in the last trimester of pregnancy and it may be a cause of severe hydrops. An early prenatal diagnosis and a subsequent follow-up could help to establish the best time for delivery. Fetal intervention may be beneficial in selected cases. If the fetus is becoming hydropic, early delivery or fetal treatment (particularly if the tumor is composed of a few large cysts) should be considered. Most affected fetuses have been successfully delivered vaginally[29].
Postnatal presentation is more common with abdominal distension and/or an upper abdominal mass. Liver function tests are usually normal. AFP is occasionally elevated though not to the degree that occurs in hepatoblastoma. About 75% of MHL occur in the right lobe of the liver. In the newborn, the tumor may expand rapidly and cause life-threatening abdominal distension with respiratory distress[30]. Diagnostic imaging studies demonstrate a multiloculated cystic tumor with a variable amount of solid tissue[31]. This may be seen in undifferentiated embryonal sarcoma of the liver (UESL), but rarely in hepatoblastoma. Intratumor calcification, which can be frequently detected in hepatoblastoma or hepatic hemangioma, has been reported very rarely for a MHL.
Ultrasound demonstrates the presence of thin mobile septate and/or round hyperechoic parietal nodules within the cysts, but rarely containing debris. The hepatic architecture is normal beyond the outer rim of compressed liver. On CT-contrast the solid component, septate, and the peripheral rim may enhance. On MRI, MHL has a low signal intensity on T1-weighted magnetic resonance sequences and a variable signal intensity on T2-weighted sequences (Figure 4)[32]. In most patients, the diagnosis of MHL is suggested by imaging and confirmed by histological examination of the resected specimen. If radiological diagnosis is not clear, a percutaneous or open tumor biopsy can be performed[33].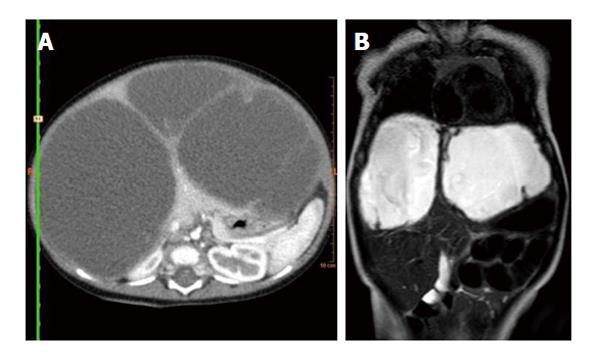 Figure 4 Abdominal computed tomography and magnetic resonance imaging.
A: Abdominal computed tomography-contrast shows enhancement of the solid component, septate, and the peripheral rim; B: Abdominal magnetic resonance imaging-contrast shows a high signal intensity on T2-weighted magnetic resonance sequences.
Although a laparoscopic or open surgical biopsy is considered by some authors, SIOPEL (International Childhood Liver Tumor Study Group of the International Society of Paediatric Oncology) currently recommends image-guided coaxial plugged needle biopsy for liver tumors (obtaining numerous cores)[34]. Fine needle aspiration cytology is of limited value because hepatoblastoma or a malignant mesenchymal tumor is difficult to exclude. MHL has been considered a focal tumor, but small satellite lesions at the tumor margin have been described, which could explain tumor recurrence after apparent complete resection. Clinical and histological evidence suggest that UESL can develop within a preexisting MHL[28,30]. Both tumors share similar features on gross pathology (cystic and solid components, sometimes pedunculated), histology (mesenchymal elements with benign bile duct epithelial structures), and immunohistochemistry (positive staining for vimentin, desmin, a-1-antitrypsin, actin, cytokeratins). Flow cytometry studies have shown that although most MHLs are diploid, some are aneuploid and cytogenetic studies have demonstrated a balanced translocation involving the same breakpoint on chromosome 19 (band 19q13.4) and chromosome 11. These abnormalities have been found in both, UESL and MHL[28].
The management of MHL remains still controversial. MHL has the potential to involute spontaneously, especially for those tumors with a prominent angiomatous component. Nonoperative management may be appropriate in selected cases (e.g., infants with a biopsy-proven MHL and a prominent vascular component). Percutaneous aspiration or drainage of larger cysts may temporarily control tumor size in life-threatening lesions and it may helpful for the definitive surgical resection. The standard of care is complete resection with the goal of achieving negative margins to avoid the risks of local recurrence and long-term malignant transformation. Enucleation may be adequate in case of very large tumors that replace most of the liver parenchyma. Liver infiltration by MHL is rarely seen and a surgical plain is normally found for resection (Figure 5). Pedunculated lesions are amenable to laparoscopic resection. Marsupialization or partial resection are suboptimal because of the risk of tumor recurrence. Liver transplantation can be considered for unresectable tumors[28,30].
MALIGNANT LIVER TUMORS IN INFANTS
P- Reviewer: Wakiyama S S- Editor: Ji FF L- Editor: A E- Editor: Liu SQ