Copyright
©2012 Baishideng Publishing Group Co.
, Limited. All rights reserved.
Acute autoimmune hepatitis mimicking metastatic liver disease: A case report
Ibrahim Masoodi, Division of Gastroenterology and Hepatology, King Abdul Aziz Specialist Hospital, Taif 21944, Saudi Arabia
Khalid Alsayari, Division of Gastroenterology and Hepatology, King Fahad Medical City, Riyadh 11525, Saudi Arabia
Author contributions: Masoodi I conceptualized the case, wrote the discussion portion and is the main author of the case; Alsayari K helped in the preparation and revision of the manuscript.
Correspondence to: Ibrahim Masoodi, MD, DM, FACP, Consultant Gastroenterologist, King Abdul Aziz Specialist Hospital, Taif 21944, Saudi Arabia. ibrahimmasoodi@yahoo.co.in
Telephone: +966-545481266 Fax: +966-27310801
Received: January 11, 2012
Revised: July 3, 2012
Accepted: July 21, 2012
Published online: July 27, 2012

We report progressive painless jaundice in a 39 year old female with a suspicion of metastatic liver disease on ultrasound and computed tomography scan of the abdomen. Although the most frequent liver lesions are liver metastasis because of dual blood supply of the liver and the impact of hormones, the index case proved to have acute autoimmune hepatitis (AIH) after liver biopsy was undertaken. AIH, an unresolving inflammation of liver, occurs predominantly among females worldwide. It may present acutely and even fulminant hepatitis has been described. The index case had a dramatic response to steroid treatment with total recovery and complete resolution of liver lesions. She is clinically fine and has been regularly attending our clinic for the last year. To our knowledge from a Medline search, this is the first report where AIH was seen to mimic metastatic liver disease.
---
Citation: Masoodi I, Alsayari K. Acute autoimmune hepatitis mimicking metastatic liver disease: A case report. World J Hepatol 2012; 4(7): 234-236
---
INTRODUCTION
Focal liver lesions are more often discovered with widespread use of diagnostic imaging modalities. Despite tremendous advancements in the field of radiology, radiological features are not definite. Difficulties may occur in differentiating atypical hemangiomas and focal nodular hyperplasia. Even differentiation of granulomatous lesions of the liver from primary benign or malignant lesions is also difficult. Liver biopsy becomes an indispensable tool to identify these lesions in a given case. The index case, with multiple liver lesions on radiography, proved to have acute auto immune hepatitis on liver biopsy. The etiopathogenesis of acute auto immune hepatitis (AIH) is unknown and is a diagnosis of exclusion. Multiple factors that trigger autoimmune phenomenon include infectious agents, drugs and toxins[1]. There can be a long time lag between exposure of a triggering agent and the disease[1] and, in time, steroid treatment determines the prognosis. Any treatment delay may result in irreversible liver cell damage.
CASE REPORT
A 39 year old female presented to our clinic at King Fahad Medical City, Riyadh with a history of progressive painless jaundice of 2 wk duration without any viral prodrome or offending drug intake. The patient is a non alcoholic and denied a history of drug abuse. On examination she was conscious, oriented and icteric. Her vitals were stable. Her physical examination was unremarkable. Laboratory tests showed normal hemogram but erythrocyte sedimentation rate was raised at 52 mm/H (normal, 0-20 mm/H). She had an elevated INR 2.7 s (N = 0.9-1.2 s). Her liver function tests revealed predominantly conjugated hyper bilirubinemia [Bilirubin 439 umol/L (N = 0.17.1 μmol/L)] with elevated liver enzymes (aspartate aminotransferase: 818 U/L and alanine aminotransferase: 514 U/L). Serum alkaline phosphatase levels were also elevated at 327 IU/L (N = 50-136 U/L). An ultrasound examination (Figure 1) showed a heterogeneous echo pattern of the liver with infiltrative hyper echoic areas, suggesting liver metastasis. Common bile duct was normal and no intra or extra hepatic biliary ductal dilatation was noted. The intra hepatic veins and portal vein was normal. The gall bladder was also normal. An abdominal computed tomography (Figure 2) showed diffuse enlargement of the liver with multiple hypo dense lesions with no vascular invasion in both lobes of liver. No visceral mass lesion was seen in the computed tomography (CT) scan. Tumor markers CA 19-9 levels were elevated at 114.8 KU/L (N = 0-37 KU/L) and AFP levels were also elevated [15.5 ug/L (N = 0-10 μg/L)]. However, CEA and CA-125 levels were within normal range. She underwent upper and lower endoscopy, which were within normal limits. Mammography revealed no abnormality. Her ANA, ASMA and ALKM levels were normal and viral markers (HBsAg, Anti-HCV, IgM HEV, IgM HAV, IgM EBV and HSV) were negative. Her celiac profile and HIV serology were also negative. Further evaluation revealed normal serum ceruloplasmin levels and normal iron studies. However, she had elevated immunoglobin levels; IgG 16.2 g/L (N = 0.7-16 g/L) and IgM M 2.6g/L (N = 0.40-2.3 g/L). Thyroid function tests were suggestive of hypothyroidism [TSH 17.93 mIU/L (N = 0.27-4.2 mL/L), T3 4.40 pmol/L (N = 0.3.1-6.8 pmol/L)]. She was started on Tab. Thyroxin 50 µg once daily and supportive treatment. She underwent liver biopsy after transfusion of 4 units of fresh frozen plasma. The liver biopsy revealed extensive hepatocellular necrosis with cholestasis. There was no evidence of granuloma or malignancy. Keeping in mind hyper gammaglobulinemia and the absence of malignancy, autoimmune hepatitis was considered as a diagnosis of exclusion and an AIH score of 17 was calculated. She was started on prednisolone (40 mg tablets) once daily. Liver cell function tests were monitored. She showed progressive improvement in her liver cell functions and her coagulation parameters improved over a period of 6 wk. Repeat ultrasound examination after a period of 9 mo (Figure 3) showed a normal hepatobiliary system and clearance of previous lesions. The patient has been followed up at our clinic for the last year, with normal liver function tests.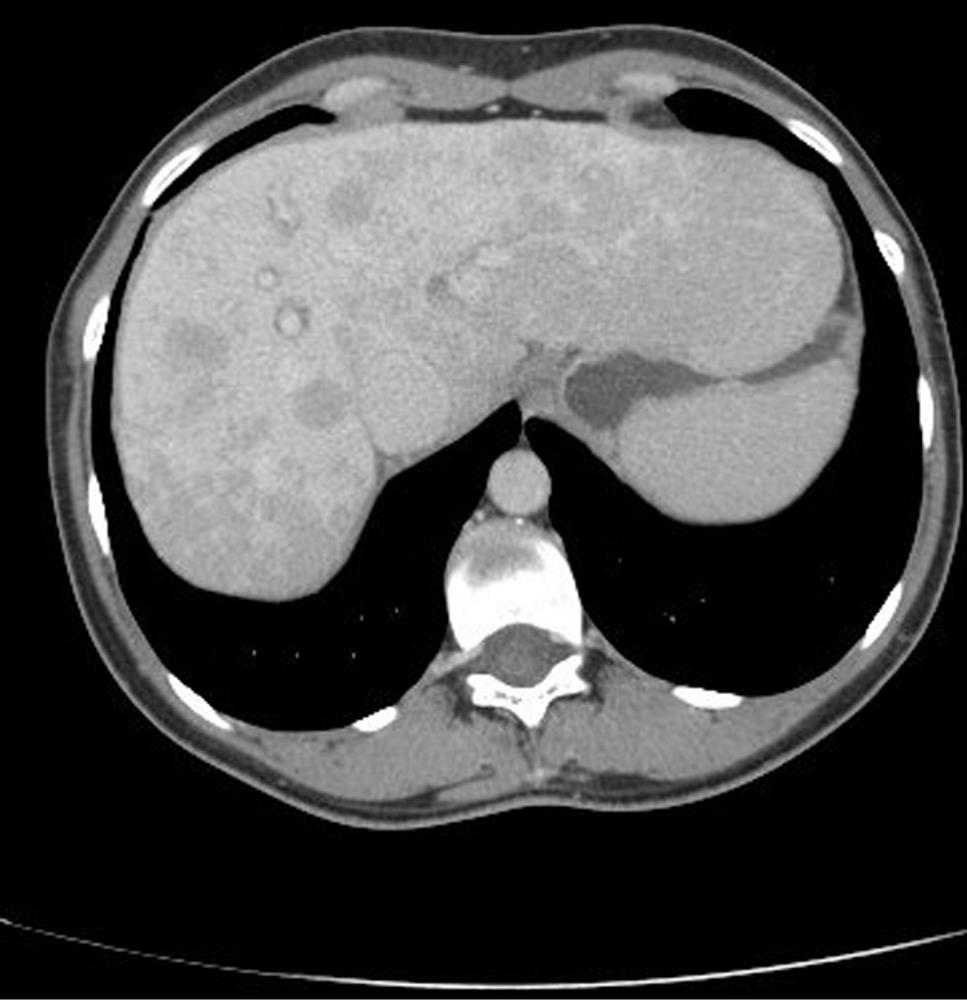 Figure 2 Computed tomography scan abdomen showing multiple hypodense liver lesions suspicious of liver metastasis.
DISCUSSION
The index case had diffuse liver lesions on radiology (ultrasound and CT scan abdomen) and various disorders giving rise to such a radiological picture include lymphoma, metastasis from carcinoma, breast, lung or melanoma. Her tumor markers were elevated; hence, it was prudent to rule out an internal malignancy. However, no malignancy was found on evaluation and liver biopsy was undertaken to evaluate the liver lesions. Liver biopsy revealed the absence of any malignancy and instead bridging necrosis was seen. Keeping in mind hyper gamma globulinemia and a negative etiological workup, she was managed as acute auto immune hepatitis and started on steroids (1 mg/kg). She responded to this treatment and there was an improvement in her liver function tests. All her liver lesions disappeared on ultrasound (Figure 3) after 9 mo. Liver histology proved to be a key investigation in the index case. The histological patterns can be variable in acute auto immune hepatitis. It may resemble acute viral hepatitis or drug induced hepatitis[2,3], even centrilobular or perivenular patterns resembling acute toxic injury have been described[4]. It is very important to differentiate drug induced liver injury from AIH on histology as the treatment modalities are diagonal. Suzuki et al[5] compared Ishak scores, prominent inflammatory cell types in 35 cases of drug induced liver injury with 28 cases of AIH. The authors observed that interface hepatitis, focal necrosis and portal inflammation were more severe in AIH and also Ishak inflammation scores were more severe in AIH than in drug induced liver injury. In contrast, drug induced liver injury was characterized predominantly by hepatocellular cholestasis and portal neutrophils. The authors in this study were of the opinion that the pattern of injury could be used to differentiate drug induced liver injury from AIH.
Auto immune hepatitis presenting as acute hepatitis is known to occur in 25% of patients[6]. The AIH scoring system based on clinical and histological features proposed by international AIH group[7] is widely used to manage AIH. However, acute onset AIH is one of the conditions which may not fulfill these criteria[8], warranting an alert clinical attitude. The clinical suspicion of acute AIH needs to be high as the disease has an excellent response to steroids and, in time, treatment can prevent fatality, which otherwise can occur to the tone of 40% over a six month period in an untreated case[9]. The classical auto antibodies ANA and ASMA are usually supportive in making the diagnosis but ANA negativity has been described up to 28% of AIH and ASMA can be negative up to 56% of patients[10], as in the index case. Fujwara et al[8] observed that immunoglobulin levels correlated with increased disease activity on histology and in their series of 39 patients of auto immune hepatitis, 7 (39%) patients had normal IgG levels. Immunoglobulin levels in the index case were elevated and she had extensive hepatic necrosis on histology. There are no morphological features that are pathognomonic of acute AIH, but the characteristic histological picture is that of an interface hepatitis with predominantly lympho plasmacytic necroinflammatory infiltrates, with or without lobular involvement and bridging necrosis, often with the formation of liver cell rosettes[7]. There are only a few reports on the histological features of acute-onset AIH. Lefkowitch et al[11] first reported AIH cases presenting histologically as acute hepatitis. Data from Japan showed features of acute hepatitis occurring in 5.6% of patients on histological examination[12].
In conclusion, it may be said that the present case brings to the fore the role of liver biopsy in suspected metastatic liver disease when investigations do not reveal any primary source. Furthermore, despite negative auto antibodies, the possibility of acute AIH must be borne in mind while evaluating acute hepatitis of unknown etiology as the response to steroids is excellent and life saving.
Peer reviewer: Dr. Agustin Castiella, MD, Department of Gastroenterology-Hepatology, Mendaro Hospital, Mendaro 20850, Spain
S- Editor Wu X L- Editor Roemmele A E- Editor Wu X