Copyright
©2012 Baishideng Publishing Group Co.
, Limited. All rights reserved.
Hepatic encephalopathy: An approach to its multiple pathophysiological features
Juan Carlos Perazzo, Silvina Tallis, Amalia Delfante, Pablo Andrés Souto, Abraham Lemberg, Francisco Xavier Eizayaga, Salvador Romay, Laboratory of Portal Hypertension and Hepatic Encephalopathy, Pathophysiology, School of Pharmacy and Biochemistry, University of Buenos Aires, Junin 950, CP 1113, Buenos Aires, Argentina
Juan Carlos Perazzo, Silvina Tallis, Amalia Delfante, Pablo Andrés Souto, Francisco Xavier Eizayaga, Salvador Romay, Laboratory of Experimental Pathology, School of Medicine, University of Buenos Aires, J E Uriburu 950, CP 1114, Buenos Aires, Argentina
Salvador Romay, Clinical Unit, General Hospital I Pirovano, GCBA, Monroe 3555, CP 1430, Buenos Aires, Argentina
Author contributions: Perazzo JC, Tallis S, Delfante A and Souto PA wrote the paper; Lemberg A and Eizayaga FX revised the paper critically for important intellectual content; and Romay S and Perazzo JC designed and directed the work.
Correspondence to: Juan Carlos Perazzo, Professor, Laboratory of Portal Hypertension and Hepatic Encephalopathy, School of Pharmacy and Biochemistry, University of Buenos Aires, Junin 950, CP 1113, Buenos Aires, Argentina. perazzopat@gmail.com
Telephone: + 54-11-45083602 Fax: +54-11-49648368
Received: August 28, 2011
Revised: November 19, 2011
Accepted: February 24, 2012
Published online: March 27, 2012

Hepatic encephalopathy (HE) is a neuropsychiatric complex syndrome, ranging from subtle behavioral abnormalities to deep coma and death. Hepatic encephalopathy emerges as the major complication of acute or chronic liver failure. Multiplicity of factors are involved in its pathophysiology, such as central and neuromuscular neurotransmission disorder, alterations in sleep patterns and cognition, changes in energy metabolism leading to cell injury, an oxidative/nitrosative state and a neuroinflammatory condition. Moreover, in acute HE, a condition of imminent threat of death is present due to a deleterious astrocyte swelling. In chronic HE, changes in calcium signaling, mitochondrial membrane potential and long term potential expression, N-methyl-D-aspartate-cGMP and peripheral benzodiazepine receptors alterations, and changes in the mRNA and protein expression and redistribution in the cerebral blood flow can be observed. The main molecule indicated as responsible for all these changes in HE is ammonia. There is no doubt that ammonia, a neurotoxic molecule, triggers or at least facilitates most of these changes. Ammonia plasma levels are increased two- to three-fold in patients with mild to moderate cirrhotic HE and up to ten-fold in patients with acute liver failure. Hepatic and inter-organ trafficking of ammonia and its metabolite, glutamine (GLN), lead to hyperammonemic conditions. Removal of hepatic ammonia is a differentiated work that includes the hepatocyte, through the urea cycle, converting ammonia into GLN via glutamine synthetase. Under pathological conditions, such as liver damage or liver blood by-pass, the ammonia plasma level starts to rise and the risk of HE developing is high. Knowledge of the pathophysiology of HE is rapidly expanding and identification of focally localized triggers has led the development of new possibilities for HE to be considered. This editorial will focus on issues where, to the best of our knowledge, more research is needed in order to clarify, at least partially, controversial topics.
---
Citation: Perazzo JC, Tallis S, Delfante A, Souto PA, Lemberg A, Eizayaga FX, Romay S. Hepatic encephalopathy: An approach to its multiple pathophysiological features. World J Hepatol 2012; 4(3): 50-65
---
INTRODUCTION
Hepatic encephalopathy (HE) is a potentially reversible syndrome manifested by a wide spectrum of changes in consciousness, ranging from subtle behavioral abnormalities to deep coma and death. These neuropsychiatric conditions emerge as the major complication of acute or chronic liver disease.
The earliest known document to date on HE is the one in the Ancient Library of the University of Padova, Italy, authored by Giovanni Battista Morgagni in 1765. Morgagni's book of medicine described a case of liver cirrhosis associated with a possible HE complication[1]. Then and onwards, a long road has been traveled and much information has been compiled. There are many factors involved in HE, as a neurotransmission disorder in the central nervous system and in the neuromuscular system, that could lead to impairment of fine motor coordination, alterations in sleep patterns and cognition. Besides, in most cases only minor morphological changes were found in the brain; these are astrocyte swelling and Alzheimer type II astrocyte[2]. Ammonium was initially indicated as the molecule responsible for the HE but may be incorrectly judged in advanced stages and may be only a scapegoat. Ammonia plasma levels are increased two- to three-fold in patients with mild to moderate cirrhotic HE and up to ten-fold in patients with acute liver failure (ALF)[3]. Ammonia is a neurotoxic molecule and its role has been widely studied. Hepatic and inter-organ trafficking of ammonia and its metabolite, glutamine (GLN), lead to hyperammonemic conditions. GLN metabolism via glutaminase is located in the intestinal epithelial cells and in the colonic epithelial cells[4]. Removal of hepatic ammonia is a differentiated work that includes the periportal hepatocyte, through the urea cycle and the perivenous hepatocytes converting ammonia into GLN via glutamine synthetase. When the liver is under pathological conditions, one or both types of hepatocytes could be damaged and the ammonia plasma level starts to rise. Minimal HE (formerly subclinical HE) is an initial clinical state with subtle abnormalities that can only be assessed by specific neuropsychometric and/or neurophysiological tests[5,6].
In 2002, a new classification of HE was proposed by the Working Party (World Congress of Gastroenterology)[7,8]. Basically, 3 types were proposed: type A, HE associated with acute liver failure; type B or HE associated with portal-systemic hepatocellular by-pass without intrinsic disease; and type C, or HE associated with cirrhosis and portal hypertension and portal systemic shunts. In this classification, minimal hepatic encephalopathy (MHE) was recognized as a subtype of C type HE. In 2009, the International Society for the Study of Hepatic Encephalopathy and Nitrogen Metabolism (ISHEN) completed this classification and added the experimental models associated with each type[9].
Although significant progress has been made ​​in understanding the knowledge of molecular aspects involved in the development of HE, many questions remain unanswered and controversial issues need to be clarified. This editorial will focus on issues where, to the best of our knowledge, more research is needed in order to clarify, at least partially, controversial topics.
TOXIC SUBSTANCES
There are many neurotoxic substances and among them, related to HE, ammonia and manganese.
Ammonia in the central nervous system, muscle and kidney
It is well known that hyperammonemia (Figure 1), astrocyte changes and impairment in neurotransmission could lead to HE. Patients with liver injury concomitantly decrease the capability of detoxification of ammonia to urea, shifting this metabolic pathway to the muscular system and to the astrocyte in the central nervous system (CNS). In ALF, the progression of HE is associated with an increased risk of brain edema that could lead to brain herniation, a major cause of death. Therefore it is clear that when the ALF is complicated by HE, the risk to life is increased. The severity of HE is also associated with difference in survival[10]. The development of brain edema and ultimate death is a unique complication of ALF. There are factors that can be viewed with the ability to identify clinical situations with a higher possibility of developing brain edema, such as deep encephalopathy, hyperacute liver failure (acetaminophen-induced ALF), severe hyperammonemia, younger age and infection[11-13].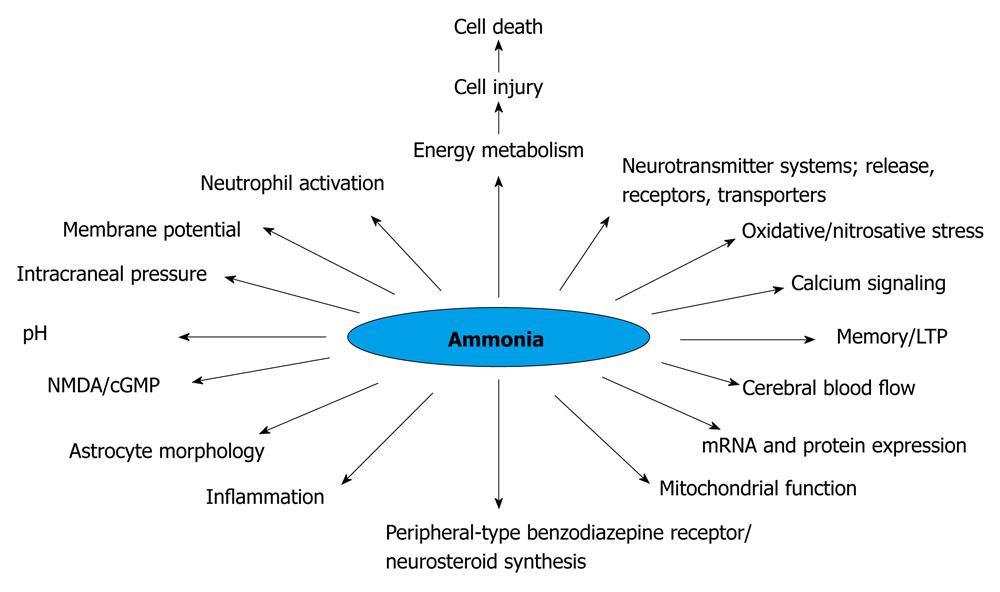 Figure 1 Changes induced by hyperammonemia (modified)[183].
NMDA: N-methyl-D-aspartate; LTP: Long term potentials.
Currently, an area of controversy is to establish conclusively whether the percentages of deaths could be attributable to cerebral edema or to multiorgan failure. So, brain edema is a key for understanding the pathophysiology of ALF[14]. Chronic liver failure (CLF) spreads minimal to mild edema located surrounding the blood-brain barrier. The edema in CLF has very different consequences than those seen in acute liver failure[15].
In normal circumstances, the liver metabolizes all the ammonia coming from the small and large intestine. In the small intestine, the main source of energy in the enterocytes is glutamine, liberating ammonia[16].
Ammonia is sent to the liver through the portal vein. The liver metabolic stage of ammonia takes place in two major places, the periportal hepatocyte through the urea cycle takes care of the major part of the ammonia and the hepatocytes near the central vein transform the small quantities left into glutamine. Ammonia is also produced in healthy individuals by muscle and the kidney. These last two tissues have the ability to shift to ammonia detoxifying organs in the case of liver failure. Skeletal muscular tissue, due to its large size, becomes the main ammonia detoxifying organ in the case of chronic liver failure[17]. Muscular glutamine-synthase becomes important due to the failing liver and brain metabolic activity[18]. Hypoproteic diet is a very common procedure in treating patients with liver failure, although a normal proteic diet may be metabolically more adequate and can be safely administered to the cirrhotic patient[19]. Hypoproteic diet may decrease the muscular mass and therefore the ammonia detoxifying ability. Recently, diet supplementation with branched chain amino acids has been shown to decrease minimal hepatic encephalopathy and to increase muscle mass[20].
The kidney is an organ capable of synthesizing and degrading ammonia. In normal conditions, the kidneys and liver interact closely to maintain the ammonia homeostasis. The kidneys are ammonia producers and only 30% of the ammonia produced is excreted with the urine. In liver failure and metabolic acidosis, the kidney has the ability to increase ammonia elimination to 70% of the produced ammonia[21,22]. Aquaporin 2 plays an important role in the regulation of water. Its expression is increased in the urine of cirrhotic patients, with a significant increase in patients with ascites, and is higher in compensated cirrhotic patients[23]. The Rh B and C glycoproteins group participates in the elimination of ammonia in the kidney[24,25]. Plasma ammonia concentration has been shown to be related to serum creatinine and the glomerular filtration rate. Renal dysfunction seems to increase cognitive impairment in patients with liver cirrhosis and might be implicated in the pathogenesis of hepatic encephalopathy[26]. Extra-hepatic ammonia metabolism appears to be the target of novel ways of treatment in chronic liver failure.
Manganese
Manganese is an essential trace metal that is involved in the metabolism of carbohydrates, lipids and proteins and has an important function as a cofactor for a number of enzymes[27]. It exists as divalent (Mn+2) and trivalent forms in the plasma[28]. Both, divalent via an undefined transporter and trivalent Mn via the receptor-mediated endocytosis, may be transported into the brain, across the blood-brain and the blood-cerebrospinal fluid barriers and accumulate in the brain[29]. Manganese is neurotoxic, particularly affecting the actions of certain proteins (i.e., receptors) that interact with the neurotransmitter dopamine, probably via striatal dopamine depletion, N-methyl-D-aspartate (NMDA) excitotoxicity or oxidative/nitrosative stress. Moreover, three basic Mn cellular neurotoxicity mechanisms can be described: (1) mitochondrial dysfunction and disruption of energy metabolism; (2) the inflammatory activation of the glia; and (3) disruption of the synaptic transmission and neuronal-glial communication[30]. Furthermore, manganese has prooxidant activity and direct toxic effects have been observed in dopaminergic neurons. Manganese induces a decrease in the content of peroxidase and catalase in the substantia nigra. This metal produces active oxygen species, i.e., superoxide hydrogen peroxide and hydroxy radical, and also produces 6-hydroxydopamine or other toxic catecholamines. Manganese induces the autooxidation of dopamine followed by the formation of toxic (semi)quinones and dopamine depletion[30,31]. Besides this, apoptosis may play a role in the dopaminergic neurotoxicity associated with manganese, the first metal to be reported to induce this form of cell death[31,32]. The early biochemical events show the impairment of energy metabolism and the process may require new synthesis of proteins such as c-Fos and c-Jun. In addition, manganese induces phosphorylation of c-Jun and SEK1/MKK4 (c-Jun N-terminal kinase) and tyrosine phosphorylation of several proteins. Manganese activates specific signal cascades including the c-Jun N-terminal kinase pathway[32].
In chronic exposure with Mn+2, a decrease of GABA concentration in discrete regions of the SNC as the globus pallidus, but not in substance nigra or hippocampus, was observed[33,34]. This effect on GABA levels could be due to the direct action of the Mn+2 on the expression of glutamic decarboxylase, an enzyme that regulates GABA synthesis[35].
Many authors suggest the participation of Mn+2 in the pathogenesis of the HE, in addition to ammonia[36-38]. The increased Mn+2 in plasma and as a deposit in the CNS is believed to be due to decreased elimination of Mn+2via biliary excretion[39], and to increased systemic availability due to portal-systemic shunting associated with chronic liver disease[39,40]. Manganese (Mn+2) brain deposits have also been demonstrated in a rat model of cirrhosis[41] and recently high plasma levels of Mn+2 and deposits of Mn+2 in the hippocampus of rats with MHE and altered integrity of the blood-brain barrier (BBB) (unpublished results) were demonstrated. These results also show that the sharp effects that Mn+2 produces on the aminoacidergic neurotransmitter can be opposite to the chronic effects. In this way, when the Mn+2 accumulates in the synapsis[34], it produces a consistent neuropathy with an excitotoxic effect, suggesting that the mechanism of glutamate is involved in the development of the pathology described by the Mn+2. Manganese may operate at the same time on the hypothalamus GABAergic and glutamatergic neurons that integrate the self-regulation neuronal network.
Moreover, in patients it has been found that there is correlation between plasma levels of Mn+2 with deposits of Mn+2 in basal ganglia registered by MRI[37,38,41,42]. As Krieger et al[36] stated, in end-stage liver disease, the question is whether the increased hyperintensity of Mn+2 in the globus pallidus indicates chronic Mn+2 intoxication or is an adaptive process, leading to improved efficacy of astrocyte ammonia detoxification. Patients with chronic liver failure have shown increased plasma and brain levels of manganese, displaying many of the clinical and pathological features associated with manganese toxicity[37,38,43,44]. The divalent manganese and magnesium have some comparable important overlapping functions[45]. Therefore, the work of Bjerring et al[46] is an interesting approach that shows that hypermagnesemia does not prevent intracranial hypertension or affect the brain content of glutamate, glutamine, or aquaporin-4 expression. Interestingly, divalent manganese also offers fields of study to explore the pathogenesis of the HE more deeply.
ROLE OF ASTROCYTES
Cerebral edema is a response to injuries such as stroke and HE and it is well known that the initial step involves the swelling of astrocytes[47,48]. Mechanisms mediating the astrocyte swelling and the subsequent brain edema remain poorly understood[49].
BLOOD BRAIN BARRIER
BBB is a diffusion barrier, a specialized system of brain microvasculature, essential for the normal function of the CNS. BBB is composed by the endothelial capillary cells, the capillary basement membrane, astrocyte end-feet ensheathing the vessels and pericytes embedded within the basement membrane[78]. The most relevant features of BBB endothelial cells which differentiate them from other endothelial cells are tight junctions and sparse pinocytic vesicular transport. BBB breakdown or alterations in transport systems play an important role in the pathogenesis of many CNS diseases, such as HIV-1 encephalitis, Alzheimer's disease, ischemia, tumors, multiple sclerosis and Parkinson's disease[79]. The pathophysiology of HE is closely linked to changes in the BBB. HE and the BBB is a field in which many controversies and many aspects not yet understood remain even today. It is well known that ammonia plasma levels correlate with CNS damage in liver failure[80]. Ammonia blood concentration is of major importance in the evaluation of patients with known or suspected HE[81]. Since Loockwood et al[82] published the first relevant data in this topic, many answers and new questions arose. Is arterial or venous ammonia concentration by itself an early marker and/or predictor in HE initiation or progression? Is BBB ammonia permeability increased in hyperammonemic states and/or in HE? Different views based on different data from different experiments or clinical work place this issue at a dynamic controversy. Ong et al[83] and Kramer et al[84] conclude that arterial, venous and partial pressure of blood ammonia in patients correlated with HE severity. On the other hand, Goldbecker et al[85] in a study with patients with liver fibrosis conclude that no increased BBB ammonia permeability was demonstrated or related to the development of HE. In a historical view, not many years ago, it was considered that ammonium did not pass from blood to brain tissue. Later, Stahl's work[86] demonstrates increased ammonia blood brain extraction in HE. Then, BBB permeability and integrity changes were demonstrated with PET, showing that brain ammonia concentration was significantly higher (80%) in HE, measured with the isotope 13N by Lookwood et al[87]. A key data for this asseveration could be the permeability surface area product (PS), still not completely elucidated, in the framework of BBB. It is of interest that under their working conditions, Goldbecker et al[85] found no changes on PS. Maybe we could see a little further with a little help from some experimental data. In a model of MHE[57] that displays moderate hyperammonemia and portal hypertension, it was clearly demonstrated that BBB has morphofunctional changes. Transmission electron microscopy revealed tight junction disruption in BBB capillaries in the hippocampal area, with mild edema of astrocytes and ECS. Moreover, a hippocampal increased number of capillaries and capillaries area per field was also documented. That means that in an experimental MHE, increased permeability and angiogenesis in the hippocampal area was seen. Furthermore, energy failing, pathological changes in the endothelial mitochondria and decreased nitric oxide synthase (NOS) activity were documented[57]. Jensen et al[88] suggest that BBB leakage induce microglial reactions. These involve modulation of immunomolecules, cytokine and growth factor gene expression. In this sense, Rodrigo et al[89] conclude that chronic hyperammonemia is sufficient to induce microglial activation and neuroinflammation during HE. It may be important to start paying attention to other components of the BBB in HE, components that remain largely unknown as pericytes and the blood-cerebrospinal fluid barrier[90]. Pericytes are involved in angiogenesis and its recruitment to the developing blood vessels and attachment of pericytes to the abluminal surface require heparin sulphate proteoglycan N-sulfation to retain platelet derived growth factor-beta (PDGFRb) homodimers and to activate the receptor PDGFRb signaling[91]. Recently, new data helped to introduce this new player in HE development. Armulik et al[92] describes a novel and critical role for pericytes in the integration of endothelial and astrocyte functions at the neurovascular unit and in the regulation of the BBB. The increased permeability occurs by endothelial transcytosis, a process that is rapidly arrested by the drug imatinib. Besides, by employing a metabolic profiling of serum samples by high-field 1H-nuclear magnetic resonance spectroscopy based on metabonomics approach, Jimenez et al[93] explored a methodology that could enhance diagnosis and monitor disease progression and patient response to treatment during MHE. It is also important to keep in mind that BBB is a very dynamic structure and could be damaged in different stages of HE. Our laboratory has shown[94] that the altered integrity of BBB gets back to normal in a HE-PVL induced model after portal pressure returns to a normal value. Moreover, in a group of animals with portal hypertension (PVL-induced) plus acetaminophen, behavioral changes and increased the BBB alterations were observed[95]. Therefore it can be concluded that the BBB is an area where further research is needed to integrate all components and generate a view of the totality in HE. To understand the pathophysiology of BBB, the data contributed to its components conducted ​​in isolation, e.g., culture of astrocytes, are important but do not provide a comprehensive vision of BBB as a network. BBB, as a key access to the CNS is, without any doubt, a special issue that needs further exploration in order to know the specific role of the carrier or receptors in HE.
CENTRAL NERVOUS SYSTEM CELL DEATH
Perhaps one of the areas that may present greater potential for conflict is the cell death in the CNS in HE. Beyond what can be considered "physiological replacement", there is a need to determine whether there is a mechanism of lethal cell injury as part of the pathophysiology of HE. Mitochondria are a major target in hyperammonemic conditions and could trigger different pathways. Many of them (a-f) have an important overlap.
NEUROENDOCRINE AXIS
Little is known about neuroendocrine changes that occur in portal-systemic hepatic encephalopathy and/or MHE. Scorticati et al[161] studied plasma prolactin (PRL) levels in our laboratory and the involvement of hyperammonemia, nitric oxide (NO) and dopaminergic and adrenergic systems in the control of this hormone secretion in a male rat model of mHE. The authors conducted in vivo studies to determine plasma ammonia and PRL levels, dopamine (DA), dihydroxyphenylacetic acid (DOPAC), epinephrine and norepinephrine content in medial basal hypothalamus (MBH) and anterior pituitary (APs). In addition, NOS activity and protein expression were evaluated in APs. In in vitro studies, the APs from intact rats were incubated with different doses of ammonia and PRL secretion was determined. In ex vivo studies, the APs from normal and PH rats were incubated in the presence of ammonia and/or a NOS inhibitor, NG-nitro-L-arginine-methyl ester (L-NAME), and PRL secretion was determined. It is well known that this model, PVL, has moderate hyperammonemia but the rest of the data obtained was a bit surprising, like a decrease in plasma PRL levels, a significant increase in norepinephrine content in both MBH and AP and an increase in NOS activity and NOS protein expression in APs. Also, in vitro the authors found reduced PRL secretion from APs and the presence of L-NAME, an inhibitor of NOS, abrogated the inhibitory effect of ammonia on PRL secretion from APs from control and MHE rats. Authors conclude that plasma PRL levels were decreased in MHE rats probably due to the high ammonia levels. The central noradrenergic system could also mediate this decrease. Also, the increase in NOS activity and/or content in AP induced NO production that directly inhibited PRL secretion from the AP, without the participation of the dopaminergic system. These results demonstrate the alteration of the neuroendocrine axis in a model of MHE and opens an interesting area of ​​study that remains largely unexplored[161].
NEURONAL ENVIRONMENT, NEUROPLASTICITY, BEHAVIOR AND MEMORY
Pioneer investigations about memory processes began in 1957. Brenda Milner stated that certain forms of memory were stored in the hippocampus and the medial temporal lobe[162]. Since then, many works have described the relationship between the neuron and its environment in normal and pathological states. Investigations led by Kandel[163] have shown how the process of neuroplasticity modifies and adapts neuronal behavior in response to learning stimuli and transforms short term memory into long term memory. In the case of HE, although one of most important roles has been given to ammonia metabolism in astrocytes, many other mechanisms have been proposed such as gabaergic theory, manganese, receptor changes and modifications in permeability of BBB, among others. The NMDA receptor is the predominant molecular device for controlling synaptic plasticity and memory function[164]. Nonetheless, little is known about how these processes can modify neuronal behavior or how such behavior might be expressed by the neuron. In the early nineties, our workgroup found changes in norepinephrine uptake in CNS in portal vein of rats with experimental prehepatic portal hypertension induced by portal vein ligation (PVL)[165] and baro-reflex alteration[166]. These results triggered several other questions. Would changes in the peripheral nervous system be the expression of changes at the central nervous system level?
We found changes in norepinephrine´s metabolism in discrete diencephalic regions in PVL rats[167]. Moreover, ascending along the brain stem, we arrived at the hippocampus where we found changes in capillaries and astrocytes[168]. As described above, many molecule concentrations (in plasma, cerebrospinal fluid, etc) are modified or differentially expressed in portal hypertension acting on neurons, the glia, or both. It remains unclear whether BBB modifications selectively act on all those molecules or if these might modify the BBB integrity. Besides, inflammation and immunity have also been given general consideration regarding the pathophysiology of HE. In the words of Yirmiya[169], "in addition, immune-like processes are involved in tissue remodeling, which is a continuous process of dynamic alterations in a specific tissue or a whole organ that facilitates morphological and functional adaptations to the ever changing environmental demands". Therefore, immunomodulation of learning, memory, neural plasticity and neurogenesis are chapters worth considering in HE[169].
Reichenberg et al[170] found that experimental immune activation by endotoxin produced alterations in emotional states and decreased performance in memory tests. Moreover, endotoxin-induced changes in emotional parameters were found to have a complex time course, characterized by an early elevation in anxiety levels followed by an increase in depressed mood[170]. Evidence suggests that glia and the soluble form of tumor necrosis factor-α (TNF-α) may be involved in a specific form of synaptic scaling[171,172]. Accumulating evidence suggests that inflammatory cytokines, such as TNF-alpha, interleukin (IL)-1 and IL-6, meditate these disturbances. In animals, sickness behavior can be induced by administration of cytokines. Antagonists or synthesis blockers of cytokines abolish sickness behavior in response to various immune challenges and a similar response was also demonstrated in humans[170].
Learning impairment is present in cirrhotic patients with neuropsychological abnormalities consistent with attention deficit secondary to MHE[173]. Patients with MHE score lower than controls in memory tasks, predominantly due to deficits in attention and visual perception[174]. Hilsabeck et al[175] found that cognitive impairment on a visuoconstruction task ranged from 9% to 38% of patients on a measure of complex attention, visual scanning and tracking, and psychomotor speed. The greater viral C hepatitis (HCV) disease severity indicated by liver fibrosis was associated with greater cognitive dysfunction. Objective cognitive impairment was not related to subjective cognitive complaints or psychiatric symptoms. These findings suggest that a significant number of patients with chronic HCV have experienced cognitive difficulties that may interfere with activities of daily living and quality of life[175]. Hepatocyte growth factor/scattered factor (HGF/SF) possess motogenic activity, which is essential for normal development of other organ systems and is a conserved mechanism that regulates trans-telencephalic migration of interneurons in embryonic state[176]. Porto-systemic encephalopathy (PSE) is often preceded by ascites and this condition is characterized by gastro-intestinal capillary increased permeability, endotoxin translocation, activation of cytokines and failure to endotoxin removal. Lipopolysaccharide is elevated in portal blood and activates Kupffer cells through the CD14/toll-like receptor-4 complex to produce ROS via NADPH oxidase[177,178].
Thus, it might be possible that the chain of events triggered by endotoxin could lead to a derangement of neuronal functioning. Some evidence supports the idea that both direct and indirect effects of lipopolysaccharides/endotokinemia might be related to neuron plasticity and memory changes, as well as mood alterations, as seen in PSE. Currently, there is no evidence that directly supports the relationship between HE, lipopolysaccharides and neuron derangements. HE is a neurological complication that affects attention and memory. Experimental animal models have been used to study HE, the most frequent being the porto-caval shunt (PCS). In order to investigate learning impairment and brain functional alterations in this model, Méndez et al[179] assessed reversal learning and neural metabolic activity in a PCS rat model.
PCS and sham-operated rats were tested for reversal learning in the Morris water maze. Brains were then processed for cytochrome oxidase histochemistry. The PCS group had reversal learning impairment and a reduction in cytochrome oxidase activity in the prefrontal cortex, ventral tegmental area and accumbens shell nucleus. These results suggest that this model of portosystemic HE shows learning impairments that could be linked to dysfunction in neural activity in the prefrontal cortex and regions involved in motivated behavior[179].
The memory consolidation at the cellular level is based on the facilitation or attenuation of transmission at specific synapses. Besides, antibodies against L1 glycoprotein and neural cell adhesion molecules (NCAM) can impair memory consolidation. Moreover, learning is followed by altered expression and glycosylation of L1 and in NCAM[180].
Addition of 8 Br-cGMP to slices treated with ammonia restores both phosphodiesterase activation and maintenance of long term potentials (LTP)[181]. Impairment of LTP in hyperammonemia may be involved in the impairment of the cognitive function in patients with HE (Figure 3)[182]. Although many theories have been proposed, the intimate mechanism whereby a liver pathology triggered HE remains to be known. There is insufficient evidence to determine if moderate hyperammonemia and/or portal hypertension, major complications in liver disease, or if one or more mediators (for instance, manganese, ammonia, HGF, TGFB, interleukins, reactive oxygen species, neurotransmitters, aquaporins, etc) are responsible or co-responsible for triggering MHE.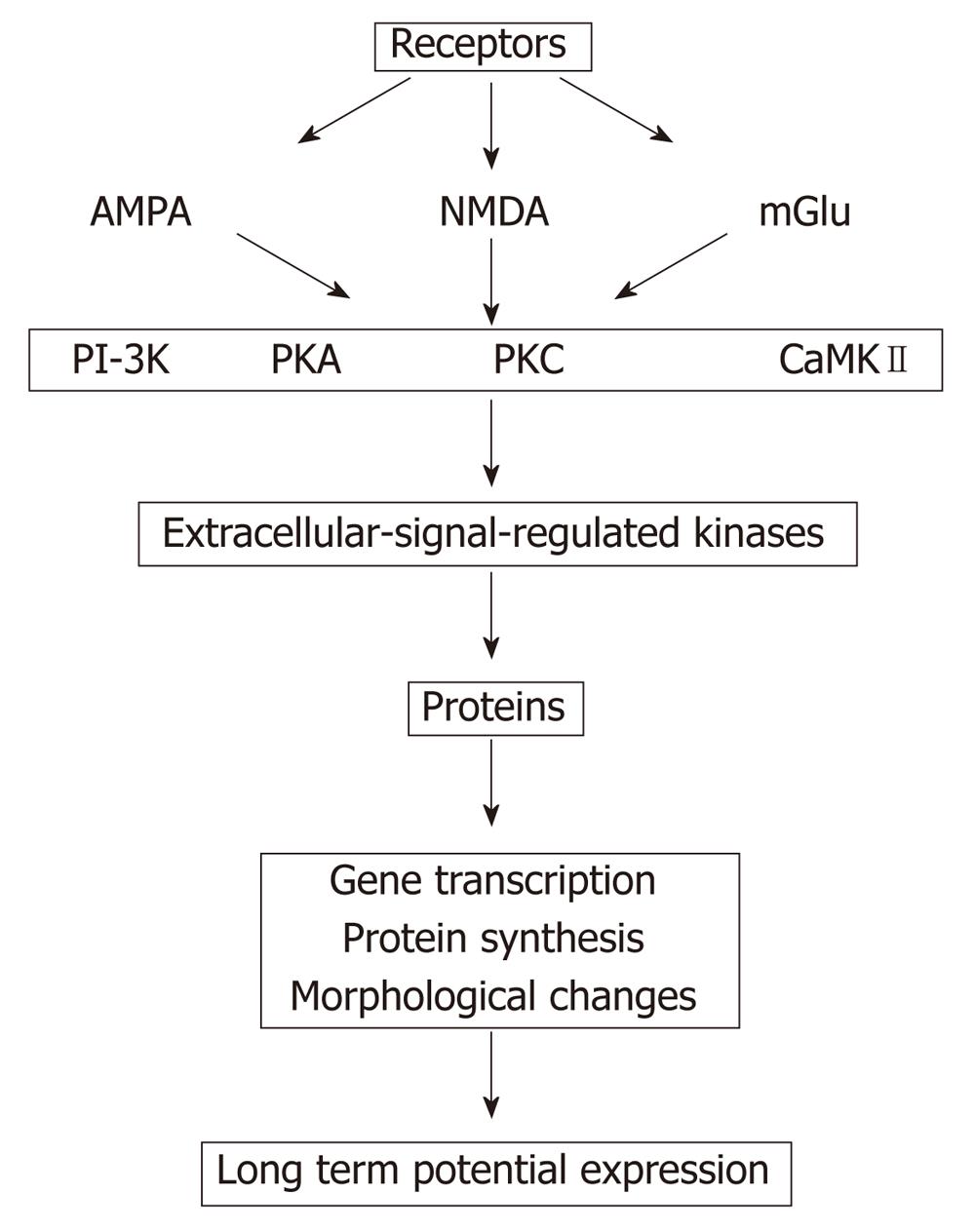 Figure 3 Proposed sequences that finally induce changes in the long term potentials, which is down regulated in hyperammonemia (modified from Lynch[182]).
AMPA: α-amino-3-hydroxy-5-methyl-4-isoxazolepropionic acid receptor; NMDA: N-metil D-aspartato; mGlu: Metabotropic glutamate receptors; PI-3K: Phosphatidylinositol 3-kinases; PKA and PKC: Protein kinase A and C; CaMKII: Ca2+/calmodulin-dependent protein kinases II.
CONCLUSION
We have reviewed some of the mechanisms involved in the development of HE. We believe that these issues have areas of interest and potential controversy. Importantly, experimental models can study different stages of HE. The earliest form of HE is MHE. We consider that a comprehensive study of MHE will be useful to identify the many complex and interrelated pathways and learn its sequence and the pathways that are activated from the beginning to the later stages.
Peer reviewers: Canhua Huang, Professor, The State Key Lab of Biotherapy, Sichuan University, Chengdu 610041, Sichuan Province, China; Dr. Takuji Tanaka, Professor, Director, The Tohkai Cytopathology Institute-Cancer Research and Prevention, 5-1-2, Minami-Uzura, Gifu City 500-8285, Japan
S- Editor Wu X L- Editor Roemmele A E- Editor Zhang DN