Copyright
©The Author(s) 2021.
Published by Baishideng Publishing Group Inc. All rights reserved.
Molecular pathways of liver regeneration: A comprehensive review
Yana V Kiseleva, International School "Medicine of the Future", I.M. Sechenov First Moscow State Medical University (Sechenov University), Moscow 119435, Russia
Sevak Z Antonyan, Department of Emergency Surgical Gastroenterology, N. V. Sklifosovsky Research Institute for Emergency Medicine, Moscow 129010, Russia
Tatyana S Zharikova, Yuri O Zharikov, Department of Human Anatomy, I.M. Sechenov First Moscow State Medical University (Sechenov University), Moscow 119048, Russia
Kirill A Tupikin, Laboratory of Minimally Invasive Surgery, A.I. Evdokimov Moscow State University of Medicine and Dentistry, Moscow 127473, Russia
Dmitry V Kalinin, Pathology Department, A.V. Vishnevsky National Medical Research Center of Surgery of the Russian Ministry of Healthcare, Moscow 117997, Russia
Author contributions: Kiseleva YV and Zharikov YO wrote the paper; Zharikova TS, Antonyan SZ and Kalinin DV performed the data collection; Kiseleva YV and Typikin KA created the figures; Kiseleva YV and Zharikov YO designed and conceptualized the review.
Conflict-of-interest statement: The authors declare no conflicts of interest for this article.
Open-Access
: This article is an open-access article that was selected by an in-house editor and fully peer-reviewed by external reviewers. It is distributed in accordance with the Creative Commons Attribution NonCommercial (CC BY-NC 4.0) license, which permits others to distribute, remix, adapt, build upon this work non-commercially, and license their derivative works on different terms, provided the original work is properly cited and the use is non-commercial. See:
http://creativecommons.org/Licenses/by-nc/4.0/
Corresponding author: Yuri O Zharikov, MD, PhD, Assistant Professor, Department of Human Anatomy, I.M. Sechenov First Moscow State Medical University (Sechenov University), 8-2 Trubetskaya Street, Moscow 119048, Russia. dr_zharikov@mail.ru
Received: October 23, 2020
Peer-review started: October 23, 2020
First decision: January 7, 2021
Revised: January 20, 2021
Accepted: March 12, 2021
Article in press: March 12, 2021
Published online: March 27, 2021

The liver is a unique parenchymal organ with a regenerative capacity allowing it to restore up to 70% of its volume. Although knowledge of this phenomenon dates back to Greek mythology (the story of Prometheus), many aspects of liver regeneration are still not understood. A variety of different factors, including inflammatory cytokines, growth factors, and bile acids, promote liver regeneration and control the final size of the organ during typical regeneration, which is performed by mature hepatocytes, and during alternative regeneration, which is performed by recently identified resident stem cells called "hepatic progenitor cells". Hepatic progenitor cells drive liver regeneration when hepatocytes are unable to restore the liver mass, such as in cases of chronic injury or excessive acute injury. In liver maintenance, the body mass ratio is essential for homeostasis because the liver has numerous functions; therefore, a greater understanding of this process will lead to better control of liver injuries, improved transplantation of small grafts and the discovery of new methods for the treatment of liver diseases. The current review sheds light on the key molecular pathways and cells involved in typical and progenitor-dependent liver mass regeneration after various acute or chronic injuries. Subsequent studies and a better understanding of liver regeneration will lead to the development of new therapeutic methods for liver diseases.
Core Tip: The liver is a unique parenchymal organ with a regenerative capacity that can restore up to 70% of its volume. A variety of different factors and signaling pathways are involved in the process of liver mass regeneration during the priming, proliferative and termination phases. This review describes the types of liver regeneration, the phases of typical liver regeneration, the cell types involved in liver regeneration, the process of alternative liver regeneration, and the stem cells and micro ribonucleic acids that play roles in liver mass regeneration.
---
Citation: Kiseleva YV, Antonyan SZ, Zharikova TS, Tupikin KA, Kalinin DV, Zharikov YO. Molecular pathways of liver regeneration: A comprehensive review. World J Hepatol 2021; 13(3): 270-290
---
INTRODUCTION
The capacity of the liver to regenerate has been well known since the myths of Prometheus, who was banished from Olympus by Zeus. Legend has it that eagles pecked out half of his liver every day, but because the liver regrew during the night, the hero endured never-ending torture[1]. Today, many centuries after these events, liver regeneration is a universally known phenomenon that has been studied at the molecular and cellular levels. However, many aspects remain unclear[2].
Liver regeneration is a complex process regulated by the interaction between growth factors and cytokines secreted near the site of injury or transferred to the liver by the blood. This strictly orchestrated process is divided into 3 phases: Priming, proliferation, and termination[3]. The sum of all signals that sense the physiologically necessary liver mass is called the "hepatostat", which can initiate and terminate liver regeneration[4]. This phenomenon reflects the correlation between the needs of organisms and the organ mass that is required for homeostasis[5].
A better understanding of liver regeneration mechanisms will help improve the methods used to treat various organ diseases, prevent hepatic failure in high-risk patients, control liver grafts for transplantation, and more[6]. Importantly, the term "liver regeneration" is used improperly because during actual regeneration, not only the function of the organ but also the morphology is restored whereas only compensatory hypertrophy occurs in the liver. Second, mature hepatocytes are the source of new liver cells, not stem cells; however, stem cells play an important role in some cases of liver regeneration[7]. However, the term "liver regeneration" is widely accepted and the most commonly used term[8].
TYPES OF LIVER REGENERATION
Until recently, it was believed that the liver mass after partial hepatectomy (PH) or injury recovers via hepatocyte proliferation for 1–2 cell cycles; however, recent studies have shown that different stimuli define the type of liver regeneration that occurs[9]. There are two known types of liver regeneration: The first is conducted through the hypertrophy and/or hyperplasia of hepatocytes and biliary epithelial cells (BECs) and is called typical regeneration. Typical regeneration is specific to a healthy liver that was exposed to resection or an acute liver injury; conversely, progenitor-dependent regeneration requires the reprogramming of specific hepatic cells, whose activation depends on the volume of the residual liver mass. Progenitor-dependent regeneration is specific to chronic liver diseases and massive acute liver injuries[10,11]. Thus, a 2/3 hepatectomy leads to the immediate hypertrophy of hepatocytes and further hyperplasia, whereas a 1/3 hepatectomy only triggers cell hypertrophy. Various chronic diseases and massive injuries initiate the activation of hepatic progenitor cells (HPCs), which are responsible for liver regeneration[9]. Consequently, typical liver regeneration is driven by mature hepatocytes and BECs, whereas the alternative regeneration method is performed by HPCs[11].
TYPICAL LIVER REGENERATION
PH causes a hemodynamic disturbance, expressed as a portal pressure escalation, which serves as a regeneration stimulus. Consequently, hepatocytes, BECs, Ito cells, Kupffer cells (KC) and sinusoid endothelial cells (SECs) are proliferated. Interestingly, hepatocytes proliferate first, whereas BECs start to proliferate only 2-3 d after PH. After a 2/3 PH, the hepatocytes go through one cycle of DNA synthesis, which is required for the restoration of 60% of the liver mass. In the following stages, several but not all hepatocytes continue to proliferate to achieve complete liver recovery. Afterward, apoptotic activity increases with the purpose of correcting an excessive regenerative response[12].
PROGENITOR-DEPENDENT LIVER REGENERATION
The mechanisms described above are specific for healthy livers and occur among living liver donors. However, in most cases, liver resection occurs within patients with impaired liver function, and subsequent regeneration proceeds in a nonstandard way, which can lead to hepatic failure and death[107].
Acute liver failure caused by intoxication, viral hepatitis A, B or E, autoimmune liver disease, etc., is often followed by widespread necrotic and apoptotic zones, and adequate liver regeneration becomes impossible[107]. During acute liver failure, the main regenerative role is given to HPCs, as indicated by the increased level of alpha-fetoprotein (AFP). Therefore, a high AFP level is correlated with a positive prognosis after acetaminophen-induced liver damage[12]. The immune system regulates liver regeneration via necrotic cell phagocytosis and controls inflammatory reactions in response to injury. The number of proliferative macrophages in the liver significantly increases after organ damage, and monocytes are recruited from the bloodstream and differentiate into macrophages in response to increasing the colony-stimulating factor 1 levels. Colony-stimulating factor 1 injection promotes liver regeneration after PH; conversely, a low level of the current factor is correlated with a negative patient prognosis[11].
Liver steatosis is associated with an impaired regenerative function, in which GADD34 plays an important role since its increased expression promotes liver regeneration within mice. IRI often complicates the posttransplantation period and impairs typical liver regeneration. The current complication is followed by increased receptor for advanced glycation end product levels, which might be a therapeutic target. Thus, receptor for advanced glycation end product inhibitor injection leads to a reduction in organ damage and the induction of liver regeneration. The excessive synthesis of ECM components by activated HSCs inhibits hepatocyte proliferation, and if macrophage MMPs do not promote connective tissue restitution, the angioarchitecture of hepatic lobules is impaired, resulting in cirrhosis[107]. In the liver, damage due to cirrhosis and hepatitis B or C often reveals hepatocytes with BEC markers, such as epithelial cell adhesion molecule (EpCAM), on their surface. The presence of these intermediate hepatobiliary cells is thought to be explained by their origin from biliary compartment progenitors[108].
Hepatocytes are the main cells driving typical liver regeneration, whereas alternative liver regeneration is performed by HPCs[92]. The process of progenitor-dependent liver regeneration is shown in Figure 2.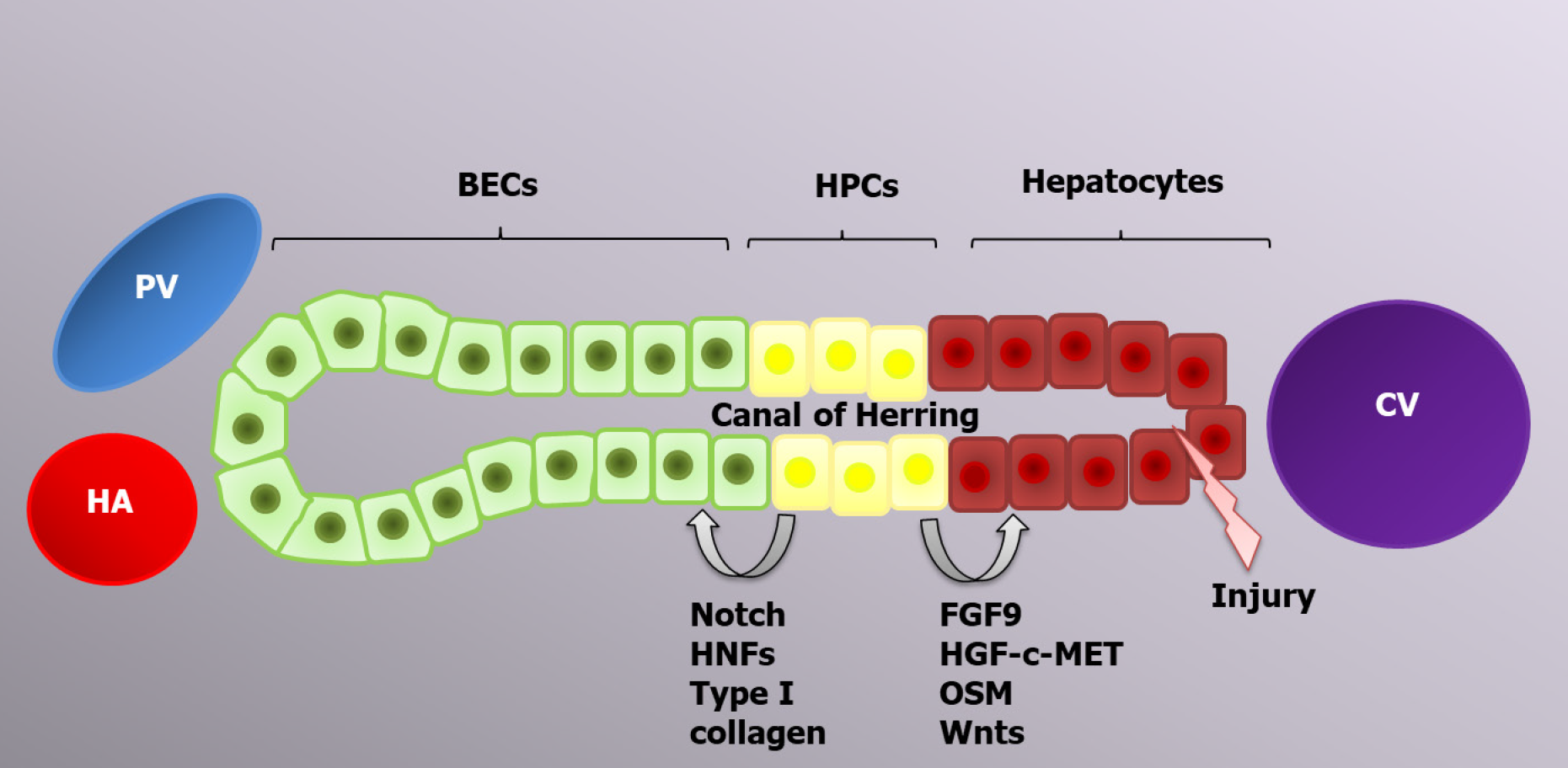 Figure 2 Progenitor-dependent liver regeneration
. In case of excessive acute injury or chronic liver diseases, hepatic progenitor cell activation occurs in response to different inflammatory cytokines, including tumor necrosis factor-like weak inducer of apoptosis. Depending on the type of stimulus, hepatic progenitor cells can differentiate into biliary epithelial cells or hepatocytes to restore the liver mass. PV: Portal vein; HA: Hepatic artery; CV: Central vein; BECs: Biliary epithelial cells; HPCs: Hepatic progenitor cells; HNFs: Hepatocyte nuclear factors.
RESIDENT STEM CELLS OF THE LIVER
Therefore, the liver regenerative capacity is significantly impaired during chronic liver diseases due to the accumulation of senescent hepatocytes[109,110]. In this case, liver mass restoration is performed by HPCs[111]. HPCs are located in the canals of Hering and have a bipotential nature; in other words, they can differentiate into both hepatocytes and BECs, the choice of which is determined by the activation of certain genes[12,108]. The canals of Hering connect the hepatocyte canalicular system and the biliary tree, and such a location of HPCs is consistent with their bipotential features[94]. Transplantation of current cells leads to liver regeneration enhancement via HPC proliferation and differentiation, which can be applicable for the treatment of certain liver diseases[112-115]. CK19, EpCAM and CD133 are markers common to both HPCs and BECs. Trop2 (Tacstd2) is a transmembrane molecule that is present on the HPC surface and absent on BECs; therefore, it can play a role as a specific marker, similar to Foxl1[116].
The origin of HPCs is still being researched. Many scientists think that HPCs arise from mature differentiated BECs due to the presence of similar markers and cell localization. The expression of hepatocyte markers, such as albumin, AFP and HNF4α, appears earlier than HPC expansion. Newly formed HPCs have various markers on their surface, including the BEC markers HNF1b and CK19, which are maintained until the HPCs differentiate into mature hepatocytes[117]. Hepatocytes and BECs are formed from common cells, called hepatoblasts, during the second trimester of embryonic development. Consequently, the possibility of hepatocyte to BEC transdifferentiation and vice versa is genetically feasible and might be programmed to form a facultative pool of progenitors[12].
HPC compartment activation in the human liver is called ductular reaction because of the role of ductular epithelium activation. In the niche, HPCs are surrounded by epithelial and nonparenchymal cells, immune cells, and the components of the ECM, which transport activating signals[118]. As long as HPCs drive the regeneration of massive or chronic damage facilitated by immune cells, inflammatory cytokines, such as TNF-α, lymphotoxin-β, interferon-γ and IL-6, will play a crucial role in HPC activation. TNF-like weak inducer of apoptosis (TWEAK) is a TNF superfamily member and the main inducer of HPC activation[119]. Macrophages and NK cells are primary sources of TWEAK ligands. The interaction with target cells is realized by FGF-inducible 14 receptors. The TWEAK/ FGF-inducible 14 interaction leads to ductular reaction initiation via activation of the NF-κB signaling pathway[120]. HPC regulation is also performed by free oxygen radicals, which act as second messengers, realizing the balance between self-renewal and the differentiation of current cells. Low reactive oxygen species levels promote HPC proliferation via extracellular-signal-regulated kinase 1/2, Jun 1/2, Wnt and NF-κB signaling[121].
HPC differentiation into hepatocytes and BECs is regulated by a variety of signaling pathways. Thus, FGF9, the HGF-с-MET signaling pathway[122] and oncostatin M activate AKT and STAT3, which are required for HPC differentiation into hepatocytes, whereas HNF-6, HNF-1β and NOTCH signaling lead to BEC development[123,124]. All-trans retinoic acid is a significant active metabolite of vitamin A that is involved in HPC differentiation by increasing miR-200a expression, which regulates cell autophagy[125]. Ma et al[126] demonstrated the regulatory function of autophagy in HPC differentiation into hepatocytes via activation of the Wnt/β-catenin signaling pathway. Autophagy can also regulate HPC differentiation into BECs since it inhibits the Notch1 signaling pathway, which is required for the development of biliary duct cells. Therefore, autophagy is decreased during the early stages of liver regeneration[127].
Recently, a new pool of multipotential biliary progenitor cells, which can differentiate into hepatocytes, BECs and the islets of Langerhans cells, was identified in peribiliary glands, which are epithelial invaginations of extrahepatic and large intrahepatic biliary ducts[108]. This pool was named biliary tree stem/progenitor cells (BTSCs). BTSCs express stem cell markers such as Sox17, Pdx1, Sox9, EpCAM, Sall4 and Lgr5 on their surface. BTSCs are primarily involved in biliary epithelium regeneration in chronic diseases such as primary sclerosing cholangitis, cholangiocarcinoma, nonanastomotic strictures and biliary atresia[128].
MICRO RIBONUCLEIC ACIDS AND LIVER REGENERATION
Micro ribonucleic acids (MiRNAs) are short molecules of 19–25 nucleotides in length that regulate the posttranscriptional silencing of target genes. One miRNA molecule can regulate hundreds of mRNAs, thus controlling the expression of various genes[129,130]. After PH, miRNA expression is primarily decreased (miR-16, miR-22, miR-23, miR-24, miR-26a, miR-29, miR-30, miR-31, miR-33, miR-122a, miR-126, miR-127, miR-145, miR-150 and miR-378); however, the expression of certain miRNAs increases (miR-21, miR-26b, miR-192, miR-194, MiR34a, miR-122, miR-203 and miR-221), thus affecting the hepatocyte cell cycle[131]. Table 2 summarizes the significant miRNAs in liver regeneration after PH.
miRNA

---

Expression change

---

Target genes

---

Influence on LR

---

miR-21
Increased
Rhob, Sox7, Crebl2, Bcl-2, Btg2, Timp3, Reck, Pdcd4, Tgfbi, Smad7, PTEN
Induction
miR -19a
Increased
PTEN
Induction
miR-214
Increased
PTEN
Induction
miR-203
Increased
SOCS3
Induction
miR-27a/b
Increased
Tmub1
Induction
miR-503
Decreased
Cyclin D1, Cyclin E2, CDC25A, CDKN1B, CHK1
Suppression
miR-23a
Decreased
TNF-α, c-Myc CCNL2, HNF4G MET
Suppression
miR-150
Decreased
TNF-α, survivin, FoxP1, c-Myb
Suppression
miR-663
Decreased
TGF-β1, AP-1, Jun-B, Jun-D
Suppression
miR-378
Decreased
Odc1
Suppression
miR-34a
Decreased
INHBB
Suppression
miR-33
Decreased
CDK6, EEF1A1, RAP2A
Suppression
miR-26a
Decreased
MAP3K2, MXI1, SENP5, CCND2, CCNE2
Suppression
Castro et al[132] demonstrated the crucial role of miRNAs in liver regeneration after PH. Thus, it was demonstrated that the expression of 26 different miRNAs changes during regeneration, notably in both increasing and decreasing ways. The expressions of miR-19a, -21, and-214 were significantly increased. MiR-21 transcription is activated by activator protein 1 (AP-1), which is also required for the activation of the important Stat3 and TGF-β signaling pathways[132]. Ng et al[133] pointed out the regulatory role of miR-21 in hepatocyte cell cycle events preceding the S phase via the indirect induction of cyclin D1 translation, which occurs due to a reduction in cell cycle inhibitor expression. MiR-21 has a binding site on Ras homolog gene family member B, whose expression leads to the suppression of Akt1 activation, thus regulating cyclin D1 expression via mTORC1[133]. Additionally, miR-21 plays a significant role in decreasing phosphatase and tensin homolog expression, resulting in increased Akt and mTOR activities[134]. MiR-203 induces liver regeneration via IL-6/STAT3 signaling enhancement and SOCS3 expression inhibition[135]. MiR-27a/b regulates hepatocyte proliferation during regeneration because it suppresses Tmub1 expression[136], which suppresses the IL-6/STAT3 signaling pathway[137].
The decreased expression occurs within molecules such as miRs-503, -23a, -150, -663, -654 and is associated with their negative influence on liver regeneration. Thus, miR-150 inhibits TNF-α expression, which is essential for liver regeneration[138]. Increased miR-503 expression leads to the enhancement of essential cell cycle gene expression, including that of cyclin D1, E1, E2, F, Wee1, CDC25A and CHK1[139]. The AP-1 transcription factors, including the Jun and Fos family members, are the target genes of miR-663[140]. The c-Jun/AP-1 signaling pathway controls hepatocyte proliferation and has antiapoptotic activity via p-53-dependent pathway suppression[141]. An important negative regulator of hepatocyte epithelial-mesenchymal transition is miR-378, whose expression is decreased by Smo during liver regeneration, resulting in Hh-pathway activation and the transdifferentiation of hepatocytes and BECs into myofibroblasts[142]. MiR-34a expression is significantly decreased during the first days after PH, whereas the expression of its target genes (Notch1, Notch 4 and Hes1) is increased, leading to hepatocyte differentiation and growth enhancement[143]. MiRs inhibiting liver regeneration are also important because they prevent excessive regeneration. Among these molecules, for example, miR-33 suppresses CDK6 and CCND1[144], and miR-26a targets CCND2 and CCNE2[145].
A further understanding of the miRNAs involved in normal and progenitor- dependent liver regeneration can improve the use of miRNAs for the diagnosis of different liver diseases, control the adequacy of liver regeneration and act as a potential therapy for insufficient liver regeneration.
STIMULATION OF INSUFFICIENT LIVER REGENERATION
Therapeutic methods for insufficient liver regeneration treatment are lacking, although many studies have focused on the efficiency of various molecules in promoting liver regeneration. Shi et al[146] determined that baicalin can stimulate liver regeneration after acetaminophen-induced acute liver injury in mice via inducing hepatocyte proliferating cell nuclear antigen, increasing cyclin D1 expression and Nrf2 cytosolic accumulation, and enhancing IL-18 Levels, leading to the upregulation of hepatocyte proliferation. So et al[147] showed the promotion of liver regeneration after the inhibition of EGFR or MEK/extracellular signal-regulated kinase (ERK) and the genetic suppression of the EGFR-ERK-SOX9 axis via inducing HPC-to-hepatocyte differentiation in zebrafish. The research of Xiang et al[148] noted the therapeutic effect of IL-22Fc in inducing liver regeneration in acute-on-chronic liver failure patients due to the shift from anti-regenerative IFN-γ/STAT1 to the pro-regenerative IL-6/STAT3 pathway. Li et al[149] reported that aldose reductase (AR) is a new potential therapeutic target for enhancing normal and fatty liver regeneration after surgery and IRI because the knockout of AR leads to enhanced oxisome proliferator activated receptor-α and oxisome proliferator activated receptor-γ expression, thus improving energy metabolism in the liver. The research of Loforese et al[150] revealed that the inhibition of MST1 and MST2 with si-RNA resulted in improved hepatocyte proliferation in aged mice after PH; therefore, Ste20-like kinases 1/2 may be a potential therapeutic target. Many other molecules and molecular pathways have been shown to enhance liver regeneration in experimental models. Further studies would help implicate the potential therapy in the clinic and improve the survival of patients with different liver diseases in the near future.
Mesenchymal stem cells (MSCs) have a self-renewal capacity and are derived from the bone marrow, adipose tissue, umbilical cord, etc. They are the subject of focus in regenerative medicine and serve as a potential therapy for different liver diseases[151,152]. MSCs were shown to improve liver regeneration in patients with cirrhosis by elevating anti-apoptotic factors, such as HGF and IGF-1, and angiogenic and mitogenic factors. In acute liver failure animal models, MSCs have been shown to promote liver regeneration mostly by suppressing the oxidative stress and inflammation via reducing TNF-α, IFN-γ and IL-4 Levels and stimulating liver regeneration with various released factors such as PGE2 and delta-like 4[153,154]. MSCs can also stimulate liver regeneration after PH by upregulating hepatic cell proliferation and downregulating fat accumulation and HGF, IL-6, IL-10 and TNF-α serum levels[155].
Further studies in this field can help determine how to prevent hepatic failure after surgical interventions and acute and chronic injuries via improving liver regeneration.
CONCLUSION
Liver regeneration is driven by multiple molecular processes. Biomolecular factors permit the possibility of targeted therapy to prevent serious complications, such as liver failure due to a decreased cellular regenerative potential.
Manuscript source: Unsolicited manuscript
Specialty type: Gastroenterology and hepatology
Country/Territory of origin: Russia
Peer-review report's scientific quality classification
Grade A (Excellent): 0
Grade B (Very good): B, B, B
Grade C (Good): 0
Grade D (Fair): D
Grade E (Poor): 0
P-Reviewer: Bhat M, Kaul R, Youness RA S-Editor: Zhang L L-Editor: A P-Editor: Wang LL