Copyright
©The Author(s) 2021.
Published by Baishideng Publishing Group Inc. All rights reserved.
Shifting perspectives – interplay between non-alcoholic fatty liver disease and insulin resistance in lean individuals
Ines Bilic-Curcic, Department of Pharmacology, Faculty of Medicine, University of J. J. Strossmayer Osijek, Osijek 31000, Croatia
Ines Bilic-Curcic, Clinical Hospital Center Osijek, Osijek 31000, Croatia
Maja Cigrovski Berkovic, Department of Kinesiological Anthropology and Methodology, Faculty of Kinesiology, University of Zagreb, Zagreb 10000, Croatia
Maja Cigrovski Berkovic, Clinical Hospital Dubrava, Zagreb 10000, Croatia
Lucija Virovic-Jukic, Department of Medicine, Division of Gastroenterology and Hepatology, Sisters of Charity University Hospital, Zagreb 10000, Croatia
Lucija Virovic-Jukic, Anna Mrzljak, School of Medicine, University of Zagreb, Zagreb 10000, Croatia
Anna Mrzljak, Department of Medicine, Merkur University Hospital, Zagreb 10000, Croatia
Author contributions: Bilic-Curcic I made contributions to the conception and design of the study, involved in drafting and revising the manuscript critically; Cigrovski Berkovic M, Virovic-Jukic L and Mrzljak A were involved in collecting the data, and drafting and writing the manuscript; All authors read and approved the final manuscript.
Conflict-of-interest statement: No potential conflicts of interest.
Open-Access
: This article is an open-access article that was selected by an in-house editor and fully peer-reviewed by external reviewers. It is distributed in accordance with the Creative Commons Attribution NonCommercial (CC BY-NC 4.0) license, which permits others to distribute, remix, adapt, build upon this work non-commercially, and license their derivative works on different terms, provided the original work is properly cited and the use is non-commercial. See:
http://creativecommons.org/Licenses/by-nc/4.0/
Corresponding author: Anna Mrzljak, FEBG, MD, PhD, Associate Professor, Department of Medicine, Merkur University Hospital, Zajčeva 19, Zagreb 10000, Croatia. anna.mrzljak@gmail.com
Received: June 13, 2020
Peer-review started: June 13, 2020
First decision: October 21, 2020
Revised: October 22, 2020
Accepted: November 17, 2020
Article in press: November 17, 2020
Published online: January 27, 2021

Non-alcoholic fatty liver disease (NAFLD) has become a significant public health burden affecting not only obese individuals but also people with normal weight. As opposed to previous beliefs, this particular subset of patients has an increased risk of all-cause mortality and worse outcomes than their obese counterparts. The development of NAFLD in lean subjects seems to be interconnected with metabolic phenotype, precisely visceral fat tissue, sarcopenia, and insulin resistance. Here, we summarize available data focusing on the co-dependent relationship between metabolic phenotype, insulin resistance, and development of NAFLD in lean individuals, suggesting more appropriate tools for measuring body fat distribution for the screening of patients at risk.
Core Tip: The prevalence of non-alcoholic fatty liver disease among non-obese (overweight or lean) individuals seems to be much higher than previously reported, affecting almost 20% of the non-obese population. Non-alcoholic fatty liver disease is no longer considered solely an obesity-related disorder since non-obese individuals participate significantly in this entity. The metabolic phenotype is the key role-player in the development of non-alcoholic fatty liver disease in lean individuals. The detection of lean patients with non-alcoholic fatty liver disease is particularly challenging since the body-mass index is not a good indicator of metabolic health.
---
Citation: Bilic-Curcic I, Cigrovski Berkovic M, Virovic-Jukic L, Mrzljak A. Shifting perspectives – interplay between non-alcoholic fatty liver disease and insulin resistance in lean individuals . World J Hepatol 2021; 13(1): 80-93
---
INTRODUCTION
Non-alcoholic fatty liver disease (NAFLD), recently known as metabolic-associated fatty liver disease[1], is one of the most common causes of chronic liver disease. NAFLD was traditionally associated with metabolic syndrome encompassing obesity, insulin resistance, hypertension, and atherogenic dyslipidemia[2]. Recently, a new clinical entity, including NAFLD in non-obese/lean individuals has emerged. It soon became apparent that the existence of NAFLD in non-obese subjects should not be neglected since its prevalence has significantly increased. According to a recently published meta-analysis, up to 40% of NAFLD patients are non-obese, with the highest prevalence in western countries as opposed to previous findings dominantly allocating this entity in Asian regions[3]. The clinical consequences of NAFLD can be detrimental; for instance, progression to significant fibrosis remains uncertain as well as long-term cardiometabolic complications and mortality[4-7]. However, prevalence data and terminology are quite variable since definitions used to determine lean and obese patients differ among various studies, depending on Asian or Caucasian cutoff values. In addition, a body mass index (BMI) cutoff value of 25 kg/m2 is frequently used to differ between lean and obese individuals, thus excluding the overweight population (Table 1). Here, we decided to use terms "non-obese" or "lean NAFLD" depending on the study in question and definitions used.
Author, year

---

Population, study design, sample size

---

Prevalence of NAFLD in lean subjects

---

Main findings

---

Zou et al[4], 2020
Mixed population, 1999-2016 NHANES databases
32.3% overall NAFLD prevalence; 22.7% obese and 9.6% non-obese; Amongst NAFLD patients, 29.7% were non-obese (Caucasian BMI 25-30 kg/m2, Asian BMI 23-27 kg/m2), of which 13.6% had lean NAFLD (Caucasian BMI < 25 kg/m2, Asian BMI < 23 kg/m2)
Non-obese NAFLD individuals had higher 15-year cumulative all-cause mortality (51.7%) than obese NAFLD (27.2%) and non-NAFLD (20.7%)
Huang et al[20], 2020
2483 Asian participants, community based study
44.5% NAFLD and 15.8%, MetS prevalence; Among NAFLD subjects, 48.8%were obese (BMI ≥ 24 kg/m2)
IR is predictive of NAFLD irrespective of BMI; CV risk calculated by Framingham Risk Score may exist in lean NAFLD subjects
Tobari et al[18], 2020
Asian, biopsy-proven 762 NAFLD patients, cross sectional study
Over 25% men and almost 40% women were non-obese, but most of them had visceral fat obesity and/or IR; BMI cutoff 25 kg/m2
NAFLD was not milder in non-obese patients; Histological steatosis was associated with BMI; Advanced fibrosis was not associated with BMI and showed a significant sex difference
Kim et al[10], 2020
664 Asian subjects with biopsy-proven NAFLD and controls, cross sectional study
542 subjects with biopsy-proven NAFLD132 non-obese NAFLD (BMI < 25 kg/m2) ; 410 obese NAFLD (BMI > 25 kg/m2) ; 122 controls
Non-obese subjects with NAFLD displayed a similar severity of histological liver damage; Sagittal abdominal diameter was independently associated with significant fibrosis among subjects with non-obese NAFLD
Alferink et al[71], 2019
4609 elderly European, population based study
1623 had NAFLD (n = 161 normal-weight and n = 1462 overweight, BMI cutoff 25 kg/m2)
Both high fat mass and low SMI were associated with normal-weight NAFLD; Fat distribution (assessed by AGR) could best predict NAFLD prevalence
Denkmayr et al[19], 2018
European, 466 patients diagnosed with NAFLD, cross sectional study
Lean (BMI ≤ 25.0 kg/m², n = 74) ; Overweight (BMI > 25.0 ≤ 30.0 kg/m², n = 242) ; Obese (BMI > 30.0 kg/m², n = 150)
Lean NAFLD patients had a histological picture similar to obese patients but more severe compared to overweight patients. 
Gonzalez-Cantero et al[21], 2018
European, cross-sectional study 113 non-obese, non-diabetic individuals
55 patients diagnosed with NAFLD; NAFLD defined as hepatic triglyceride content > 5.56% (quantified by 3T H1-MRS) ; BMI cutoff 25 kg/m2
Lean-with-NAFLD group had significantly higher HOMA-IR and lower serum adiponectin than the overweight-without-NAFLD group; IR was independently associated with NAFLD but not with waist circumference or BMI
Hagström et al[5], 2017
European, prospective cohort study of 646 patients with biopsy-proven NAFLD
19% lean NAFLD; 52% overweight NAFLD; 29% obese NAFLD; BMI cutoff 25 and 30 kg/m2
Lean NAFLD had lower stages of fibrosis and higher risk for severe liver disease development compared to patients with NAFLD and a higher BMI, independent of available confounders (follow-up 19.9 years)
Leung et al[6], 2017
Asian, prospective, 307 NAFLD patients
23.5% were non-obese; BMI cutoff 25 kg/m2
Non-obese NAFLD patients have less-severe disease and may have a better prognosis than obese patients; Hypertriglyceridemia and higher creatinine are the key factors associated with advanced liver disease in non-obese patients
Fracanzani et al[11], 2017
European, retrospective cohort study of 669 patients with biopsy-proven NAFLD 
143 patients had BMI < 25 kg/m2 and NAFLD
20% of patients with lean NAFLD have NASH, fibrosis scores of 2 or higher, and carotid atherosclerosis
Feldman et al[22], 2017
Caucasian, cross sectional, 187 subjects with hepatic steatosis on ultrasound
Lean healthy (BMI ≤ 25 kg/m2, no steatosis, n = 71) ; Lean NAFLD (BMI ≤ 25 kg/m2, steatosis, n = 55) ; obese NAFLD (BMI ≥ 30 kg/m2, steatosis; n = 61)
Lean NAFLD have impaired glucose tolerance, low adiponectin concentrations and an increased rate of PNPLA3 risk allele carriage
Feng et al[7], 2014
Asian, population based, 1779 participants
The prevalence of NAFLD was 18.33% in the lean group and 72.90% in the overweight-obese groupBMI cutoff 24 kg/m2
Lean-NAFLD was more strongly associated with diabetes, hypertension, and MetS than overweight-obese-NAFLD; NAFLD patients were more likely to have central obesity especially in lean groups
Younossi et al[17], 2012
Mixed population, 1988-1994 NHANES databases
2185 (18.77% ± 0.76%) of subjects had NAFLD; 7.39% ± 0.65% had lean NAFLD; 27.75% ± 1.00% had overweight/obese NAFLDBMI cutoff 25 kg/m2
Lean NAFLD was independently associated with younger age, female sex, and a decreased likelihood of having IR and hypercholesterolemia
Margariti et al[16], 2012
European, cross sectional, 162 NAFLD patients
Normal BMI was present in 12% of patients; BMI cutoff 25 kg/m2
Lean NAFLD patients do not have IR-associated metabolic disorders, but they have higher levels of ALT/AST than the overweight or obese NAFLD patients
The recognition of NAFLD in lean individuals is associated with a concept known as the metabolic phenotype. There are separate subgroups of individuals divided according to their phenotype and metabolic profile to metabolically unhealthy normal weight (MUHNW) and metabolically healthy obese (MHO), the latter being disputable due to higher incidence of cardiovascular disease (CVD) in long-term studies[8]. Distinguishing between those phenotypes is based on BMI, an inadequate surrogate marker for determining the quantity of skeletal muscle mass and adipose tissue, especially in the visceral area[9]. As a consequence, a MUHNW individual could be a person with sarcopenia and a high proportion of fat tissue, with a high probability of developing insulin resistance and/or metabolic syndrome (MetS), subsequently leading to the development of NAFLD[10]. In addition, other factors could be involved in the pathogenesis of NAFLD in lean subjects such as genetics [e.g., patatin-like phospholipase domain-containing 3 (PNPLA3) variant (rs738409 C/G)][11], environmental factors including dietary habits[12,13] and physical activity[14], changes in gut microbiota[15], and secondary causes such as hypothyroidism or polycystic ovary syndrome.
Lean NAFLD patients were traditionally considered to have milder metabolic disturbances, thus carrying a lower risk for the development of CVD and progression to non-alcoholic steatohepatitis (NASH) and fibrosis[6,16,17]. However, recent data suggest that progression to diabetes as well as NASH and fibrosis is higher in lean NAFLD individuals, undoubtedly linking visceral fat tissue with undesirable consequences of MUHNW phenotype[5,10,18,19]. Still, a contribution of specific components of MetS to fibrosis remains unclear, although insulin resistance seems the most probable culprit[20-22], Table 1.
In this critical review, we summarized available data and addressed practical issues of whether it is time to shift perspectives away from the scale and how to screen for non-obese patients with a metabolically unhealthy profile.
METABOLIC PHENOTYPE – THE KEY ROLE PLAYER IN THE DEVELOPMENT OF NAFLD IN LEAN INDIVIDUALS
Obesity is generally associated with severe health consequences, mainly related to increased cardiovascular risk[8]. However, a subset of obese patients will never develop cardiovascular disease and is therefore considered an MHO. Conversely, metabolically unhealthy patients exist even in the group of normal-weight people, the category known as the MUHNW. People with this phenotype seem to have 1.5 to 3-times higher risk for cardiometabolic complications than metabolically healthy normal-weight people and even higher risk than MHO[23,24], but unfortunately often go under the radar for cardiovascular screening and primary outcome prevention.
Generally, the assessment of cardiovascular risk, regardless of the patient's BMI, was historically mainly based on the presence of the MetS. However, according to data from prospective studies, only a smaller proportion of individuals in the normal-weight category with cardiovascular events have MetS compared to patients with cardiovascular events who were overweight or obese (20% compared to 52% and 76%, respectively)[25]. Although MetS as such might not be an accurate predictor of CV risk in normal-weight individuals, its components, especially, lipids and glucose level, as well as waist circumference and waist-to-hip ratio might be useful for risk stratification[9,26,27]. On the other hand, up to 30% of normal-weight individuals can be classified as metabolically obese normal weight having an increased cardiometabolic risk.
It seems that the distribution and health of fatty tissue, rather than its amount, is likely the major determinant of disease risk. For example, higher amounts of visceral fat compared to peripheral and subcutaneous fat comprise a higher metabolic risk and are directly linked to both liver inflammation and fibrosis, independently of insulin resistance and hepatic steatosis[24,28-30].
Some previously published studies have failed to show an association of insulin resistance and NAFLD in lean individuals[16,17]. However, more recently published studies have demonstrated the opposite, linking insulin resistance with the development of NAFLD, irrespective of BMI[10,20-22].
In a study published by Kim et al[10] comparing non-obese with Mets and obese without MetS, the ratio of visceral adipose tissue area-to-subcutaneous adipose tissue area (VAT/SAT) was independently linked with NASH or fibrosis in a dose-dependent manner, confirming that metabolic phenotype is crucial in the progression of liver disease, irrespective of the presence of obesity. Lean with MetS were non-obese, had insulin resistance, and an increased VAT area[10]. Another community-based study in the Asian population demonstrated that insulin resistance was a significant predictive factor for NAFLD in both obese and lean subjects[20].
Obviously, metabolic disturbances are responsible for disease progression, with insulin resistance being a key role player (Figure 1). The mechanisms involved seem to be similar as in obese individuals[22]. Higher levels of free fatty acids, enhanced adipose tissue lipolysis, and decreased fat storage capacity of subcutaneous fat tissue overcome fatty acid oxidation and triglyceride secretion leading to the accumulation of triglycerides in hepatocytes[23,31]. An increase in lipotoxicity causes pronounced oxidative stress[32], whereas chronic inflammation is continuously being fueled by changed adipokine secretion from visceral adipocytes, primarily decreased adiponectin secretion together with mitochondrial dysfunction leading to further liver injury[23,31].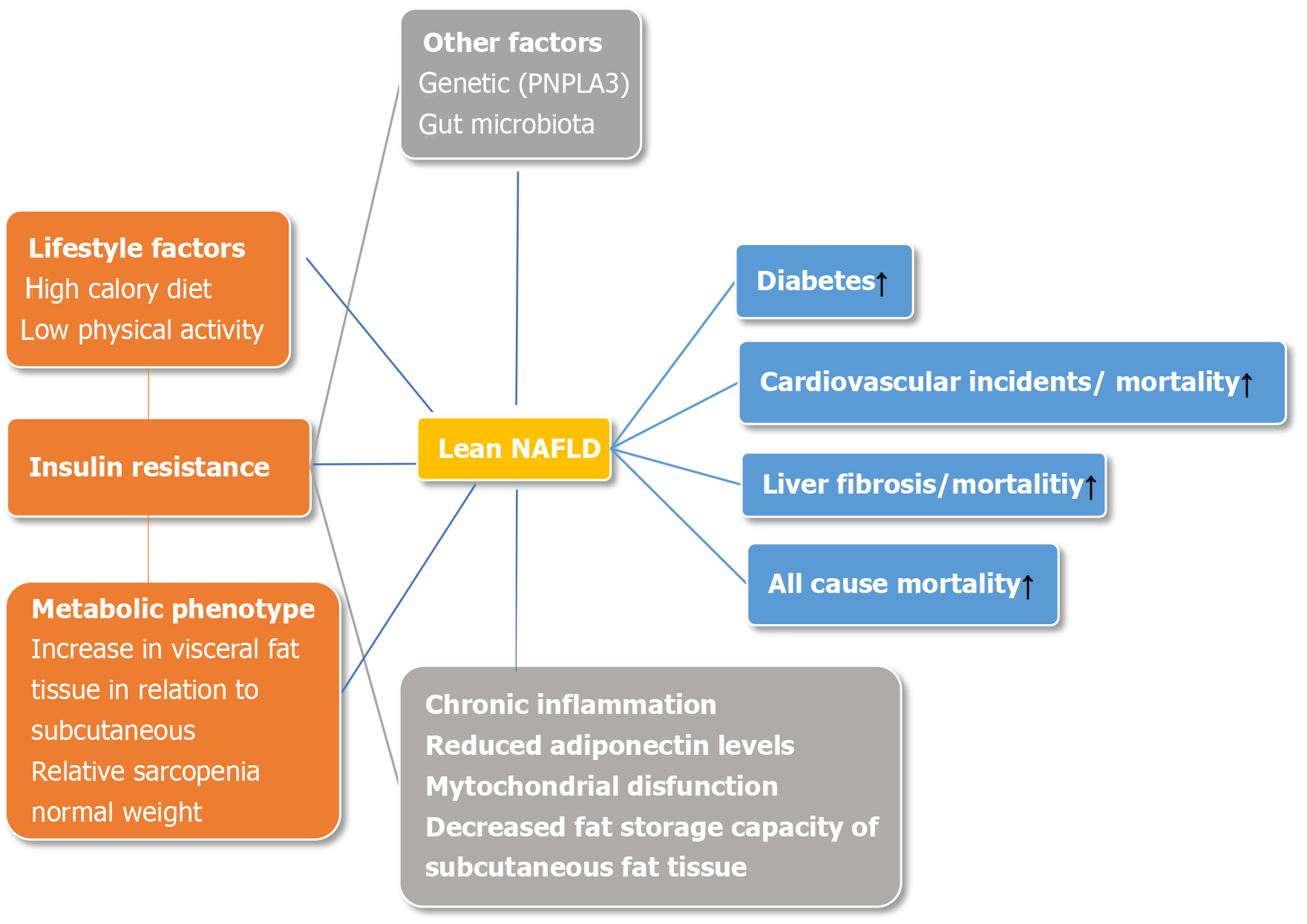 Figure 1 Pathophysiological mechanisms and outcomes of non-alcoholic fatty liver disease in non-obese individuals.
NAFLD: Non-alcoholic fatty liver disease.
Some of the major game-changers determining the nature of metabolic profiles are dietary intake and physical activity. To date, published data indicate a correlation between weight gain in non-obese individuals with the development of NAFLD[12,13], suggesting that calorie intake and modest weight gain in non-obese individuals have deleterious effects on metabolic disturbances primarily through an increase in visceral adipose tissue. Conversely, waist circumference and body weight reduction achieved through lifestyle intervention were independent predictors of NAFLD resolution in lean subjects[33]. Furthermore, sarcopenia is positively correlated to insulin resistance in obese patients and is considered one of the major factors responsible for the obesity paradox[14]. The potential mechanisms involved are the accumulation of intramyocellular lipid and intermuscular adipocytes, chronic inflammation, and loss of insulin sensitivity to protein synthesis preceding insulin resistance to glucose metabolism[34]. Thus, we could hypothesize that the unfavorable ratio of skeletal muscle mass and visceral adipose tissue in non-obese individuals is one of the main determinants of insulin resistance. Indeed, it has been shown that physical activity increases skeletal muscle mass, thus improving sarcopenia and lean/fat tissue mass ratio advancing metabolic health in non-obese individuals through the reduction of insulin resistance[18,35].
OTHER RISK FACTORS INVOLVED IN THE DEVELOPMENT OF NAFLD IN LEAN INDIVIDUALS
Compared to obese and overweight NAFLD patients, some clinical, biochemical, and histological distinctions have been observed in lean NAFLD subjects, going far beyond the simple differences in the BMI. Specifically, low adiponectin levels and high concentrations of proinflammatory cytokines suggest a pronounced degree of adipose tissue dysfunction and distinct metabolic and gut microbiota profiles[11,19,36-38]. Additionally, impaired glucose metabolism and carriage of the PNPLA3 minor allele was seen in lean Caucasian NAFLD patients[22].
Genetic factors
Several genes and single-nucleotide polymorphisms (SNPs) associated with NAFLD have been identified, of which transmembrane 6 superfamily member 2 (TM6SF2)[39-41] and the patatin like PNPLA3[42-44] are the most investigated ones.
The rs58542926 genetic variant of TM6SF2 gene, which encodes the E167K aminoacidic substitution and determines neutral fat accumulation in the liver, has been implicated in NAFLD development. Previous studies suggested a significant association between the TM6SF2 polymorphism and disease severity and/or progression[39,41].
The rs738409 genetic variant of the PNPLA3 gene, which takes part in lipid transformation, is now recognized as the major genetic determinant of NAFLD. A meta-analysis based on 23 case-control studies involving 6071 NAFLD patients and 10366 controls showed that PNPLA3 rs738409 polymorphism is associated with disease severity and progression and that these changes were not influenced by the ethnicities or age of subjects[45]. In addition, Shen and al. demonstrated that the G allele in PNPLA3 rs738409 increases the risk of NAFLD, especially in subjects without MetS, independent of dietary pattern and metabolic factors[46].
Genetic background for developing NAFLD in the absence of obesity has also been investigated in different populations. Initial reports on NAFLD in lean individuals originated mostly from an Asian background[7,47,48], and implicated Asian ethnic preponderance. However, "non-obese" NAFLD makes just over 40% of the NAFLD population and is common in both eastern and western countries[3].
Earlier studies in Asian populations found that the G allele at the PNPLA3 rs738409 mutation has been more common in lean than obese NAFLD patients (78.4% vs 59.8%; P = 0.001)[49]. However, a study investigating the prevalence of metabolic co-morbidities and PNPLA3 risk alleles (GG) in the Japanese population did not confirm the difference among the non-obese, obese, and severely obese groups of both sexes[18]. Similarly, a recently published study in the Chinese population found no difference in the SNPs of several genes (SIRT1, APOC3, PNPLA3, AGTR1, and PPARGC1A) between lean subjects with and without NAFLD[50].
In the Caucasian population, Feldman et al[11] showed a high rate of PNPLA3 risk alleles (CG/GG) in the lean NAFLD group compared with lean controls (odds ratio [OR] 2.676, P = 0.007), but at a comparable rate to obese NAFLD subjects (OR 0.759, P = 0.464)[22]. Another study investigating gene polymorphisms in the Caucasian population demonstrated that in lean NAFLD subjects, the only independent variable associated with NASH and significant fibrosis (≥ 2) was the GG PNPLA3 polymorphism[11]. In addition, in lean NAFLD patients, a significantly higher prevalence of TM6SF2 E167K variant carriers was associated with more severe steatosis, inflammation, and NASH.
Gut microbiota
The human gut microbiota (GM) forms a complex ecosystem involving different microorganisms (bacteria; dominated by four bacterial phyla: Bacteroidetes, Firmicutes, Proteobacteria, and Actinobacteria[51], viruses, uni/pluricellular eukaryotes) that have been implicated in various physiological processes[52]. The impact of diet on GM composition and function is well established, and alterations in the microbiome composition have been associated with the development of obesity, diabetes, MetS and NAFLD[15,53,54]. Previous studies have identified that NAFLD patients have altered microbiome with fewer proportions of Bacteroidetes and higher proportions of Porphyromas and Prevotella than healthy individuals[55,56]. Moreover, an increase in Lactobacillus, Escherichia, Streptococcus abundance, decrease in Ruminococcaceae, and Faecalibacterium prausnitzii, have also been identified in NAFLD patients[57-59].
In addition, substantial differences in fecal and blood microbiota profiles between obese and lean individuals with NAFLD have been identified in the Asian population[18]. Similarly, a Brazilian study confirmed a specific gut microbiota composition in lean NASH patients, showing a lower abundance of Faecalibacterium and Ruminococcus, and a deficiency in Lactobacillus compared with overweight and obese NASH patients[60]. These differences in microbiota composition between lean and obese NAFLD patients may serve as biomarkers for identifying the specific metabolic NAFLD phenotype.
AVOIDING PITFALLS IN THE DIAGNOSIS OF LEAN NAFLD
After publishing a meta-analysis on metabolic health, which suggested the highest CV risk among individuals of normal weight who are metabolically unhealthy (response rate [RR] 3.14, 95% confidence interval [CI] 2.36-3.93)[61], Kramer et al[61] raised the need to phenotype metabolically unhealthy individuals.
Currently, definitions of metabolic health are not unique (Table 2). Sometimes they include either the absence of insulin resistance[62,63], or the absence of insulin resistance and low C-reactive protein (CRP) levels as a surrogate marker for inflammation, in combination with up to any two parameters of MetS[64,65]. In clinical practice, only the latter are used[66,67].
Definitions of metabolic health in non-obese individuals:

---

Absence of insulin resistance
Meigs et al[62]; Stefan et al[63]
Absence of insulin resistance and low CRP levels as a surrogate marker for inflammation, in combination with up to any two parameters of metabolic syndrome
Wildman et al[64]; Karelis et al[65]
Combination with up to any two parameters of metabolic syndrome
Stefan et al[66]; Phillips[67]
Definition of metabolically unhealthy non-obese individuals:
BMI < 25 kg/m2 and presence of insulin resistance
Stefan et al[23]
Waist circumference adjusted for BMI and/or android gynoid ratio and presence of insulin resistance
Suggested by authors
The study by Stefan et al[23] (2017) was the first head-to-head comparison of cardiometabolic risk phenotypes suggesting that metabolically unhealthy lean people mainly have insulin secretion failure, insulin resistance, and increased carotid intima-media thickness. Among the aforementioned, insulin resistance is the most widely used cardiovascular risk marker. Metabolically unhealthy normal-weight subjects (defined by a BMI < 25 kg/m2 and presence of insulin resistance), compared to their healthy counterparts, in addition to elevated CV risk, have an elevated risk of colorectal cancer (OR = 1.59, 95%CI: 1.10-2.28)[68].
As already mentioned, BMI is an inadequate surrogate marker of metabolic health, especially in determining the ratio of visceral and subcutaneous fat tissue, the most important risk factors of NAFLD's insulin resistance and progression in lean individuals[10]. In addition, data on muscle mass are missing, thus providing no information on sarcopenia[69], which is clinically relevant in the development of NAFLD in lean patients. Thus waist circumference and/or waist-to-hip ratio might be a better tool. However, waist circumference is mostly dependent on BMI, meaning that normal-weight patients could have waist circumference in the normal range, but still have higher visceral fat tissue and increased cardiometabolic risk[9]. This issue could be avoided by using waist circumference adjusted for BMI, which has shown a strong linear increase in risk for cardiovascular mortality[70], but no data are available on the association of adjusted waist circumference and NAFLD in lean individuals.
Additionally, in an elderly population-based study, both high-fat mass and low skeletal muscle index were associated with normal-weight NAFLD, although fat distribution assessed by the android gynoid ratio was the best predictor of NAFLD prevalence[71].
CLINICAL AND THERAPEUTIC IMPLICATIONS OF NAFLD IN LEAN INDIVIDUALS ASSOCIATED WITH INSULIN RESISTANCE
The liver-related and general outcomes of patients with NAFLD depend on a number of factors including the presence of metabolic risk factors, especially type 2 diabetes mellitus and hypertension, severity of fibrosis, genetic predisposition, age, diet and other environmental factors.
Metabolic consequences
Regarding metabolic health and clinical outcomes, cardiometabolic complications take the most prominent place in driving the mortality. It seems that metabolically unhealthy, regardless of BMI, including individuals within the normal range of BMI category, have the highest risk of cardiometabolic consequences[72]. Moreover, in a recently published study, normal-weight patients with central adiposity and coronary artery disease had a worse survival rate than normal, overweight, or obese subjects without central obesity[73]. However, long term studies in lean NAFLD patients and cardiovascular health are lacking. In a retrospective study of lean Caucasian patients with biopsy-proven NAFLD vs obese or overweight individuals, 20% of patients who were lean developed NASH, significant fibrosis, and carotid atherosclerosis[11].
A study by Feng and coauthors addressed the question of metabolic consequences and laboratory discrepancies in lean subjects with NAFLD. Compared to obese and overweight NAFLD counterparts, lean Chinese NAFLD individuals had a higher risk of developing diabetes (OR = 2.47, 95%CI: 1.14-5.35), hypertension (OR = 1.72, 95%CI: 1.00-2.96) and MetS (OR = 3.19, 95%CI: 1.17-4.05), making them prone to the development of cardiovascular disease[7].
In terms of mortality, the higher fat mass could be associated with better nutritional state associated with higher survival rates (also known as obesity paradox); thus, lean individuals with the more severe and advanced liver disease could have a poor prognosis, especially if sarcopenia is present[74]. This was confirmed in a recently published meta-analysis, encompassing 93 studies including lean NAFLD individuals, demonstrating that all-cause mortality, liver-related mortality, and cardiovascular-related mortality in non-obese individuals with NAFLD was higher than that of obese individuals with NAFLD (12.1 vs 7.5 per 1000 person-years; 4.1 vs 2.4 per 1000 person-years; 4.0 vs 2.4 per 1000 person-years respectively)[3].
In addition, NHANES based study demonstrated that non-obese NAFLD individuals had increased 15-year cumulative all-cause mortality (51.7%) compared to obese NAFLD (27.2%) and non-NAFLD (20.7%) patients[4].
Therefore it seems that NAFLD in lean individuals has serious cardiometabolic complications leading to an increase in mortality, even higher than in their obese counterparts.
Liver consequences - fibrosis, cirrhosis and cancer
Non-alcoholic fatty liver disease encompasses a spectrum of histological changes with different evolution and outcomes, ranging from simple steatosis to NASH with varying degree of fibrosis. The later entity is characterized by lobular inflammation and hepatocyte ballooning degeneration accompanied by various stages of fibrosis that more often progresses to cirrhosis. However, fibrosis can be found in liver biopsy specimens in the absence of significant inflammation; in a recent multicenter study from Italy and Finland, 34% of patients with significant fibrosis did not have NASH and 10.0% had no inflammation[75].
Currently there are no published data on the specific inflammatory pathways or hepatic stellate cells activation pathways that would be unique to the development of NASH in lean patients as opposed to obese NASH patients. It is therefore believed that progression of NASH in lean individuals follows pathways similar to those demonstrated in obese patients with NASH, and that rate of progression probably depends on the similar risk factors as in their obese counterparts[76].
In general, NAFLD is a slowly progressive disease, but more rapid progression occurs in 20% of patients[77]. In a meta-analysis of over 400 patients with paired liver biopsy, 34% of NAFLD patients had fibrosis progression, 43% had stable fibrosis, and 22% showed an improvement in the fibrosis stage during follow-up[77]. The rate of progression was doubled in the presence of arterial hypertension[77]. The data on the natural history and prognosis of lean patients with NAFLD remains conflicting. Although better or similar metabolic and histological profiles than in obese NAFLD patients are mainly suggested, long term liver related outcomes remain an open question[5,6,19].
In a retrospective cohort study from Italy, significantly lower proportions of lean NAFLD patients had NASH (17% vs 40% of obese or overweight patients), and significant fibrosis of F2 or more (17% vs 42% for obese/overweight NAFLD patients)[11]. However, lean patients with high waist circumference had increased risk of significant fibrosis of F2 or more, compared to overweight/obese subjects with the same waist circumference[11]. A study from two university centers from Sweden with a median follow-up of 20 years reported that 50% of lean patients had NASH compared to 65% and 80% of overweight and obese subjects[5]. Yet, lean patients with NAFLD had slightly more events of severe liver disease (defined as decompensated liver disease, liver failure, hepatocellular carcinoma, or cirrhosis) compared to overweight patients (16% vs 9%), but similar to obese patients (14%)[5]. The main finding of the study was that although lean patients had a better prognostic profile at baseline with less advanced fibrosis and NASH, an increased risk for the development of severe liver disease was found compared to patients with a higher BMI[5].
In a study from Hong Kong, non-obese patients had lower NAFLD activity score and lower fibrosis stages compared to obese patients[6]. In a recently published meta-analysis, 39% of non-obese or lean NAFLD patients had NASH (compared to 53% of obese individuals), 25% had significant lobular inflammation (compared to 36% of obese), 29% had significant fibrosis of F2 or more (compared to 38% of obese individuals), and 3% had cirrhosis in one study[3]. However liver related mortality was higher in non-obese NAFLD subjects compared to obese equivalents (4·1 per 1000 person-years vs 2·4 per 1000 person-years)[3].
Additionally, in a study published by Kim et al[10] progression to NASH and fibrosis was equally present in non-obese patients with MetS and obese patients without MetS (55%-60%) linking metabolic phenotype with the liver disease progression.
Cirrhosis of any etiology is a well-known risk factor for the development of hepatocellular carcinoma (HCC); the same is true for NAFLD-induced cirrhosis. The reported incidence of HCC development in patients with NAFLD varies significantly depending on the study population, ranging from 0.25% to 11% after 5 years[78,79]. Furthermore, in a significant proportion of patients, ranging from 23% to 46%, HCC has been reported to develop in the earlier stages of the disease, before the development of cirrhosis[80,81]. Except for the study of Hagström et al[5] where the incidence of hepatocellular carcinoma was collectively reported with other liver-related outcomes, no data on the incidence and risk of HCC development in the subgroup of lean patients with NAFLD has been published. Until new data becomes available, no conclusions can be drawn on the risk for HCC development in lean individuals with NAFLD.
MANAGEMENT
As 3%-25% of lean/non-obese and non-diabetic individuals are diagnosed with NAFLD, with potential for progression to NASH and subsequently liver fibrosis with metabolic dysfunction, it is of interest to find pharmacological modalities and lifestyle interventions to treat this specific phenotype[82-84]. Animal studies on obese rats and mice showed significant reductions in hepatic steatosis and oxidative stress when glucagon-like peptide-1 receptor agonists (GLP-1RAs) were used to treat liver steatosis with no or mild fibrosis[85,86]. Moreover, randomized control trial investigating the role of liraglutide (daily GLP-1RA) reported on histological resolution of NASH after 48 wk of treating obese and overweight NASH patients[87]. Data on lean NAFLD/NASH counterparts are lacking, but recently published animal study gave promising results. Ipsen and colleagues reported on liraglutide effects in reducing both inflammation and hepatocyte ballooning in advanced NAFLD in an animal model. The treatment was more effective than dietary intervention, and when the two were combined, they led to rapid weight loss[88].
Still, available data on the treatment and management of lean subjects with NAFLD are practically non-existent, and further studies are needed to evaluate the effects of lifestyle changes and pharmacotherapy in this vulnerable population.
CONCLUSION
NAFLD in lean individuals presents a severe global burden with detrimental clinical consequences. Determining metabolic phenotype is crucial for detecting normal-weight patients at risk of developing NAFLD and preventing possible long-term complications, such as the cardiometabolic, liver, and all-cause mortality, which may be even more pronounced than in the obese individuals. The main characteristic of MUHNW seems to be insulin resistance associated with visceral adiposity; thus, waist circumference or the android gynoid ratio along with HOMA IR could be better predictors of NAFLD in lean subjects than traditionally used BMI and other components of metabolic syndrome. Insulin resistance is undoubtedly associated with the development of NAFLD in lean individuals irrespective of BMI and the presence of MetS; however, is it causality or correlation remains an open question.
Manuscript source: Invited manuscript
Specialty type: Gastroenterology and hepatology
Country/Territory of origin: Croatia
Peer-review report's scientific quality classification
Grade A (Excellent): 0
Grade B (Very good): B, B
Grade C (Good): C
Grade D (Fair): 0
Grade E (Poor): 0
P-Reviewer: Hegardt FG, Joven J S-Editor: Liu M L-Editor: Filipodia P-Editor: Wang LL