Figure 1 T1 weighted magnetic resonance imaging with gadolinium injection, showing a 50-mm tumor in segment 1 (arrow).
A: Arterial phase; B: Portal venous phase.

Figure 2 Positron emission tomography computed tomography using 18-fluoro-deoxyglucose showing the 18-fluoro-deoxyglucose avidity of the segment 1 tumor. A: PET; B: CT; C: PET-CT fusion. PET: Positron emission tomography; 18FDG: 18-fluoro-deoxyglucose; CT: Computed tomography.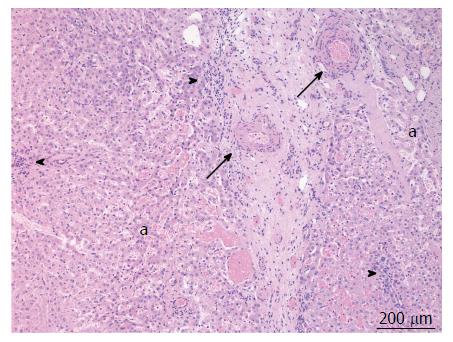 Figure 3 Pathology of the tumor that contains thickened arteries (arrows), inflammatory infiltrate (arrowheads), sinusoidal dilatation (a) (hematoxylin-eosin stain).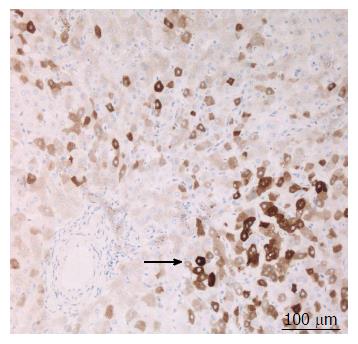 Figure 4 Immunohistochemistry with anti-C reactive protein antibodies, positive in the adenomatous hepatocytes (arrow), confirming inflammatory hepatocellular adenoma.
---
Citation: Liu W, Delwaide J, Bletard N, Delvenne P, Meunier P, Hustinx R, Detry O. 18-Fluoro-deoxyglucose uptake in inflammatory hepatic adenoma: A case report. World J Hepatol 2017; 9(11): 562-566
---