Copyright
©The Author(s) 2023.
Published by Baishideng Publishing Group Inc. All rights reserved.
Challenges in pediatric inherited/metabolic liver disease: Focus on the disease spectrum, diagnosis and management of relatively common disorders
Yi-Gui Zou, Huan Wang, Wen-Wen Li, Dong-Ling Dai, Key Laboratory for Precision Diagnosis and Treatment of Pediatric Digestive System Diseases and Endoscopy Center, Shenzhen Children's Hospital, Shenzhen 518026, Guangdong Province, China
Author contributions: Zou YG, Wang H and Li WW drafted the manuscript; Dai DL critically edited, revised and finalized the manuscript; Zou YG, Wang H and Li WW contributed equally to this manuscript; all of the authors approved the submission of this manuscript.
Supported by the Shenzhen Science and Technology Innovation Program, No. JCYJ20220818102801004 (to Dai DL).
Conflict-of-interest statement: The authors declare that they have no conflicts of interest.
Open-Access
: This article is an open-access article that was selected by an in-house editor and fully peer-reviewed by external reviewers. It is distributed in accordance with the Creative Commons Attribution NonCommercial (CC BY-NC 4.0) license, which permits others to distribute, remix, adapt, build upon this work non-commercially, and license their derivative works on different terms, provided the original work is properly cited and the use is non-commercial. See:
https://creativecommons.org/Licenses/by-nc/4.0/
Corresponding author: Dong-Ling Dai, DPhil, MD, PhD, Chief Doctor, Professor, Key Laboratory for Precision Diagnosis and Treatment of Pediatric Digestive System Diseases and Endoscopy Center, Shenzhen Children's Hospital, No. 7019 Yitian Road, Futian District, Shenzhen 518026, Guangdong Province, China. daidong3529@sina.com
Received: December 23, 2022
Peer-review started: December 23, 2022
First decision: January 3, 2023
Revised: January 9, 2023
Accepted: March 21, 2023
Article in press: March 21, 2023
Published online: April 14, 2023

The clinical scenario of pediatric liver disease is becoming more intricate due to changes in the disease spectrum, in which an increasing number of inherited/ metabolic liver diseases are reported, while infectious diseases show a decreasing trend. The similar clinical manifestations caused by inherited/metabolic diseases might be under-recognized or misdiagnosed due to nonspecific characteristics. A delayed visit to a doctor due to a lack of symptoms or mild symptoms at an early stage will result in late diagnosis and treatment. Moreover, limited diagnostic approaches, especially liver biopsy, are not easily accepted by pediatric patients, leading to challenges in etiological diagnosis. Liver dysfunction due to inherited/metabolic diseases is often caused by a variety of metabolites, so precision treatment is difficult; symptomatic treatment is a compelling option for inherited disorders.
Core Tip: The spectrum of diseases causing pediatric liver dysfunction has been changing, and an increasing number of inherited/metabolic disorders have been increasingly recognized as major contributors to liver disease in children. Etiological diagnosis remains challenging due to the frequent absence of symptoms or nonspecific signs and limited diagnostic approaches, especially liver biopsy, which is not easily accepted by pediatric patients. Consequently, the treatment of pediatric inherited/ metabolic liver disease is challenging. In this manuscript, we review here the challenges in pediatric inherited/metabolic liver disease, including epidemiological changes in the disease spectrum and challenges in etiological diagnosis and treatment.
---
Citation: Zou YG, Wang H, Li WW, Dai DL. Challenges in pediatric inherited/metabolic liver disease: Focus on the disease spectrum, diagnosis and management of relatively common disorders. World J Gastroenterol 2023; 29(14): 2114-2126
---
INTRODUCTION
Pediatric liver disease is a common entity in children resulting from different causes, including hepatocyte injury and cholestasis. Recently, the spectrum of diseases causing pediatric liver disease has been changing. Infectious diseases are decreasing due to improvement in hygienic conditions, while the proportions of metabolic disorders, inherited diseases and genetic defects are increasing. At an early stage, elevated liver transaminase may be a unique nonspecific manifestation[1]. Early diagnosis mainly depends on biochemistry, pathogen identification and imaging findings for patients without distinctive clinical features[2]. While new diagnostic methods have improved the diagnostic capability for liver disease in children, some novel challenges remain for pediatricians. Diet and/or lifestyle modifications are usually the primary treatment for some inherited/metabolic liver diseases. Where indicated, drug therapy, surgery and gene modification are necessary to provide lifelong functional correction of liver-based metabolic defects. We review here the changes in epidemiology and the challenges in etiological diagnosis and treatment of inherited/metabolic liver disease in children. Due to the broad spectrum of diseases, we focus on some of the most common conditions resulting in metabolic/inherited liver disease and easily misdiagnosed diseases without evident malformations.
EPIDEMIOLOGICAL CHANGES IN CAUSES OF PEDIATRIC LIVER DISEASE
The exact prevalence of pediatric liver disease is not clear. However, there have been some changes in the disease spectrum causing pediatric liver disease in the past decade. With the popularization of hepatitis B vaccines and the development of effective antiviral treatments, the global incidence of hepatitis B has declined. By 2019, the incidence of hepatitis B in children younger than 5 had fallen from 5% in the 1980s to less than 1% in the 2000s[3,4]. With the promotion of blood screening, the incidence of hepatitis C also declined slightly. By 2018, the global incidence of hepatitis C in children under 18 years old was 0.13%[5]. While the understanding of cholestatic liver diseases (CLD) has deepened in the field of inherited/metabolic liver diseases, an increasing number of noninfectious factors have been recognized as major contributors to liver dysfunction or cholestasis in children[6-10]. A single-center study in China showed that nonviral liver diseases accounted for 23.3% of pediatric liver diseases in 2011-2017, increasing from 17.53% in 2001-2010[11]. Nonalcoholic fatty liver disease (NAFLD) has rapidly become one of the most common liver diseases in the pediatric population. Approximately 2.6% to 9.6% of the population was affected by NAFLD in the Americas and Asia in 2006. The global prevalence of NAFLD in the pediatric population is approximately 10% currently[12]. Recent genetic diagnosis techniques and their easy accessibility raise the possibility of detecting some metabolic diseases involving Wilson's disease (WD)[13], glycogen storage disease (GSD)[14] and α1-antitrypsin deficiency[15]. The incidence of WD is usually quoted as 1:30000, but recent genetic studies have shown a higher prevalence ranging from 1:2400 to 1:6500[16]. CLD affects approximately 1/2500 infants, and biliary atresia accounts for 1/3[17]; genetic or metabolic factors account for approximately one-third of cholestasis cases causing subsequent liver dysfunction, including citrin deficiency (CD)[18], progressive familial intrahepatic cholestasis (PFIC)[19] and Alagille syndrome (AGS)[20]. In the early 2000s, the incidence of CD was 1 in between 17000 and 34000 births[18], while its incidence increased to 1 in 7000 births in 2020[21]. The incidence of GSD is approximately 1:10,000 Live births[22]. AGS had an incidence of approximately 1 in 70000 Live births in 2020[23], an increase from approximately 1 in 100000 in the 1990s[24]. The estimated overall incidence of PFIC increased from 1/300000-1/500000 Live births in the 1990s[24] to 1/50000-1/100000 Live births in the 2010s[25].
CHALLENGES IN ETIOLOGICAL DIAGNOSIS
It is difficult to determine an etiological diagnosis for liver diseases that are undetectable by newborn screening, especially at an early stage. A diversity of inherited/metabolic causes can result in pediatric liver disease[26]. Fatty liver disease (nonalcoholic and alcoholic), autoimmune hepatitis, WD, disorder of bile acid synthesis, AGS, hereditary hemochromatosis, and α-1 antitrypsin deficiencies are among the causes of pediatric liver disease[27]. Hepatocytes have similar responses to different impairments, while clinical and laboratory signs are frequently monomorphic. In addition, the absence of symptoms and nonspecific signs at an early stage contributes to the difficulty of diagnosis.
Liver disease is usually divided into two types - hepatocellular and cholestatic disease - which sometimes overlap. Alanine transferase (ALT), alkaline phosphatase (ALP), aspartate transferase (AST), γ-glutamyl transferase (GGT), prothrombin time, bilirubin and albumin are the most common biochemical markers for liver function, but they are susceptible to extrahepatic factors. A disproportionate increase in the level of ALT and AST compared with ALP suggests hepatocyte damage or muscle disorders; conversely, a disproportionate increase in ALP level compared to ALT and AST indicates cholestatic injury. Moreover, an elevated serum conjugated bilirubin level suggests hepatocellular or cholestatic disease. These markers can assist in roughly sorting the types of pediatric liver disease, but they are not helpful for accurate etiological diagnosis.
With advances in diagnostic tools for pediatric liver disease over the last few decades, some novel diagnostic modalities, such as ultrasound, magnetic resonance, and genetic testing, have been used to evaluate liver disease; however, percutaneous liver biopsy for histopathological evaluation remains crucial for assessment of the severity of hepatopathies[28]. We focus on the challenges in etiological diagnosis in the following section (Figure 1).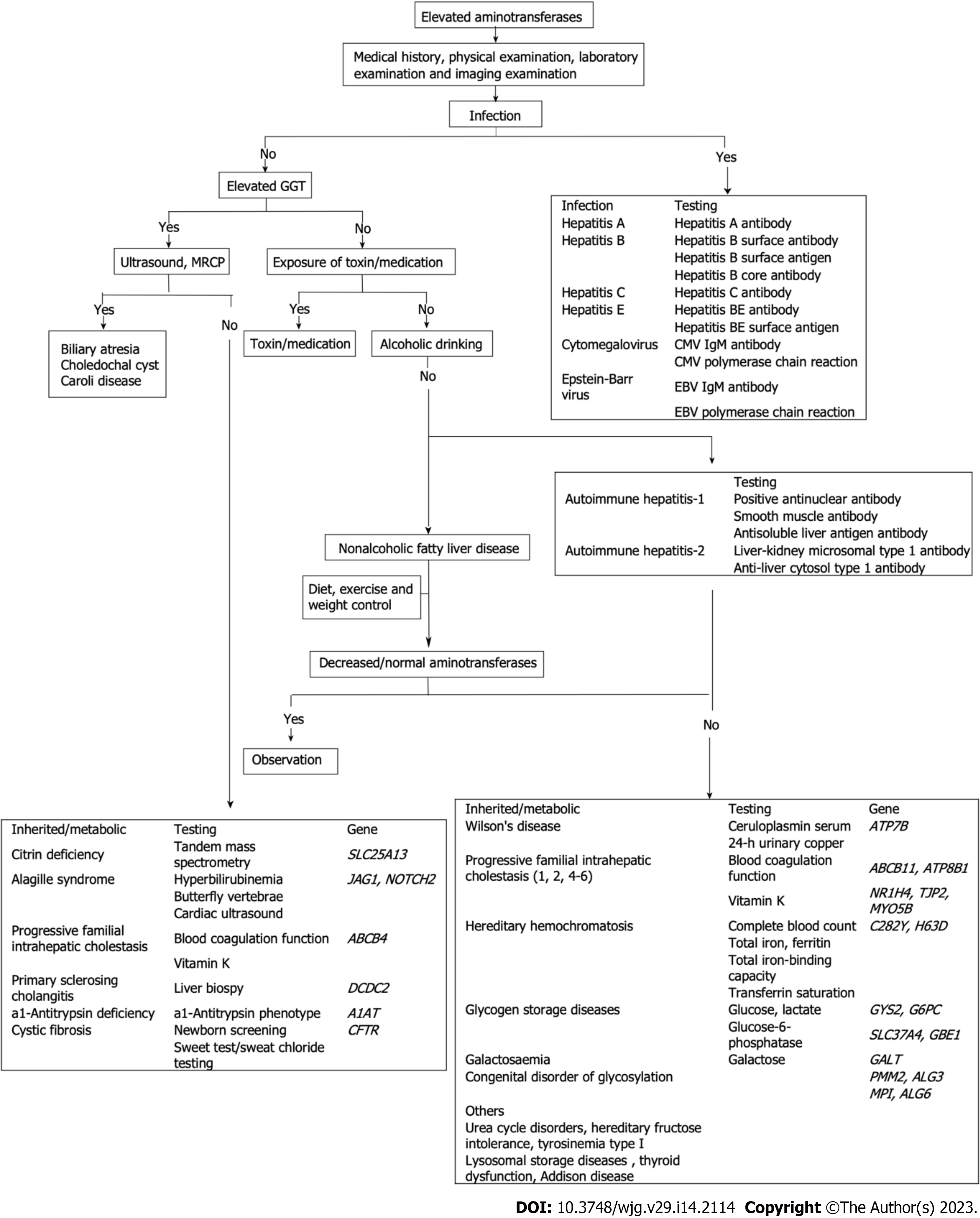 Figure 1 Diagnostic flow chart of pediatric liver injury.
GGT: Gamma-glutamyl transferase; MRCP: Magnetic resonance cholangiopancreatography.
NAFLD
Pediatric NAFLD is frequently free of symptoms, and diagnosis is based on hepatic steatosis on ultrasound or evidence of abnormal liver enzymes and the exclusion of some known causes of hepatosteatosis other than NAFLD. As a standard diagnostic method in NAFLD, liver biopsy has some inherent limitations: the method is invasive; the accuracy depends on the experience of the pathologist; it is difficult to use for NAFLD staging due to the nonuniformity of the small liver specimen; and it may present special challenges in extremely obese children due to difficulty in evaluating the liver location and the depth of subcutaneous fat tissue. Finally, the optimal timing of liver biopsy for diagnosis and follow-up has not been determined[29].
Several noninvasive diagnostic tools have been proposed instead of hepatic histology, including the hepatic steatosis index, NAFLD fatty liver index, liver fat score, and pediatric prediction score, which are widely accepted clinically. However, surrogate markers and scores remain to be validated or are not sufficient to predict the presence of hepatic steatosis[30-32]. Ultrasound technology has been shown to be inaccurate for the diagnosis of hepatosteatosis due to its low specificity and sensitivity[33]. Due to radiation risk, computed tomography is not commonly recommended as a diagnostic tool despite being reasonably specific and sensitive for hepatic steatosis. Despite its accuracy for hepatic steatosis, magnetic resonance spectroscopy and imaging are not widely used due to cost, lack of availability and lack of validated cutoffs to determine NAFLD[34]. As a novel noninvasive tool, transient elastography (TE) has shown promise in the evaluation of steatosis in pediatric patients. TE was reported to perform better than ultrasound for the assessment of hepatic steatosis in children[35]. It is a good diagnostic tool for measuring liver stiffness and can differentiate advanced fibrosis. However, there are some limitations to this diagnostic modality, particularly abdominal adiposity, which increases the distance between the probe and liver; body mass index greater than 30 kg/m2; and operator experience[36]. Further validation of TE is necessary due to the limited data available for pediatric NAFLD patients. Controlled attenuation parameters are a promising imaging method to detect steatosis based on vibrationally controlled TE. The same probe is used to quantify steatosis by assessing the attenuation of ultrasound in liver fat. Some magnetic resonance-based methods, e.g., magnetic resonance spectroscopy/magnetic resonance proton density fat fraction, have been developed to quantify hepatic steatosis and fibrosis[37]. Its accuracy, cost effectiveness and ability to monitor changes in the level of steatosis in patients with NAFLD remain unknown[38]. Most challenging is that no reliable biomarkers have been identified to detect or predict inflammation in NAFLD. Recently, Chae et al[39] successfully developed machine learning-based NAFLD diagnostic models based on metabolome profiles and metabolic pathway changes. It can be utilized as a less-invasive approach for diagnosing the disease.
WD
WD is an autosomal recessive copper metabolic disorder caused by mutations in the ATP7B gene[40]. The clinical manifestations regarding liver involvement range from incidental findings of liver function abnormalities to acute hepatic failure. Symptoms at any age are frequently nonspecific[41]. Early clinical symptoms in WD patients are diverse and atypical, and biochemical tests have false positives and false negatives, making early diagnosis more difficult. In most cases, its diagnosis is based on a combination of laboratory findings and clinical presentations[40]. The diagnosis might be difficult in children with WD, particularly at early stages of liver disease, given the absence of a single distinctive characteristic or available biochemical test to confirm or exclude the diagnosis. Indeed, many affected children do not have elevated liver copper levels, high urinary copper excretion or a Kayser-Fleischer ring[42].
Serum ceruloplasmin is typically decreased in patients with WD, although normal ceruloplasmin levels are also seen in some patients[40]. Notably, the levels can also be affected by other factors[43]. Therefore, WD cannot be diagnosed solely based on ceruloplasmin levels. Exchangeable copper is an experimental technique that might be able to determine bioavailable copper in plasma, but it does not reliably measure no ceruloplasmin-bound copper levels[44]. Twenty four-hour urinary copper excretion is a useful method to diagnose and monitor treatment in WD; however, it can be lower than 100 μg in some patients with WD, especially in children and their asymptomatic siblings[45]. Moreover, it might be difficult to interpret because of overlapping findings with other hepatopathies, especially acute hepatic damage or liver failure, and the reference limits vary among laboratories[45]. Although copper quantification in liver tissue has high specificity and diagnostic value, the test is invasive and involves risks; the concentration can be underestimated due to sampling errors or increased in cholestatic disorders[46]. These equivocal findings emphasize the importance of genetic testing for mutation identification. ATP7B gene mutational analysis is an important tool for diagnosing WD. However, it may take time to obtain the results of molecular genetic diagnosis; analysis is difficult due to more than 700 possible mutations, and many patients are compound heterozygotes[47]. Another difficulty of genetic testing research is that, except for a few hotspot mutations, most mutations are extremely low in frequency in the population, making it difficult to collect sufficient cases for statistical analysis, accurate analysis of ATP7B genotype-phenotype and clarification of the corresponding pathogenicity to aid diagnosis. Recently, a scoring system based on all available tests developed by the 8th International Meeting on WD and Menke Disease was found to have good diagnostic accuracy in pediatrics[48].
GSD
GSD refers to a group of inherited disorders of glycogen synthesis, degradation, or metabolism regulation. The hepatic forms usually have a wide spectrum (I, III, IV, VI, IX, and 0) but similar cardinal manifestations[49], although they may have variable expressivity. GSD type I is the most common; type Ia is present in 80% of cases, whereas type Ib accounts for the remaining 20%. The enzyme defect in GSD type Ia is primarily expressed in the liver, kidney, and intestine, while Ib is expressed ubiquitously. Consequently, both types Ia and Ib manifest as hepatomegaly, hypoglycemia, and lactic acidosis, but neutropenia and myeloid dysfunctions are unique to GSD type Ib[50]. GSD classification is sometimes difficult due to the common characteristics among different types. Newborn screening is currently not available for GSD. Encouragingly, some specific screening systems using dried blood spots were reported to be applicable for newborn screening for GSDIa in the real world[51]. A detailed clinical history and careful examination along with laboratory findings could suggest the diagnosis. Reduced enzymatic activity in peripheral blood can confirm the diagnosis of GSD types III, IV and IX; however, normal activity in leukocytes does not exclude the other forms[52]. According to related studies, urinary glucose tetrasaccharide (Glc4) excretion, a biomarker for GSD II, is also elevated in patients with hepatic GSD, so Glc4 might be a good biomarker for GSD, but more studies are still needed to confirm this hypothesis. In pediatric GSD III patients, decreasing Glc4 in urine reflects improved fasting tolerance[53]. Traditional invasive liver biopsy for the assessment of enzymatic activity in hepatic cells is no longer the gold standard and is neither cost effective nor convenient. As a robust alternative diagnostic tool that has emerged over the course of the past few years, gene examination has replaced liver biopsy. It is a noninvasive method for confirming the diagnosis and classification of GSDs, allowing for appropriate specific therapy for different types of GSDs[54]. For many years, the conventional Sanger sequencing method has been the gold standard for the detection and screening of mutations, but this laborious, costly and time-consuming method leads to delayed diagnosis which decelerates care and treatment[55]. Combined with clinical signs and biochemical indices, next-generation sequencing (NGS), as the gold standard, provides a high-throughput and accurate method for genetic diagnoses of GSDs. It bridges the difficulties of GSD diagnosis due to broad genetic heterogeneity and clinical manifestations. The much faster and more sensitive NGS makes clinical application more practicable. However, the identification of variants of uncertain significance poses a challenge in diagnosis owing to variable gene coverage, noncoding and structural variants that are unable to be captured and duplications/deletions that are missed[56]. Higher sequencing coverage increases the validation of findings as well as costs. Therefore, methods with the best accuracy, coverage, and cost are expected to be designed. Finally, traditional static biochemical markers might not adequately reflect the dynamic changes in response to metabolic stressors or treatment. Continuous glucose monitoring appears attractive as a highly informative noninvasive technique to monitor the dynamics of hypoglycemia in patients with GSDs, but it might be limited by regional availability[57].
CLD
CLD covers a spectrum of disorders caused by inborn errors of metabolism, primarily manifesting as a cholestatic syndrome. Intrahepatic cholestasis can be divided into hepatocellular and biliary forms[58]. Hepatic cholestatic disease can cause related clinical symptoms and secondary changes resulting from cholestasis. The diagnosis of CLD is challenging due to the nonspecific symptoms and the broad differential diagnosis. Biochemical indicators include increases in serum ALP and GGT in patients without symptoms at an early stage and an increase in conjugated bilirubin at advanced stages. Isolated elevation of serum GGT and/or ALP can result from certain rare disorders, rapid bone growth or bone disease, and drug intake; consequently, it is limited in the diagnosis of cholestasis due to low specificity. As a sensitive and specific, non-invasive, and relatively inexpensive tool, ultrasonography has some disadvantages in that abnormalities of bile ducts may be misdiagnosed. Moreover, the pancreas and the lower common bile duct are frequently not well depicted. Abdominal computed tomography holds the risk of radiation and might not be superior to ultrasound for biliary tree delineation. Routine new-born screening (NBS) using electrospray ionization tandem mass spectrometry technology has been widely used for inborn errors of metabolism[59]. Nevertheless, this strategy depends on complete clinical information and therefore is associated with false negatives. In addition, the selection of limited known metabolic pathways likely hampers the discovery of novel metabolic defects[60]. In contrast, NGS panels have recently emerged as an appealing tool to diagnose pediatric metabolic liver disease[60].
CD
CD is the most common inherited autosomal recessive metabolic disorder and is caused by mutations in the SLC25 gene family encoding proteins[61]. There are mainly 3 age-dependent phenotypes[21,61], and neonatal intrahepatic cholestasis (NICCD) is the major pediatric CD phenotype. Neonates or infants with CD manifest with intrahepatic cholestasis, citrullinemia, dyslipidemia, hyperammonemia, galactosemia, and hypoglycemia[62]. In early infancy, these symptoms overlap with those of other CLD, e.g., biliary atresia and neonatal hepatitis, contributing to the difficulty in prompt and accurate diagnosis. Patients with adult-onset symptoms, hyperammonaemia and neuropsychosis can be misdiagnosed with other neurological entities. NBS for CD provides the opportunity to initiate early treatment in newborns with NICCD; however, NBS for CD is not performed in certain countries, and the sensitivity and specificity of NBS results are not satisfactory[63]. False negatives at the cutoff value in NBS have been reported in some studies; less than 30% of NICCD patients were detected by NBS using tandem mass spectrometry to measure amino acids[64]. Abnormal biochemical parameters are important clues for CD diagnosis. The increases in serum transaminase, total galactose, alkaline phosphatase, and direct hyperbilirubin levels, accompanied by the prolongation in coagulation parameters, lead to confusion of the disease with galactosemia and causes misdiagnosis. However, galactose-1-phosphate uridyl transferase activity is normal in these patients[65]. AFP elevation might be an important laboratory finding suggesting NICCD[66]. SLC25A13 genetic analysis is a reliable method for confirmation of NICCD. However, a percentage of SLC25A13 mutations are not detectable by conventional DNA analysis alone[67]. The verification of these mutations is challenging for the definite diagnosis of NICCD. Moreover, SLC25A13 mutations worldwide demonstrate remarkable heterogeneity. In such cases, some reliable evidence for molecular diagnostic strategies originated from sophisticated functional, molecular and in silico analysis of the SLC25A13 gene and its cDNA, although it is usually labor-intensive and expensive. Sanger sequencing, denaturing high-performance liquid chromatography and PCR restriction fragment length polymorphism are alternative tools for the analysis of gene mutations. However, these methods are too complex to be widely used in clinical practice.
CONCLUSION
Liver function injury in children is etiological heterogeneous. Early etiological diagnosis is critically important because it could help to determine the history of the disease and modify of the treatment regimen, but diagnosis is often delayed due to the presence of nonspecific presentations or the frequent absence of symptoms. It is frequently at the stage of progressive disease when typical symptoms appear. Therefore, recognition leading to diagnosis and treatment remains a great challenge for pediatricians. In this paper, we reviewed the changes in epidemiology and the challenges in the diagnosis and treatment of pediatric inherited/metabolic liver disease. We hope to assist pediatricians in understanding this condition better and identifying and treating this condition as early as possible.
Provenance and peer review: Unsolicited article; Externally peer reviewed.
Peer-review model: Single blind
Specialty type: Gastroenterology and hepatology
Country/Territory of origin: China
Peer-review report's scientific quality classification
Grade A (Excellent): 0
Grade B (Very good): 0
Grade C (Good): C, C
Grade D (Fair): 0
Grade E (Poor): 0
P-Reviewer: Balaban YH, Turkey; Uebayashi EY, Japan S-Editor: Yan JP L-Editor: A P-Editor: Yan JP